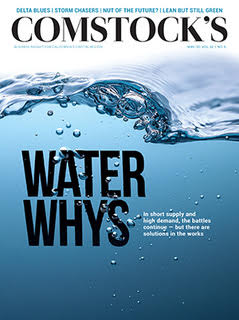 This story is part of our May 2020 print issue. To subscribe, click here.
When Bernadette Balics opened Ecological Landscape Design in Davis in 2001, she was one of just a few businesses in the Capital Region that designed landscapes according to eco-friendly and water-efficient principles. Today, she has lots of competitors, and there's plenty of business for everyone.
Balics' industry is at the forefront of a major shift in how California is responding to a limited water supply as demands increase and climate change brings more extreme weather events like droughts that further destabilize the water supply. Californians use approximately 8-million-acre feet of water annually for urban use, according to a report from the Public Policy Institute of California. Of that, nearly half goes to irrigating landscapes, more than 1.3 trillion gallons of water (because of changes in landscaping and increased awareness, that is down approximately 20 percent from just 10 years ago).
In January, a draft of Gov. Gavin Newsom's Water Resilience Portfolio was released, citing more than 100 recommendations to shore up California's long-term water resiliency. The plan identifies ornamental landscapes and turf as a target for reducing water use and looks to simplify the state's Model Water Efficient Landscape Ordinance to help reach its goals.
In its simplest terms, the ordinance requires residential and commercial projects with new landscapes more than 500 square feet and renovated landscapes more than 2,500 square feet to comply with a water budget using drought-tolerant plants irrigated with efficient technology such as smart controllers and drip irrigation. The water budget is calculated based on local weather, the plants used and the size of the landscape. It's submitted as part of a project's landscape plans to be reviewed, enforced and approved by cities, just like other building codes.
Drive through new developments across the Capital Region like East Sacramento's McKinley Village or Folsom's Folsom Ranch — the largest master-planned community in the foothills in decades — or those popping up in Roseville, Rocklin, Elk Grove and Woodland, and one will see a distinctly different landscape than ones installed just 10 years ago. Low- to medium-water-use plants are surrounded by bark mulch with little or no grass, irrigated primarily with a drip system. That's MWELO in action.
But it's not that simple. While versions of MWELO have been in place since 1992, updates — required every three years by the California Green Building Standards Code — have complicated an already complex and difficult regulation, resulting in fragmented adoption, implementation and mandatory reporting throughout the state.
Compounding the issue, MWELO's current version is limited to the design and build of a landscape where the calculated water budget is theoretical, but doesn't address maintenance where actual water efficiency comes into play. Additionally, it doesn't address traditional landscapes with sprawling swaths of grass installed before MWELO limited turf to no more than 25 percent of the landscape.
While compliance with regulations like MWELO establishes a baseline for water efficiency, it's part of a much larger conversation about how we sustain the planet. The ordinance presents an opportunity to shift the way we think about what an eco-friendly landscape can do when we move beyond compliance toward practices that conserve all natural resources and maximize water efficiency. That's important for California as it seeks to strike a balance for an uncertain water supply among agriculture, the environment and cities, while it simultaneously addresses human activity that is shifting the climate.
Addressing Barriers
In 2009, the Department of Water Resources mandated the state's roughly 540 land-use agencies — cities and counties — adopt the model ordinance, or implement stronger measures, and enforce it locally. That's been a challenge. Julie Saare-Edmonds, senior environmental scientist at the DWR's Water Use Efficiency Branch, says only about 26 percent of agencies submitted their mandatory reports documenting implementation efforts in 2017, though that percentage has climbed with retroactive reporting. While annual reports are only one indication of compliance, land-use agencies are indicating they lack trained staff and understanding of the ordinance, says Saare-Edmonds.
"A large part of that is the lack of knowledge. People just don't have the special training to understand the landscape. And there's still a lot of people in the landscape industry who don't understand the ordinance or that they have to comply with a water budget."

JULIE SAARE-EDMONDS SENIOR ENVIRONMENTAL SCIENTIST DEPARTMENT OF WATER RESOURCES
"A large part of that is the lack of knowledge. People just don't have the special training to understand the landscape," says Saare-Edmonds. "And there's still a lot of people in the landscape industry who don't understand the ordinance or that they have to comply with a water budget."
To simplify the ordinance, DWR assembled a volunteer Landscape Stakeholder Advisory Group in 2016. The team of nearly 400 members made up of landscape professionals, water- agency personnel and academics developed roughly 300 recommendations. Saare-Edmonds says it's valuable information and will be used but isn't quite enough to update MWELO.
"We are trying to get at how to make it easier to use for local land agencies so that they actually enforce it and get value out of it in their communities where the landscapes are improved, and the water use and energy use goes down," Saare-Edmonds says. "We're not quite there on that."
Sandra Giarde, executive director of the California Landscape Contractors Association, says the state needs to allocate more resources to MWELO if it's really going to affect the amount of water used on landscaping. The Sacramento-based association is an active member of DWR's advisory group and a fundamental arm of industry education, training landscape contractors and local government personnel on MWELO for decades.
MWELO in Action
Despite the challenges, several agencies in the Capital Region are managing the ordinance well. When the City of Roseville adopted the ordinance in 2009, its Planning Division didn't have the necessary expertise, like many cities across the state. But Roseville is also a water supplier, so in 2016, it looked to its Water Efficiency division. With a robust team of certified landscape irrigation auditors, landscape contractors and qualified green gardeners, the city was well-positioned to enforce MWELO.
Most land-use agencies aren't water suppliers, but they can establish voluntary agreements with local water districts that have the expertise to review and enforce the ordinance, says Saare-Edmonds. "It would be smart if they did," she says, but most have not done so.
With trained staff, the City of Folsom is enforcing MWELO across Folsom Ranch's 11,000 homes planned over the next 25-30 years. All home builders must comply with the ordinance, but they don't all approach it the same way. Of those homes already built, some builders have installed the allotted turf in front yards, but TRI Pointe Homes opted to use boulders and a variety of drought-tolerant plants instead.
"We thought with all of the changes that have happened over the last several years over water usage, customers are now more apt to make that change as long as we put thought in how it will look," says Holly Auwinger, TRI Pointe Homes' director of sales and marketing.
For streetscapes, medians and public landscaping throughout Folsom Ranch, the city has selected a varied plant palette of water-efficient grasses, varieties suited to the region's Mediterranean climate like olive trees, and California natives, including large shade trees such as sycamores and oaks.
Drip irrigation and stream rotating nozzles will irrigate public spaces. Rotating nozzles mimic drops of water and are 30 percent more efficient than old sprinkler systems that lose vast amounts of water due to wind, evaporation and runoff, says Zach Perras, Folsom's municipal landscape services manager.
To maximize efficiency, Folsom began using centralized irrigation controllers in 2009 that can detect leaks down to the gallon with the capability to remotely shut off the leaking valve, says Perras. In the past, fixes required a manual dispatch to a leak's location, and in some cases, that could take up to a week.
Out With the Old
The most important thing to remember, says Saare-Edmonds, is the vast majority of the landscape in California is already built. Old technology and sprawling lawns aren't part of MWELO's mandate, but they are obvious targets for improving water efficiency.
"Turf grass in Sacramento needs about 4 feet of water per year on top of normal rainfall to keep it green," says William Granger, City of Sacramento's water conservation administrator.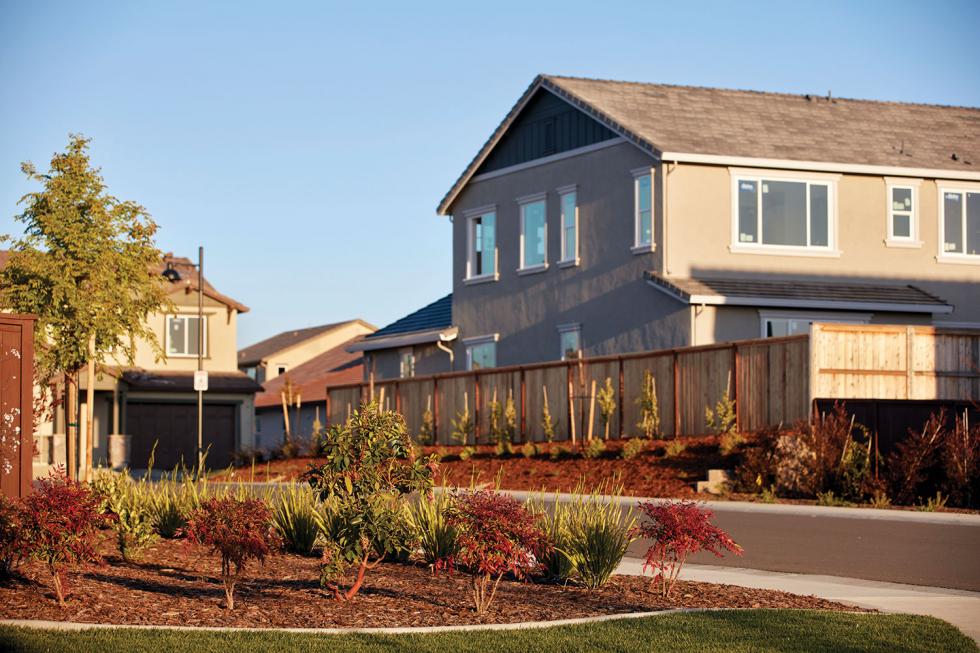 In response, rebate programs to replace turf and update irrigation controllers from preset time-based models to high-tech versions that irrigate based on local weather and soil conditions are common throughout California for residential and commercial projects.
Roseville's weather-based controller rebate of up to $150 has been one of its most popular programs, providing nearly $150,000 in residential customer rebates since November 2016, and nearly 2 million square feet of turf has been removed through its Cash for Grass program since 2008. Replacing that with drought-tolerant plants and a drip system has saved more than 67 million gallons of water since 2008, says Bobby Alvarez, Roseville's water conservation administrator.
Similarly, the City of Sacramento's River-Friendly Landscape Program has replaced 562,000 square feet of turf since 2014, with the highest rebate in the region at $1.50 per square foot. This year, the city will spend about $500,000 on rebates through the program — which offers turf replacement, irrigation efficiency upgrades and smart controller rebates — roughly a third of its water conservation budget.
Education and outreach programs are heavily promoted to drive water efficiency and MWELO compliance. Roseville offers workshops on MWELO for property managers and contractors and offers year-round landscaping workshops for residents. Folsom offers similar programming for residents, including eco-friendly landscape education — one which Balics presented in 2019 — and Water Wise House Calls, free in-person assessments of residents' water use.
There's no shortage of online water-wise guidance, lists of low-water plants, free water-efficient landscape templates and apps, like Dropcountr, used in Folsom, which monitors personal water use and sends leak alerts in real time. Resources help bridge the gap in education, so those who aren't aware of MWELO — often homeowners who want to renovate — are informed of best practices that align with the water efficient ordinance.
Beyond Compliance
Under MWELO, plants must be low- to medium-water use and suited to California's climate, as determined by California's Water Use Classification of Landscape Species. While the ordinance encourages the use of California natives — collectively the most water efficient — it's not a requirement.
"Unfortunately, we're still using mostly nonnatives in our landscaping, but using plants that can get by with less water, less fertilizer, pesticide treatment and are suited to our climate is a huge step forward," says Saare-Edmonds. The next step, she says, is to use more California native plants that require almost no additional care or watering once established.
Balics says people can't believe it when she tells them the only time she waters her yard of rich, green native foliage is two or three times in the summer.
But landscaping with natives and eco-friendly principles isn't yet mainstream. It can be more expensive and often requires a change of maintenance routines. That requires building soil health naturally — which helps to retain water — and understanding the requirements of native plants. Each plant or plant community should be individually assessed as opposed to following the exact same set of practices — shaving plants into balls or rectangles — every time, says A. Haven Kiers, assistant professor of landscape architecture at UC Davis.
Kiers teaches her students to focus on the ecology of native plants that have coevolved with native insects like bees, and combine them in an aesthetic way. But without properly trained maintenance crews, the vision of the designer or landscape architect gets lost, says Saare-Edmonds.
Despite the barriers, momentum is growing. In 2017, EcoLandscape California, a Sacramento-based nonprofit, merged with ReScape California, based in the Bay Area, strengthening ecological landscape education and advocacy. The organization has trained more than 2,500 professionals to install, design and maintain eco-friendly residential and commercial landscapes in Northern California.
Further efforts from organizations like the UC Master Gardener Program, Fair Oaks Horticulture Center, California Native Plant Society and water-wise demonstration gardens are fueling the shift.
Ecological principles could function as a powerful nucleus toward conserving urban water and curbing some of our most unsustainable landscape practices. As Kiers says, "It's about how we can use natives ornamentally. … And make them look sexy at the same time."
—
Stay up to date on business in the Capital Region: Subscribe to the Comstock's newsletter today.
Almond trees and grapevines will die if deprived of irrigation for a year or less in a dry place like the San Joaquin Valley, but pistachios can survive for years with almost no water. That means, in crisis-level droughts, the trees might persist where virtually all other crops die.
For decades, the California water debate revolved around one metric: unimpeded flow, which is the amount of water in the river and streams. While flow is still without doubt the key issue, it is no longer the only one.
Professor Jennifer Harder is the co-director of the Water & Environmental Law program at McGeorge School of Law in Sacramento. Comstock's spoke with Harder about water issues affecting the Capital Region and California.