Considering that there are so many places and styles claiming the moniker "bistro," it might be one of the easiest things to define — since you really can't be wrong. But the term does evoke a sort of fancy casualness that feels simultaneously like spoiling yourself and making sound life decisions. Or maybe it's that certain French-ness, that je ne sais quoi that makes us feel worldly and erudite even if we're just down the block wishing we could get out of these work clothes.
Regardless, whether it's the pan-seared foie gras with house grape jam at Boulevard Bistro or the gourmet Ding Dong at Patrick Mulvaney's B&L, the Capital Region's culinary maturity is well represented by two devotees of classic, high-end comfort food. The two restaurants, which both opened 10 years ago and only 17 days apart, each provide digestible insight on the bistro continuum. And while they both do the bistro work, their styles are both contrasting and complementary, not to mention reflective of their local markets.
In the more established and high-traffic Sacramento scene, Patrick Mulvaney has taken the concept of the bistro as a gathering place to turn Mulvaney's B&L into a community destination — where friends meet by chance and regulars are minted nightly. Further south in Elk Grove, Boulevard Bistro chef and owner Bret Bohlmann's meticulous attention to mastering the finer details of traditional French cuisine reflects a burgeoning culinary scene that, in a city only 15 years old, is still growing into its own identity. And as Elk Grove is also the fastest growing city in Sacramento County, Bohlmann says last year was Boulevard Bistro's busiest year ever and December 2015 its busiest month.
"I really just love the classics. It's where you have to start," Bohlmann says during a hurried interview between services. He talks about Auguste Escoffier, widely known as the godfather of modern French cooking and the inventor of the military-style kitchen brigade hierarchy — which gave us titles like "chef" and "sous chef" (chief and second chief), and there on down.
Escoffier, probably the most influential chef of all time, didn't use fancy powders, high-tech equipment or liquid nitrogen — and neither does Bohlmann. Most of his works are based on cooking with wood stoves. In Escoffier's time, baking in a "medium oven" was not a precise thing, but a careful art that took time to learn, and that's how Bohlmann approaches each dish. He maintains an appreciation for the basics of tradition, despite technological advances making simple things easier.
"Some of this modernist stuff, I mean it's cool and all, but some people don't even know what salt does to food — just salt. Take duck confit for example," Bohlmann says of one of the many dishes he prepares traditionally, covering the duck in salt to cure and draw moisture out through osmosis that both seasons and preserves the meat. The chef waits days before the duck, usually a leg, is then gently cooked in its own fat, and then browned and crisped for service.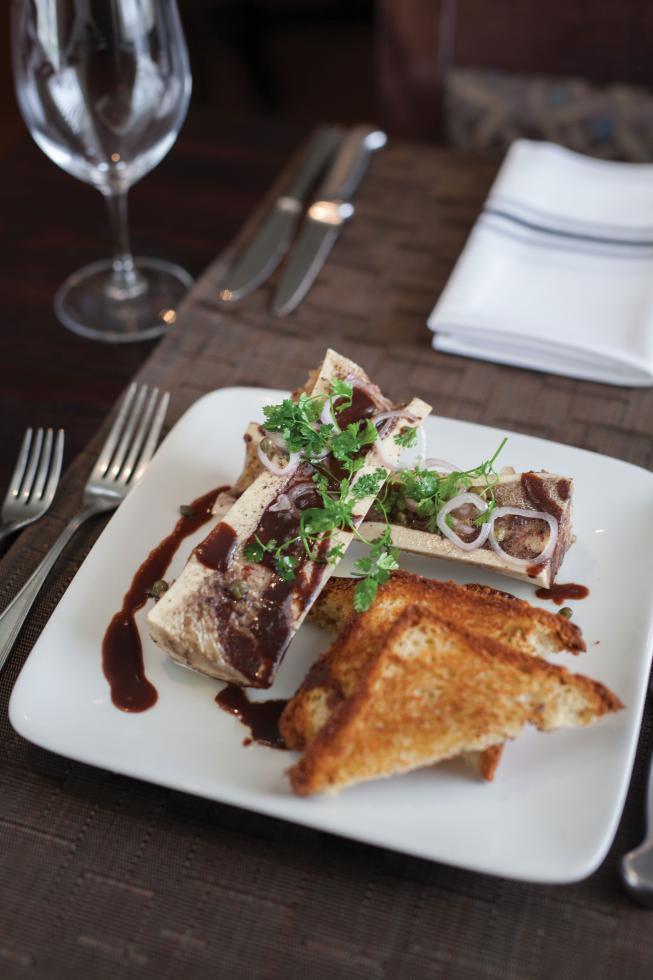 And then there is Bohlmann's bone marrow: roasted to perfection and served with crispy capers, herbs and grilled, buttery toasts. Served with a marrow spoon (which you don't see every day), the meaty gooeyness melts as it contacts the air, then dissolves as it hits your tongue. Bohlmann's is the best version of a dish that's difficult to improve upon without overdoing it.
"Every time I cook something, even if I've cooked it a hundred times, I learn something new," he says, then references coq au vin — a dish of chicken, mushrooms and pearl onions stewed in good red wine and traditionally thickened with blood. "Every year that I make it, it turns out better. A little tweak here and there, and each year I think it's so amazing." No surprise, Bohlmann says this winter's was the best yet.
The operating origin theory of the Parisian bistro claims they started in boarding houses with common kitchens that landlords opened to the public to earn extra money. There, diners would talk to their neighbors as well as travelers in their common dining room. To that end, Mulvaney's B&L restaurant and banquet hall was inspired by Bailey Building & Loan from It's a Wonderful Life, wherein Jimmy Stewart's character realized his future was in investing in his own community rather than chasing grandiose plans elsewhere.
While his menu leans flirtatiously away from Escoffier, Mulvaney also serves a pan-seared foie gras with grapes — it is the PB&J of the gourmand world. But for him, even more exciting than making the perfect traditional foie gras is being able to offer something that was once exotic in a local setting. Recent technologies have made foie gras available to everyone from Paris to K Street and Elk Grove. Things like digital thermometers or convection ovens mean that relatively small kitchens can produce large quantities of perfect (even French) food. Foie gras is accessible to a wider range of both chefs and people than Escoffier could have imagined. And that means, by Mulvaney's logic, that more people will engage with their community, drawn out from their homes like moisture on a salted duck leg by high-end flavor — hearkening back to the traditional bistro.
"We are a gathering place, specifically designed for people to come and discuss the issues of the day, and invite others into the conversation."

Patrick Mulvaney, chef and owner, Mulvaney's B&L
"We are a gathering place, specifically designed for people to come and discuss the issues of the day, and invite others into the conversation," Mulvaney, who was honored as the 2016 Volunteer of the Year by the Sacramento Metro Chamber, says of his establishment. "My belief is that these conversations strengthen our relationships and, in turn, the fabric of our community and that leads to a better Sacramento." Along with his wife and B&L co-owner Bobbin, Mulvaney opened Plates, a restaurant that provides work for homeless women looking to get back on their feet. He was also the driving force behind a $100,000 grant from the James Beard Foundation that focuses on the impact chefs can have on public policy.
"I'd like to think that in our own small way, the B&L has a big effect on the people in this community, and that is something to be proud of," Mulvaney says. "What we are trying to do now is figure out how to prepare the next generation of chefs and leaders, show them how to use their voices to make Sacramento better."
Somehow that's the defining element of a good bistro — any good bistro — that social familiarity of the flavors that remind us who we are and where we come from, bringing us together in a way only food and drink can do. They remind us of who and where we are because the food is cooked by people who, in some way, know us.