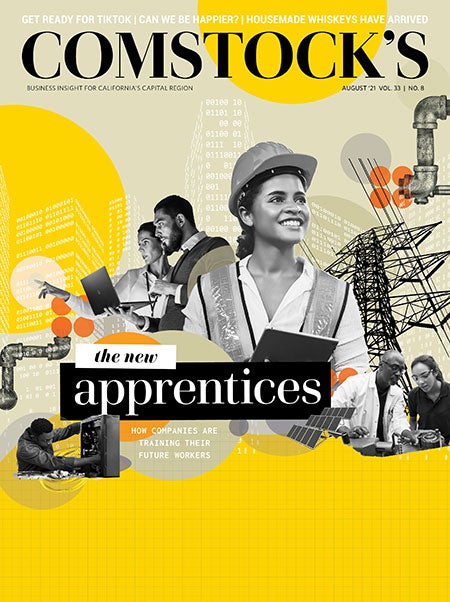 This story is part of our August 2021 issue. To subscribe, click here.
Stefanie Olivieri was smitten with Cabona's the moment she first visited as a child. The clothing store, which opened in 1918 and is the oldest retail establishment in historic downtown Truckee, was her family's business. Her stepmother was the wife and heiress of the late founder Dave Cabona, and Olivieri started helping out around the store at age 9, mainly sorting buttons. She later became a shareholder and took the business over in 1966 when she was still in college.
Olivieri has been in charge of Cabona's ever since, establishing herself as a local entrepreneur who also has gone on to own and restore other local landmarks such as the Truckee Hotel and the old Southern Pacific freight depot. Meanwhile, she still regularly works the floor at Cabona's serving customers.
"I loved the store from when I first remember going there," says Olivieri, who was born on a kitchen table in Tahoe City at Lake Inn (later the Pfeifer House), which her family owned at the time. Except for her years attending San Francisco State, she has lived in the Martis Valley area most of her life. For the last 42 years, she's lived on 80 acres she purchased in south Truckee in the Jackass Ridge area, about 35 miles from Reno.
Cabona's first opened as a general store called Dave Cabona's Dry Goods Emporium, Olivieri says, serving mostly local residents and workers in Truckee who needed clothing and other goods to endure the tough weather conditions of the region. It also had an extensive sporting goods department and sold appliances and even featured a gas pump outside.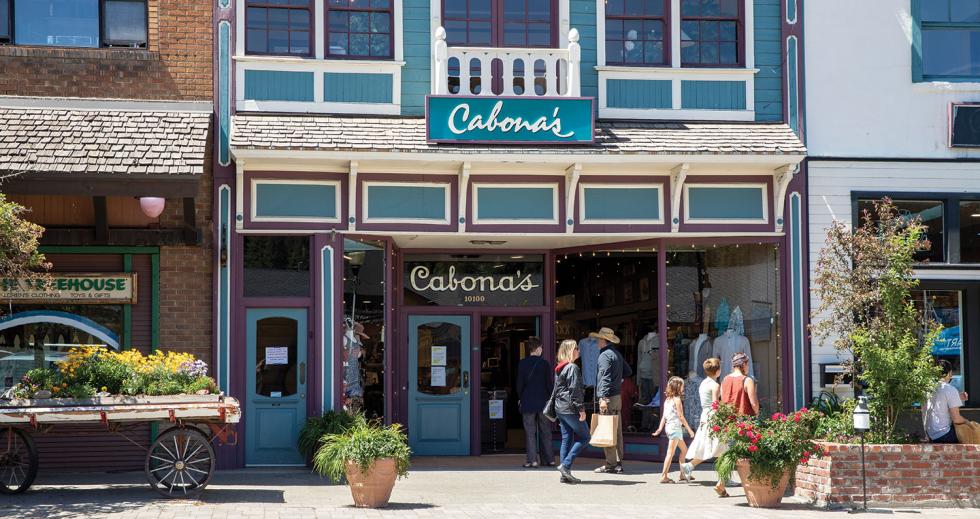 The store's direction changed when Cabona married Ametta Kaer, who led the charge to feature more women's and children's clothing. Kaer took over the business after Cabona's death in 1947 and later married Olivieri's father, Ignatius Firpo, who operated several businesses in the Truckee area, including the Tourist Club bar. Kaer raised Olivieri and her two siblings and was a "wonderful mother," Olivieri says.
Cabona's still occupies the original building built in the late 1800s on Truckee's main street, Donner Pass Road. Today, its 1,700-square-foot space features both men's and women's casual sportswear with brands like Pendleton, Tommy Bahama and OluKai. Cabona's also rented a second building next door for 47 years, but Olivieri says they had to downsize due to a limited pool of available employees and other factors in a tough pandemic year.
"The importance for me is carrying on the name for Dave (Cabona) and my family, and the legacy of providing visitors and locals alike high-quality clothing and sportswear appropriate for our area."

Stefanie Olivieri, owner, Cabona's
"The importance for me is carrying on the name for Dave and my family, and the legacy of providing visitors and locals alike high quality clothing and sportswear appropriate for our area," she says.
Despite a withering 2020 due to COVID-19 restrictions, business has been steadily increasing. "Every month, it seems to get closer to normal," Olivieri says.
Olivieri has been a longtime advocate of preserving Truckee's historic downtown and was the main driver in the formation of the Truckee Downtown Merchants Association in 1969, as well as Truckee's incorporation as a city in 1993.
"When you ask what Stefanie has done for our community, the real question is what has she not done for our community, because she's done so much," says Cassie Hebel, executive director of the merchants association. "She's been integral to the success and preservation of downtown Truckee."
Olivieri has been active with several local environmental efforts as well, and has worked closely with the Truckee Donner Land Trust to set aside all 80 acres of her forested property, except for her house and barn, as a conservation easement, so that it remains undeveloped into the future but available for public recreation.
"Truckee remains a wonderful place to live, even with all the growth," she says. "H­opefully, the community will always keep that paramount."
–
Stay up to date on business in the Capital Region: Subscribe to the Comstock's newsletter today.