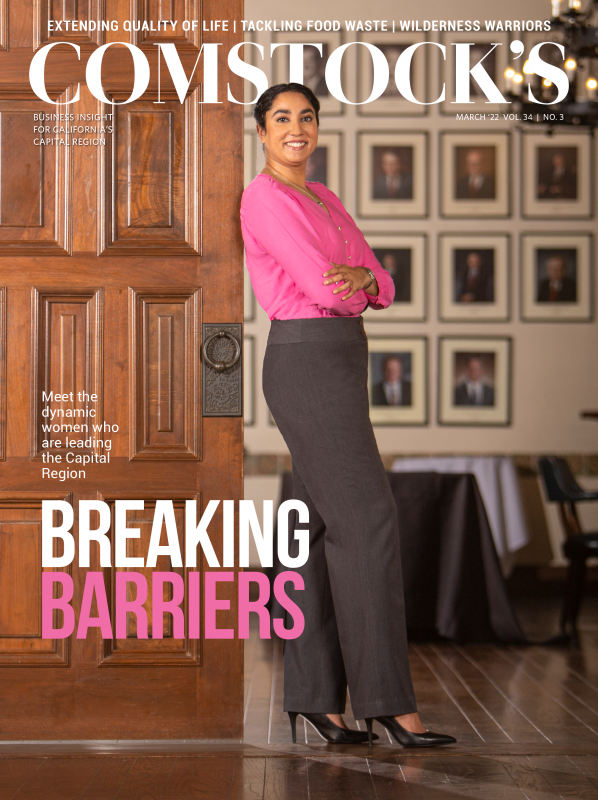 This story is part of our March 2022 Women in Leadership print issue. To subscribe, click here.
Preet Ahluwalia
Owner and chief investment officer, GNP Capital Partners
There was a time when Preet Ahluwalia, chief investment officer for GNP Capital Partners, wanted to be a dentist. But she found the sciences didn't hold her interest. She switched to a double major in religious studies and psychology at UC Davis, intending to go to law school. "That wasn't going to happen either," she laughs. Instead, she launched a business.
Now, she is months away from completing her MBA in finance and financial management services from UC Davis, a pursuit she says is very personal, while continuing to run her Sacramento-based investment firm.
Ahluwalia says she always had an interest in real estate that grew out of her experience of shadowing her dad, a pharmacist, who dabbled in real estate investing. She and younger brother Karanveer Ahluwalia, known as KV, often tagged along when dad was managing the properties, giving them hands-on experience dealing with residential real estate, and the owner and operator side of things. Then the housing bubble burst in 2008 and the market was suddenly flooded with a glut of distressed properties. Preet and KV were pulled in as college interns to help their dad create a funding stream and options for distressed assets. And that's where it all started. "You can say it snowballed from there," Ahluwalia says.
In 2014, Ahluwalia and her brother founded GNP Capital Partners, a boutique investment firm whose primary focus is real estate, private equities and alternative assets (KV acts as an investment officer). "Basically, we come across opportunities and match them with investors," Ahluwalia says. The firm considers approximately 15-20 opportunities a year in its annual deal flow, but the siblings are very particular about the investments they pursue, making sure they align with the company's investment thesis and vision.
Just as the siblings were making strides in the company, they had to pivot, a time Ahluwalia says was one of the most difficult in her career. In 2017, the need for distressed funding and bridge lending started to decline, forcing the young owners to take stock and look beyond residential real estate investing. They expanded the business to include financing for commercial properties and direct investments into private equities and alternative assets. The network and connections they made helped them gain a foothold in new markets, such as commercial real estate and family offices.
"It allowed us to help people in a different way," Ahluwalia says. She credits her family and mentors as her biggest support system, and with helping her manage the business while also juggling her MBA studies and leadership role with the local chapter of the National Association of Women Business Owners.
In July 2021, she was elected chair and CEO of the NAWBO Sacramento Foundation, a nonprofit organization focused on helping the next generation of women entrepreneurs through scholarships, connections, resources and mentorships free of charge. Ahluwalia connected with NAWBO Sacramento Valley in 2018 when she was searching for a women's organization that would support business owners like herself. She went to a few meetings and loved it. "It's really a sisterhood of women supporting each other through all phases of entrepreneurship and business ownership," she says.
She served as director of programs for three months before the pandemic shut everything down. Ahluwalia had to quickly reassess what could be done virtually to keep members engaged. She and her team got creative, offering virtual wine tasting, meditation and self-care sessions, as well as a successful holiday gingerbread house build and a bra donation campaign.
"There are so many women in the Capital Region who are absolutely willing to help the next generation."

- Preet Ahluwalia, chief investment officer, GNP Capital Partners
Through all her efforts Ahluwalia is hoping to create a legacy for generations to come. "There are so many women in the Capital Region who are absolutely willing to help the next generation," she says. "I tell those I'm mentoring that sometimes it just means making the ask."
–
Get all the stories in our annual salute to women in leadership delivered to your inbox: Subscribe to the Comstock's newsletter today.