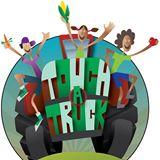 The Junior League of Sacramento (JLS) and Raley's Family of Fine Stores present Touch-a-Truck, an educational community event that will provide children hands-on opportunities to see and touch the heavy machinery and meet the people who grow, harvest, produce and create the food we eat, and build and protect the communities we live in. Attendees will learn about nutrition and healthy habits through hands-on activities, as the event encourages folks to follow their food from farm to food truck.
Touch-a-Truck will take place on Sunday, October 11, 2015 from 11:00 AM – 3:00 PM at the McClellan Park "Mega Lot." There will be a Lights and Siren Free hour from 11:00AM- 12:00PM. Children will explore and learn about how the trucks work, what they're used for, and why they're important to our community. Touch-a-Truck combines the JLS focus on nutrition and access to healthy foods with what we hope will become an enduring and enjoyable community event.
Planned activities include a micro-gardening demonstration, composting demonstration, hands-on activities, crafts and other nutrition and health-related educational activities, as well as entertainment for the whole family. An event stage will feature live music from Musical Robot, cooking demonstrations, storytelling, and other entertainment. Touch-a-Truck will partner with SactoMoFo to present several local food trucks.
With support from our Title Sponsor, Raley's Family of Fine Stores, and other generous sponsors, funds raised through the Touch-a-Truck event will benefit JLS programs, such as Kids in the Kitchen and Done in a Day, along with our broader mission to promote voluntarism and provide to the community a cadre of trained volunteers.
Event photo or logo: