This is the first piece in a 3-part series. Part two, "The Artist on the Fence," can be found here. Part three, "The Story Behind the Solitary 'No' Vote," can be found here.
Can you believe it? People are talking about art again. Not since Sacramento's own David Garibaldi was on "America's Got Talent" has our community talked at about art at the water cooler.
Back in the 1970s, the city's first commissioned public art piece was installed: Gerald Walberg's Indio Arch, between the Holiday Inn and a city parking garage. It was very controversial.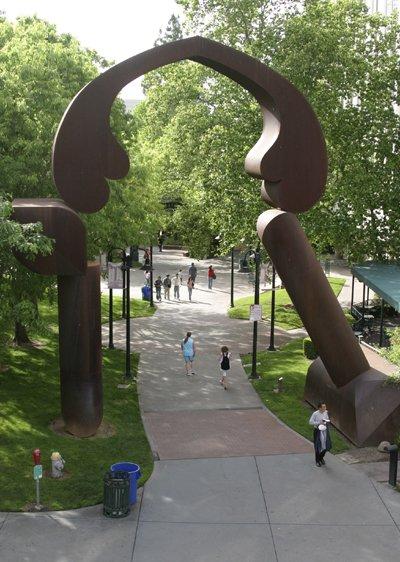 People called it phallic, Islamic and decried it would further endanger the U.S. hostages in Iran. Since then, it has increased in value many times over its original price and much of the community has grown to love it. Look at Lawrence Argent's "Leap," the enormous red rabbit sculpture in the airport commissioned by Sacramento County. It stirred serious emotion around town when first proposed. I now wear a T-shirt with that image when I travel. It is been recognized all around the country, and it is quite a conversation starter.
Now we have Jeff Koons.
The mere mention of his name stirs controversy, and that's great. Art should inspire debate and discussion. Monet and Van Gogh received death threats and, along with Picasso and Chagall, were ridiculed for their work. Millions of Parisians petitioned and protested the Eiffel Tower, the most absurd concern being that birds may perish from flying into it. (French birds are not quite that dumb.)
Koons is a master. New York Times art critic Roberta Smith credited Koons' work with rewarding and encouraging "heightened visual awareness," and his pieces regularly break auction records for their hefty price tags. Koons is a true celebrity artist whose presence will up the status of Sacramento as a must-see art region. That, in turn, brings money for restaurants, shopping, museums and art galleries. And yes, money to buy local art. Whether you like his proposed piece or not, one thing is undeniable: People will come to see it.
Honestly, I'm still on the fence about whether or not I like the Koons piece, but that's irrelevant. What I am passionate about is this debate – one that can be a catalyst for inspiring local artists and raising Sacramento's profile as a city that embraces artistic diversity. However, big ideas and big ambitions come with a price. And make no mistake, Jeff Koons's piece is expensive.
- Over $9.5 million will be spent on art in the next two years at the ESC.

- $5.5 million of that came from a city ordinance requiring 2% of construction costs be set aside for public art.

- The Kings will contribute half of the $5.5 million, with the remainder coming from the city.

- Four local philanthropists donated an additional $1 million

- Marcy Friedman, one of the four donors, restricted her donation of $1 million to the purchase of work by local artists.
More than $9.5 million will be spent on art in the next two years at the new downtown complex, and $1.5 million of that will be allocated to local artists. This is the best of both worlds: an opportunity to develop and promote the local art scene, which is so important to our region, and to own a world-class piece. I'll admit that $7.5 million is a lot of money for one celebrity piece. But does Sacramento have an artist of that magnitude, one who can attract visitors from all over the world like Koons can? The two most expensive public art pieces in the city of Sacramento since 1984 are Davis artist Stephen Kaltenbach's "Time To Castaway Stones" commissioned in 1999 for the Esquire Plaza at $391,000, and Granite Bay artist Michael Riegel's untitled work commissioned in 1988 for the Hyatt hotel at $250,000.
Making art for a living is hard work. Making art in the public realm can be even harder, and it takes experience. It is different from making art in a studio for exhibition in a gallery or museum. It is difficult, complicated and expensive. Artists need to know how to work with larger budgets, manage contractors, and navigate a public process. Ask anyone who has completed a major work of public art and they will tell you.
Do we have local artists blowing up the art world's mainstage? Not yet. That takes a lot of money, talent, hard work and frankly, luck. Spending that $1.5 million locally is going to be a lot harder than you might think. In my own poll of gallery owners, artists, curators, donors and collectors, we had a difficult time spending that much money locally with proven artists that produce public art.
There are many dedicated and gifted artists in this region. My hope is that local talent produces a piece so relevant that it become the topic of conversation, and that visitors from around the world flock to see their work. The commitment from the Sacramento Metropolitan Arts Commission, the city, the developers and philanthropists has shown us how far we have come in Sacramento.
What do you think of the Koons piece? Let us know in the comments. We'll feature a round-up of community opinion in our April issue.