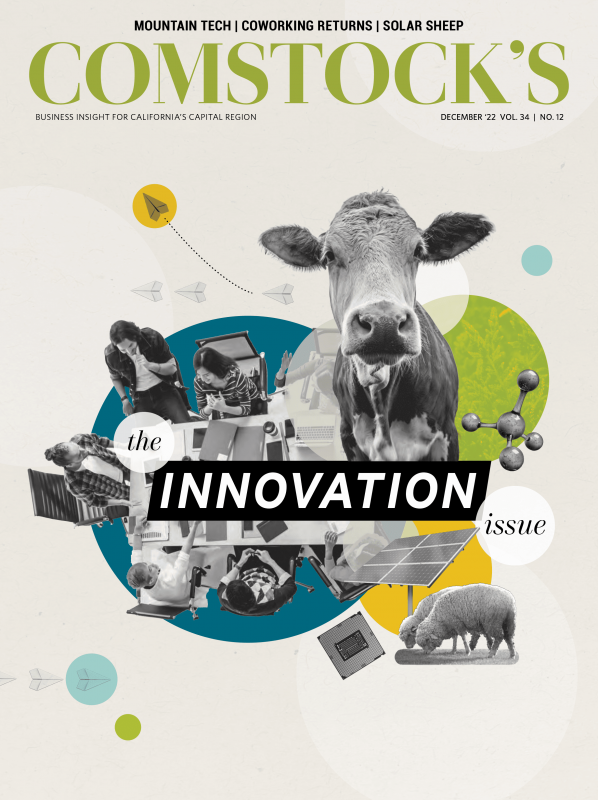 This story is part of our December 2022 Innovation print issue. To subscribe, click here.
The number of opinions we are exposed to daily has increased at a head-spinning rate in this digital age, thanks to the internet, social media and the ever-expanding number of groups trying to influence us. This cacophony has been louder than usual this year it seems because so much has been going on in the news. Who should we believe?
Recently, I was on the receiving end of a random phone call from one of the oldest and most respected pollsters, the Gallup Poll. They asked a question that made me stop and think before I could answer. "Who do you trust?" I won't share my answer here, and I will be curious to see the results when the poll is released. But it seems to me that's a question many of us probably ask ourselves more than once a day as we are exposed to an unprecedented volume of information and — unfortunately — purposely manufactured disinformation. In fact, is that question the elephant in the room?
When we were all younger, we learned our first lessons about trust from the people around us. We trusted our parents to teach us about life. We trusted our school teachers. Many trusted a religion or church group for guidance. We once entrusted figures in the news media to sift through a variety of opinions and conflicting facts to explain complicated events of the day. The newsman Walter Cronkite carried so much gravitas that he was dubbed "the most trusted man in America."
These days, it seems no one can agree on basic facts, let alone what they mean. Surveys show us that trust in our basic institutions such as schools, church, government and news media are at an all-time low — perhaps not a surprising statement. The line between facts and opinions is blurred. The internet was intended to expose us to a wider world of knowledge, but algorithms designed to keep people hooked to a digital screen purposely reinforce only what we already think is true, whether or not it is.
It turns out that the question the Gallup Poll asked is not simply a rhetorical merry-go-round without an answer. The Pew Research Center and others have studied how people come to trust what they read and hear. Pew emphasizes that the ways people evaluate information and choose what or who to believe are as varied as there are types of people. But generally speaking, the study says, education and an eager attitude to improve motivates people to seek out different opinions before deciding what sources or people to trust.
That open mindedness is critical to building trust. Ultimately, trust is an act of faith, a belief that a person or institution is consistently working in our best interest. Today, many question whether that continues to be the case in many situations.
There are disbelieving cynics and difficult-to-persuade skeptics. But ultimately, our personal and business lives have to be built on trust of some kind, whether through a handshake, a vow or a contract. Each of us can only answer Gallup's question by our own unique experience. Perhaps over time, we'll learn whose predictions consistently come true or whose advice is consistently helpful. Wisdom and discernment is my constant prayer.
Almost every issue of Comstock's is my "favorite," but December's is really special for me. It's the last issue of another year; it's our Innovation issue with all kinds of unique processes, solutions and devices talked about. This year we also celebrate another partnership with the Greater Sacramento Economic Council which brings so many jobs and businesses to our region. A special section for them begins on page 55. And last but not least, this is the 25th consecutive year that we've celebrated and honored our region's nonprofit organizations (those we entrust to meet so many community needs through the heroic work of thousands of volunteers) through the pages of Capital Region Cares, which begins on page 91.
With much of our trust seemingly flying out the window of late, I hope you know you can always trust Comstock's to bring you a beautiful magazine with excellent journalism and graphic qualities. We purposely seek out those nuggets of positivity and good in our region and always with the best interests of our business community in mind. We all live and work in a wonderful place, our Capital Region, with so much innovation, economic development and compassion — it just makes me smile.
Wishing you and yours a safe, happy, healthy holiday season. May you be surrounded by family and friends that you love — and trust.
Winnie Comstock-Carlson
President and Publisher

–
Stay up to date on business in the Capital Region: Subscribe to the Comstock's newsletter today.