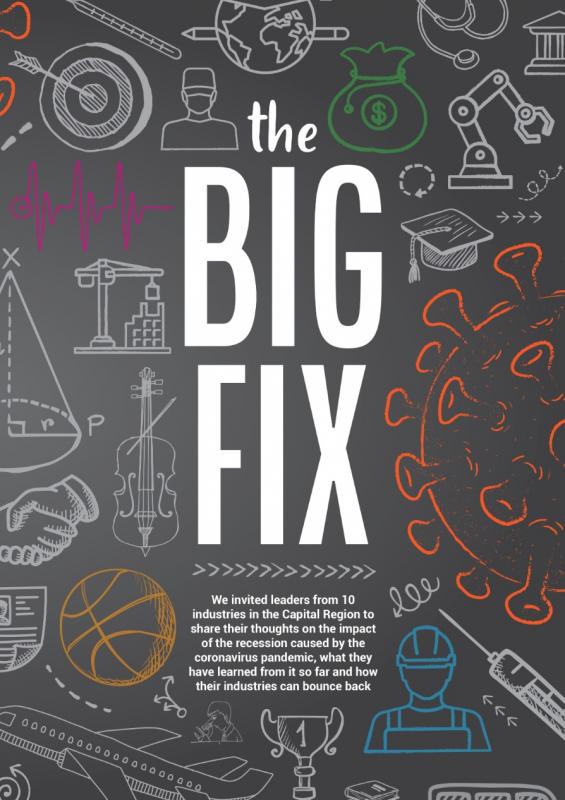 This story is part of our August 2020 Big Fix issue. To subscribe, click here.
In the following months, however, two of the biggest events of recent memory struck hard, one causing almost unimaginable loss of life and financial hardship, the other bringing much-needed attention to the continued racial and economic injustice still so pervasive in our country.
The coronavirus pandemic and shutdown of most businesses rocked Wall Street — the Dow plunged to 18,591 on March 23 — and drove the U.S. jobless rate to 14.7 percent in April. While the Dow has rebounded 40 percent, bringing a glimmer of hope about the future, the recession likely will rage through the rest of the year, especially if we continue to see repeated surges in COVID-19 infections and shutdowns. As of mid-July, the positivity rate of Californians being tested for COVID-19 had soared to 8.3 percent.
Comstock's has been covering how the coronavirus has affected the region, both in the magazine and online, because we have a responsibility to inform our readers and our community. While some may consider the coverage negative, the reality is, in addition to the economic fallout the pandemic has caused, with more than 135,000 deaths in the U.S., we are experiencing unprecedented difficult times — but we've also been seeking solutions and the silver linings to our circumstances. In this issue, we focus on what needs to be done to rebound economically. We asked leaders from 10 industries that have been hit hard to offer their insight (see "The Big Fix").
These industry leaders continue to advocate for and share ways to keep struggling companies from closing permanently. One example can be found in the commentary by Lance Hastings, the president of California Manufacturers & Technology Association. He writes how Sacramento-based Interstate Plastics has shifted its focus from making industrial plastics to protective barriers, such as desk partitions and face shields, which are in high demand by retail businesses and offices and are helping people return to work. Another example comes from Garry Maisel, president and CEO of Western Health Advantage, who writes that the pandemic has led to an increase in telemedicine, and he contends that will lead to new business opportunities and jobs.
But we're also in something of a Catch-22. With the death toll and COVID-19 positive test results continuing to rise, the restrictions being placed on businesses to protect community health are necessary. As we've seen in other countries, like Sweden, not placing restrictions on businesses did not benefit them economically and led to a higher death toll compared to neighboring countries. The bottom line is if we aren't healthy as individuals, our economy can't be healthy, either.
One key way to stimulate the economy is to minimize the risk of illness: If people don't feel safe, they are less likely to visit businesses that have been allowed to reopen. The best way to reduce infection numbers — and recharge the economy — is to listen to the science-based advice of health officials. Wear a face mask when in public, maintain at least 6 feet of distance between yourself and others; wash your hands for at least 20 seconds with soap and warm water; and limit being in the proximity of people who do not live in your household.
The second big story this year followed the death of George Floyd on May 25 in Minneapolis. Across the country, globally and in Sacramento, millions of people took to the streets to protest the killing of Black people by police or while in custody — Stephon Clark, Breonna Taylor, Michael Brown, Terence Crutcher, Eric Garner, Oscar Grant and Freddie Gray, to name a few — and the Black Lives Matter movement became the most urgent topic in the country. The collision of fear and anger, as Joshua Wood, CEO of the Sacramento Region Business Association, called it in his opinion piece in the July issue of Comstock's, has affected businesses, "many of whom have somehow survived a global pandemic only to be crushed by a racial pandemic."
In this issue, we asked veteran journalist Russell Nichols to talk to Black business owners (see "Fighting for Fairness") about their struggles during the pandemic shutdown and protests. Nichols reports that Black-owned businesses have suffered disproportionately from the shutdown and didn't receive a fair share of federal funds aimed at helping businesses weather the downturn. Salena Pryor, president of Sacramento-based Black Small Business Association of California, tells Nichols that systemic racism has restricted access to financial resources for the Black community, and she's advocating to change that.
Sac Black Biz (@SacBlackBiz on Facebook) created a list of more than 300 Black-owned businesses in the Capital Region to encourage patronizing Black-owned and other minority-owned businesses to help level the playing field, because our economy is only as strong as our businesses — all of our businesses.
–
Stay up to date on the effects of the coronavirus on people and business in the Capital Region: Subscribe to the Comstock's newsletter today.