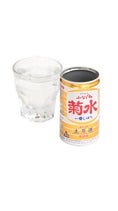 Dream'n Scallop with Absolut Lychee Shock:
The Concept: "Mikuni Kaizen is the Mikuni Japanese Restaurant Group's ninth location and newest concept. The restaurant greets you with a beautifully designed, one-of-a-kind sushi bar, which holds symbols and significance to many we honor who have helped make Mikuni the sushi success it is today. The walls feature artwork by local urban performance artist David Garibaldi. The cuisine is a fusion of your favorite Mikuni recipes and brand new items featuring the quality fish and unique style available at Mikuni's innovative sushi bars. Kaizen means continuous improvement, which we strive for every day."
Where to find it:
Mikuni Kaizen, The Fountains at Roseville
What to eat with this wine:
Dream'n Scallop, a seared scallop with spicy tuna over rice, torched strawberry lotus chip and seven spices. Pair this dish with Absolut Lychee Shock — Absolut vodka, triple sec, simple syrup, and sweet and sour mix with fresh lemon lychee juices.