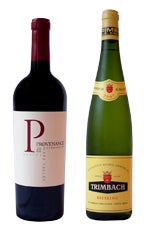 Trimbach Riesling, Alsace, 2007, $25 and Provenance Vineyards Merlot, Napa Valley, 2006, $30:
Trimbach Riesling: In Alsace France, Riesling is king. Trimbach is a great representation of why. The 2007 release is made using 100 percent stainless steel — no oak. This allows for little interference between the flavor of the grape picked in the vineyard and the taste of the final product. The wine is made in a bone-dry style with flavors of peach, grapefruit and lemon followed by a long, clean and dry finish.Provenance Vineyards Merlot:Situated in the town of Rutherford, Provenance Vineyards produces some of the best Merlot in the Napa Valley. This is not a timid Merlot. Fruit for this wine comes from the Los Carneros and Oak Knoll subappellations within the valley. The combination of these grapes produces a wine showing flavors of black cherry, clove and autumn spices followed by a long fruity finish.
Where to find it:
Both wines are available at Nugget Markets (nuggetmarket.com), Whole Foods Market (wholefoodsmarket.com) and BevMo (bevmo.com) locations throughout the Capital Region.
What to eat with this wine:
The Trimbach Riesling pairs well with a succulent lobster tail served with drawn butter and lemon. The Provenance Merlot is paired with Hads fireside steak sandwich served on a garlic roll. Lightly seasoned green beans and onions accompany the entrée.