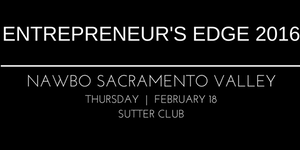 You are invited to a one-day event to bring together women business owners in our community. If you are a women business owner, or a woman who is thinking of starting a business, this is an event not to miss!
Entrepreneur's Edge 2016 features multiple, interactive, round-table conversations between attendees and Sacramento area women business owners across multiple professions & areas of expertise. You will be able to meet with the most influential women business owners in our community to learn and develop skills, gain insights and help your business thrive.
Facilitators you will be speaking with:
Andrea Lepore – Lepore Development/HOT ITALIAN
Bobbin Mulvaney – Mulvaney's B&L Restaurant
Catherine Dyer – StemExpress
Denise Páne – River Coyote Design
Felicia Strati – Felicia Strati
Ginger Elizabeth Hahn – Ginger Elizabeth Chocolates
Jeanne Reaves – Jeanne Reaves Consulting
Kim Delfino, Esq. – Defenders of Wildlife
Laurie Rood – Benefits Done Right, Inc.
Lila Wallrich – Wallrich Creative Communications
Margaret Brown – SocializeLA.com
Marlene Goetzeler – Freeport Bakery
Myla Ramos – SearchPros Solutions
Tina Reynolds – Uptown Studios, Inc.
Seating is limited so purchase your tickets now! Registration includes Breakfast, Lunch & Parking.
Please note: This is a women-only event. Attire: Professional. Sutter Club does not allow jeans, t-shirts, flip-flops, tennis shoes or shorts.
To register, click here!