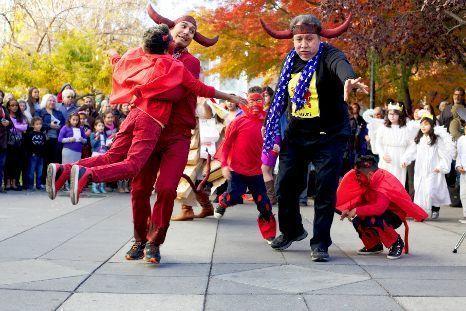 La Pastorela de Sactown—a bilingual holiday musical, is the tale of three ordinary people sent by an angel to accomplish the extraordinary. Will our contemporary shepherds follow the North Star in this timeless tale of good versus evil? Will they resist the lure of fame and fortune to save humanity? Who will win the final battle between Lucifer and St. Micheal? Join us in laughter and intrigue at the Crest Theater in Sacramento on Dec.19 and find out!
A pre-show procession in front of Mayahuel Restaurant will be held to sing Christmas carols and verses from the traditional Posada verses at 7:30 p.m. All are welcome to join the 20-minute procession to the Crest before the show begins.
Caroling starts at 7:30 p.m.
Performance starts at 8:00 p.m.
Prices
$15 Adults,
$12 Seniors 65+,
$5 Children 12 and under
To register online click here!