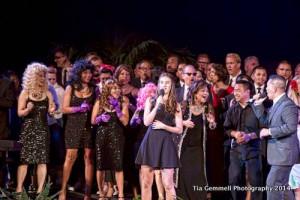 Join us for My Sister's House 14th Anniversary Gala! Enjoy an evening of music and comedy with local celebrities, leaders, and supporters, who will take the stage to perform songs and special dances made famous by artists and celebrities you all know and love. This year's theme, "Stronger," reflects the strength and courage of victims of domestic violence to come forward and make a change in their lives.
This year's Gala production will feature local singing sensation, College Fund Street Band, with special performances by High Voltage and CORE Contemporary Dance. Mayor of West Sacramento, Christopher Cabaldon, is back again this year as emcee for this must-see event. Additional performers include: Rosemary Yount of Dignity Health, Chris Worden of Downtown Sacramento Partnership, Step 1 Dance Company, Jennifer Ablog and Rod Stinson of Kaiser Permanente and Bollywood dancers featuring Shivani Ram.
Guests will enjoy delicious hors-d'oeuvres from 5:30 to 6:30 p.m. at the VIP Reception followed by the spectacular and hilarious Performance at 7:00p.m. at the historic Crest Theatre.
My Sister's House is a nonprofit organization that seeks to eliminate domestic violence and provide a safe haven for women and children impacted by domestic violence, sexual assault, and human trafficking.
Tickets for the VIP Reception and the Performance are available in advance and at the door for $100. General admission tickets to the performance are $50.