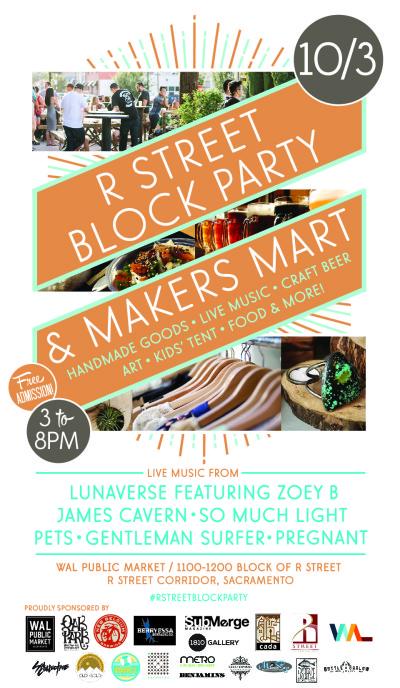 Warehouse Artist Lofts Public Market is excited to introduce the recently revitalized 1100 block of R Street by hosting a block party fun for all ages! The event will showcase live music, a curated makers mart of 30 vendors selling handmade goods, and live art by 1810 Gallery to provide an opportunity for community members to watch Sacramento artists at work.
The block party will be featuring food by SOUTH and El Matador, brews by Oak Park Brewing Co., Berryessa and New Belgium, and a children's play area donated by the non-profit Sol Collective, The Crocker Museum, and Casa de Español.
This is an opportunity to showcase all of the new and exciting businesses on R Street. Highlights include Casa de Español, the David Garibaldi studio, and the WAL, which includes seven newly opened independent shops located inside the WAL Public Market, including Fish Face, Metro Juice, and Old Gold. The WAL also includes Bottle and Barlow, a barbershop and bar concept, and Gallery 1810. We are thrilled by the developments in our neighborhood and hope to introduce R Street as a new center for culture and community.