Get your tickets, pack your bags, and fasten your seatbelts as the Sacramento Gay Men's Chorus takes you on a whirlwind tour with Holiday In… A Destination Celebration.
Holiday celebrations around the world are truly diverse. And for each of us our different cultures, religions, communities, friends and chosen family members influence the events that define our holiday traditions and build our special memories. Join the members of the SGMC chorus, the Boy Howdy small ensemble and special guest performers as they celebrate diversity in song and travel from Sacramento to Hawaii, Mexico, Africa, India, Canada, Australia, and a plethora of European countries in a new holiday spectacular – as only SGMC can create – filled with musical excellence, entertaining staging and a good dose of special "choralography."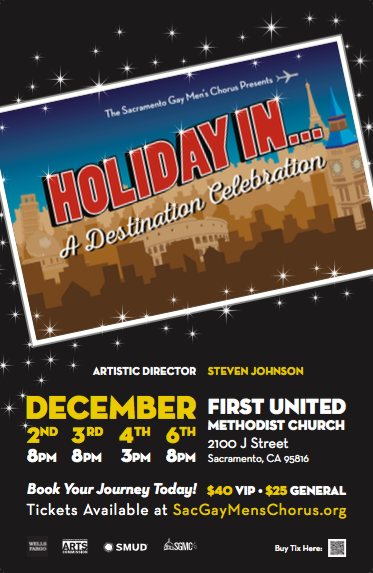 Holiday In… continues SGMC's tradition of presenting fun and entertaining songs through a rousing rendition of Recycle the Fruitcake, the humorous Forgotten Carols from Other Lands and the inspirational Spirit of the Season from Polar Express. The program also includes modern classics like Mele Kelikimaka and Feliz Navidadas well as powerful arrangements of more traditional carols such as We Three Kings and Little Drummer Boy. Your itinerary is set and you are sure to enjoy the in-flight entertainment as SGMC prepares for departure to a fantastic holiday season.
To register, click here.