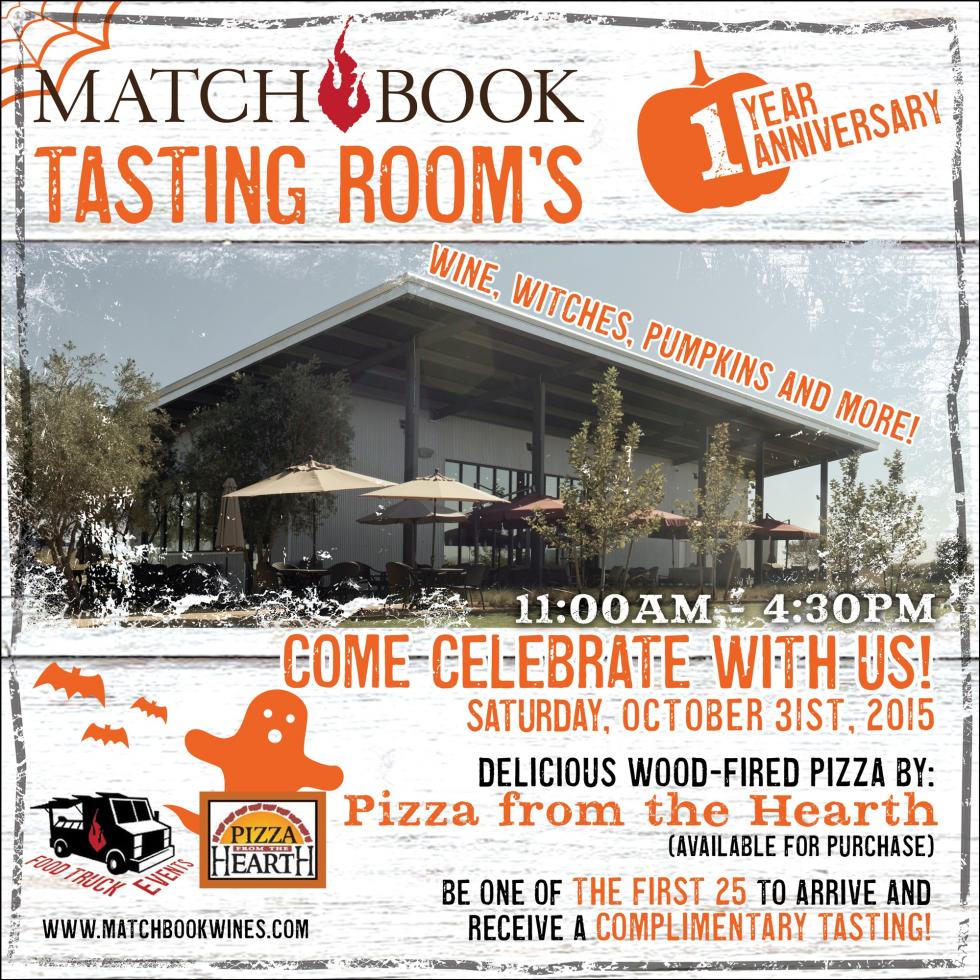 Matchbook Wine Company invites wine lovers across the Sacramento region to celebrate the one-year anniversary of their new tasting room located in the scenic Dunnigan Hills. Matchbook will pour a selection of their award-winning wines to enjoy with wood-fired pizza by Pizza from the Hearth and all the Halloween candy guests can handle. Want to dress up? Knock yourself out!
This event falls on the one-year anniversary of the opening of Matchbook's contemporary 2,160 square-foot tasting room, with its welcoming wine bar made of salvaged wood from an old barn in nearby Esparto, and a 400-square-foot covered patio where guests can sip wine, relax and watch as the sun falls beyond the rolling Dunnigan Hills vineyard.
Pizza from the Hearth, a roving eatery with a portable wood-fired pizza oven trailer, will serve up fresh-made pizzas to pair with everything from Matchbook's zesty 2014 Dunnigan Hills Verdejo to their bold 2012 Arsonist Red Blend.
Located in Zamora, CA, just 30 miles from downtown Sacramento up I-5 North, Matchbook's vineyards have been producing grapes since 2004. Today the family-owned operation bottles 100,000 cases annually and welcomes thousands of Northern California visitors looking to enjoy locally grown, estate-bottled wines such as Chardonnay, Tempranillo and Syrah.
Matchbook Wine Company is owned by Sacramento residents John and Lane Giguiere, former owners of RH Phillips—the winery that introduced Toasted Head Chardonnay to the world. Born and raised in Yolo County, the Giguieres are dedicated to growing and producing quality wines from the Dunnigan Hills appellation.
About the Matchbook family:
As farm kids growing up in the late 1950's and early 1960's, John and Karl Giguiere were full-fledged pyromaniacs—setting various things ablaze (such as their father's wheat fields) before graduating to launching rockets. The boys eventually outgrew this fascination with the flame, but even today they view the Matchbook label with fond memories of the fires they once stoked. Matchbook Wine Company has been a family-owned winery in the Dunnigan Hills AVA since 2004, producing over 15 wines that focus on varietals that perform well in our warm, "East of Napa, Left of Center" climate.