21st Annual Taste of Capay to Support the Esparto and Capay Valley Fire Departments | Sunday, October 23, 2022 1 pm to 5 pm
Capay Valley Vision is excited to host the 21st Annual Taste of Capay, to be held at Luna Lavender Farms, 7086 county Rd 49 in Guinda, CA 95637.
Taste of Capay is a longstanding event in the Capay Valley and meant to celebrate the bounty of food grown in the community. The event will feature a multi-course dinner featuring produce, meats and other products sourced from the Capay Valley's diverse farms. Guests will also enjoy wines, beer and olive oils from the region. Both local and guest chefs will collaborate to prepare an exquisite menu. The event will also include music, silent auction and even a live auction during dinner.
Proceeds from the event will support the Capay Valley and Esparto Fire Departments. Both fire districts have long been trusted and essential resources to the Capay Valley and Esparto communities.
Capay Valley Vision Board President Mathew Trask said, "Taste of Capay has become a tradition in Yolo County by bringing our community together every year to celebrate the end of the harvest season. We are excited to yet again highlight the wonderful products grown and created in the Capay Valley. We look forward to hosting friends
new and old for a day in the countryside enjoying great local food made by local chefs, and a great lineup of entertainment."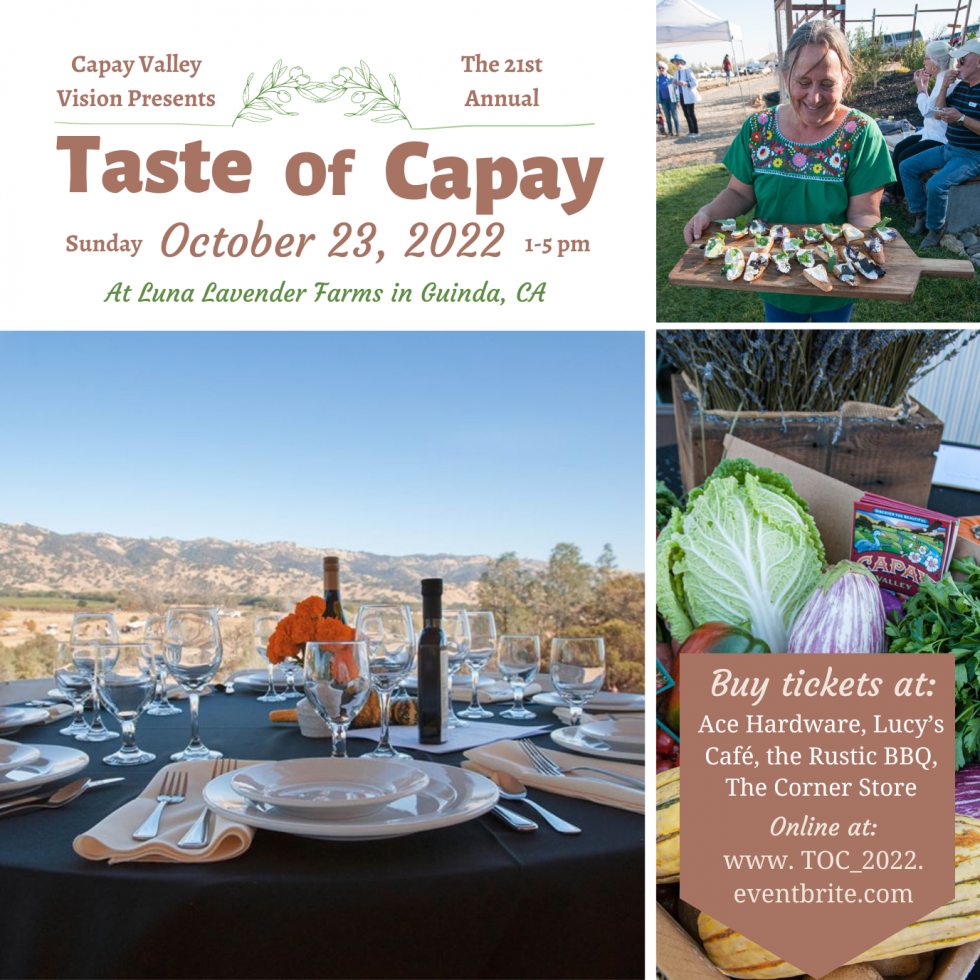 Tickets for the event are available. Each ticket is $75, and a table for eight guests is
$560. All purchases can be made at: https://toc_2022.eventbrite.com