In a way, not much has changed.
At the Golden 1 Center, Sacramento Kings fans continue to wave cowbells at games, having long since embraced the once-insulting apparatus. The grub still costs a pretty penny. The team remains perpetually in a building year.
But there the similarities end. Because, for the most part, major differences exist between now and before the Golden 1 Center opened in October 2016.
Instead of an arena surrounded by parking lot in all directions, visitors to the new facility must park downtown or arrive via light rail and walk past shops, restaurants and bars. The Golden 1 Center is the world's first LEED Platinum indoor sports arena and 100 percent solar powered. Public art installations greet patrons, including an $8 million sculpture of Piglet by world-renowned artist Jeff Koons anchored in an outdoor plaza. Inside, concession food now boasts locally-sourced ingredients from vendors representing the city's finest — including LowBrau, Paragary's and Selland's — and the arena's executive chef hails from a fine-dining background.
How much has all of this cost taxpayers? About $500 for each Sacramento resident, if the $255 million public subsidy to build the facility were spread across the city's approximate 500,000 residents.
Sacramentans, how do you feel about your investment?
AN ORIGIN STORY
Good luck explaining the history of the downtown arena to anyone who didn't live through it: A wealthy Silicon Valley software developer, Vivek Ranadivé, purchases one of the nation's most dysfunctional basketball teams in 2013 in a region that – despite steadfast efforts by the community – refuses to recover from the Great Recession. To keep the team, then-mayor and former NBA All-Star Kevin Johnson convinces his colleagues on the Sacramento City Council to borrow hundreds of millions of dollars for an arena at the site of an anemic downtown shopping mall.
That mall, the Downtown Plaza, was 60 percent vacant and worth about one-tenth of its original value when arena construction started in May 2014. The Golden 1 Center is worth $353 million, according to a 2017 valuation by Sacramento County. Additionally, the Sacramento Kings has 1.5 million square feet of space to build across six square blocks on the west end of K Street, arguably transforming the basketball organization into one of the most prominent real estate developers in California.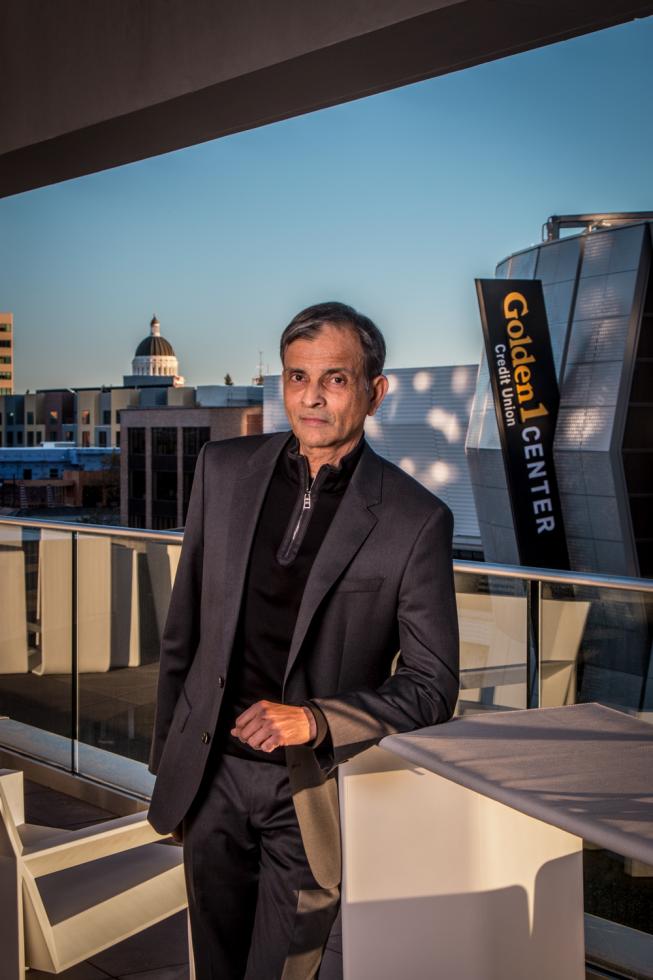 It may be a decade before Capital Region residents understand the full economic impact of the Golden 1 Center and its surrounding development, but early indicators suggest a meteoric rise of demand for commercial space in the central city. The makeover of downtown's west end has arrived at the same time as people rapidly flee soaring prices from the Bay Area, a convergence that's radically shifted public discourse on housing, business climate and what it means to live in Sacramento.
"We're one of the hottest real estate markets in the country," says Vivek Ranadivé, chairman and majority owner of the Sacramento Kings. "We have the opportunity to do something really special."
Ranadivé, his developer peers, economic development proponents and city officials have all proclaimed this new arena as the signature project to revitalize downtown Sacramento. They promised this state-of-the-art stadium would make us a world-class city.
WHAT THE PUBLIC GAVE
Not long after Ranadivé completed his campaign to keep the Kings in Sacramento in 2013 and was hailed a hero, public comment turned ugly during City Council meetings addressing public investment in a new arena. Ultimately, the Council agreed to provide ongoing public subsidies for the NBA team without a public vote, and ultimately approved $255 million in land and cash toward a $477 million arena. Because the City obligated itself to a flat rate, the Kings absorbed any increase in cost, and ultimately the City paid 45.6 percent of the $559 million Golden 1 Center.
In August 2015, the City issued $273 million in bonds to finance its share. Over the course of a 35-year repayment term, the total obligation will have cost $626 million by 2050. At a January 2016 Council meeting, then-City Treasurer Russ Fehr outlined in his presentation that the Kings will pay roughly 60 percent of that amount through lease payments over the term and through property tax. The rest of the debt service will come from new revenue from city-owned parking meters and garages — meaning the City won't dip into its general fund, Fehr said during his presentation, stressing, "If people don't come downtown and park, they literally don't pay for the Golden 1 Center."
The Sacramento Kings has 1.5 million square feet of space to build across six square blocks on the west end of K Street, arguably transforming the basketball team into one of the most prominent real estate developers in California.
This statement, however, doesn't account for "opportunity costs," which refers to the loss of potential gains for other services and projects the lost parking money could have gone to, including libraries, parks, bike trails and law enforcement, says Dr. Robert Wassmer, director of the Master's in Land Development Program at Sacramento State.
In considering the value of the Golden 1 Center, Wassmer says the question to keep in mind is: How much economic activity would have developed in downtown otherwise?
A COMMERCIAL CATALYST
This isn't the first time business leaders have rolled out promises of a revitalized downtown core. The Downtown Plaza and the K Street Mall were both promoted as historic urban makeovers, but both efforts faltered after failing to secure critical investment.
But this time, the dollars changing hands are unprecedented and they arrive at a time that 20,000 Bay Area residents are now migrating to the Capital Region each year, according to figures from the U.S. Census. The Kings have invested $1 billion into a downtown portfolio that spans six square blocks on the west end of K street — from 4th to 7th streets with J Street as the northern border.
That investment has helped drive another $1 billion in investments by other developers into the central city, according to the Downtown Sacramento Partnership. Thirty-two construction projects surrounding the arena have occured since its construction broke ground. While the team can't claim full credit, the Golden 1 Center remains a shiny spearhead cutting a trail through a dense thicket of long-neglected city blocks.
"Being a catalyst and helping grow and energize the downtown core is just a natural extension of what we want to do," says John Rinehart, president of business operations of the Sacramento Kings.
The City's renovation of the Sacramento Valley Station, a 90-year-old rail depot at 5th and I streets, is a gateway to hundreds of residential units and hundreds of thousands of square feet zoned for commercial use in the Railyards. In July, construction broke ground on the new soccer stadium at the Railyards, less than a mile from the Golden 1 Center, as part of the Sacramento Republic FC's attempts to be named an expansion team in Major League Soccer. The first tenant of the space is McClatchy, which is partnering with Google and YouTube for an experimental video lab for virtual reality and augmented reality.
One block away, at 501 J Street, Kaiser Permanente is converting a six-story building into a medical office building with an outpatient clinic. Kaiser already operates a Sports Medicine Center within the Golden 1 Center, where Kings players as well as athletes from around the region receive treatment, and plans to build a hospital within the Railyards Project.
Next door to the new Kaiser is The Sawyer, a 16-story mixed-use tower owned by the Kings. Upon entering The Sawyer's lobby on J Street, visitors see directly across to large windows that open onto the public plaza outside Golden 1. The building features the Kimpton Sawyer Hotel, a 250-room boutique resort. It is topped with The Residences, 45 luxury apartments opening to tenants in early 2018 — units range from $600,000 to $4 million.
On the second floor are the newly opened Punch Bowl Social, a games-inspired restaurant with a bowling alley and a nightclub. Echo & Rig Steakhouse, a steak and seafood restaurant with another location in Las Vegas, is slated to open early next year. Fittingly, the nightclub is named Revival.
From here are views of K Street, the arena, the State Capitol and Tower Bridge. Looking out onto Plaza West sits the former site of Downtown Plaza. Macy's remains and the old movie theater got a renovation, with the rest of the mall demolished. Eventually, the area will have several restaurants and fast-casual eateries.
The Kings have labeled this area Downtown Commons, a "common ground" theme that follows Ranadivé's vision that sports arenas are this generation's town squares or cathedrals. Banners and signage with the abbreviated DOCO moniker hang prominently.
Since the Kings launched its DOCO public relations campaign, a handful of new restaurants have opened within the space. The first DOCO restaurant, a chain called Sauced, replaced the former Hard Rock Café with a Southern spirits and barbecue theme. Sauced caters to a sports bar set hungry for comfort food and alcohol, and packs 300 customers inside and 150 outside.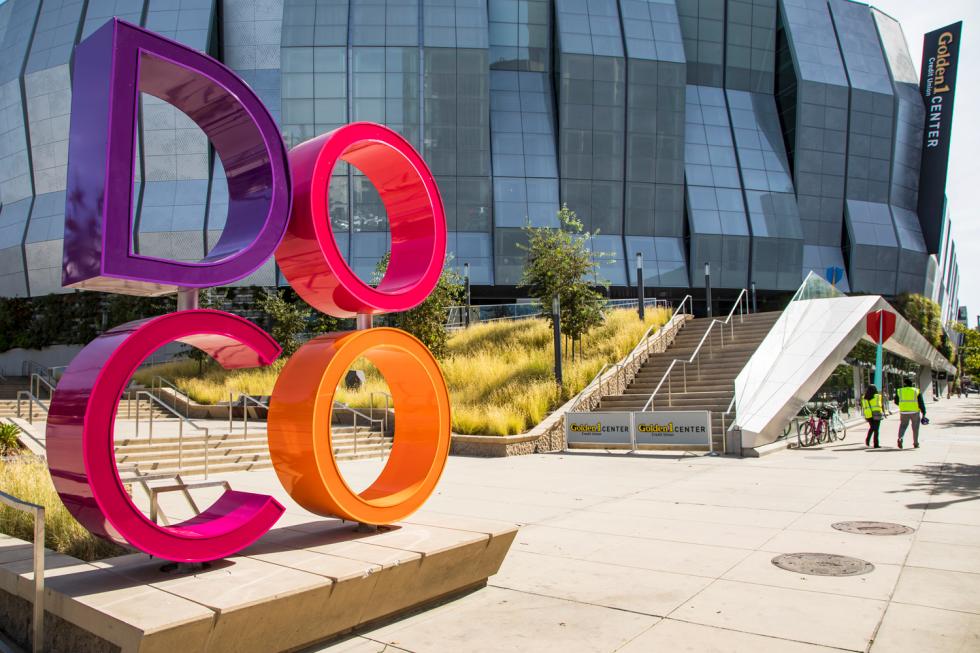 Beginning in early 2018, patrons will be able to walk across the street to The Bank, a three-level upscale cafeteria that will host multiple bars and restaurants on J and 7th streets. The owners of The Bank say the Golden 1 Center influenced their decision to pivot from a banquet space.
"After researching abroad and visiting cities in the U.S. with large arenas in the downtown areas, this concept is what we came up with," says general manager Juliet House. The idea was to provide "a place where people could gather before, during or after an event," she says, "and a place with the flexibility to be able to accommodate high volumes of guests quickly if they are in a hurry."
"Tenants are looking to downtown that have historically been in the suburbs, and they want to be close to all the amenities and excitement."Lisa Stanley, vice president, CBRE
Capitol Mall has historically been the domain of law and lobby firms that wanted walkable access to the Capitol building. But since arena construction began in 2014, engineering and tech firms have started funneling into those offices, says Lisa Stanley, a vice president with real estate broker CBRE.
Downtown office vacancy rates fell more than two percentage points, down to 8.2 percent, last year. Employers believe they can attract and retain talented employees by locating close to the fun.
"Tenants are looking to downtown that have historically been in the suburbs, and they want to be close to all the amenities and excitement," Stanley says.
BEYOND BUSINESS
Along the 800 block of K and L streets, the Kings plan another 148 apartments as part of a mixed-use project. The Kings total apartment portfolio includes 55 units designated as affordable for lower-income tenants.
Down the street is the rehab of the 700 block of K Street — a $55.4 million mixed-use project begun by developer Ali Youssefi and Bay Miry prior to the announcement of the new arena. The project will consist of 250,000 square feet of retail and mixed-income apartments, "ranging from affordable studios to penthouses" above. Youssefi is the man behind the Warehouse Artist Lofts, which attracted a creative class to the R Street Corridor and has served as the cornerstone to revitalizing a long-defunct part of the city's central core.
Wassmer, of Sacramento State, notes that even if Sacramento can leverage tame weather, the proximity to the Bay Area and Tahoe, and the relative low cost of living, the issue of housing affordability remains. And that, he says, is a "piece of the puzzle we've yet to crack."
Affordable housing advocates believe more is needed. Darryl Rutherford, executive director of the Sacramento Housing Alliance, expresses concern that the arena has ushered in a renewed focus on eradicating blight with upscale residential units downtown, and that the affordable housing conversation could be lost.
"The market rate developers aren't going to build the affordable homes we need, at levels that will benefit a much broader community who is struggling to make ends meet," Rutherford says.
The Golden 1 Center may have benefitted one unlikely population – the homeless. Joan Burke, director of advocacy for Loaves & Fishes, says that before the Golden 1 Center, downtown was home to more undesirable housing options like the Marshall Hotel. The Marshall and other single-room occupancy hotels were replaced with higher quality quarters like the 7th & H Housing Community by Mercy Housing, which Burke calls the "gold-standard in affordable housing."
"Those substandard units have been replaced with better units," Burke says.
She added that Sacramento Mayor Darrell Steinberg and the Sacramento City Council recently approved a $44 million funding plan for mental health and substance abuse programs, amid rising tax revenues from a transformed downtown. "Sometimes things do work out the way they are intended to," Burke says.
Like other professional teams, the Kings also participate in programs to help underserved communities, before and after the launch of Downtown Commons. The organization has built 10 community basketball courts in Sacramento. It gives away thousands of tickets to low-income children, and players plant gardens in schools to celebrate farm-to-fork.
REGIONAL IMPACT UNCERTAIN
But assessing the arena's impact on the overall city economy is not an easy endeavor, and it may prove impossible given the complexities of Sacramento and its workforce in the post-recession era, says Jeffrey Michael, director of the Center for Business and Policy Research at University of the Pacific.
It was promised that arena construction would benefit local laborers, and according to the City's Budget & Audit Committee report, that promise was kept through local hiring practices and apprenticeship programs. In Sacramento County, an estimated 1,600 workers on the project took home almost $36 million in pay. But the State of California is still the largest downtown employer, and as Michael points out, the stadium would not influence the State's hiring schedule.
"As important a project as [the Golden 1 Center] is, there is only so much it can move the larger regional needle," Michael says. "You really need a decade to see the full realization of the potential," he adds.
Academic studies have cast doubt on the greater economic benefit of sports arenas, with negligible impact on areas like general employment and government revenue. But those facts don't automatically invalidate the public investment, argues Michael, the economist. "Evaluate it as an investment in the quality of life in the city," he suggests.
Perhaps the most eye-catching statistic from the Golden 1 Center this year was placing 36th in the top 200 busiest venues worldwide, according to Pollstar. Events included NBA games, the 2017 NCAA men's tournament, a monster truck rally, professional wrestling, concerts, and private events hosted by companies and nonprofits. Ticket sales will undoubtedly improve once the Kings, which as of this writing have a record of 9-19 for the 2017-18 season, begin consistently winning games. According to a report released by the Downtown Sacramento Partnership last October, some 1.6 million attendees spent about $72 million in downtown Sacramento in 2017. Pollstar put the Golden 1 Center just four slots behind Oracle Arena in Oakland in the third quarter of 2017.
The attendance figures raise a question, however, to what extent the Golden 1 Center is producing new spending among consumers, or simply circulating money within the region.
"People only have a certain amount of entertainment dollars and discretionary money they can spend on these sorts of things," says Wassmer of Sacramento State.
Wassmer says when evaluating the success of the Golden 1 Center, a benefit to consider is how the arena's location has shifted development efforts back to the central city, and whether this is new money coming in from the outside. He says that the Kings owners, "to their credit," designed the arena to be used with existing infrastructure — for patrons to ride public transit, park in existing garages, eat at restaurants down the street. "These are the benefits that come to everyone, but a lot of it is captured by developers," Wassmer says. "It's been kind of a windfall for them." But having an arena in downtown, unlike in Natomas, Wassmer says, creates a wider vitality in which extra dollars spread to business owners of restaurants, hotels, bars and boutiques.
WHAT'S NEXT
On a crisp October morning, Ranadivé strode up to a makeshift stage outside the Golden 1 Center's northwest entrance. That night marked the Kings home opener against the Houston Rockets, but the owner is not there to talk about basketball. He's there to address a crowd of Sacramento luminaries gathered for the unveiling of a bid for Amazon's second headquarters, dubbed HQ2.
"Four years ago, I stood in front of Sacramento and said no other city would steal our team and never again would Sacramento play second fiddle to another city in America," Ranadivé told the crowd. Some of his words get drowned out by the sound of loud construction nearby and by a drone flying overhead. "Here we are again taking on another project, another challenge," he went on.
Sacramento is a dark horse in a national competition of 238 communities trying to lure the online retail giant, which has said it would invest $5 billion in construction costs and create 50,000 jobs. As pointed out by HBO host John Oliver, Amazon mentioned the word "incentives" 21 times in its request for proposals for H2Q, calling the tax structure a "high priority" consideration. And while Sacramento political leaders can cobble together enticing tax breaks, California is a high tax state, and the capital can't compete with the incentives offered in other areas.
But as Ranadivé later pointed out, the bid was not just about Amazon. The Silicon Valley investor often says that putting together a competent team is the greatest indicator for success for any venture. The local Amazon bid, spearheaded by the Greater Sacramento Economic Council, involved partners from 19 surrounding communities. The bid listed 12 possible sites, including the nearby railyards area and The Bridge District in West Sacramento, and the former Sleep Train Arena in Natomas.
The proposal drove the argument for Sacramento as a destination for a large corporate campus: its leading universities, commitment among local colleges to tailor an educational framework to meet workforce needs, frequent daily flights, affordable cost of living and more.
"We will go out and try to win it, but it's just one company, and there are lots of other companies," Ranadivé says. "How do we make this a great place for any company to be?"
Ranadivé views his basketball stadium as the start of a broader movement of regional competitiveness. He envisions Sacramento becoming a "center of competence" in emerging technological fields like autonomous vehicles and virtual reality.
"We've lit the fire and we want it to become a bonfire," the owner says. "We want it to become something that provides energy for the entire region."