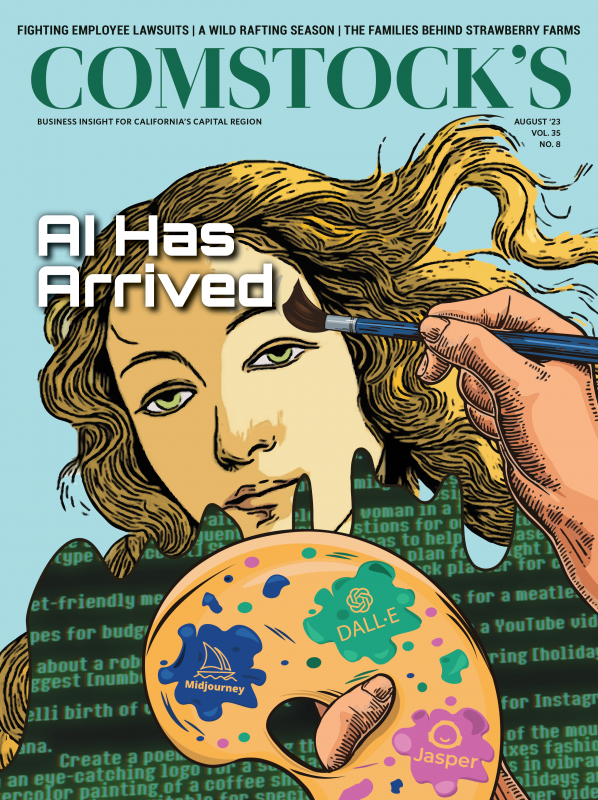 This story is part of our August 2023 print issue. To subscribe, click here.
The South Fork of the American River looked like the high seas or a stormy lake in late May, with four times the normal amount of water coursing through Chili Bar, known for challenging rapids even in dry years. It was filled with surging whitewater as a deluge rushed past rocks and other material.
The waves slammed to the right and slammed to the left. They pushed the front of the boat up and out of the water. The water was cold and fast, making rescue more difficult if anyone fell in. The water was about 50 degrees. The OARS rafting company guide in the back of the boat instructed passengers to keep paddling.
Bene Olivera of Monterey was jolted out of his seat and nearly fell into the water. A woman who accompanied him on the trip was thrown into the rapids and quickly pulled back in by a fellow passenger.
"It was exciting — pure adrenaline," Olivera says.
The South Fork American is the most popular whitewater rafting destination in California and one of the most popular in the country. About 100,000 people raft each year between Chili Bar in western El Dorado County and the take-out at the edge of Folsom Lake. About 70 percent of them ride with commercial rafters. This year, the "Big Melt" — water runoff from the biggest Sierra Nevada snowpack in decades — is drawing even more thrill seekers.
The crowds fluctuate with the amount of precipitation each year, even though the river's hydroelectric dams guarantee a certain amount of water for boating. More water means more customers. This year's snowpack, which was more than twice the average in April, should provide a boost to rafting companies that lost business during drought years and the COVID-19 restrictions of 2020.
"The unprecedented snowpack in the Sierra is going to arguably make this the best year ever for rafting in the Sierra,"Steve Markle, vice president of sales and marketing for OARS, based in Angels Camp.
Rafting drives the economy of the Coloma Valley, where small Gold Rush towns are clustered along the river about 10 miles from Highway 50. The trip provides thrills along with bits of natural history (the American is a National Wild and Scenic River as designated by lawmakers in 1972) and California history (gold was discovered in Coloma).
But with public officials raising concerns about the safety of the river this year, is commercial rafting safe in high water? While the river should return to average flows this month, forecasters are predicting another wet winter. High water will inevitably return, whether next summer or some other year, making whitewater safety a perennial issue for one of the Sierra Nevada's most beloved summertime activities.
The rafting companies say they can provide safe trips in high water. But some people and rafting companies are better suited to handle the risks than others, experts caution.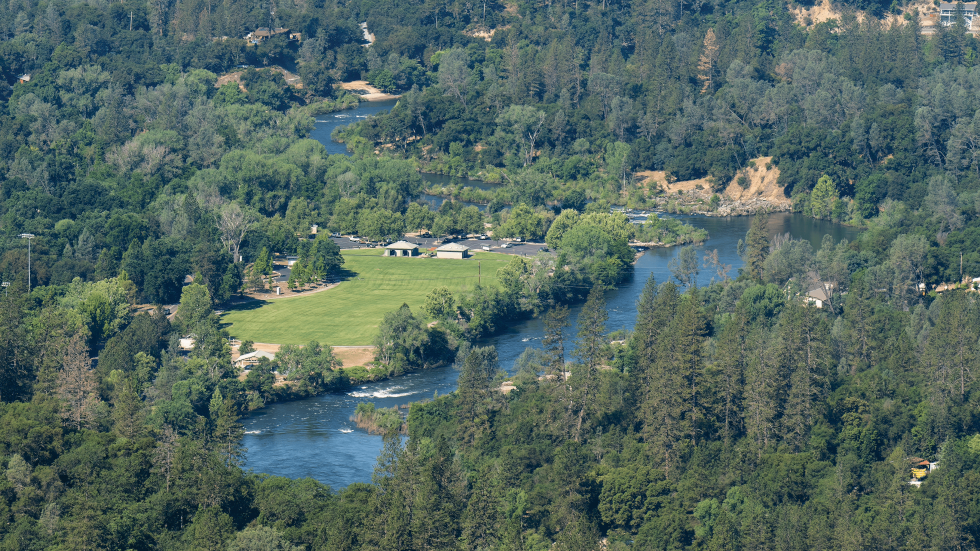 "Stop!" the guide barked at the paddlers.
"Forward," she instructed, creating a rhythm that would help them paddle strategically around and through Meatgrinder, the first rapid on the trip and the second-most difficult rapid on the South Fork. There's also the Troublemaker and Satan's Cesspool rapids on this course.
The passengers paddled to the right of the main current to avoid the rapid's full force. They still got bounced all over the place, laughing and whooping it up as they made it through.
Risk in whitewater rafting is measured by the International Scale of River Difficulty, approved by American Whitewater, a national nonprofit organization based in North Carolina. It measures rapids and river sections on a scale from I to VI, with I and II being for novice boaters, III for intermediate, and IV and above for advanced.
The South Fork American is primarily a mix of Class II and III rapids, with one Class IV. This year, Meatgrinder, normally a Class III+, has been considered Class IV, as have some other rapids.
In the past 50 years, three people have died on commercial rafting trips on the South Fork American, according to a national database of whitewater boating accidents maintained by American Whitewater. A few million people likely took commercial trips on the South Fork in that time.
One of the fatalities involved a man who had a heart attack on a boat and was not considered a boating accident.
Another death occurred in 1990 when a woman fell into the water and became stuck in submerged tree branches. The water was high and cold, like this year.
"Although the Chili Bar run is not difficult at summer flows, the rapids become very powerful as the river gets high," according to the American Whitewater fatality report. "Combine this with shoreline debris and you have a solid Class IV big-water run."
Then in 2000, a 10-year-old boy was thrown from a raft when it hit a rock in the Meatgrinder rapid. He drowned after his personal floatation device was ripped off and his foot got stuck under a rock.
As temperatures rose and snowpack melted this spring, public safety officials raised red flags about river use. Placer County officials are running a campaign: "Be River Wise: This Year Is Different," warning people to stay out of the river. The campaign took on added importance when two people drowned in May while swimming in the North Fork of the American River, the section running through Placer County.
The campaign made no distinction about how people might use the river, upsetting commercial rafters. Asked if the county was warning against commercial rafting, Placer County Sheriff's Office Public Information Officer Angela Musallam says: "Professional rafting companies are most certainly welcome to recreate in the river provided they understand this year's challenges, where frigid river temperatures, higher water levels and stronger flows are expected to remain at dangerous levels throughout most of the summer season."
Sgt. Alexander Sorey of the El Dorado County Sheriff's Office, which has responsibility for the South Fork, provided a similar warning. "River rafting is inherently dangerous by nature," he says. Whether or not people should feel safe rafting the South Fork "is a personal question for each individual."
Rafting companies say they have handled similar conditions before, including during record water levels in the 1980s. The snowpack level in April of this year was more than twice the average for that date, and similar to the one in April of 1983, according to the state.
"We've been doing this kind of trip for decades," says Nate Rangel, government-community relations director for the American River Outfitters Association. "We know how to do it and who is prepared to do it."
Commercial rafting companies always require customers to wear a personal floatation device and a helmet. They are taking additional steps to protect customers this year, although they often use them in the early season when water is higher and colder. They include requiring customers to wear a wetsuit and spray jacket, raising the age limit for customers and running one or two separate boats only with guides to rescue people who end up in the water.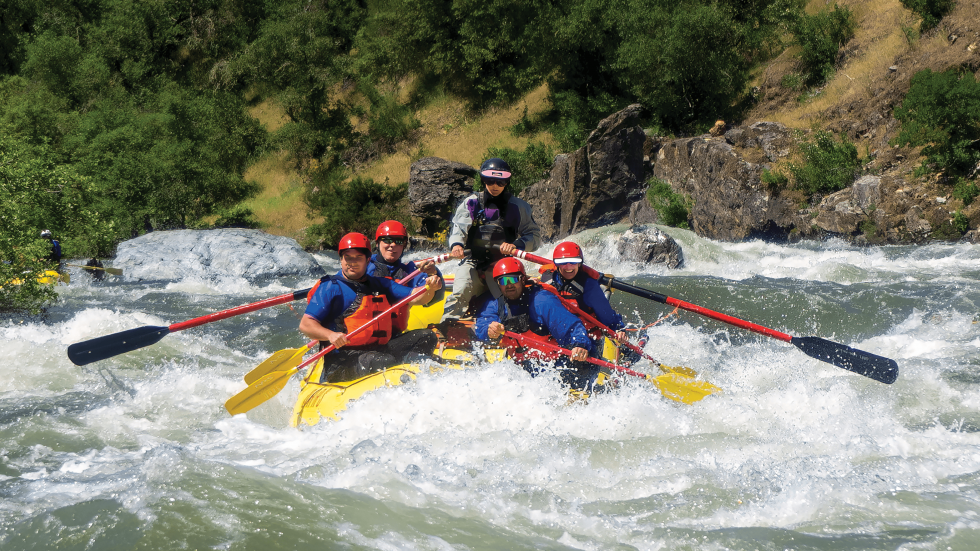 Some outfitters also have customers fill out detailed questionnaires about their health to try to assess if they might not be suited for fast whitewater. People need to be able to swim in rapid water, among other things.
Industry representatives said they are committed to safety.
"If I had to send my mom on a river trip, I would let her go with any of the companies here," said John Kosakowsky, owner of River Runners in Lotus.
Most of the 27 customers on the late May OARS trip appeared to be enjoying themselves. One who did not, Penny Guilford, 14, of Santa Rosa, decided during a lunch break at the OARS American River Outpost in Lotus that she was going to remain at the outpost while her mother and sister finished the trip.
"It was just too much," she said, adding that she is "naturally nervous."
Her mother had the opposite view.
"I liked the danger aspect," Jackie Guilford said. "I'm an adrenaline junkie."
OARS American River Outpost in Lotus typically serves lunch on the bank of the river, but it was underwater due to the swollen rapids.
A week later and around the river bend, Kosakowsky was busy preparing for the day's trips. It was the first day of the Memorial Day weekend, when the rafting season picks up and stays busy through Labor Day.
Kosakowsky had been slammed since December, when flooding wiped out his riverside campground for boating guests. He had to pay for the repairs out of pocket and did most of the work himself. A pile of wood that washed onto his camp was stacked waist high and several feet wide and deep at the edge of his site.
"I've been working 12-hour days — I'm really tired," he says.
Kosakowsky and other rafting company owners said they don't make much profit. Kosakowsky says he can't afford health insurance for his employees and lives in a 600 square-foot cabin.
Chad Richards, owner of WET River Trips in Lotus, offered a similar story about his business. He says he works 80-hour weeks during the rafting season and makes about $30,000 to $50,000 a year.
Rangel of the American River Outfitters Association says most of the 27 companies serving the South Fork American are small, family-owned businesses. Outfitters may make more money this year because of increased water flows, but they will also have to spend more to make sure equipment is in good shape and have additional guides in place, he says.
"They do it because they love the river and they love the community," Rangel says.
WATER, WATER, EVERYWHERE: If you're not daring enough for whitewater rafting, there are lots of options for water fun in the Capital Region
Sacramento State Aquatic Center, located on Lake Natoma off Highway 50 in Gold River, offers classes and rentals on sailing, rowing, windsurfing, wakeboarding, waterskiing, Jet Skiing, kayaking and paddleboarding.
Near the Folsom side, Lake Natoma has become a very popular place for kayaking and paddleboarding. Most bring their own to a launch site, while rentals are available in the summer on the beach at the recently renovated Black Miners Bar.
Want to learn how to water ski? Belle Acqua Lake 1 is a private lake in Rio Linda. Instructors have been teaching water skiing for more than 40 years. Created by two high school friends who enjoyed water skiing, the former cow pasture now hosts major water ski tournaments. Wake Island Water Park in Pleasant Grove, which bills itself as the largest water park on the West Coast, specializes in wakeboarding.
H2O Excursions is a water toy rental business located at Village West Marina in Stockton. They have all sorts of cool non-whitewater equipment to rent and use in the Stockton Delta, such as captained charter boat rides, pontoon boats, tubes and hydrobikes, electric-powered floating bikes you pedal on the water. Fun fact: Water bikes were originally invented back in the 1870s!
Lagoon Park off I-80 in Vacaville is a scenic spot with rolling hills and golden sunsets where you can canoe, kayak and paddleboard.
Coming soon in Placer County, a wave park! Chris Gallardo, CEO and founder of Inland Surf Company, has announced plans to build a surfing park with different sizes of waves in the Placer One master-planned community in South Placer County.
And you can do all sorts of recreation boating and water sports on Folsom Lake, the Sacramento Delta and Lake Tahoe, of course. There's also Lake Clementine outside Auburn, Silver Lake in Amador County, and Rollins and Camp Far West lakes in Placer County.
– Judy Farah, Comstock's Editor
Stay up to date on business in the Capital Region: Subscribe to the Comstock's newsletter today.