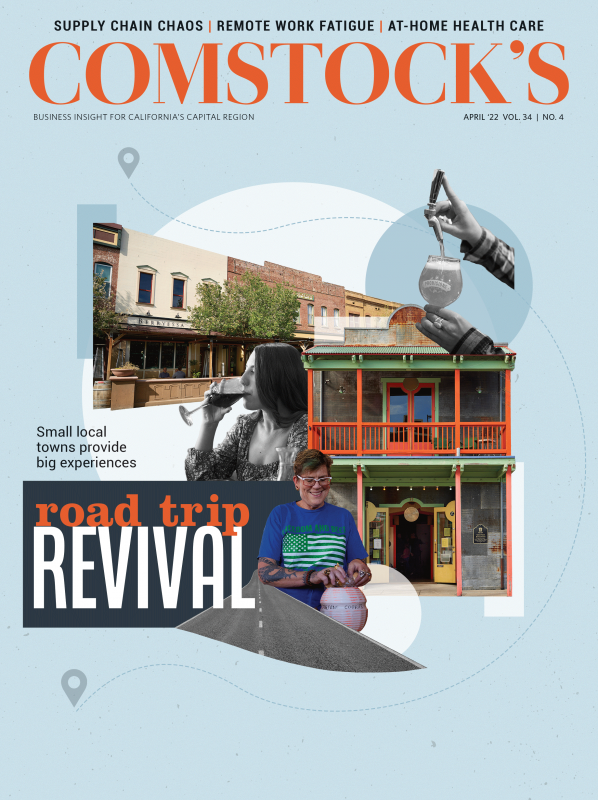 This story is part of our April 2022 print issue. To subscribe, click here.
Amanit Singh enjoys his family's new home in one of Sacramento's latest developments, Northlake. But there have been some issues.
The Singhs were living near Yuba City before paying roughly $850,000 to purchase a 3,500-square-foot house. It was built by Lennar, which is constructing more than 1,000 homes along Highway 99 in North Natomas and providing housing to a region lacking supply since the Great Recession.
The family got their keys the first week of January after their garage door arrived. "We would have gotten the house like a month earlier if the garage door came in on time," says Singh, a 22-year-old Chico State student whose family immigrated from Punjab, India in 2008.
The garage door the family has now isn't what they ordered, but it beats the plywood covering other garages in the development on a bright February afternoon. The Singhs also moved in without a new refrigerator, stove or hood vent and had been making do with a loaner stove.
It's just one small example of major supply chain issues that have been roiling the construction industry for more than a year.
With a hot market, soaring prices and new houses in such demand they're sometimes sold via lottery, it's a great time to be a builder in California. But it's also uniquely challenging, with supply chain issues making it anyone's guess when critical home goods will arrive and when the current situation will end.
'Like a five-headed dragon'
Supply chain issues are affecting the construction industry from the moment bids are being written for development infrastructure to when components like windows, flooring and appliances are going into homes.
Scott Wolfenberger is a waterworks area manager for Sacramento-based Myers & Sons Construction, with his division providing infrastructure to water and wastewater treatment plants primarily in the public sector. Generators that used to take four to six months to arrive are now taking closer to a year. Both PVC and lumber prices have escalated massively, with the volatility making it tough for Wolfenberger to bid jobs.
"It's definitely decreasing our margin, our profitability," Wolfenberger says. "We haven't had anything that's extended into a loss because of something like this. But … this is like a five-headed dragon."
The COVID-19 pandemic is perhaps easiest to blame. But a conflux of factors appear to be throttling the construction industry's supply chain.
After years of low inflation, the California construction cost index monitored by the state's Department of General Services spiked to 13.4 percent in 2021, after ranging between 1.3 percent and 4.4 percent annually from 2016 to 2020. The average cost of materials to build homes is up 21 percent year-over-year according to Dan Dunmoyer, president and CEO of the California Building Industry Association.
Price increases seem to be prevalent across the board. The Associated General Contractors of America noted from September 2020 to September 2021, producer price index numbers showed steel mill products increased 134 percent, while copper was up 39.5 percent, aluminum mill shapes were up 35.1 percent and plastic construction products were up 29.5 percent.
But lumber and plywood was down 12.3 percent, incidentally, though wood prices have fluctuated during the pandemic.
Whether to guard against paying a higher price months from now or to be sure goods are on hand when they're needed, people across the industry are stockpiling. Dunmoyer sees it with builders. "They'll walk into a Lowe's and say, 'Give me all your ovens.' And they buy them and put them in warehouses."
Meanwhile in El Dorado Hills, Tom Howard, vice president of construction for Parker Development Company, which developed Serrano community, was looking to order six power transformers at $15,000 to $18,000 apiece in the ensuing six to eight weeks after hearing from a contact at PG&E that orders could be a year to a year and a half out.
"We're looking at, as soon as our plans are approved, going out and buying these transformers," says Howard, who'll need them in early 2023 for new custom lots.
Christopher Ochoa, senior counsel for codes, regulatory and legislative affairs for the CBIA, says PG&E only approves two manufacturers for transformers even though a half dozen companies around the U.S. could be used. His group is working with PG&E to resolve the issue.
There's also been a delay for windows, with Jim Scarr, owner and president of Hall's Window Center in Rancho Cordova, saying some products his company sells are taking nearly 11 months to arrive. Products that go into exterior finish on windows are in short supply, he explains. "While you can build 90 percent of the window, if you can't get it finished, it doesn't ship," Scarr says.
Kurtis Ryder owns Sacramento-based Ultra Glass and works with builders such as D.R. Horton, Lennar and KB Home to outfit 4,500 homes annually with windows from manufacturers including Milgard and Ply Gem.
"Over the past six months, at one point we must have had 250 homes just in Northern California that were framed, waiting for windows, and they sat for two months without windows, totally disrupting the whole close of escrow dates."

Kurtis Ryder, owner, Ultra Glass
"Over the past six months, at one point we must have had 250 homes just in Northern California that were framed, waiting for windows, and they sat for two months without windows, totally disrupting the whole close of escrow dates," Ryder says.
In some respects, Scott Wood is lucky. He and his brother's third-generation family business, Wood Brothers Floor Coverings, has around 45,000 square feet of warehouse space at its showroom along North 16th Street in Sacramento.
But it's difficult to forecast when goods such as vinyl planking floor will arrive from places such as China or Vietnam — or if suppliers will honor prices they quoted months before.
"I have two containers, one I ordered in March of 2021, the other one I ordered in June of 2021," Wood says. "They haven't shipped to us, they changed the price on us. I told them, because prices kept on going up, 'We want it, we want it, we want it.' They are finally coming in, one this month, one next month."
Tim Murphy, CEO of the Sacramento Regional Builders Exchange and a Comstock's Editorial Advisory Board member, says a shortage of truck chassis, drivers and storage space have severely impacted delivery times at ports of Long Beach and Los Angeles, which account for 40 percent of goods entering the United States. The New York Times reported in October 2021 that on a recent day, 29 barges had been waiting at sea for a berth.
"I work with my colleagues who are CEOs in other states," Dunmoyer says. "Their port backlogs are like 12 hours. Ours are months."
Murphy notes the U.S. also is short approximately 60,000 to 80,000 truck drivers. "That's creating a huge issue of being able to move goods and services," Murphy says.
While builders, officials and residents wait for goods to arrive, some interesting stopgaps are emerging.
Closing the garage
Around November 2021, Lennar approached Sacramento officials while they were having problems getting garage doors in the Northlake neighborhood, according to Winfred DeLeon, chief building official for the city. The city put together a provisional policy, which hadn't been formally enacted by press time, to allow certificates of occupancy to be issued for homes without garage doors, albeit with some conditions. (Sacramento County has enacted a similar arrangement, according to spokesperson Laurie Slothower​.)
"They have to propose what they're going to do with the opening," DeLeon says. "In Lennar's case, they were going to put plywood up and then paint it so it would look kind of decent. But that would give some security to the homeowner."
Ignacio Moreno and his wife live around the corner in Northlake from a house that had bare plywood covering the garage opening and bits of red tape. It doesn't appear to be the first house with a plywood garage door that Moreno has seen. "That's one thing you definitely notice right away — they get close to finishing them but they put the plywood up where the garage door should be," he says.
Granted, getting a garage door in doesn't necessarily end problems. Dunmoyer speaks of a colleague who bought a new home in the Sierra Nevada mountains near the California border over the summer. His colleague had to park in his driveway for three months until he could get openers installed.
Both the city and county have incentive to work with companies like Lennar because jurisdictions across the state are far behind on housing numbers. Matt Hertel, the city's long range planning manager, says Sacramento had its best year in 2020 since 2006 for creating housing, issuing building permits for 3,764 units.
That was still around 1,900 units short of what the city would need on average to meet the state's Regional Housing Needs Allocation goals by 2029. "I would not bet on us meeting our RHNA goals … but I think we're in a better place than we were in 2015 through 2018," says Greta Soos, an associate planner for the city.
In this environment, builders are doing well, with Dunmoyer acknowledging, "We had a good year, yes." The California Association of Realtors has forecast median home prices in the state rising 5.2 percent to $834,400 in 2022 following a projected 20.3 percent increase to $793,100 last year.
Ryan Lundquist, a property appraiser who tweets frequent analyses of Sacramento-area real estate trends, says he's not seeing any hesitation from buyers of new homes. "Builders still seem to be commanding the prices that they want," he says.
Dunmoyer speaks of a call with Shea Homes, one of America's largest private homebuilders, which has had to move to a lottery system because so many people qualify for their homes. "We haven't seen this since 2005," he says.
It's a different story for others in the construction industry like Ryder of Ultra Glass, who says he lost $15 million in revenue last year, representing half his company. Ryder says he's had $250,000 in back charges, drawn automatically by developers. He's trying to get window manufacturers to compensate his company and is considering legal action. "I remember going years without one back charge," he says.
Contract escalations that call for adjustments in fees and payments have been a problem for Myers & Sons Construction, according to Wolfenberger, who says the Northern California division had to pay at least $300,000 to $400,000.
Even at Wood Brothers Floor Coverings, which saw its largest gross sales in 2021, Wood has had to eat what he termed "humble pie" and offer discounts because of delays. He's hopeful supply chain issues will ease. "I think we do kind of see a light at the end of the tunnel," Wood says. "It doesn't mean that prices are going down."
To deal with the situation, Wood, Scarr and others within the industry are getting orders in as soon as possible and trying to set realistic expectations with customers. "We'll get through it," Scarr says.
Finishing construction
Back in Northlake, construction crews are busy on various framed sites on a sunny afternoon in February, with the sounds of banda music floating into the street.
Moreno feels he and his wife "kind of beat the big rush or before the economy got bad with delays" by buying in June 2021. Singh is looking forward to the construction of a Costco across Highway 99 and thinking of urging his mom to get a job at a nearby Amazon facility.
In general, the neighborhood is calm. While supply chain issues affected the date his family could move in, they haven't dampened Singh's enthusiasm.
"It's just loud right now because of construction," Singh says. "But it's going to be good."
–
Stay up to date on business in the Capital Region: Subscribe to the Comstock's newsletter today.