From a robot's perspective, humans probably look like deeply flawed creatures: imprecise, accident-prone, injury-ridden, hazardous — walking glitches waiting to happen.
This view isn't exactly wrong.
Think about the fungal meningitis outbreak in 2012 that started when the New England Compounding Center shipped mislabeled and unsanitary or contaminated drugs all over the country. As a result of these tainted drugs, 64 people died and 732 became very sick. It was one of the worst pharmaceutical scandals in U.S. history. (In June, the owner of the now-defunct Massachusetts pharmacy was sentenced to nine years in prison.)
Would this national nightmare have happened if robots were handling the compounding (mixing and packaging) of personalized medications for patients?
Rideout Health is siding with the machines on this one. Last year, the Marysville hospital ordered a specialized robot to handle IV compounding in-house rather than outsourcing to compounding pharmacies. Developed by Mountain View-based Omnicell Technologies, this robot is set to make its debut at Rideout this month.
"Because we're using automation, I know we're using the exact same process as another pharmacy with a robot in another state, across the country." Jerry Gonzales, director of pharmacy, Rideout Health
Unlike a pharmacist who can suffer repetitive stress injuries from the repeated motions of IV compounding, this robot is designed to operate with careful and consistent movements. The pharmacy technician simply selects from a menu what solution to make, loads the container with the solutions to be mixed and the bags or syringes to be filled, then presses a button. The machine takes over from there: mixing, filling, labeling and finally weighing the contents for accuracy.
"With all those steps done manually, you can imagine that a human will make a mistake in selecting the drug or wrong label, or be inaccurate with consistency," says Jerry Gonzales, Rideout's director of pharmacy. "By having all the ingredients pre-loaded before you push the start button, there's a higher level of confidence that the end product will be better."
Last year, the White House issued a report, "Preparing for the Future of Artificial Intelligence," that predicts a "new age in the global economy" where machines will "reach and exceed human performance on more and more tasks." Robotics have already impacted major industries such as manufacturing and agriculture, but in recent years automation has been quietly creeping into the health care sector, one of the Capital Region's biggest employers.
These innovative tools can improve patient safety and accuracy, reduce costs and enable compliance, according to automation advocates. But with such technology being so new and relatively untested on a large scale, unknown variables do exist. Interested hospitals face questions of affordability. And of course, will artificial intelligent machines ultimately take over human jobs? (Omnicell declined to disclose the cost of its IV robot.)
How exactly the medical workforce will be altered by artificial intelligence remains to be seen. But what is certain is that Rideout expects automation to help its bottom line. By insourcing IV compounding with a robot instead of spending money to outsource at compounding pharmacies, Rideout expects to save about $150,000 in the first year with a goal of saving $250,000 every year by 2020, Gonzales says. Additionally, the new robot allows the hospital to better meet federal guidelines (per the Drug Quality and Security Act) for consistent quality of product, in sterility and concentration.
"Because we're using automation," he says, "I know we're using the exact same process as another pharmacy with a robot in another state, across the country."
Tech Takeover
On the cusp of a new automation age, it's no longer a question of if robots will greatly impact global economy, but when. A 2017 McKinsey Global Institute report predicts that 50 percent of the work done today could be automated by 2055, but the authors note that could happen sooner or later depending on various factors and economic conditions. Regardless, the rise of the robots is inevitable.
With advances in robotics, artificial intelligence and machine learning, this shouldn't be much of a surprise. Robots and computers can handle various tasks better, faster and cheaper than humans can. Technology has also boosted their cognitive abilities so they can now make judgments, sense emotion and drive better than ever. In the grand scheme, automation won't displace workers as much as reassign them to different positions alongside machines to produce growth — or workers will find other employment. By boosting productivity and enabling businesses to improve performance, the authors believe this age will be as transformative as the Industrial Revolution.
Almost every occupation can be automated in some way, according to the report: Accommodation and food services (73 percent), manufacturing (60 percent) and agriculture (58 percent) show the highest levels of automation potential. Health care services show up at the lower end of the spectrum at 36 percent. But the industry can still benefit from automation by using machines to handle data analysis, predictable physical tasks and help cut down on the hours patients spend waiting in hospital emergency departments.
"Automation has the potential to reduce those waits and increase productivity, as doctors and nurses focus more effectively on better outcomes, and machines take on routine activities such as registration, checkout and dispensing of prescriptions," the report says. "Predictive health care using sensing wearables to check vital medical signs and remote diagnostics could cut patient waiting times. For hospitals, automation could streamline billing and other administrative activities."
But will health care providers buy in? Adopting such technology costs money, requires training and calls for shifts in the workforce. Education will help hospitals navigate the transition. Omnicell, for example, works with customers to train, document and walk users through its solutions. When hospitals purchase its new robotic IV solution, Omnicell will also provide technicians to run the equipment.
"Disrupting technology that completely flips the model on its head is not something that happens overnight," says Dennis Wright, Omnicell's director of marketing for IV solutions. "When you can assure a pharmacy that they will have a partner in adoption, it usually creates some peace of mind."
One of the most popular technologies is automated dispensing cabinets. These computerized storage units allow for easy transfer of medications from the hospital pharmacy to a nursing ward. According to Omnicell, nearly 90 percent of U.S. acute care hospitals use their cabinets for controlling, tracking and distributing drugs. But this tool has been around for decades, proving its worth over time. With newer technology, the "perceived pain of change" makes hospitals reluctant to move forward, says Len Hom, Omnicell's senior product manager.
"We design our solutions with the user in mind to minimize these concerns," Hom says. "We understand that it's human nature to oppose change."
One regional health systems is lighting the way.
Light Savers
At the Sutter Medical Center in Sacramento, Xhaiden has been on a search-and-destroy mission since February. About 10 times a day, the wheeled robot rolls inside germ-ridden rooms and emits pulses of ultraviolet light that kills bacteria hiding in walls, floors and other crevices that human cleaners might miss. This is Sutter's first germ-zapping robot. Its name means "cleansing beam of light."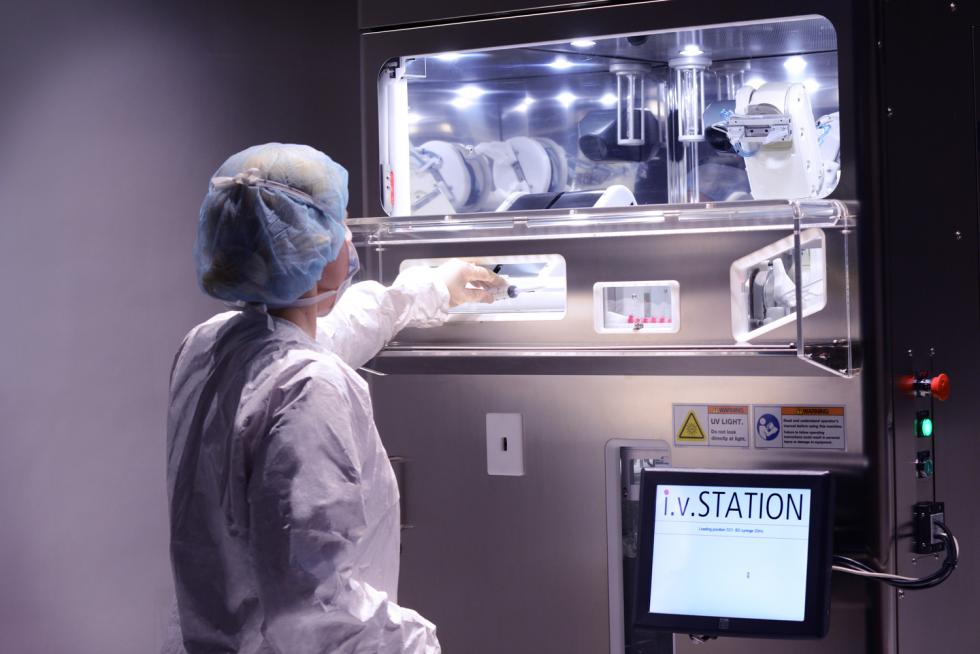 Before Xhaiden came along, workers cleaned rooms manually in a seven-step process, focused on high-touch surfaces and exposed areas, to prevent hospital-acquired infections. HAIs affect 5-10 percent of hospitalized U.S. patients per year, resulting in 99,000 deaths, according to the Centers for Disease Control and Prevention. Manual cleaning still happens, but Xhaiden provides backup as the mean, green (no toxic mercury, as has been used for decades in lamps as the go-to-tool for disinfecting surfaces and liquids) germ-fighting machine by Xenex.
"The robot isn't taking the place of anything," says Debbie Sandberg, director of environmental services for Sutter Medical Center. "This is an added level of cleaning."
The robot cost $103,000, including training. Sandberg reassigned one of her staff to handle Xhaiden. According to Texas-based Xenex, its R2-D2-looking robot is now used in about 40 California hospitals and health facilities, but Sutter is the first in Sacramento. Some regional hospitals have already seen benefits. For example, Napa's Queen of the Valley Medical Center reported decreased rates of the pathogen Clostridium difficile by 47 percent from July 2016 to December 2016, compared to the same period in 2015. Sandberg expects to see strong cost benefits when Sutter runs its analysis later this year and suspects that Xhaiden will have robot friends in the future.
"We're all challenged with looking at germs and pathogens and bugs that come our way," she says. "For us to stay on top of that, I think we'll see more than this robot."
Pattern Recognition
The UC Davis Medical Center hasn't invested in a germ-zapping robot, but uses automation in its data processing to organize and improve the quality of care. Typically, a care management nurse is responsible for reaching out to the patient, making sure they get a flu vaccine, mammogram or other health maintenance intervention.
"Now you can look at large populations and be able to identify hundreds or thousands that missed a test. With one action, using computer software, you can close those care gaps," says Dr. Jeff Wajda, chief medical information officer for UC Davis Medical Center.
The software automatically scans each admission and analyzes medical records to assess if a patient is likely to become ill again, which would take much more time and energy to do manually. These at-risk patients require more care and receive calls from care management nurses and home visits to monitor their treatments.
Within health care, Wajda sees only benefits to the patient. Beyond health care, he admits there could be scenarios where such data is misused. He notes the medical center follows best industry practices regarding the protection of health information to prevent cyberattacks.
In May, two UC Davis doctors and two former U.S. Air Force surgeons co-founded a startup focused on automated critical care and trauma management. Based in Sacramento, Certus Critical Care is developing biomedical devices to optimize ventilation, hemorrhage control, and the delivery of fluid and medication to critically injured patients.
The first minutes to hours after critical injury are vital, and automation can help physicians avoid complications, says Jason Adams, Certus co-founder and medical director of UC Davis Data Management Services.
The devices, which have been tested on animals that are in shock, use algorithms to constantly monitor ill patients and sensors that communicate with each other to deliver fluid and medications as needed. They also provide "clinician decision support to optimize ventilation and hemorrhage control," says co-founder Austin Johnson, an emergency medicine physician at the UC Davis Medical Center. The Certus team expects to submit its application to the U.S. Food and Drug Administration by 2018 for two prototypes.
Even with all the advanced tools and robotics, technology has limitations. That's one of the hardest things to get health care staff to understand, says Meghan Frear, the Medication-Use Systems and Technology Safety pharmacist at the UC Davis Medical Center.
For example, when dispensing a drug in the hospital, the medical center staff uses barcode technology. But without human verification, errors can happen that scanners won't catch. A label might be applied to the wrong drug, or a patient allergy might not be properly documented. In such cases, a computer cannot alert you to the danger, Frear says.
"Technology relies on systems being set up correctly, which is why humans are still integral," she says. "Technology can't function without us."