Roseville, absent of levees and flood-prone rivers, is sitting high and dry — in a good way. With infrastructure spending on hold and flood protection requirements increasing, development in neighboring communities has stalled and the future remains uncertain. But for this jurisdiction, it's business as usual.
Roseville has the highest flood protection score of any city in the nation as ranked by the Federal Emergency Management Agency. The Community Rating System is a voluntary federal program that offers reduced insurance rates to participants with proactive flood plans. Roseville's CRS-1 rating means that, while the rest of the greater Sacramento region is figuring out how to meet new requirements set forth by the state's Central Valley Flood Protection Plan, the city can focus on other matters.
The Central Valley Flood Protection Act of 2008, along with Senate Bill 5 (2007), requires that all metropolitan areas in the Central Valley — those that have or will have 10,000 residents within 10 years — can provide 200-year flood level protection by 2015. This is greater than the 100-year flood protection requirements imposed by FEMA for the rest of the state.
"Most people believe that the 100-year level of protection is not sufficient for urban areas. So you have to have the new protection in place … in order to move forward with development," says Ken Kirby, principal of Kirby Consulting Group, which is advising the Department of Water Resources. "If local levees are de-accredited — and many of them will be — they will not be able to meet these FEMA requirements. [Local jurisdictions] may not be able to raise enough money to make all those repairs."
If that scenario proves true, Roseville is poised to welcome new construction. Devoid of levees and proactive in flood mitigation, Roseville is in the clear and has been for more than two decades. But that's not to say Roseville is the automatic favorite — it has its share of pricey building fees and hefty vacancy rates.
Roseville set its development cost structure at the height of the housing boom. Now that the bubble has burst, other jurisdictions, including Lincoln, Elk Grove and Rocklin, have decreased their fees — Woodland decreased its fees by nearly $15,000. But Roseville has made no such move, making it one of the most expensive local communities in which to build.
Industry experts say they see a short window of development advantage opening in Roseville while its neighbors are hammering out building moratoriums and levee issues — but that opportunity could be lost if fees remain high in a lethargic market.
"What they have is a short period of time where they are going to get some level of increased activity," says Dennis Rogers, senior vice president of governmental and public affairs for the North State Building Industry Association. "But Roseville has a very expensive cost structure, and if they don't get that in line, you're going to see the build up of what they already have planned, but you won't see new projects built," adding that once Natomas is back in the game, some bets could be off in South Placer.
Still, Roseville is holding its flood safety card like an ace of spades, hoping it will solidify the city's hand as a development favorite. At a time when builders are balking at risk, Roseville is well-positioned to entice developers to build in its problem-free, plug-and-play locations.
"The reality is, the economy is in the tank, so you're not going to take any risk, so you would much prefer to go to a community where everything is solved," says Steve Thurtle, senior vice president of Richland Communities. "You don't want to fix a levee; you don't want to buy water rights; you don't want to reinvent the wheel."
And reinventing the waterwheel is exactly what cities like Natomas and West Sacramento are currently up against. Sub-par levee systems are causing development strife now that the Central Valley Flood Protection Plan is demanding increased defense. But Roseville has been ahead of the game for years.
"We don't like to cut it close, so we put in a two-foot requirement in our building standards almost 20 years ago, and it has served us well because we haven't had flooding in any of the buildings that have complied," says Rhon Herndon, a senior civil engineer for the city of Roseville.
"You don't want to fix a levee; you don't want to buy water rights; you don't want to reinvent the wheel."

Steve Thurtle, senior vice president, Richland Communities
Developers in Roseville are required to construct building pads for residential and commercial properties at a minimum of two feet above the city's 100-year flood elevation. It's an example of a requirement that increases building costs, but it's a practice that's put Roseville's buildings above its 200-year flood mark.
FEMA currently requires that the first floor of all buildings — not the building pad — is level with or above the 100-year flood elevation. Some counties follow this standard, while others such as Yuba and Sutter counties build one foot above the 100-year mark.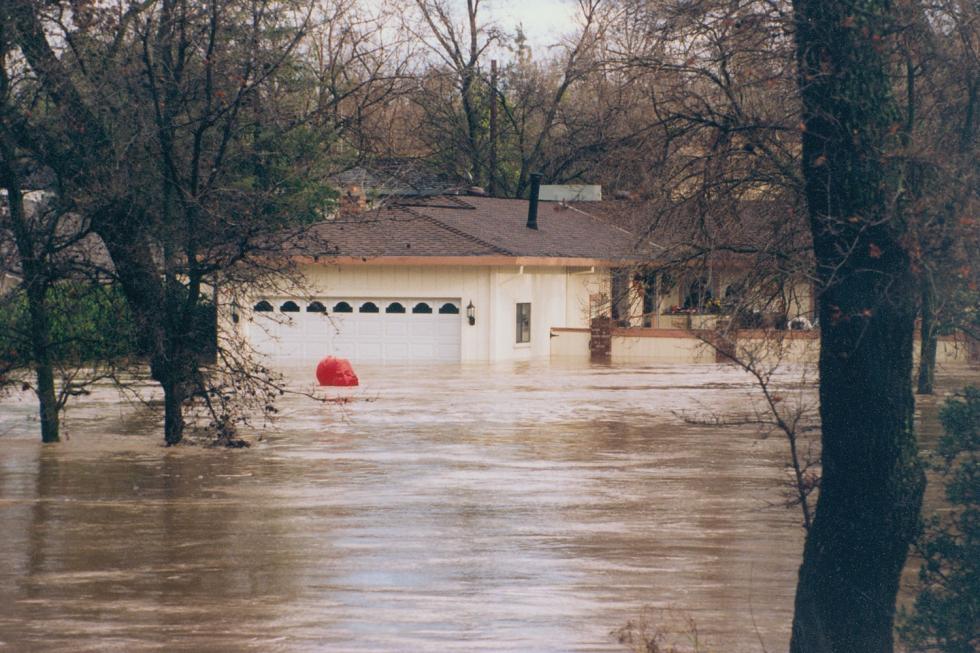 There are additional requirements incorporated in the government code for the flood protection act that require communities to do a better job of identifying flood risks in their general plans and coming up with measures to mitigate that risk.
"So even though this doesn't prohibit development, communities have to be looking at this thing, and I think they will have a harder time approving projects within that 200-year flood area because they are going to have to manage that risk," Kirby says.
Some folks in Roseville, such as Deputy City Manager Julia Burrows, sees that scenario as potentially beneficial to the city because it could give Roseville a "competitive advantage over Natomas or West Sacramento where it's uncertain that building is going to be allowable."
The biggest economic hurdle for Roseville and other cities is the fact that the 200-year level is somewhat of an obscure number and in many cases not mapped, says Roseville Flood Plain Manager Garth Gaylord.
"Everyone has been accustomed to the 100-year federal requirements. But there have been no studies or data for the 200-year, so the economic interest is in us having to prove to the state that we are in compliance," he says. "That cost, I am sure, will be passed on in the development of those communities."
To be sure the city is in compliance, the flood levels of Roseville's nine streams are being remodeled. At that time, flood experts will also develop the city's official 200-year level for proof to the state. The city is paying roughly $130,000 for three of the 10 streams to be re-evaluated; the Placer County Flood Control District is paying the remaining $400,000, which also accounts for flood mapping.
It might not seem like an astronomical expense — but it is when the accompanying liability is factored in. In 1986, flood waters breeched a levee maintained by a reclamation district on the Yuba River. In a Supreme Court decision, the state was ultimately held liable for the damage caused by the levee failure. As a result, the state is now transferring such responsibility to the jurisdictions in which flooding can occur. After 2015, if a jurisdiction is out of compliance with the 200-year flood plan and experiences flood damage, that jurisdiction is on its own to shoulder the cost.
Although Roseville is higher in elevation than places like Sacramento and West Sacramento, it's not flood-proof. The city had major floods in 1986 and 1995. Since then, the city of Roseville has spent nearly $20 million on flood improvements, of which nearly half was funded by FEMA.
Prior to the improvements, which included manipulations to the natural flow of runoff, more than 500 Roseville homes existed in the floodplain. Now the city has fewer than 100.
"We had culverts that needed to be removed because they weren't big enough, we built some bridges, we did some channel excavations, and then in other areas we constructed flood walls," says Herndon. "We filed a letter of map revision with FEMA and had those areas officially removed from the floodplain. And those homeowners no longer have to pay flood insurance."
The city's CRS-1 flood rating has also proven beneficial to those property owners still paying for flood insurance. The Community Rating System descends from 10, and for every point less than 10, covered communities receive a 5 percent reduction in flood insurance rates. Residents of Roseville are paying 45 percent less for insurance now than they were prior to the 2007 rating.
The scene is set for more success in Roseville. However, to move forward the city will also have to contend with office vacancy rates above 25 percent and a further 10 percent contraction projected for regional specialty retail stores this year, according to Garrick Brown, director of research at Colliers International in Sacramento.
"Our volume and the absorption rate that we have now is enough to last us for the next few years," Rogers says. "Building is exceptionally low, so the question is how we change the cost structure for when the economy turns around. If Roseville is able to adjust its cost structure, it will be able to serve a significant portion of the market."
If developers want to capitalize on Roseville's regional advantages, Brown suggests focusing on multifamily housing, particularly for seniors, and industrial and warehouse space.
"Multifamily housing is going to be the commercial product that is going to rebound first. When there is nothing else going on, you can always look to demographic shifts for growth. The smart play would be assisted living and senior apartments," he says.
The increased demand for warehouse space could also be met now that land prices in the area have come back down to the levels seen in 2002 and 2003.
Commercial developers hit hard by the drop in property prices are looking at development impact fees to soften the blow to their bottom lines.
Most business owners manage by instinct, but there are those times when they need a robust spurring.