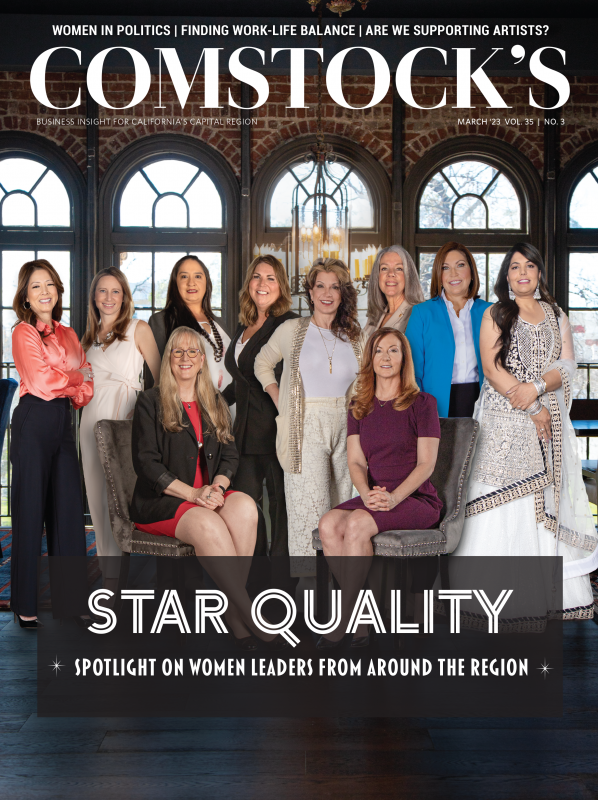 This story is part of our March 2023 print issue. To subscribe, click here.
It was spring 2020 in the early days of the coronavirus lockdown and Edie Lambert realized she needed to childproof her workspace. Like countless others at the onset of the COVID-19 pandemic, when most businesses closed up offices and shops, the KCRA TV anchor was now working from home — at least part-time.
KCRA management "was trying to figure out how to keep us in silos so that if somebody got COVID you didn't lose an entire team of people," Lambert remembers. "Half the time we would go into the station and the other half we'd work from home." The latter setup was a challenge: The house she shares with her husband and two children is small, with her office in the "dead center" in the middle of the action.
With Lambert's husband still going into the office and her children, then in kindergarten and the third grade, now attending school remotely, she needed to adjust — and fast. Although Lambert didn't anchor the news from home, she did need to tape live reports.
"I had to reinvent everything, including turning my home into a television studio," she says. "The first thing I did was move my desk into the living room and angled it so that my back was essentially against a bookcase — that way, no 6-year-old changing out of her clothes into pajamas would end up on camera."
Three years later it may be amusing to look back at such tweaks and tricks, but they're also a stark reminder of the changes, big and small, that women made as they adapted. The pandemic meant that their work environment didn't just overlap with home life and parenting — it all blurred into a boundary-free zone. As the unprecedented situation upended lives and routines, it also sparked thorny questions and conversations about the modern work-life balance.
Although the shelter-in-place orders have long lifted, some would argue that COVID has permanently changed priorities at the office and at home. What once seemed like a standard routine — commute-work-home-repeat — in many ways now seems untenable after months of living a quieter, less-harried life.
When the pandemic initially pushed everyone indoors and shut down most extracurricular activities, for example, Lambert says she worried she was letting things fall through the cracks. "We tend to be a very busy family and often end up with a packed calendar. When that slowed down, I felt a little panicky," she says. "Then I realized this wasn't time spent doing nothing — we were spending more time together — and the question became, how do you hold onto that?"
All in a day's work
As Lambert got used to working from home, she was also thrown into a new job: teacher's assistant. She relocated her older daughter Alise's desk from her bedroom to the home office and then set up a card table for her "squirrelly" kindergartner Carlie near the anchor's own new, makeshift office-TV studio.
"That way I could look over and say 'pay attention' every 45 seconds," she says with a laugh. "That's pretty much how I spent the entire year."
Although Lambert is mindful not to use the term "homeschooling" to describe the situation — "That just seems too rude when the teachers really worked their butts off" — she was hands-on with their day-to-day learning, a role that included playing tech support for her sixth grader who, up until that point, wasn't computer-savvy.
"All of a sudden she wasn't just learning multiplication, she was learning how to use a computer and do multiplication through a computer program, which is just all levels of learning," Lambert says.
While Lambert says her husband Lloyd Levine, a former state legislator, is naturally more inclined at helping out with computer issues, the job mainly fell to her by default of being the at-home parent. "I had to buck up and learn to do it myself," she says.
Employee, teacher's aide, cook, cleaner, caretaker and much more. During the lockdown, women took on a new overarching role in the family: project manager.
Nicole Soluri, chief executive officer for Professional BusinessWomen of California, a statewide organization that works to connect and empower women, says as many women worked alongside their children, they had to answer new calls of duty.
"We're all used to that to some extent as parents," says Soluri, who was at home with a kindergartner and second grader at the start of the pandemic. "But what happened in March and April (2020) was a new level of engagement and project management of not just their children's overall lives, but their education as well."
By default, most of that work fell to women. According to a 2021 Pew Center Research analysis, for example, the pandemic laid out stark gender disparities at home, with much of a household's "invisible" work falling to women regardless of their own employment situation: "Long-standing gender disparities in the household division of labor, which have been well-documented, have persisted during the pandemic," the Pew report concluded.
"For all the things that were a struggle during that time, what was lovely was that I did in fact get all this time with kids and husband that I wouldn't have had otherwise."

Margaret Teichert, painter and senior project manager
In many cases, women left the workforce altogether to better manage this strange new household dynamic. According to data collected by the U.S. Department of Labor's Women's Bureau, the pandemic "disproportionately impacted women" with the adult women's employment rate plunging to 54.3 percent — the lowest number since September 1988 when it dipped to 54.1 percent. Women of color were hit the hardest. In June 2021, "there were 7.2 percent fewer adult Black women, 5.9 percent fewer adult Hispanic women, and 4.8 percent fewer adult white women employed compared with February 2020" according to the analysis.
Perhaps not surprisingly, mothers of young children faced the harshest cuts in employment in 2020. According to the bureau's numbers, 1.2 million fewer mothers with children under the age of 13 remained in the workplace.
"The first year of the pandemic the data demonstrated that women often made the sacrifice to cut back on hours," Soluri says.
For some, the shift was intentional. Before the pandemic, Andrea Gueyger Havelaar worked part-time as a freelance technical writer. The work offered enough flexibility to care for her two sons, then ages 6 and 12, and manage the household she shares with her husband. During lockdown, however, the work disappeared, which left Gueyger Havelaar thinking about her next step.
"The kids were at home and doing school from home, so it wasn't like I could just go out and get some job that took place during business hours," she says.
Her husband, archeologist Christiaan Havelaar, was also at home, but with regular meetings on his agenda, the bulk of household management and care for the children fell to Gueyger Havelaar.
Instead of finding a new job, by the end of 2020, Gueyger Havelaar had pivoted to something entirely different: jewelry design. She'd always liked making things but told herself she didn't know enough about business to pursue it more seriously.
"I just started making stuff because I had some free time," she says. What was a craft hobby, however, soon turned into a viable business after a friend invited Gueyger Havelaar to participate in a pop-up shop at a local yoga studio. From there, her line of resin earrings, which she dubbed A. Ha Creations, became a local hit, popular for their whimsy and colorful designs such as dangling snakes, cheerful cut-out skulls and pressed flowers.
From the initial popup, her business expanded to craft fairs and local shop consignments. She started an Instagram page for her work and commissioned a friend to design a logo.
"I thought, this was something I could do whenever I have the time or even late at night," she says. "It changed my mindset as far as work goes — I realized that I didn't have to do conventional work, I could actually do something creative that I liked."
A better, new normal
Margaret Teichert also switched gears during the pandemic. The mother of two was working in project management at Berkshire Hathaway Homestate Companies at the start of the lockdown. When she switched to remote work, she also had to shift her priorities to help out her son, then in the sixth grade, and her daughter, who was in kindergarten.
Her husband, venture capitalist and Comstock's advisory board member Oleg Kaganovich, had been working from home for years which, in many ways Teichert says, presented its own challenges.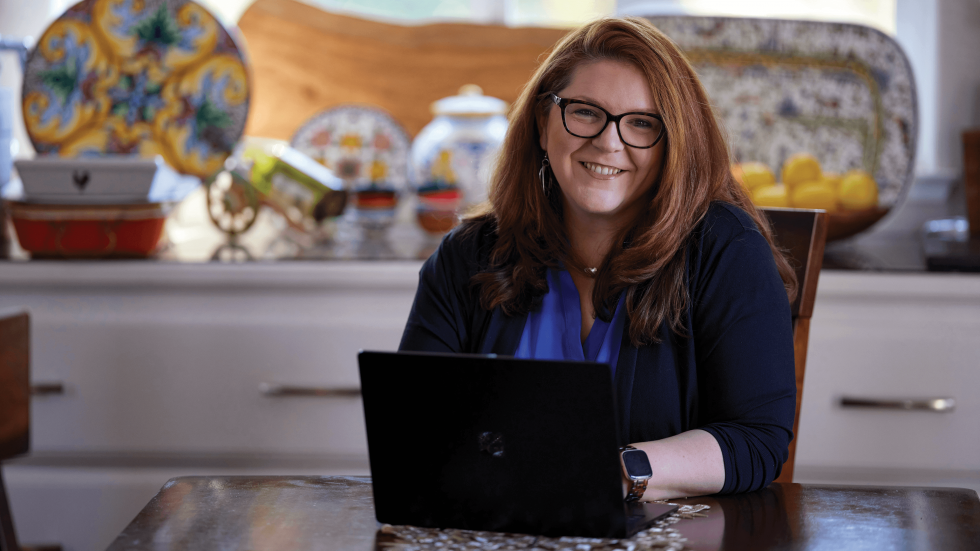 "He had a really good routine already established with his home office and a door that closed," she recalls. "This isn't to say that he wasn't available, but he was certainly better at establishing boundaries."
It wasn't that easy to follow suit, Teichert says.
"I can't just shut the door — if the kids need something my automatic instinct is to do whatever I can to handle it," she says. "But I did need to speak up and say, 'I've been here all day, too,' and I need to not be the default one who figures out what we do for dinner."
To cope, Teichert turned to her art. She was already established as a painter but now she had time to turn to new pursuits: lockdown-friendly classes in welding, laser-cutting, jewelry making and wood shop at a local maker's studio.
"I took every class I could get my hands on and just went in for studio time," she says. "It is not an understatement to say that it saved my life."
She also changed jobs and now works full time from home as a senior digital product manager for American Family Insurance. Full-time remote work has its drawbacks, Teichert says, but the ability to shift her schedule to better accommodate her family has allowed her more meaningful family time.
"I love that I am home for dinner every night," she says. "It is a beautiful thing that I appreciate, that I get to reclaim this time."
The pandemic, she says, reinforced a new perspective she'd gained after a breast cancer diagnosis in 2019. She envisioned 2020 as her "comeback year" but it didn't exactly go as planned.
"I was going to take the vacations and do the bucket list," Teichert says. "But for all the things that were a struggle during that time, what was lovely was that I did in fact get all this time with kids and husband that I wouldn't have had otherwise."
Like others, Edie Lambert rethought work during the pandemic, adjusting her schedule to better accommodate her children's needs. Whereas the anchor once worked 3 p.m to midnight, coming home between newscasts to help put the kids to bed, she now works four to midnight and forgoes a dinner break. With the change, she says, she can spend more time with her daughters after school when they need her help with homework.
Moreover, she adds, the pandemic has taught her a valuable lesson in adapting and slowing down. She and her family are still busy, but now they purposefully leave more downtime for unscheduled time together.
"One of my biggest takeaways from all of this is that quiet is okay, quiet is doing something, quiet is not nothing," Lambert says. "I'm giving myself permission to live a smaller life."
–
Stay up to date on business in the Capital Region: Subscribe to the Comstock's newsletter today.