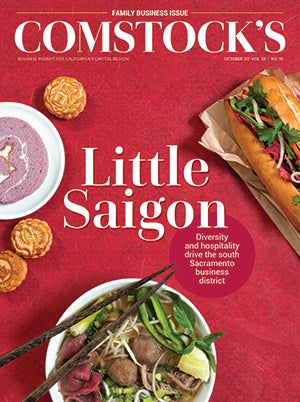 This story is part of our October 2020 issue. To subscribe, click here.
It was 2003, and Kevin Fat and his wife, Sarina Hasegawa, didn't know what their professional future held.
Kevin, who was born in 1967 and is a third-generation member of a legendary Chinese American restaurant family in the Sacramento area, and Sarina were living in Burlingame and working at Oracle. When restructuring eliminated Sarina's job, they decided to return to Sacramento: Sarina went to work on the business side of her father-in-law Kenneth Fat's dental practice in Sacramento, and Kevin rejoined the Fat Family Restaurant Group, for which he had worked in high school and college. "It felt almost like a responsibility to work for the business, the family business," Kevin says.
As often happens during periods of economic uncertainty, Kevin had a fallback option with his family business, one that started when his grandfather, Frank Fat, opened a restaurant in his name blocks from the Capitol in 1939. It was a reminder of the advantage family businesses can offer during tough times. While large companies often have shareholders, vast balance sheets and untold numbers of employees to satisfy, family businesses can maneuver more deftly and swiftly, powering through as best they can and helping one another.
With its nearly 40 million people, it's little wonder that California is a bastion for family businesses, with around 1.4 million, according to the Family Business Association of California. "Our members typically are these successful second-, third-, fourth-generation (companies)," says Robert Rivinius, FBAC's executive director. "A lot of people keep wanting to say 'family business' when they talk to me, and they throw in 'small business.' I say, 'No, no.'" Rivinius' reply to these people: He tells them that not all family businesses are small and points to Raley's, which has around 11,500 employees, and Pacific Coast Building Products, which has about 4,000 employees.
And family businesses tend to be more resilient, with the Capital Region Family Business Center in Roseville noting on its website that a study of S&P 500 businesses showed that family businesses fared better than others over a decade "on several key metrics of success."
"They don't just go to an office every day," says Stella Premo, executive director of the center. "Their name is on the building a lot of times. There's something in the heritage of their families starting this business … and then them being able to have faith that if they can weather this storm, then their employees will be better for it, and then the family business will be able to succeed because of it."
Building a Family Legacy
That's how it is for Kevin Fat, who started in a marketing role when he returned to work for the Fat Family Restaurant Group. He was promoted to CEO early this year as Jerry Fat, his 70-year-old uncle and company president, began to step away from day-to-day operations. "It's maintaining the family legacy and continuing on what my grandfather and my grandmother and my mom (Lina Fat) and my uncle and my other uncles had done before me," Kevin says.
"It's maintaining the family legacy and continuing on what my grandfather and my grandmother and my mom (Lina Fat) and my uncle and my other uncles had done before me."

Kevin Fat CEO, Fat Family Restaurant Group
Over the years, the company grew into seven restaurants at different times and a commercial real estate group. But in the beginning, there were just the dreams of an immigrant. Frank was born in 1904 in China and was 15 when he arrived at San Francisco in 1919, according to historic records. He came to America in search of his father, who'd immigrated in hopes of finding gold, Kevin says. Frank's father didn't achieve at the level he'd hoped, and they returned to China.
Frank sailed for China in November 1923 and was married there before returning alone to California in April 1926. With just an eighth-grade education, he found work as a dishwasher at the Senator Hotel near the Capitol. He saved his money and, in time, opened his own restaurant, Frank Fat's.
"Everybody told him it would be no good, but his friends from the Capitol encouraged him and followed him," Marcus McGee, a Frank Fat's manager, told the Los Angeles Times for Fat's obituary in 1997. "He had a wonderful relationship with legislators."
Nestled at L and Eighth streets in Sacramento, Frank Fat's became a gathering spot for lawmakers who made deals on restaurant napkins around issues like health care, tort reform and redistricting. Whatever was going on, Frank presided as a discreet, friendly and fair restaurant owner.
Every California governor since 1939 has come to Frank Fat's, Jerry says. Frank was friends with former Gov. Earl Warren during his administration, later sharing a drink with him in his judicial chambers in Washington, D.C., after he became chief justice of the U.S Supreme Court. Ronald Reagan brought heavy security when he visited during his years as governor. Jerry Brown liked to hang around the restaurant as a young, single governor, bringing his girlfriend, singer Linda Ronstadt, once or twice. Brown particularly enjoyed being treated to the end of the evening informal meal that restaurant staff would prepare for each other. "It wasn't the traditional menu items," Jerry Fat says. "It'd be more home cooking, so to speak."
Frank Fat's thrived almost immediately, with census records from 1940 showing Frank earning $1,800 for that year, about twice the median per capita income for Americans in the waning days of the Great Depression. It allowed Frank to provide a good life for his wife and children.
"Out of the six children, over the years, all of them worked for the restaurant, but my grandfather wanted them all to get a degree," Kevin says. "Since he didn't have a high school (diploma) and he didn't go to college, he wanted them to be educated."
This can be a risk for family businesses, in that it sends potential future generations off to other industries and career dreams. Rivinius notes just 30 percent of family businesses make it to the second generation, 15 percent to the third and a scant 4 percent to the fourth.
"People start out, and they want to be a family business," Rivinius says. "Sometimes, something happens. There are no children, the children don't want to be in the family business, they don't have the fire in the belly that mom and dad had, or the dad (or mom) does well enough to send them to medical school or dental school."
Kevin's aunts and uncles became a mix of attorneys, dentists, marketers and other professionals. But the family stayed close to the business, and in time, some of Frank's children would take the torch from him.
Through the Generations
Steve Wallace also got an early start with his family business, Woodland-based Wallace Safe & Lock Co., which his grandfather, OB Wallace, started after serving as a machinist at Mare Island during World War II. "Cleaning the shop. Cleaning the key machine," Steve, 58, says of his earliest memories. "Going out on jobs with my dad. I started that probably when I was about 8."
Steve has only held one other job, working full-time in a grocery store produce department briefly in his late teens. He officially took over about a decade ago from his father, David Wallace, who still comes into the office daily. Steve doesn't know when he'll hand the reins to son Derick Wallace, 31, a locksmith who's worked for the business for 16 years.
Like many businesses, the coronavirus pandemic has made it difficult for Wallace Safe & Lock, with residential work dropping off, since many people don't want anyone in their homes. The company has been perhaps saved somewhat because it transitioned more of its business to commercial work over the years. There haven't been layoffs, but the company reduced hours of operations, closing at 4 p.m.
Already, Steve has seen changes over the years, with his father belonging to a bygone era where people repaired whatever they could. "I think it's a dying business, actually," Steve says. "All the big stores sell everything we sell except service."
Brian Bendix faces similar circumstances. Brian, the owner of a Sacramento-based American Stripping Co. franchise that removes paint from old cars and other items, started the business with his parents in 1984 to help give his father, a career military man and state worker, a bridge to retirement. The arrangement also worked for Brian, a competitive Jet Ski rider who could take a few months off from work each summer to pursue his passion.
During more than 35 years, the company has weathered a series of downturns, most notably the Great Recession of 2008. Other relatives have stayed on through much of this time, such as Brian's sister-in-law, Denise Huff, who celebrated 23 years with the company in August.
But about two years ago, Brian learned that his landlord could get three times as much money leasing to a cannabis-related business, so American Stripping was forced to relocate roughly a year ago. "Both of my kids are very interested in carrying on the business," Brian says. "So we pretty much pulled everything we could and then some together and made the move happen."
Securing the future for son, Reid Bendix, 32, who's worked for the company 13 years, and daughter, Amy Bendix, 37, who's been there for close to a decade, meant obtaining a loan from the U.S. Small Business Administration to purchase a new building. He's also obtained an SBA Paycheck Protection Program loan because of COVID-19.
"I'm digging out of a hole I got in to move the business and to buy the building," Brian says. "I've got to stay here to watch the dollar, so to speak."
'A Lot of Heart and Soul'
Rivinius is optimistic about family businesses being able to stay above water during recessions. "Family businesses have a lot of heart and soul," he says. "I think that people know that, and I think, all things being equal, people would patronize a family business when they have a chance." Still, in good times or bad, family members often stay close in one way or another. That's been the order of things in Kevin Fat's family, from the time his grandfather started to step away in the 1960s. "In family business, you retire, but you don't really retire," Kevin says.
"Family businesses have a lot of heart and soul. I think that people know that, and I think, all things being equal, people would patronize a family business when they have a chance."

ROBERT RIVINIUS Executive director, Family Business Association of California
First, Frank's eldest son, Wing Kai Fat, took over. Then came Tom Fat, who died in 2007, which led to Jerry taking over. Other children and in-laws have been involved, with the family pursuing numerous ventures.
"This thing that I see the most with family-business dynamics is after we get everybody into a room, that it doesn't matter really what industry that they're in, the thing that makes them unique is that it's a family business," Premo says. "So people are engaged in the business, and they also have to have a family relationship with them aside from that."
The Fat family opened China Camp in 1974 on Front Street in Old Sacramento and Fat City Bar & Cafe two years later when an adjacent building became available through the Sacramento Redevelopment Agency, Jerry says. Eventually, China Camp became California Fat's, operating until approximately a decade ago. Fat City closed in November 2019, shortly before longtime executive chef and Kevin's mom, Lina, died.
The family also owns Fat's Asia Bistro locations in Folsom and Roseville, had a Fat City and China Camp in San Diego for roughly 20 years, and had franchise-like arrangements for restaurants in three Native American casinos. The family also has a commercial real estate business — primarily split between two companies, Frank Fat Properties and Frank Fat Inc. — which traces its origins to Frank being savvy enough to own the land on which his restaurants sat.
Kevin handles day-to-day restaurant operations, consulting frequently with Jerry, who's more involved on the commercial real estate side of the company. As for the next generation, Kevin says he's trying to take a different approach. The Fat family tradition has long been to encourage its progeny to gain education and work experience elsewhere, but Kevin wants to show his relatives that if they're interested, "There's more to our business than just serving or bussing or bartending." He says he has his eye on one of his nieces, who is a controller for another company, and a cousin who works in the Bay Area in commercial real estate.
If they or other members of the Fat family come onboard, it won't take long to bring them in. "We can be a lot more nimble than most corporately owned businesses," Kevin says. "That's the beauty of family business."
And they might find something that'll be there long after other potential employers. "To me, (family business) is still the bedrock of our economy and kind of the backbone of our economy," Rivinius says. "That part hasn't changed much."
–
Stay up to date on business in the Capital Region: Subscribe to the Comstock's newsletter today.