In 1937, Mother Teresa took a vow of poverty. She then gave food, love and medical attention to the dying poor in India. She founded the Order of the Missionaries of Charity in 1950. And while we will never know this for a fact, it's unlikely that the Pope asked Mother Teresa, "What percentage will you use for overhead? Have you identified your funding model? What's your turnover? Who are your main competitors?"
Yet if she were to start a non-profit in 2016, she might not get off so easily. For more and more investors and would-be funders, nonprofits need to have more than a worthy cause and a compelling mission: They need a plan. Specifically, they're now being asked to showcase the same mindset that's required of for-profit organizations, meaning that spreadsheets, metrics and core competencies can matter just as much as pulling the heartstrings.
The Need for Rigor
On the first Wednesday of every March, June, September and December, the Sacramento chapter of 100+ Women Who Care, founded by Jennifer Shaw, meets to hear pitches from nonprofits. At each meeting, every woman (now 160 and counting) donates $100 — for a total of $16,000 — and then decides who they should fund. (Think "Shark Tank," but friendlier and for a good cause.) These 160 women are, perhaps, the ideal audience to hear a feel-good story: big-hearted community leaders who have money and want to spend it. "Most of these are wonderful organizations who really want to make a difference," says Shaw, "But sometimes they don't know how to answer basic questions." Questions like: What percentage of your money goes to the program? How much goes to overhead? What's your marketing plan? "Sometimes they have no idea what their mission is," she continues. "Or maybe it's written nicely on a plaque in some library, but they don't know how to communicate it."
Shaw is quick to clarify that she admires all of the organizations, but that, at the end of the day, "somebody in a management role needs to be almost ruthless about the organizational mission. It's not just about doing something good for people." Just how widespread is the problem? How many have done their homework? Of the hundreds of nonprofits that seek funding, Shaw ballparks that "20 percent are really on top of it, 50 percent are halfway there, and the rest of them have a long way to go."
At a recent 100+ Women meeting, for example, one nonprofit pitched the room an idea that unquestionably saved lives. "It was an amazing project," Shaw says. "We really wanted to help them. But she wasn't able to answer our questions. She just couldn't communicate the mission. I was begging — I was asking loaded questions, so I could help! — but they weren't prepared to communicate. I didn't really understand exactly what they needed the money for until I later looked at their website."
Contrast this with another hopeful Sacramento nonprofit, Opening Doors, which helps refugees, immigrants and survivors of human trafficking. Shaw says they do incredible work and have loads of heart-twisting stories — they are literally rescuing children from abusive environments. But when they pitched investors, they didn't use the feel-good as a crutch. "They gave a great presentation on where the money goes," says Shaw. "They run their organization like a business." The 100+ Women Who Care were blown away by the attention to detail and the buttoned-up plan. "The vote wasn't even close," Shaw says.
The Root Problems
So what's changed? Why do social workers need to care more about "benchmarks" and "key ratios"? Part of it is the influx of information. With just a few keystrokes, all of us can skim the annual reports and the 990s. Crowdfunding vehicles like GoFundMe, DonorsChoose, and Crowdrise demand an extra level of rigor. "People used to think about their charitable giving and the way they spend their money as very distinct," says Peter Kim, senior director of learning and innovation at a Bay Area nonprofit advisory firm, The Bridgespan Group. "But newer philanthropists are thinking, 'Should I bring to charity the same mentality that I approach my business with?' The bar has gone up."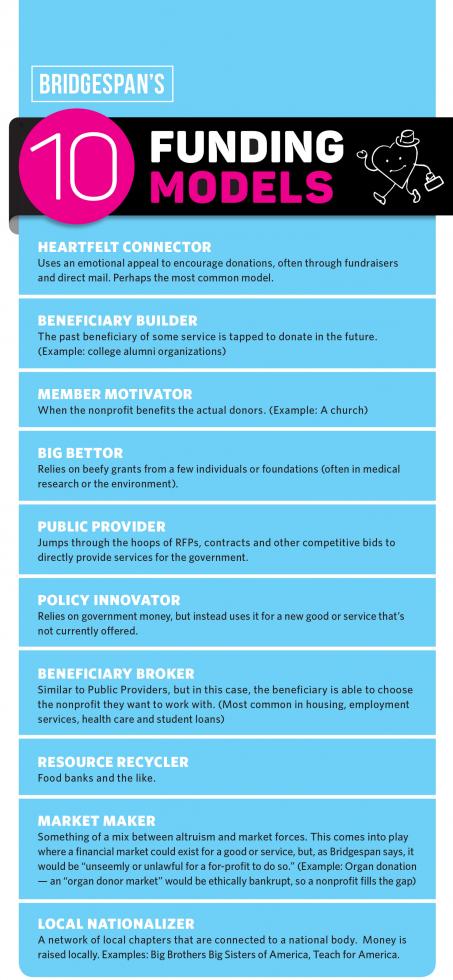 The reasons someone starts a nonprofit are not, typically, aligned with a business focus. Kim sees this all the time. "When you ask someone, 'Why'd you join the social sector?' very few people will say, 'I'm really interested in developing a sustainable funding model,'" he says, laughing. "When I ask that question at a conference, I get crickets."
On top of this potential disconnect, there's also a fundamental misalignment between the people giving the money and the people getting the money. "With nonprofits, you have two different sets of shareholders: set 1, the funders and set 2, the beneficiaries of those funds," explains Kim. "This challenge is unique to nonprofits." In a typical company, when a customer buys the product, the shareholders will eventually benefit. At a pizza company, a happy customer buys more pepperoni and the owner eventually makes more money — it's Adam Smith 101. "But with a nonprofit, if you do great work with one set, you still have to translate that to the other set. You could have the world's best program, but if you can't market that to the other customer, you're in trouble." Doing great work for the community isn't enough. Doing great fundraising isn't enough. You have to connect the dots.
In other words, sometimes nonprofits don't successfully market their success stories to the funders themselves, which can kneecap future donations. This weakness in marketing, along with muddy financial planning, are some of the biggest challenges facing nonprofits, according to Shaw. "And staffing, this is a big one," she says. "You shouldn't hire people because you use their services or because they're nice. You shouldn't hire someone as a favor." Investors want to see that nonprofits hire like a private firm — with objectivity, vetting and a focus on merit.
Kim says that on a deeper level, nonprofits can run into trouble when they haven't clearly identified their funding model. "The nonprofit world rarely engages in equally clear and succinct conversations about an organization's long-term funding strategy," writes Kim in a study for Bridgespan. "More than a poverty of language, this represents — and results in — a poverty of understanding and clear thinking." What does he mean by a funding strategy? Bridgespan performed an analysis of all nonprofits that: 1) were founded in 1970 or later and 2) were able to hit $50 million in revenue consistently. Only 144 nonprofits met that filter — less than 0.1 percent of all nonprofits. They found patterns in the data, which they then used to develop 10 distinct funding models, such as "Heartfelt Connector" or "Resource Recycler." (previous page). Kim says that nonprofits that identify and stick with their funding model, using it to guide their fundraising, tend to be more successful. When you don't find your funding model, "you are undermining the full potential of your programmatic work," he says. "You're attracting fewer dollars than you could, and you're allocating them in a way that's inefficient."
The right funding model can help a nonprofit separate the good money from the bad money. "Good money is money that you can attract that's a good match for you," says Kim, and bad money simply sucks up too many resources, like a silent auction that ends up costing more than it makes. "You don't want to pour a lot of time, money and energy into things that won't bear fruit over time."
The Fix
Social Ventures Partners, which has a local chapter in Sacramento (focused on education) and a larger network of 40 cities, helps worthy organizations sharpen their business acumen. "We work with them to strengthen and develop the core competencies that they already have under their belt," says Breanna Cahill, executive director of the Sacramento chapter. "SVP was borne out of the dot-com boom in the late '90s, where senior executives were retiring with too much money and nothing to do, and wanted to invest in a social return."
When any organization — nonprofit or for-profit — has a problem, it's easy to think that the solution is more money. This isn't always the case. "One thing a nonprofit can do is evaluate yourself; look at what pieces are missing," Cahill says. "Sometimes money isn't really the bottleneck. Maybe, for example, they aren't spending enough on marketing." SVP has the nonprofit use what they call the Organization Capacity Assessment Tool, which is designed to sniff out these gaps.
To adopt this consultant, for-profit mindset that could appeal to business-focused investors, sometimes the best thing a nonprofit can do is to stop scrambling, breathe deep and really focus on the mission. "A lot of times, it takes the board to get together with the management team to say, 'OK, what are we capable of doing?'" Shaw says. "This means really letting ourselves not do something for a bit of time, rather than always being in the 'do' mode. We get so busy with multitasking, getting pulled in 700 different directions. And sometimes we're so eager to do something that we jump into it right away. But having a solid plan is so important."
Investors want to see a realistic scope. "Don't bite off more than you can chew," says Shaw. This is true regardless of the size of the organization. "If they're going to tell me that there are only three of them, and that they can only do X and Y, then great — let's just do X and Y the best they can." Investors would rather see a buttoned-up, smaller-scope proposal than a loftier plan that feels likea fairytale.
All that said, there's no gimmick solution, and there's no one-size-fits all. Not every nonprofit should act like they're a tech startup. "It goes back to the individual donor," says Cahill. "A lot of investors are still really moved by the heart-warming stories, of hearing about how a group teaches children to read."
And another thing that Sacramento nonprofits have going for them is, well, Sacramento. "Everybody really buys into Sacramento," says Cahill, who expects to see more and more collaboration between nonprofits and businesses in the next five years. "We believe it's one of the future top 10 cities. It's a great space for everyone. And nonprofits are closely mirroring that entrepreneurial spirit."