If you imagine a humming city as a living body, the conventional alleyway might be the large intestine. It's a lonely grey loading zone, a collection point for garbage, and a covert space for drug use and violence. When a toilet is not an option, people use the alley. Idioms about alleyways generally evoke depravity: potential failures are called blind alleys, scruffy felines are alley cats, back-alley surgery is the kind that doesn't bill insurance and as for the kind of guy you don't want to meet in a dark alley — who do you want to meet there?
Tired eyes? You can listen to the audio version of this article here:
But as U.S. cities grow denser, urban passageways that were once ignored and crumbling are enjoying a renaissance. Alleyway activation is a designer buzzword for modernizing utilitarian corridors into well-lit public spaces. Helping the trend along, city planners in Chicago published a Green Alley Handbook a few years ago. San Francisco followed with a Living Alleys Tool Kit.
The capital city joins the party with plenty of available real estate. City planners say Sacramento is home to 350 alleys or 37 total miles of back-street pavement. Old Soul Co. on Liestal Row in Midtown probably earns the city's gold standard for alleyway activation, having received a public grant in 2009 that financed a "pedestrian first" corridor with potted plants and cobblestone paving.
Following the commercial success of Old Soul, the Sacramento City Council spent over a year debating what it should name its alleys, and in 2011 approved a medley of titles celebrating everything from the region's political heritage (Matsui Alley) to its Swiss sister city (Liestal Row) and its ragtime and swing legacy (Jazz Alley). The City of Sacramento is currently designing a guidebook for alleyway activation.
Shopkeepers are increasingly using murals and landscaping to draw people to their alleys, while eliciting neighbors to consolidate trash collection and freight loading, says Emily Baime Michaels, executive director of the Midtown Association, a business improvement district.
"It's about having ownership of the area and being thoughtful of how we manage the space," she says.
The City is attempting to encourage downtown development by streamlining the rules around construction, a move that would affect alleyway upgrades, Michaels says. As officials design the new guidelines, the Midtown Association has asked officials to not over-regulate alleys by designating them as historic corridors, a classification that restricts certain kinds of development.
It's not difficult to spruce up an alley. A simple use of string lights, or mounted LED lights instantly make the space feel safer and create an inviting atmosphere, giving "a visual cue to pedestrians that this space will guide me somewhere," says Kimberly Garza, landscape architect and director of the Sacramento-based Atlas Labs.
The city's near-constant sunshine allows for free-flowing indoor/outdoor layouts. But shady seclusion can be part of the charm, too, for businesses establishing themselves with a secret or exclusive location. Alleys also offer visual threads of culture leading to distinctly different walks of Sacramento life.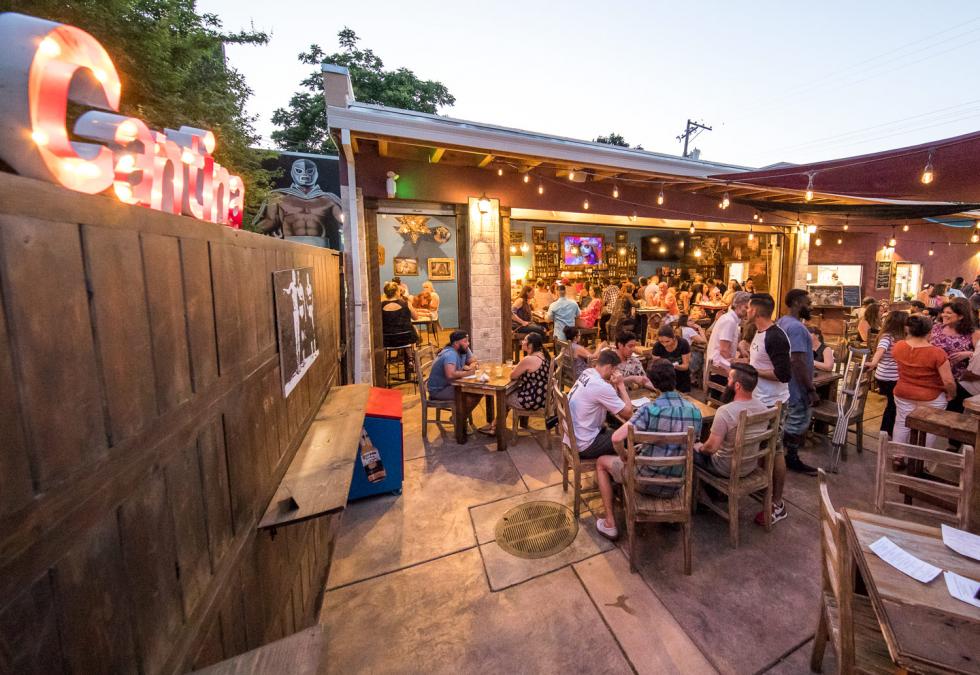 Art Aguilar and Max Archuleta did not initially plan to build their Mexican cantina in Jazz Alley. Landlord Thomas Roth convinced the two restaurateurs that the empty lot perpendicular to 24th Street between J and K would attract passers-by due to its radiant mural, a replica of the Presencia de América Latina, a colorful painting describing the history of Latin America through kaleidoscopic imagery.
"We saw the alley spot and realized we could do something with it," Aguilar says. "The more we brainstormed, the more we liked the idea."
Midtown's Cantina Alley opened in mid-March. Aguilar, the son of Mexican migrant farmers, says that every design element of the business is created to give customers the impression that they are in a Mexican bar.
From the alleyway, the cantina appears to be a traditionally enclosed bar/restaurant. But after walking through two stained cedar doors and potted agave plants, a cobblestone walkway actually leads to a small open-air courtyard. A ceramic dog perched on a ledge on the side wall patrols over guests. Dogs are commonly found standing and barking from roofs in Mexico, Aguilar says, because city properties are built so closely together.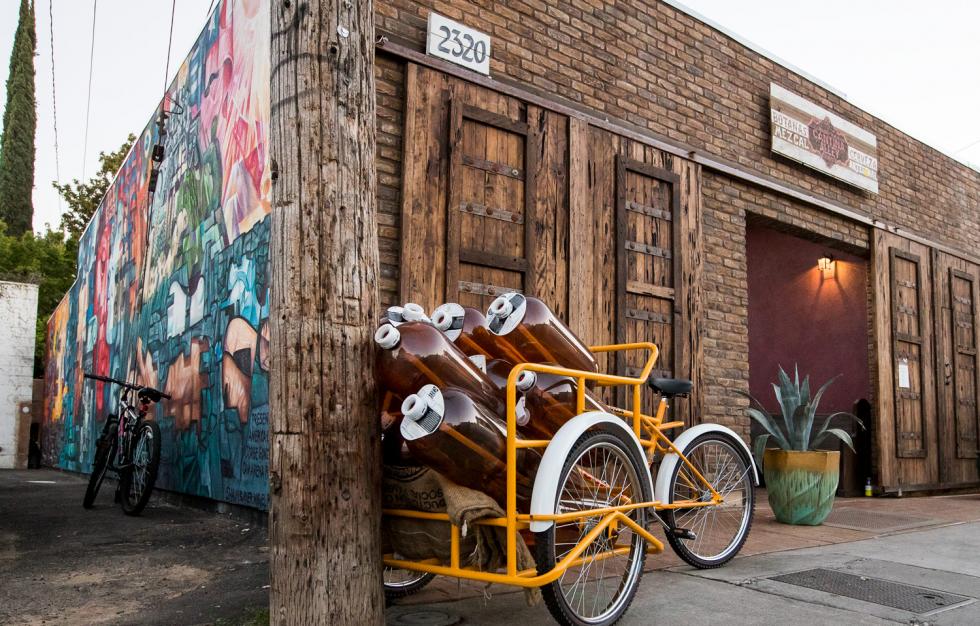 Adding to the Latin ambiance, posted signs on walls read "alerta vecino vigilante" and "salida de emergencia." An orange wall is adorned with a large artisan mask of a ferocious big cat. Next to it, a white wall features painted logos from Sol, Tecate and Corona — identical to what a visitor would see in a Latin American tavern.
"Everyone loves it," Aguilar says. "Their eyes go 'wow' and it feels like they are somewhere else, like a mini-vacation in Mexico."
To give the 2,600-square-foot indoor portion of the restaurant a roomier feel, Archuleta and Aguilar installed 13-foot-high ceilings and overarching tresses. Hanging off the walls are four black clay pots carved by a Oaxacan street vendor.
The cedar wood bar was fabricated from a carpenter from Puerto Nuevo who made the drive to Sacramento from Baja to take measurements. It's surface is covered in ceramic tiles, each one a painting or photograph celebrating daily life in Mexico, or the Day of the Dead holiday. It's an explosive mosaic of skulls and indigenous Mexican artwork, which, despite the macabre overtones, Aguilar describes as evoking positive feelings of ancestry.
"Day of the Dead is about remembering loved ones. It's really a happy holiday," he says.
The most striking feature of Federalist Public House and Beer Garden, tucked away in Matsui Alley (between N and Capitol and 20th and 21st streets), is that the property is constructed from seven navy blue shipping containers — the kind typically stacked up in a seaport or sitting on the back end of a semi-truck. When the recycled vessels arrived in Sacramento, one still reeked of garlic, says Marvin Maldonado, an architect and owner of The Federalist.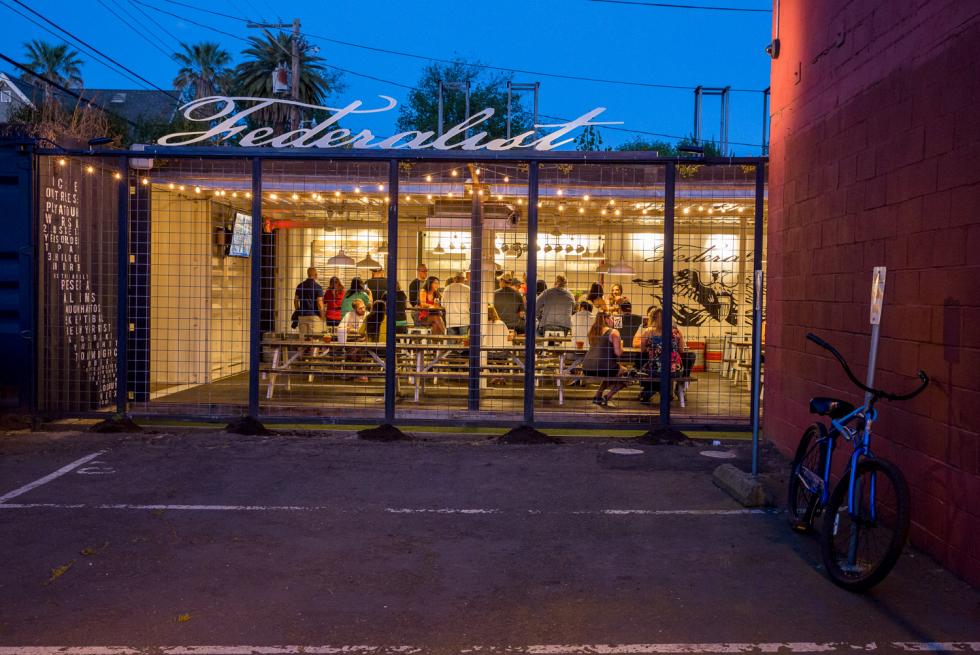 Maldonado swears he didn't initially set out to use containers for his pizza parlor and beer hall, but the crates were the "fastest, easiest route" to build a restaurant for a budget under $300,000, and they also perfectly aligned with the lot size: both were 40 feet. Overall, the tone underscores "honesty," Maldonado says. He doesn't feel the need to dress up the outward-facing containers like something else.
"It was just the right fit for the project at hand," he says. "Let's create a space with these big lego blocks."
The Federalist takes its name from the style of the neighboring home that faces N Street behind it, a 110-year old Victorian federalist with a farmhouse feel where Maldonado lives with his wife, Bridgette. Federalist style rose to prominence in the late 1700s as a symmetrical and luxurious design that appealed to upper-class Americans during the nation's founding. The décor lends itself to gilded gold mirrors, flags and eagle insignias, all of which can be found inside Maldonado's restaurant. Customers sit at long, communal tables and eat wood-fired pizza under a white and blue interior.
The bar also features a set of real elk horns from a torn-down Elks Lodge in Los Banos in the Central Valley. In another corner, antique farming tools hang suspended on aged dog-ear redwood. The west wall of the bar features an indoor-outdoor bocce ball court, with string lights and grated steel fencing separating the restaurant from the parking lot.
The restaurant's entrance would be nearly invisible if not for two planter boxes in front that Maldonado says also slows down passing cars, which speed down the alley at up to 30 miles per hour. A single sign on 20th Street advertises The Federalist, but Maldonado is hesitant to add more signage due to theft. As a result, the staff regularly accept calls from would-be customers who are lost. Maldonado says he's ambivalent about the secluded nature of his establishment.
"Our message isn't being heard, but once you have been here you never forget," he says. "That little bit of awkwardness or disorientation is a conversation starter. You feel like you know of the hidden spot."
In May, after four-and-a-half years under development, Vrilakas Groen Architects unveiled the final piece of its mixed-use project known as the Broadway Triangle: Oakhaus is a Bavarian beer-hall style restaurant at the end of a long driveway known as Mule Alley between 34th and 35th streets in Oak Park.
The Broadway Triangle features 29 homes and 9,000 square feet of first-floor retail, and is considered the lynchpin of a 20-year effort to revitalize Oak Park. Vrilakas Groen, the developer and architect, repaved the alley with concrete in 2012. Previously, the site was a field of asphalt and dirt. The Sacramento City Council stamped final approval on the alleyway upgrades in April, closing a five-year saga of conflict resolution among developers, existing businesses, and utility and water providers.
"It's been a process," says Mark Groen, principal of Vrilakas Groen. "Everybody had to be assured that things will be maintained and safe and work for all parties."
The entire Broadway Triangle features a modern-industrial look, with brick storefronts bordered by galvanized steel fencing that has rusted over the past two years. Even the alleyway dumpsters are enclosed in the smooth, rusted steel. The designers sought to honor the character of the neighborhood in their upgrades without "creating a false history or making it overly-stylized," Groen says.
"It's more of a bohemian look," he says, "not high style. A little more organic and funky."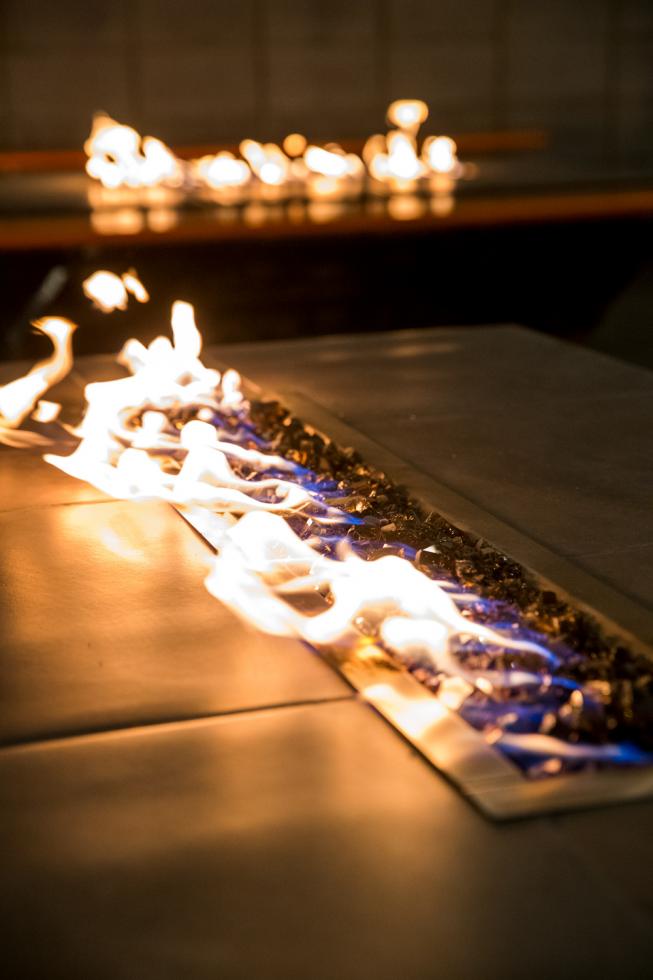 The outdoor portion of the restaurant is surrounded by a three-foot high gate that creates a diamond-shaped outdoor seating area and opens at a single point at the opposite side of the alley.
"We want to blur the lines between inside and outside, which is great in Sacramento," Groen says. "You can hear the energy outside and inside you can see it." Mule Alley will continue to operate as a working passageway for traffic. Under an agreement between neighboring residents and businesses, the gate will open and Oakhaus furniture will be cleared from late evening to dawn each day. Outside of that timeframe, Oakhaus patrons will be able to socialize in a festive atmosphere.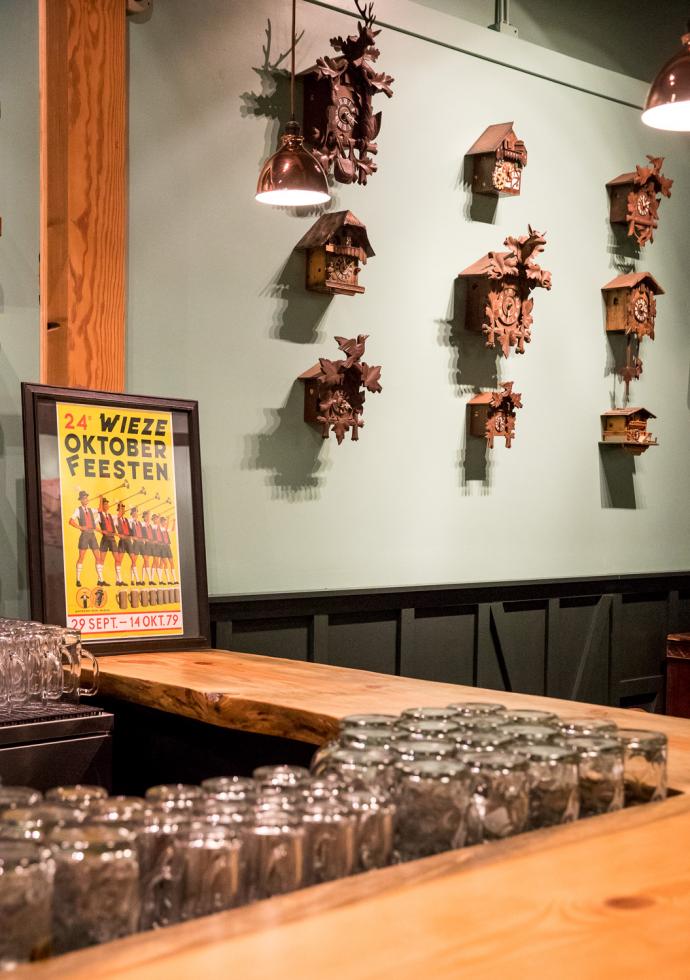 The co-owner of Oakhaus, Tom Schnetz, is a Sacramento native who owns multiple well-acclaimed bars and restaurants in Oakland and Berkeley. In May 2016, Schnetz and his brother David opened La Venadita, a family Mexican restaurant on the south end of the Triangle, at 35th and Broadway. Inside Oakhaus, a 2,500-square-foot interior will be a medley of colored wood, with greenish blue walls and a cherry pine bar top that Schnetz says will be "flamboyant, quirky, a little different."
"It's jovial," he says of the desired vibe. "People are just happy. In Germany, people break out in song. If that happened [here] I'd be shocked, but happy."
Schnetz filled the 2,000-square-foot triangular backyard with 8-foot-long beer garden tables with orange tops and green legs. The outdoor area also features plants, and a couple fire pits and a small raised deck for live music.
"It's creating a space that is intimate yet expansive," he says. "You create an outside living room of sorts you want people to enjoy."