From the unmarred concrete sidewalk along Riverine Way, above Richards Boulevard in the city's River District, you can take a slow 360-turn and view the past, present and future of housing development in Sacramento. You'll likely be standing alone, since the street is only one bone of an incomplete skeleton that will eventually support the mixed-use urban infill taking shape around it.
Signs are growing, though, that after six years of slow multifamily housing construction in both Sacramento and West Sacramento, developers, lenders and city officials are beginning to feed the residential market's pent-up demand. From midtown infill projects to large tracts of land scraped clean of old warehouse and industrial structures, the wood, glass and steel of new apartments and condominiums are rising, or soon will be.
The intersection of North 7th Street and Riverine Way, at the north end of the Township 9 project, has been elevated to levee-top height by a smooth incline of bulldozed earth. Young sycamores line the median of North 7th, which is split by a blocks-long water channel of fountains and granite stones. Beyond an information board showing the proposed park site, tall trees signal the banks of the American River.
The vista to the south reveals Township 9's foundation-ready lots, then the Cannery Place apartments, the new Township 9 light-rail station and farther still, the cranes and earthmovers building infrastructure in the railyards. Just at the horizon, high-rises frame the skyline of downtown Sacramento, soon to be reshaped by the Kings arena.
On the far bank of the Sacramento River beyond the Tower Bridge, West Sacramento's Bridge District is taking shape with a new neighborhood of homes and apartments. More than 4,000 residences are planned at build-out. The second phase of Fulcrum's Park Moderns two-story condominiums released in September quickly sold out. Nearby, The Barn, an outdoor event center near Raley Field, already hosted its inaugural music festival, TBD, in October. North of Tower Bridge, the first residents are moving into Capitol Yards, a 350-unit apartment complex.
To connect housing and job centers on both sides of the river, a new I Street Bridge, for autos, pedestrians and bicycles, will be constructed north of the 100-year-old existing bridge (which will remain for the railroad).
By 2025, if all goes as designed, the metropolitan area's central core will be a bustling live-and-work hub with thousands of new residents. But it's been far from easy to get to this point.
Steve Goodwin, president and principal of Township 9, recently celebrated the completion of Cannery Place, 180 apartments near the development's center. Goodwin points to the high level of cooperation needed between various interests to make a project succeed in the current economic climate. Investors, construction companies, city leaders and even neighboring businesses have to work together, he says.
"The existing businesses worked with us to make the area more clean and attractive," he says. "Whether it was a warehouse removing old equipment from its back lot or the city working on cleaning up the river area, everybody was great."
Goodwin's partner at T9, Ron Mellon, says the necessary keys are in place to move forward.
"You need entitled land ready for permits, and capital markets have to respond," Mellon says. "We have those things here."
According to Colliers International's Multifamily Report, in the second quarter of 2014 less than 4 percent of apartment units in Sacramento were available to rent, making the Capital Region one of the tightest rental markets in the country. The number of multifamily construction permits granted — which include apartments, condominiums and cohousing — has risen to 890 in 2014 compared to just 219 last year, still below pre-recession levels, according to Colliers.
"There's clear excitement currently in Sacramento's central city grid. Mixed-use housing and retail developments recently completed, under construction and starting soon will help build the momentum."

Bay Miry, D&S Development
In the June 2013 to June 2014 period, the average monthly apartment rent in the Sacramento region increased nearly 5 percent to $1,018 as of June 30, up from $970 in June 2013. Still, only 113 multifamily permits were issued in the second quarter. Colliers International notes that, since in normal conditions it takes nine to 12 months from the start of unit construction to delivery, the local market is bound to remain tight well into 2015.
The eye-test of construction activity in Sacramento certainly belies the numbers in the Colliers report.
At D&S Development's 16 Powerhouse mixed-use project at 16th and P streets in midtown, 50 high-end rental apartments will soon be available. Move-in is expected by the end of the year. D&S, in partnership with CFY Development, in October received needed approvals to move ahead with construction of a long-awaited $51 million mixed-use project on the 700 block of K Street that will include 137 units of housing.
Bay Miry, of D&S Development, says the market is only beginning to catch up.
"There's clear excitement currently in Sacramento's central city grid," Miry says. "Mixed-use housing and retail developments recently completed, under construction and starting soon will help build the momentum."
The period of developers waiting on the sidelines is ending, he says, as financing begins to loosen.
"Financial uncertainty during the recession caused developers to rein in soft-cost expenses, including architectural and engineering services," Miry says. "We're starting to see increased development activity as financing becomes more doable."
A ceremony was held in September to mark construction beginning on Eviva Midtown, formerly called The Warren, a 6-story apartment building under construction at 16th and N streets near Capitol Park. A joint venture between UrbanCore and Integral, in partnership with LDK Ventures, the 118-unit project's estimated development costs are $34 million.
The project, originally for-sale condos, was announced in 2011 but was delayed by the recession. Its new incarnation as rental apartments is being put together section by section, using modular units fabricated at McClellan Business Park, trucked into the central city and placed into position at the job site.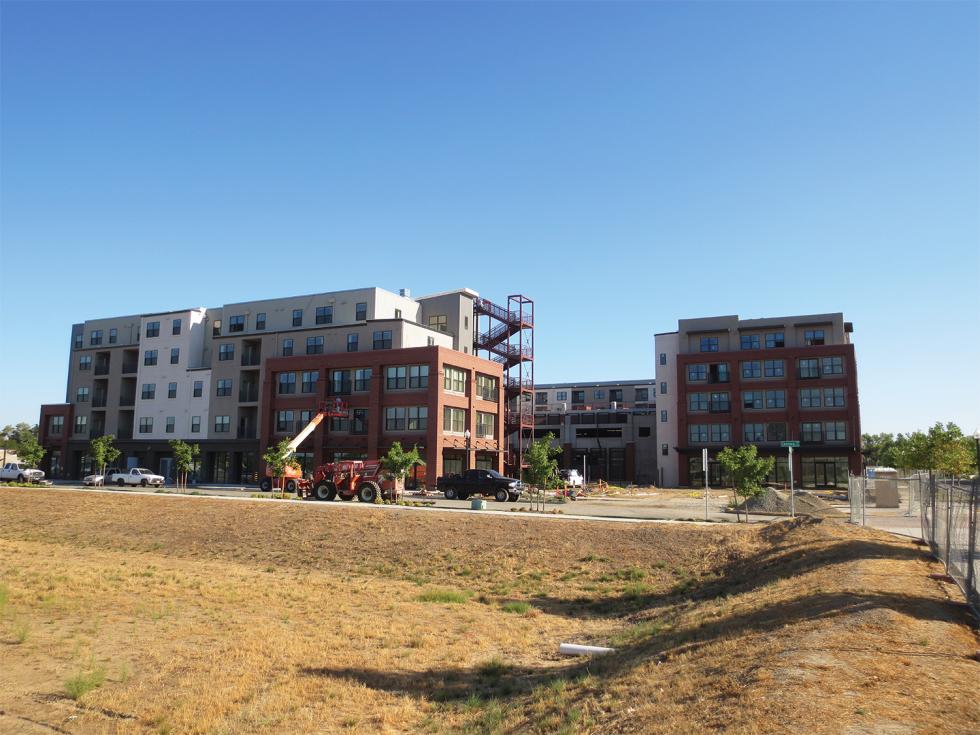 A block away, leasing has gone quickly at the Legado de Ravel, a project completed earlier this year with 84 market-rate apartments with ground-floor retail and restaurants.
Perceptions do play a big role in the health of a market, and the perception of the Sacramento region is positive, says D&S Development's Miry.
"Changing the perception is certainly our intent and the timing of opening into this market with 50 high-end, market-rate units at 16 Powerhouse is perfect," Miry says. "The central city grid needs both a balance of affordable and high-end housing, plus variety in terms of unit size and type."
Miry says affordable housing product was easier to finance in recent years, and most of the market-rate product built has a "smaller, open, loft feel."
"In contrast," he says, "16 Powerhouse targets empty nesters and professionals who want to live the urban life and also want quality finishes, ample space and unique amenities."
These new urban dwellers demand quality leisure activities within walking distance, along with other amenities.
"Apartments include expansive outdoor patio decks and views of Fremont Park and the Capitol," Miry says. "The ground floor includes three local businesses (Magpie, Orchid Thai and Insight Coffee) plus the city's first 'stacking' parking system."
Between 11th and 12th streets on Sacramento's R Street corridor, the Warehouse Artists Lofts, with 116 units designed to attract an eclectic crowd with market-rate and affordable housing, is nearing completion. The brick warehouse, completely transformed after the interior was gutted and reshaped, is wrapped by a newer structure. The city has laid a cobblestone center along the old railroad tracks on R Street and installed attractive signage and lightposts to complete the vintage feel.
With recent plans announced for the old Crystal Ice Plant between 16th and 18th streets, the entire R Street Corridor, once nearly desolate and little used, is building into the burgeoning neighborhood envisioned before the recession took hold in 2008. Announcing the latest plans for the site in September, Mike Heller of Heller Pacific said there will be 150 residential units in the project. Heller has joined with Sacramento's Mark Friedman, founder and president of Fulcrum Properties, to develop the old industrial facility into a mixed-use complex over several buildings, with up to 60,000 square feet of retail space.
Across town, development parameters for the blocks surrounding the site of the new Kings arena at 5th and L streets, led by JMA Ventures, entitles up to 500 new residential units. However, the first phase of construction envisions only 80 luxury condominiums as part of a 16-story hotel tower directly north of the arena.
Speaking at the Development 2015 event at the Crest Theater in September, JMA principal Michael McManus said more residential high-rise units could come in later phases of the project, which will feature 1 million square feet of commercial space.
A wildcard in the potential scale of future multifamily construction is the 240-acre railyards project, now under the control of Larry Kelley, who built Stanford Ranch in Rocklin and turned the former McClellan Air Force Base into an industrial park. Kelley says the development group is only in the early stages of deciding what will go into the railyards.
Meanwhile, back on Riverine Way, the afternoon breeze is ruffling the leaves of the trees, new and old. Along the vista below, crews putting the finishing touches on Cannery Place are packing up their tools for the day. But here, and all across the region, the workers will be back tomorrow, and many days after that, starting a new phase of construction, building the new Sacramento.