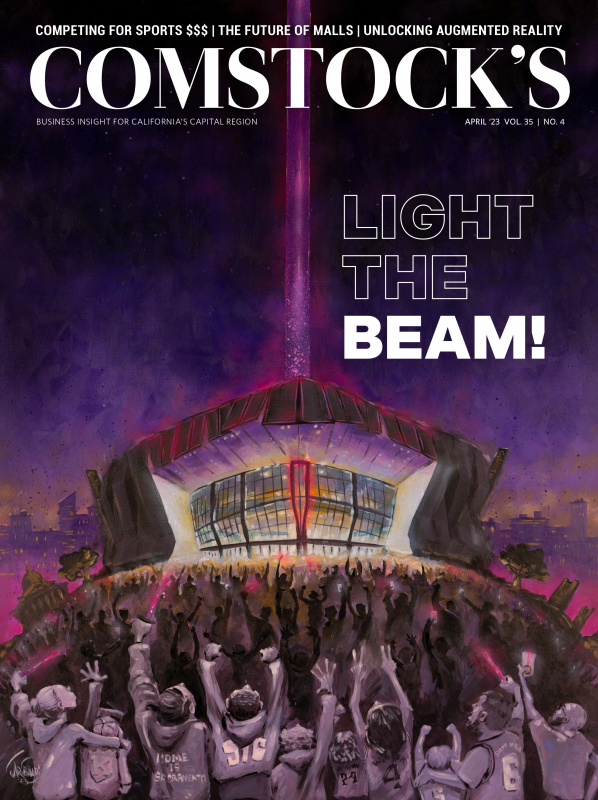 This story is part of our April 2023 print issue. To subscribe, click here.
It's 20 days before Christmas and there is ample parking at Sunrise Mall in Citrus Heights. Just three families are in line for a picture with Santa. Dozens of empty storefronts are barred or barricaded. Those working nearly outnumber the shoppers. While many stores, including Macy's, remain open at the aging mall, the closed storefronts evoke a sense of apocalypse.
"You could drive a car through the inside of the mall and not hit anyone," says Mark McGee, a Citrus Heights resident, from the comfort of a massage chair in one of its empty hallways.
Built in 1971, Sunrise Mall was once one of the Sacramento region's most profitable shopping centers, along with Arden Fair, which was built in 1957. Now outflanked by newer shopping centers in Folsom and Roseville, the 100-acre mall has been struggling in recent years. Tax revenue generated from the center is down 50 percent over the last decade and vacancy is about 60 percent, says Citrus Heights Mayor Porsche Middleton. "The mall and its future are extremely important to Citrus Heights," she says.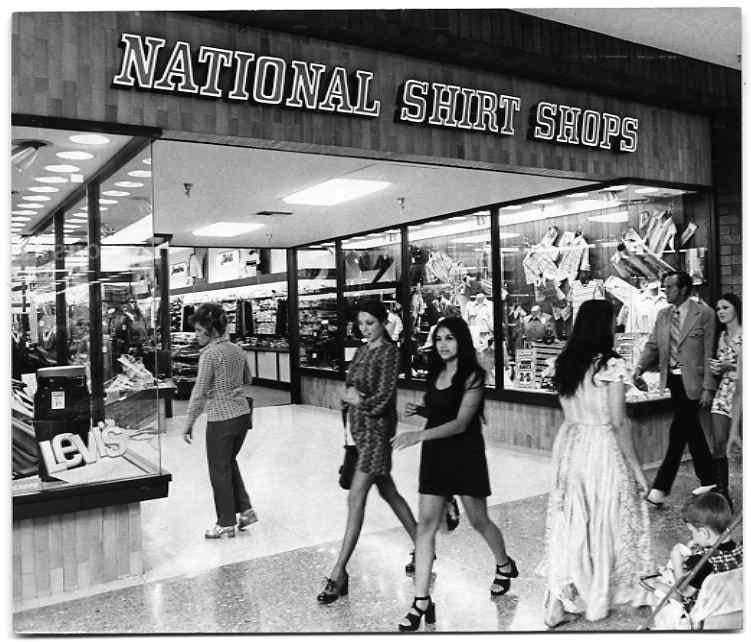 Sunrise Mall's situation is far from unique. Communities around the country are grappling with the same story as communities evolve, habits change and infrastructure ages. As many as 25 percent of America's roughly 1,000 malls will close within three to five years, according to a recent study by Coresight Research. Migration patterns, a shift towards online retail and the pandemic are all cited as factors in the struggle of retail centers.
Reinforcements are likely on the way at Sunrise. Sacramento-based retail investment company Ethan Conrad Properties recently purchased a 1.5-acre portion of the property — the former Sears store and auto center — for around $7 million, according to published reports. "This property is the second highest traffic intersection in the entire Sacramento County area and is a very good retail location with high demand from logical tenants," CEO Ethan Conrad told ABC10.
The Citrus Heights government has also invested in the mall's future by developing the Sunrise Tomorrow Plan, adopted after months of community meetings. The plan reimagines the layout and use of the six properties that form Sunrise Mall. If adopted, it would create a new "downtown" with driveable and walkable streets connecting shops, parks, higher-density housing, recreation and other uses. New zoning allows up to 2,200 multifamily residential units, 300,000 square feet of retail, a 900,000-square-foot employment center, three hotels and an outdoor event space.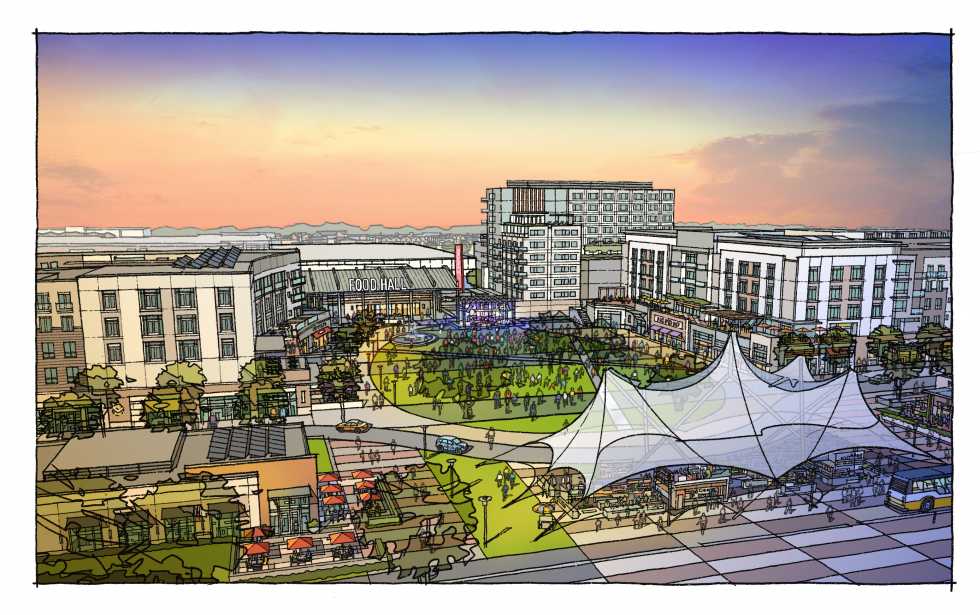 The plan reflects current trends in urban development, which are moving away from the car-centric, suburban focus that led to the rise of the shopping mall in the latter half of the 20th century. Developers and residents now show preference for walkable, mixed-use neighborhoods that resemble the traditional downtowns these malls replaced.
Because Citrus Heights is 98 percent built out, it can't rely on developing vacant land to meet economic achievement goals, says Mayor Middleton. "We have to work harder and smarter to steward our future. We are doing that at Sunrise Mall by leveraging planning tools and proactive economic development strategy to transform the 100-acre retail center into a vibrant and diverse community hub and economic engine."
Suburban sprawl and the mall
Shopping malls began their rise after the end of World War II. Fueled by the expansion of highways and post-war economic policy, white Americans moved from cities' downtown cores to the suburbs.
Author Alexandra Lange, author of "Meet Me by the Fountain: An Inside History of the Mall," says suburban planners "failed to consider the need for gathering spaces between home, work and school." That's where the indoor mall filled a need, she told Comstock's via email.
The post-war mass migration to the suburbs reversed as people moved back downtown in recent decades, says Bernadette Austin, the executive director of UC Davis' Center for Regional Change. That movement led to "the suburbanization of poverty," she says.
Austin says that trend is changing again with people moving away from high-population centers like San Francisco. "We are seeing this migration from the Bay Area to the Central Valley, including the Sacramento region," she says. That potentially bodes well for the suburbs, and perhaps for malls as well — if owners can keep up with changing trends.
Real estate advisor Ken Morris says property owners need to accept that customers change. For the last seven years, he's been studying and blogging about successful and unsuccessful efforts to reuse existing retail property. "People change. The way people do business change," says Morris, who is based in Florida, adding that he's old enough to remember rotary phones. "People used to walk around stores for hours. People don't do that anymore."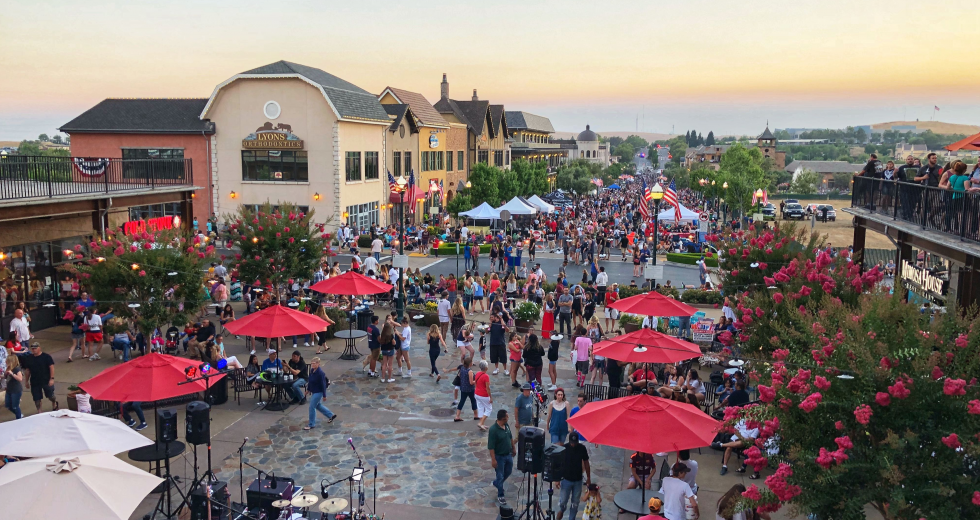 To learn about how the region's successful malls are holding on, click here.
He says if new retail tenants can't be recruited to aging centers, adaptive reuse might be the right answer, but not always. "You want to look from a holistic level. What's the best use for the property?" In some cases, lifestyle centers that offer open-air space between stores are a better fit for customers, says Morris. "People like seeing the sky," he says.
Indeed, the Sunrise Tomorrow Plan would convert the mall's existing footprint into outdoor shopping and dining. Two local open-air shopping centers, the Fountains in Roseville and Folsom's Palladio, were cited as inspiration. Other local lifestyle centers, such as El Dorado Hills Town Center, are also thriving as indoor malls struggle to attract shoppers.
Austin says lifestyle centers bring active recreation like game centers, gyms or ax-throwing to the shopping experience. Many lifestyle centers also feature sit-down dining in addition to food-court offerings. Sunrise Mall has lacked a stand-alone restaurant on site since the Elephant Bar closed in 2019, and the mall's United Artists movie theater closed in 2021.
Another mall property reinvention option is to replace retail space with residential units. "If you live there, you have a captive audience," says Austin. She says mall sites wouldn't host typical suburban-style houses, but higher-density housing that typically appeals to younger residents. Shopping centers can also add community services such as clinics to the property, which brings additional potential shoppers to the property on a daily basis. For example, Sacramento's Downtown Commons mall, or DOCO, is anchored by the Golden One Center and also features a Kaiser Permanente sports medicine facility, a 24-Hour Fitness workout center and the Kimpton Sawyer Hotel.
Lange says the death of the American mall has been declared prematurely — some indoor malls will evolve and continue to serve as the community living room to U.S. suburbs. However, struggling malls present a great opportunity for reinvention.
"Malls offer a great opportunity to bring suburbs more of what people want: walkable, mixed-use communities," Lange says. "Dying malls are a great opportunity to rethink wasteful land use patterns that surround malls with huge moats of asphalt, separate workspace and retail from homes, and so on."
A 'ghost mall' site changes course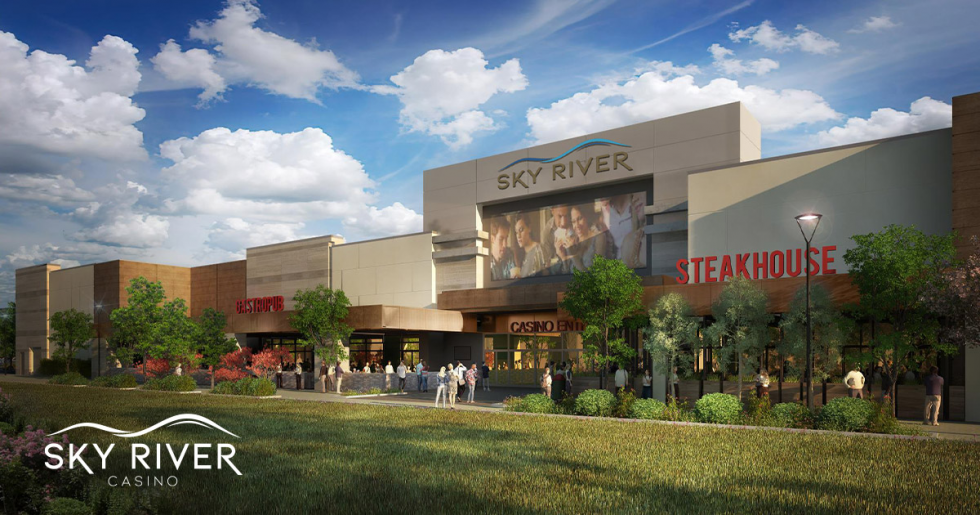 Roughly 24 miles south of Sunrise Mall, the parking lot of Sky River casino is far from empty. Vehicles circulate in hopes of snagging a spot close to one of the entrances to the gleaming new gaming center. Inside, hundreds of people are saddled up to the 8-foot-tall electronic slot machines. The room is modern and sleek with a river theme running through the decor. The various chimes from slot machines form a symphony that drowns out individual voices.
The 2022 opening of Sky River brought to conclusion the long-stalled dream of building a regional shopping mall on the site. The City of Elk Grove approved a development agreement with the Howard Hughes Corporation to build a mall there in 2014. Remnants of the partially-built "ghost mall" near Kammerer Road and Highway 99 offered a daily reminder of the stalled plan.
In 2019, the city was notified that efforts to build the mall would end and the partially constructed portion would be demolished. Nearly two years later, the property was sold to Boyd Gaming, which announced plans to build a casino on the site. While the City of Elk Grove long sought to see the retail shopping center completed, Economic Development Director Darrell Doan calls the casino's opening "a major accomplishment for the city."
"The casino is a good neighbor and a good land use," he says, avoiding a direct comparison between the expected economic impact of the planned mall and the casino. Rather than taxes, tribes with gaming rights negotiate agreements with neighboring governments. Under the city's memorandum of understanding with Wilton Rancheria Tribe, the tribe will pay the city $117 million over 20 years in addition to a one-time payment of $14.5 million.
Doan says that the casino will help to establish Elk Grove as an entertainment destination. He adds that there is more property owned by Boyd and the tribe which Doan hopes will also be developed for entertainment uses. Because the tribe has no other tribal land, Doan said the casino's success will further benefit the city as the tribe further invests in the city.
Sundown for Sunrise?
While Elk Grove was incorporated in 2000 with plenty of nearby land for expansion — and is one of the fastest growing regions in California — Citrus Heights was formed in 1997 as a mostly built-out suburb. Sunrise Mall and other local shopping centers made the city one of the region's top economic corridors, according to Citrus Heights' city website.
As it stands now, Sunrise Mall hosts a mix of national brands like Claire's, Sunglass Hut and Victoria's Secret, but also includes locally owned stores unlikely to find a place at higher-performing malls. The country song "Still Holding On" plays from a speaker within the La Estetica barber shop. All the chairs are empty. A rack of clearance clothing sits by the door.
Taimur Khan, the manager of the locally owned hat store Breakout, generally agrees that the mall needs new energy and that there are plenty of unused parking lots that could become townhomes or apartments, but he also thinks there is more mall management could be doing to bring more business to the center now. "We want them to bring more good stores that can bring business to the mall," he says. He says while some people enjoy shopping online, some products — like hats — need to be tried on before purchasing.
The number of closed stores within Sunrise Mall is impossible to hide. A few are hidden by vending machines, and others are covered by pictures of stores, but no effort was made to hide many of the voids. The open stores are clumped together, leaving wings of the single-story mall nearly empty save for fitness walkers interrupting the silence.
Evidence of the much-discussed Sunrise Tomorrow Plan can be found on large "dream board" posters in multiple storefronts. They show inspirational images selected by community members who took place in the planning process.
Still in his massage chair, Citrus Heights resident Mike McGee remembers better days for Sunrise Mall. "This was my mall. Back in the '80s, this is where we went after school. This was the meeting place," he says. It went from elbow-to-elbow to a ghost town after the Galleria opened, he says.
The Galleria at Roseville opened in August 2000 with 120 stores. One month later, it was acquired by the Netherlands-based real estate firm Rodamco, which was later absorbed by the French multinational corporation Unibail-Rodamco-Westfield SE. The mall has been officially known as the Westfield Galleria at Roseville since 2005. The support of a powerful corporation has helped the Galleria and other Westfield properties withstand market conditions that wore down smaller malls. Like other Westfields, the Galleria hosts higher-end brands such as Tiffany & Co. and Gucci that appeal to affluent shoppers. It is on track to record its highest grossing year since opening.
"It's sad to see it a shell of its former self," McGee says of Sunrise Mall. "They need to find something to do with the property. They need to find something that will be a destination." Despite his acknowledgment that something big must be done, he remains skeptical that the Sunrise Tomorrow Plan will be realized.
Mayor Middleton notes that plans alone don't determine success. For this plan to succeed it will take a strong partnership with the property owners, she says. "The city does not own the mall site. The redevelopment will ultimately be driven by the property owners."
She says the city is already seeing fruit from efforts by city staff to work with the property owners and development community. In October, for example, the city received a parcel map application for a hotel on the property. By taking bold and intentional action, Middleton says the city can turn its underperforming retail corridors into the "downtown" the city never had.
–
Stay up to date on business in the Capital Region: Subscribe to the Comstock's newsletter today.
We invited the managers of some of the most successful shopping centers in our region for insight on how they managed during the pandemic, but more importantly how they stay relevant in a digital world.