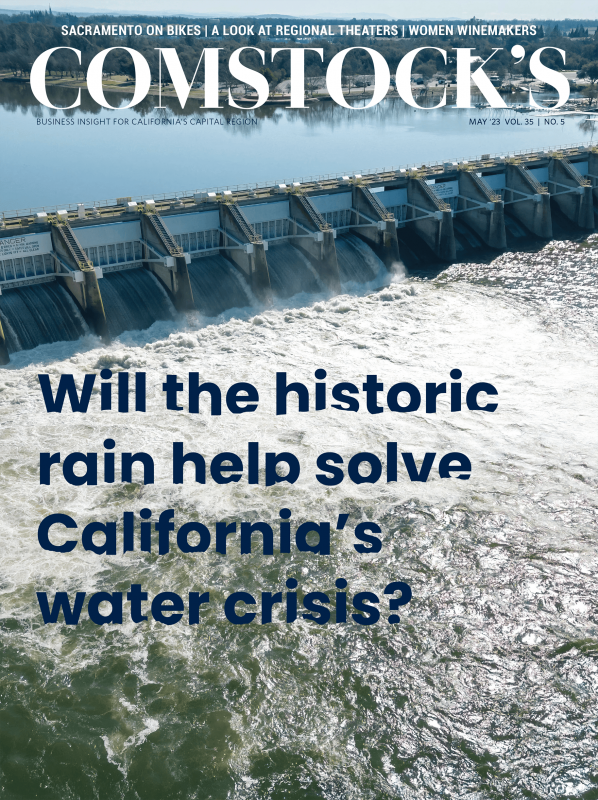 This story is part of our May 2023 print issue. To subscribe, click here.
Sacramento is home to one of the West Coast's best bike paths. The American River Parkway's Jedediah Smith Memorial Trail extends 32 beautiful, flat miles from Folsom to Sacramento and connects parks along the river. It is the sort of safe, scenic and car-free bike path that cyclists around the world envy and Sacramento County riders cherish. However, once they venture off the trail and into Sacramento itself, riders face a distinctly more mixed and sometimes dangerous cycling experience.
For over a decade, the city and county have worked to make Sacramento a great town to cycle in, aided by the relatively flat terrain and grid pattern streets. However, in 2022 national nonprofit PeopleForBikes ranked Sacramento in the 58th percentile of large cities and awarded it a network score of just 30, where 100 is ideal. Debra Banks, executive director of Sacramento Area Bicycle Advocates, agrees with this assessment and says she'd give the city a "C+ or B-" grade for bike infrastructure. Despite a surge of cycling participation in the pandemic, focused spending on bike lanes, and geographical advantages, how is it that California's capital is barely above average when it comes to bike infrastructure?
PeopleForBikes uses a detailed mapping tool to calculate how people can move from where they live to vital services like grocery stores, health care facilities, leisure facilities and places of employment. Sacramento scored better in terms of neighborhood access, but not so well in terms of bike access to transit, retail or essential services. Despite these shortcomings, Sacramento is a cycling city, scoring very highly on 77 out of 100 on "ridership," a metric that measures how often people in the city ride their bikes.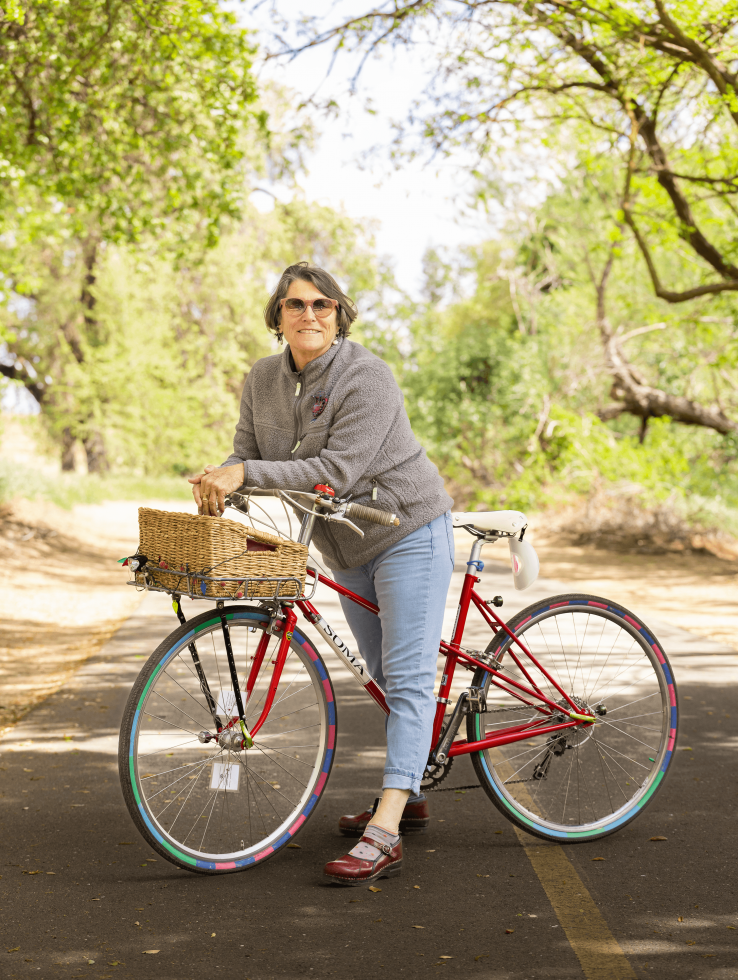 Sacramento residents will no doubt have noticed the efforts, both by the city and the county, to improve cycling infrastructure to meet this high level of demand. Perhaps the city has been inspired by the City of Davis. As Banks noted, Davis was home to the nation's first bike lane and is home to the U.S. Bicycling Hall of Fame. However, Sacramento hasn't quite been able to catch up with its smaller neighbor, which scores in the 100th percentile for midsize cities on the PeopleForBikes rankings.
Sacramento hasn't lacked for innovative solutions to its transport problems. Indeed, it was one of the first cities in the country to have a Bicycle Master Plan in 1977 and has also adopted a "vision zero" plan to totally stop bike and pedestrian deaths on city streets. From complete streets initiatives to Second Avenue reorganization, Sacramento has been bold in its approach to allocating street space to cyclists and pedestrians.
"We may add a new bikeway on one street, but until that new bikeway is connected to a network of bikeways that people feel comfortable using, we shouldn't expect to see significant increases in the number of people bicycling on that one street." Gabby Miller, public information officer, Sacramento City Works Department
But sometimes the city hasn't quite stuck the landing on these ambitious projects. As Patrick Oberle, assistant professor in urban geography at Sacramento State, observes, many of the bollards have been knocked over by cars, and the complete streets — which seek to more equitably allocate riding, parking and sidewalk space — can leave riders at higher risk for some types of collisions. "The problem is that you're trying to compromise, and you end up satisfying nobody," Oberle says.
Many of the new road outlines use parked cars as a buffer between cyclists and moving traffic. Oberle notes this can place riders at a higher risk of being "doored" — hit by a car door which is opened into the bike lane. The Second Avenue project has not met with universal acclaim either, but it does seem to have reduced the number of crashes in what was previously a hot spot for car-bike crashes.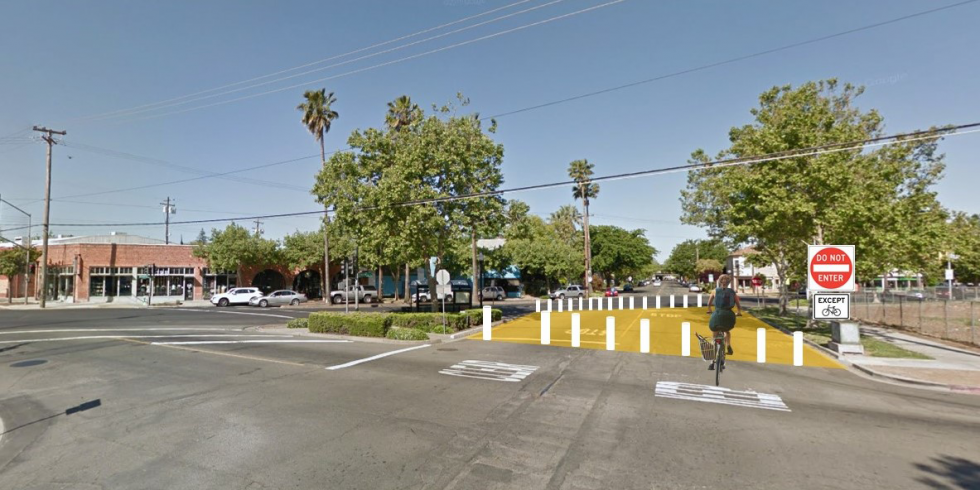 Oberle says that debates about bike lanes reflect a border discussion about who the city is for. "Cities like Sacramento," Oberle says, were largely conceived as "serving people coming from outside the city" to work or access goods and services. This is by no means unique to Sacramento, but rather a product of a post-war, car-centric planning model that dominated development across the U.S. for decades. It's why we have minivans, suburbs and malls with parking lots the size of the whole downtown area of some European cities.
Cities built for people to drive into and then leave place a premium on parking, because it's perceived to be central to the economy. Gradually, with gas prices increasing and awareness of the negative externalities of driving, this is changing, and cities like Sacramento are trying to add sustainable bike infrastructure onto the existing framework of streets. It's not an easy task, and Oberle is quick to mention that Sacramento's attempts were by no means bad — much preferable to his previous home in Syracuse, New York, he says. But nonetheless, the framework of the city is car centric, and trying to move away from that is always going to be an uphill battle.
One of the people fighting that battle is Mikki McDaniel, a senior planner in the planning and programs division of the Sacramento County Department of Transportation. Designing bike infrastructure is a balancing act: McDaniel says that a careful consultation process is needed to ensure that no user group is left behind in planning. "Our best potential for success occurs if the pedestrians, bicyclists and residents/businesses are all onboard."
McDaniel says that Sacramento County has been trying new approaches to finding this balance in conjunction with other communities across the U.S. "We have a Class IV bikeway at sidewalk level in the plans now for Arden Way Complete Streets Phase 1," McDaniel says. "There are many ways to approach a Class IV bikeway design, but a bikeway-walkway at the same grade and divided by a trapezoidal delineator is a new design. It has not been deployed on more than a pilot basis elsewhere in the country." The advantages of this design are many, according to McDaniel. "This design separates people on bikes and walking from vehicle traffic and also further delineates the space for biking versus walking, which is especially important for people with disabilities."
Pictures of the new bikeway shared by McDaniel look promising; certainly a huge step forward from the current design that protects riders with little more than a stripe of white paint. However, the project is unfinished due to funding issues. McDaniel says that Phase 1 design is complete, but recent cost escalation requires another $1 million to complete construction funding. Applications for more resources have been sent, but this patchwork approach makes planning for bike infrastructure difficult. The approach often results in unfinished plans or a disjointed network of bike lanes and infrastructure that pops up in the wake of a car killing or injuring a cyclist.
Sacramento uses a variety of funding sources for bike infrastructure. Gabby Miller, public information officer for the city works department, explains that although a "significant" portion of the funding comes from the existing Sacramento County sales tax which is administered by the Sacramento Transportation Authority, this portion is not enough to actually build infrastructure. "So we use that funding as a match to competitive grants," she says. "Nearly all grants require a 'match' or local contribution of funding." These matching grants allow the money to go further, and Miller says that generally "the match is anywhere between 12-50 percent of the total cost of the project." Some grants won't pay for all parts of the project, so the city picks up the bill for the non-covered elements.
Sacramento's lofty goals have met with its less lofty budget. In the city's 2022 Transportation Priority Plan, there are a total of 39 bike infrastructure projects ranked as "high" priority for funding. Measure A, a proposed ballot initiative that would have allocated some funding to active transport and a lot to a ring road, succeeded in gaining neither voter support nor that of advocates like Banks of the Sacramento Area Bicycle Advocates. Although Measure A was branded as a bike friendly initiative, Banks and others voiced concerns about the sprawl it would create and the relative paucity of funding for active transport compared to that for cars.
By collecting data from crashes, the city can prioritize the spending it is able to do on areas where cycling isn't safe. "Through our Vision Zero efforts, we evaluate crash data, look for systemic issues, and work to improve safety as funding is available," Miller says. "Two of our big Vision Zero efforts are on Broadway between MLK and Stockton and Florin Road between 24th Street and Munson Way. Both of these projects are on streets with high numbers of severe injuries and fatalities, and both projects will provide improved bicycling facilities."
Of course, while businesses may be concerned about lost parking spaces, the stakes are rather different for cyclists, who risk losing their lives in poorly laid out streets. Sacramento, both the city and the county, holds the dubious distinction of being in the top ten deadliest places to ride a bike in the USA. While it might be tempting to blame this on cyclists not being legally required to wear a helmet, cycling safety is about much more than what you wear on your head. In places like the Netherlands, where helmet usage is relatively low, cycling is much more commonplace, infrastructure for cycling is better developed, and fewer cyclists die. The country's cyclist death rate is just over one death per 100,000 people, compared to 3.2 in Sacramento, where ridership is much lower.
McDaniel was keen to point out that, alongside saving lives, bike lanes can improve business revenue. "This work is about improving people's livelihood," he says. "We know we can't please everyone, but we are working hard to find a common ground that not only brings safer traveling conditions, but also the potential to increase foot traffic to area business via riders and walkers." A recent peer reviewed article, published in Transportation Reviews, looked at 23 case studies and concluded that "creating or improving active travel facilities generally has positive or non-significant economic impacts on retail and food service businesses abutting or within a short distance of the facilities." Further, the authors found that eliminating parking spaces did not change the overall positive impact of the active transport infrastructure.
While the city is facing significant headwinds in its goal of becoming more bike friendly, it is making progress. Miller acknowledged that it would take time to build joined-up, safe bike routes that take people where they need to go. "It's important to remember that we are building a network," she says. "We may add a new bikeway on one street, but until that new bikeway is connected to a network of bikeways that people feel comfortable using, we shouldn't expect to see significant increases in the number of people bicycling on that one street."
In the meantime, groups like Banks' will continue doing the legwork of teaching safe cycling, handing out lights and helmets, and encouraging Sacramento's cyclists who might enjoy a weekend pedal along the American River to pick up their helmets instead of their car keys when they go to work, school, or the store. The more people who make this choice, the more drivers will expect and plan for cyclists, and the safer the city will become.
–
Stay up to date on business in the Capital Region: Subscribe to the Comstock's newsletter today.
We invited the managers of some of the most successful shopping centers in our region for insight on how they managed during the pandemic, but more importantly how they stay relevant in a digital world.
The viticulture program at UC Davis, as well as its sister programs at Cal Poly in San Luis Obispo and Fresno State University, are quickly growing a new crop of women winemakers who could steer the industry in new directions.