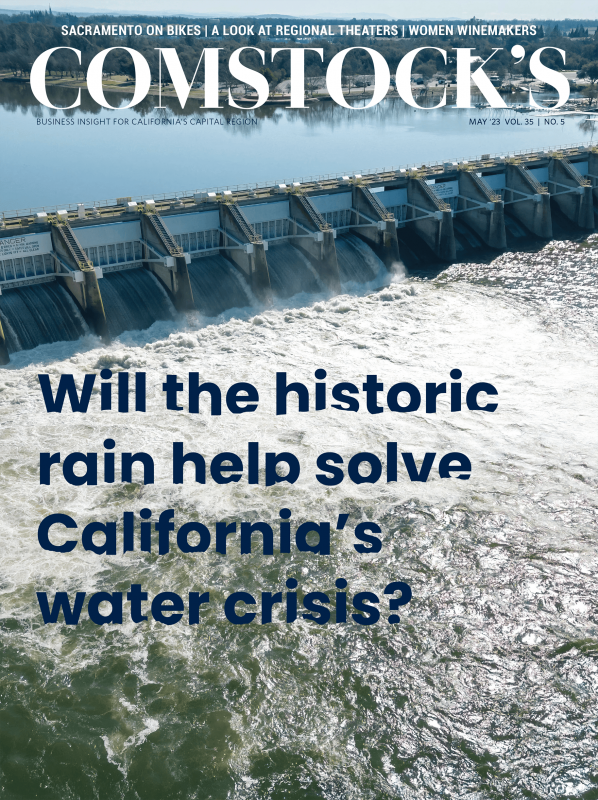 This story is part of our May 2023 print issue. To subscribe, click here.
Nicole Salengo drives her SUV over a narrow strip of broken, buckling asphalt surrounded by water. It's a remnant path stretching from an old orchard along the west edge of Winters. She makes it across, accelerating up a hill studded in rare metamorphic rocks that look like tiny boulders. This is the Coble Ranch, a rolling terrain that previously had champion rams wandering its slopes for generations. Today, most of the ranch is planted with grapes owned by Berryessa Gap Vineyards.
Salengo jumps from the driver's seat to find herself between rows of sauvignon blanc cascading towards distant farm spreads and albariño trellises that reach for the emerald waves of mountains cradling Lake Berryessa. She heads down a hill, stopping to look at chunks of green chert embedded in the soil.
"We're in an alluvial fan," she says. "The two main soil formations in this ranch are Positas clay, which produces an earthy and rich flavor in the wine, and Corning gravelly loam, a sediment that gives the wine elegant and clean flavors with a beautiful minerality."
Salengo, who has a bachelor's degree in geology, has been the head winemaker at Berryessa Gap for a decade. However, she wasn't the first vintner to see the potential in this land. Mike Anderson, then a professor at UC Davis' viticulture and enology program, was the company's founding winemaker. After the Martinez family bought the Coble Ranch, Anderson advised them on the initial vines to plant. When Anderson stepped away in 2012, the Martinezes tapped Salengo to take his place, making her one of the few female head winemakers in the region. In a way, it was an indirect passing of the mantle, since Salengo is a graduate of the same viticulture program that Anderson taught at.
"Something I love about wine is the history around it, the traditions, and how so many cultures have interwoven it into all aspects of life," Salengo says. "The program at UC Davis had people from other countries attending — and that was amazing. I already had a lot of practical experience working in cellars, but I didn't have the science background or the confidence level to make the next move."
Salengo isn't the only fresh face in winemaking to get that boost: The viticulture program at UC Davis, as well as its sister programs at Cal Poly in San Luis Obispo and Fresno State University, are quickly growing a new crop of women winemakers who could steer the industry in new directions.
In Salengo's case, she's combined the program's farming science with her own geological obsessions, all in a way that proves the Winters highlands can add to California's wine story.
And that story is rich in more ways than one, as California produces an annual average of 80 percent of U.S. wine, with a retail value of $45.6 billion shipped in 2021, according to the Wine Institute.
Salengo first took notice of these specific Yolo County grapes while working in Davis' wine scene. That's when she met Charlie Rominger, a fifth generation, environmentally friendly farmer working the land in his hometown of Winters.
"Charlie is the reason that I'm convinced that Winters is a very special microclimate and interesting area for great grape varieties to grow," she recalls.
Rominger passed away in 2006. By then, Salengo was starting to attend courses at UC Davis' viticulture program while navigating various jobs in wine cellars and tasting rooms. She eventually enrolled in the program full time.
"The professors were all working professionals, so I'm still in contact with a couple of them," she says. "They're just incredibly intelligent people who also have a real understanding of the industry and I couldn't speak more highly of the program they've put together."
Salengo graduated in 2013. The confidence she gained from UC Davis was important, especially because some corners of the industry still weren't open-minded about women winemakers taking the helm. Salengo remembers that when she applied for jobs, she got plenty of questions about whether she could lift a barrel, but few serious employment offers. One experience that helped Salengo soldier through the frustration was spending a harvest working for Heidi Barrett, the founding winemaker at Kenzo Estates in Napa County. Barrett is one of the best-known women vino masters in the world. Salengo remembers Barrett flying into work on a helicopter — and paying attention to her, the only other female on Kenzo's team.
"This woman is a big deal," Salengo says. "But I could see she was really humble, and she'd also talk to me whenever she was there."
Salengo kept her fortitude up and eventually Rominger's cousins, Dan and Corinne Martinez, recruited her to be the creative mind behind Berryessa Gap Vineyards. Salengo quickly began highlighting varietals that find unique cultivation results in Winters' micro-climate, particularly durif, sauvignon blanc and petite sirah.
Berryessa Gap's 2018 petite sirah is a particular standout, capturing an essence of prunes and dates blended with dark cocoa, while also offering a more crisp, gentle body than the great Rhone red is generally known for.
The partnership with the Martinez family has been so productive that they've supported their winemaker starting her own small label on the side, Salengo Wines, which is sold in Berryessa Gap's tasting room.
"They've allowed me to have my creative license," Salengo says of the owners. "I don't think I would have survived at another place."
Grabbing the baton
Mollie Haycock moves by a wine glass the size of a battle ax before uncorking barbera under garden lights and barrels of American oak. This cozy vine-haven may be called Scott Harvey Wines — named for its founding vintner here in Plymouth's Shenandoah Valley — but it is Haycock who's now been entrusted with keeping the operation's legacy reaching the highest bar. After decades in the industry, Harvey announced in the summer of 2021 that he was passing his winemaking torch to her.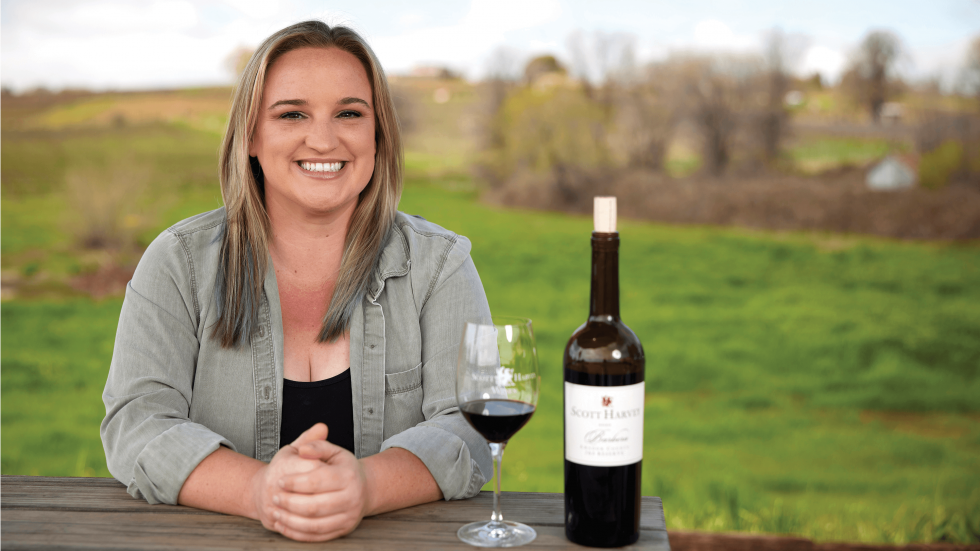 Haycock knew she was getting the biology bug while growing up in Rocklin, but she never guessed it would lead to a career in one of the world's oldest arts. Her dad, Barry Haycock, had taken viticulture courses at UC Davis while getting an engineering degree and his reminiscing about that later got his daughter thinking: Could wine be a good fit for her scientific sensibilities? She ultimately applied to the wine and viticulture program at Cal Poly. After getting accepted, Haycock started in 2008. Back then, the program was still in its infancy.
"I am extremely jealous of the winemaking facility they have now, because we were operating basically out of a converted barn at the time," she recalls, smiling. "With the Cal Poly program, it's a very practical education. … It gave me a real understanding of the science background that I needed to know why decisions were being made in the cellar, as well as getting hands-on experience and seeing in real-time how these scientific processes are happening — and how what we're physically doing with the grapes is affecting the science behind the wine."
Haycock focused her studies mainly on enology and the business side of wine. Her training included an entire quarter when she worked in the lab at Meridian Vineyards in Paso Robles. After graduating in 2012, Haycock found harvest work in Napa County and then in New Zealand and South Africa. She eventually returned home to Placer County, working as a cellar hand at Wise Villa Winery.
Haycock was not the only woman seeing doors open in the wine field thanks to Cal Poly's program. Dr. Benoit Lecat, its department head, told Comstock's that in the years 2015 through 2021, between 52.3 and 59.4 percent of the enrollees were women. Most of those years the number was above 57 percent.
One winemaker Haycock took notice of was Harvey, whom she'd first learned about while working in New Zealand. When Haycock discovered he was planning a new location in the Shenandoah Valley — a homecoming for him after working in Napa — she set up a meeting. It took one afternoon for Harvey to recruit Haycock as an assistant winemaker, a position she held for five years.
"Wine tasting is a big part of wine making; and having memories of the wines you've had, the regions they came from, and the flavor profiles you remember in relationship to that connection is huge," Harvey explains. "Generally, I think women have that tremendous memory association, so they have a better ability to peg flavor profiles in their brains. Molly has that ability, and she understands the company's style and flavor profile."
Haycock says Harvey has taught her a lot.
"What I learned from Scott is the idea of storytelling through wine," she notes. "Scott's a great storyteller. And what we try to do here is create wines that have a sense of place and tell their own stories."
Harvey is still a brand ambassador for the winery, but Haycock also finds times when she can to pour for customers. One bottle she's always excited to open for them is Scott Harvey's 2020 barbera. Each sip boasts a gentle vanilla bloom under its bright berry balance, the body touched with warm, sweet inflections.
"You pick it in a ripe but not over-ripe style, so it's bright and juicy without being jammy," Haycock says of it. "We lean really hard to the very fresh strawberry, raspberry flavors — we go for those really bright red fruit characters."
Lately, Haycock is focused on continuing to weave her own vision and approach into the brand and style Harvey built up.
The fields called home
Laura Durham grew up surrounded by flat, seemingly endless tracks of grapevines. She was raised in Galt near the edge of Lodi, home to leafy, sunlit pageants of zinfandel. Durham felt at home in the farming territory but never connected having a career in it until touring UC Davis when she was 17. A campus orientation opened the path to Durham later becoming the head winemaker at the oldest continuously operated family winery in Lodi. Today, she handles multiple vintages from four brands made from grapes being harvested on 2,500 acres. The wines Durham makes are sold all over Northern California, not to mention 30 other states. Looking back, Durham smiles when she thinks about how it all started.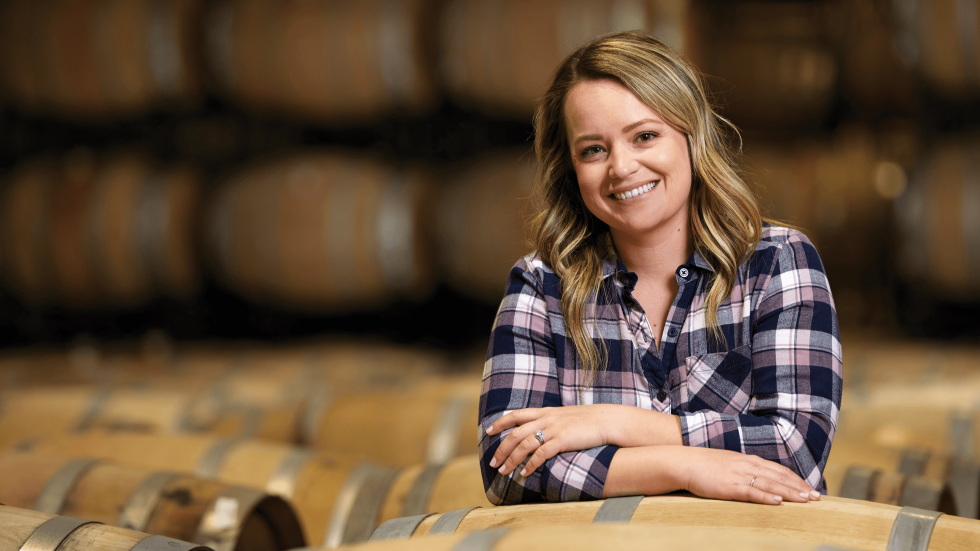 The year was 2009. Durham's discovery of the viticulture program at Davis piqued her interest in job-shadowing Todd Ziemann at Woodbridge Winery in Acampo. Spending time with Ziemann, who has a degree in fermentation from UC Davis, sealed the deal. Durham became a viticulture major. By her third year, she was sure she'd made the right move.
"We learned how to prune, we learned how to plant, how to graft — a lot of soil science," she recalls. "We actually spent time with the professors out in the vineyards. And I think one of the coolest things about Davis is the size of the class once you get into the higher levels. My graduating class was 23 people. So we got to form really good relationships with these masters of industry. We got to learn right next to them, cutting vines and making wine."
After graduating, Durham got an internship at Woodbridge and worked her way up to an assistant winemaker. She excelled in that position for three years, landing a promotion to corporate winemaking for Constellation Brands. She was suddenly getting experience in new product development. While that allowed Durham to work with grapes from all around California, part of her passion was still back in those wide, endless fields of Lodi. When a job offer from Oak Ridge Winery came her way, Durham jumped at it. Oak Ridge is still family-owned, but its size and scope is immense. Durham had come a long way from her days of making five-gallon ferments at UC Davis. Still, she says the lesser-known aspects of Davis' program continue to keep her nimble on her feet.
"I had these experts telling me, 'Here's what the book says, and here's what really happens,'" she remembers. "It's a lot of hand-holding, but it's also a lot of empowering us, especially to do the research and use our nose and trust our gut."
Fans of Oak Ridge Winery say that Durham developed those instincts to great effect. That's clear from the popularity of her Old Soul Zin, with its warm raspberry allure mingled in maple notes and touches of roasted red pepper.
The 31-year-old Durham feels she hasn't dealt with much discrimination as a woman. However, when it comes to being a young manager — directing team members that are sometimes 10 to 15 years older than her — there have been trials and tribulations at previous wine jobs. Durham also notes that an obstacle for women that's rarely discussed is the sheer amount of time commitment to being a head winemaker, in terms of women who are thinking about having kids.
"There are about 12 weeks out of the year where you do not have time for anything else," she stressed. "I think about that: I just got married and we're talking about having a family. Last harvest, I lived here for eight straight weeks, basically. And I loved that — but it could throw a wrench in family plans for me or any woman who's considering a family."
For the time being, Durham is focused on making great wines and maximizing Oak Ridge's incredible farming potential.
"I want to be a resource for everyone I know in the industry," she notes, brightening. "I want to be the book of winemaking things."
Correction May 9, 2023: This article has been updated to correct the spellings of Nicole Selango and Corinne Martinez.
Correction May 15, 2023: A previous version of this article identified Laura Durham by her maiden name, Laura Chadwell. This article has been updated to use her married name.
–
Stay up to date on business in the Capital Region: Subscribe to the Comstock's newsletter today.