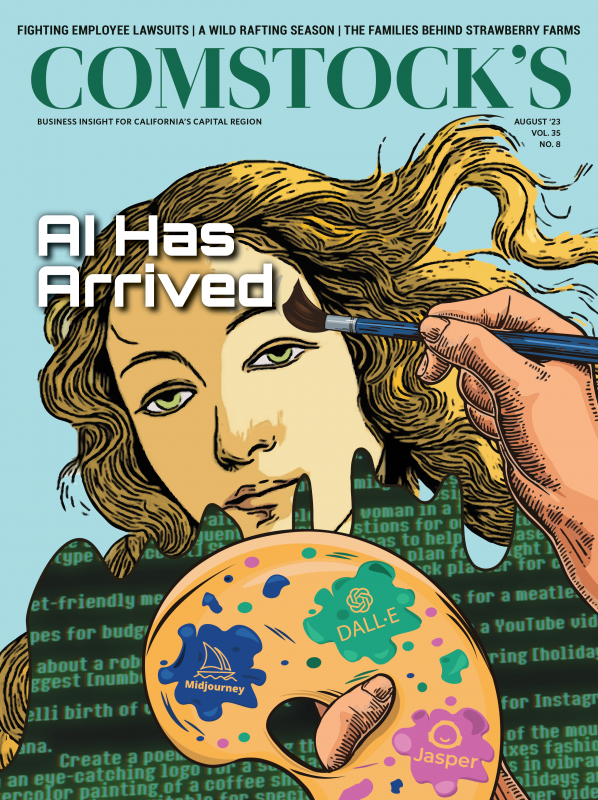 This story is part of our August 2023 print issue. To subscribe, click here.
Dust kicks up in a cloud, and the sound of gravel crunches as cars and trucks pull into what's become a summer staple in the Capital Region — fresh strawberry roadside stands. The ramshackle wooden stands, with bright red hand-painted strawberry signs and makeshift awnings to shield workers from extreme summer heat, are typically open seven days a week in peak season. Loyal customers know to get there early if they want the freshest, juiciest strawberries around for their pies, smoothies and salads. Some snack as soon as they get into their car, the sweetness bursting in their mouth with more intensity than any store-bought berry.
From Nai's Berry Farm in Orangevale to Sun's Strawberries in Elk Grove and dozens in between, the rustic roadside stands are sprinkled around the outskirts of Sacramento, bringing a touch of country into an urban area. But most strawberry customers in the Capital Region are probably not aware that many of those roadside stands are operated by a tight-knit group of lu Mien families who have called the region home for decades.
It has been 36 years since the first strawberry seeds were sown by Iu Mien immigrants who fled conflict in Southeast Asia and found refuge in the United States. Now there are about 100 Iu Mien-run strawberry farms spread throughout the Sacramento and Sonoma valleys, many of which have uncertain futures. These farms are typically small family operations with few resources on rented land. As the costs of doing business rise, the strawberry farmers face the prospect of being uprooted from the lands they till but do not own.
The younger generation of Iu Mien farmers, most of whom are American-born, are now deciding whether to continue the strawberry legacy or leave behind their roots to pursue other jobs. Cultivating in the hills like their ancestors before them, some young Iu Mien American farmers are looking to modern solutions to keep their family businesses alive.
Sowing the First Seeds
The Iu Mien (yoo-myen), sometimes referred to as the Mien, are accustomed to migration and agrarian life. This indigenous tribe originated in rural southwest China and consists of 12 clans. In the United States, Iu Mien clans can often be identified by the "Sae-" prefix in their last names. This prefix denotes their ancestral migration across country borders in Southeast Asia and their procession through Thai refugee camps, where the clan names were affixed with the Thai word sæ̀, meaning clan. (That's why several of the sources in this story have the same or similar names to the author — unless otherwise noted, there is no relation beyond belonging to the same tribe.)
After aiding the U.S. Central Intelligence Agency in the Laotian Civil War, adjacent to the Vietnam War, many Iu Mien continued their migrations to the United States as refugees. Today, there are about 30,000 people of Iu Mien descent living in the United States. About half live in the Capital Region, home to the country's largest Iu Mien community.
Torn Saetern, co-owner of Watmaugh Strawberry Farm, drives an hour and a half every day from his home in Sacramento to his farm tucked among the vineyards of Sonoma County. On a recent Saturday morning, three cars line up in front of his farm stand as soon as he opens the gate, but to the drivers' dismay there is not a berry in sight.
"Sorry, we're closed this week because of the storm," Torn says to each would-be customer. "Please come back next week, and we'll have some for you." The farm is usually flocked with eager patrons on Saturday mornings, but a sudden storm bruised the tender, jam-sweet Chandler strawberries that they come for. A sign on the gate explains the unfortunate incident. After the three vehicles disperse, another comes to a crawl on Watmaugh Road to study the sign, momentarily causing a traffic jam. "The people got to have their strawberries!" Torn says with a grin.
"My parents wanted us working good jobs indoors, not outside on our knees like they were." Torn Saetern, co-owner, Watmaugh Strawberry Farm
Torn's father, Weun Chan Saetern, was among the Iu Mien who worked with the CIA during the war. "The only experience I had coming to this country was farming," Weun Chan says. According to Weun Chan, Iu Mien strawberry farms started in 1987 with Luang Hinh Saechao, who then lived in Fresno. When he arrived in the U.S. in the 1980s, Luang Hinh was taught how to cultivate strawberries by Hmong immigrants who arrived some years earlier.
The Hmong, a more numerous Southeast Asian minority group, have a similar history of aiding the U.S. military in the Vietnam War and being admitted to the country as refugees. Japanese American farmers, who had already established themselves in California's strawberry industry since the 1920s, hired Hmong workers and taught them their trade.
After working with Hmong strawberry farmers, Luang Hinh offered assistance to other Iu Mien families who were hoping to make a living with the skills they brought from their agrarian way of life. Soon, a strawberry farming network within the Iu Mien community was established.
Labor Pains
"This is my livelihood for now," Torn says as he looks over the 10 acres that make up Watmaugh Strawberry Farm. When the COVID-19 pandemic shut down nonessential businesses in 2020, Torn lost his day job as a table game dealer at a casino, but he knew there was always work to be done when strawberry season approached. He has been familiar with the routine since he was old enough to carry a bucket for the harvest. Like many second-generation Iu Mien American youth, Torn was raised in strawberry fields. "Everyday was 'Bring Your Child to Work Day,'" he reflects. "This was our daycare."
He and his brother, Chio Tern (who chose to drop the Thai prefix "Sae"), decided to take over the family farm when they realized their parents were aging out of the work. "My dad didn't think we were going to take over," Torn says. "My parents wanted us working good jobs indoors, not outside on our knees like they were. I look at my dad and see how being out here seven days a week, year after year, has taken a toll on his body."
Weun Chan, now retired, still visits the farm twice a week to be an available source of advice for his sons. "They can do it however long they want," he says.
But the Saeterns' presence on the land is dependent on the Sebastiani family, who operated a well-established winery in the Sonoma Valley until it was sold to the Foley Wine Group in 2008. Since 2001, the Saetern family has been leasing their 10 acres from the Sebastianis. "We're dependent on the landowners. The Sebastiani family could easily decide that growing more grapes here would make more money," Torn says.
The Saetern brothers typically grow Chandler strawberries early in the season and other varieties, such as the more robust and conventional Albion, later in the season. "May through June is peak season for Chandler strawberries, and Albions are the sweetest in September," Torn says.
Like many Iu Mien farms with labor limited resources, the Saeterns only sell strawberries on location at their stand. On hot days, Torn recommends coming prepared with an ice chest to cradle the Chandler strawberries. "You gotta treat it like ice cream," he advises. "When it's hot, it melts!"
Joe Hencmann, co-owner of the Sonoma ice cream shops Sweet Scoops and Darling, is a regular at the farm stand. The menu at Sweet Scoops features a flavor called Watmaugh Strawberry when the farm has sufficient supply, but when Hencmann has to resort to other sources he takes down the "Watmaugh Strawberry" plaque from the wall and replaces it with the generic "Strawberry." "In Sonoma, everyone knows Watmaugh Strawberries," he says. "If the Watmaugh name isn't on my strawberry flavor, it doesn't sell that well."
He remembers a time when Torn told him he might have to leave some strawberries in the field because he couldn't find enough help to harvest them. "I thought, 'Well, I'll even pick them myself. I can't have them go away!'" Hencmann says. "They're a big part of my business, too. The Sonoma community is so loyal to Watmaugh Strawberries and my small business as well."
Since taking the lead of his family business, Torn has been mindful of maintaining productive relationships between the farm and other local businesses. It's now not uncommon to find Watmaugh Farm's strawberries and other produce in Sonoma restaurants. These commercial clients provide a reliable source of income for the farm and help build brand awareness among local consumers.
But Torn admits that he does not have time to experience the restaurant dishes and ice cream flavors he helps produce. During the strawberry season, he puts in a 72-hour week and relies on the help of his extended family members at the farm. That's a 12-hour day, six days a week, not including the daily three-hour round-trip commute between Sacramento and Sonoma.
Compared to farms in Sacramento County, the Saeterns have longer seasons with the help of cool winds that blow in through the San Pablo Bay and will produce berries as late as October. When the sun sets, Torn and his family follow the flow of the Delta breeze that sweeps over their farm and upstream toward their home in Sacramento. "Some days are easier than others — when there isn't traffic," Torn says.
Harvest Yields
Some Iu Mien strawberry farms have already buckled under the combined pressure of high labor and low profits. Last year, Saetern Fruit Stand in Clovis closed after more than a decade in business. Lily Saetern Kosila, now an audit and tax professional at the Fresno accounting firm Linger, Peterson & Shrum, remembers helping out at the farm in her younger years. For two years in college, she served as the farm's social media manager, trying to bring in a broader audience through tempting Instagram and Facebook posts.
After she began her accounting career, she had less time to give to the family business. "As we all got older and left to new jobs, the only help Grandma had was her daughter-in-law. It started to become too much as she got older," Lily says. "Also, I believe the land they were on was being sold."
But some members of the younger generation have decided to stick with the strawberries, such as 25-year-old Elisabeth Saechao, co-owner of Granny May's Strawberry Farm in Granite Bay. Elisabeth's family has been farming strawberries since before she was born, and Granny May's has been at its current location since 2016.
The rows of strawberries at Granny May's are as lush as those at Watmaugh Farm, with delicate Chandlers and buxom Albions blushing under the green leaves. Pickers kneel among the rows to pluck the berries into brimming tubs. But unlike at most Iu Mien farms, the laborers here aren't fellow Saechaos and Saeterns — they're local families, mostly from the affluent surrounding neighborhoods, who pay for the privilege of picking.
"Nearby, we actually have a lot of U-Pick farms, but no one did strawberries. So we thought, 'Why not do strawberry picking?'" says Elisabeth, who left college in 2021 and her retail job in 2022 to focus on the farm. She says the U-Pick model was a game changer for her family's business. It saves on labor costs and frees Elisabeth up for tasks that can help build the brand, such as events, sales coordination and marketing. She puts much of her energy into the farm's Instagram page, which is a cottagecore kaleidoscope of berries, flowers and fluffy summer dresses against a backdrop of bright green fields.
With her newfound passion for business, Elisabeth plans to return to school to get a business degree and bring home what she learns. She also hopes to be able to purchase a parcel of farmland so her presence isn't dependent on the whims of landlords. (She and her co-owner are currently renting from a family friend, which gives them more stability.) Ideally this parcel would be larger than the current farm, allowing more people to enjoy the Granny May's experience.
"I've been doing this my entire life. I really wanted to modernize it. I feel like we don't really see that in Mien farms," says Elisabeth, the granddaughter of her farm's namesake. "It's a lot of work, but I do it for my grandparents."
Stay up to date on business in the Capital Region: Subscribe to the Comstock's newsletter today.