When downtown Sacramento's Brew It Up poured its last beer in 2011, owner Michael Costello lost more than his business. "I lost everything," he says. "Nobody really knows the whole breadth of it. It's not an easy thing to go through."
As a businessman, Costello owns up to his mistakes — specifically, the brewpub's less-than-stellar location on 14th and H streets and attention divided between food and beer. Those weaknesses proved fatal when combined with the rent hikes and sales dips of the mid- and late-2000s. Brew It Up was not the recession's only victim. Between 2008 and 2012, about a half-dozen other local breweries also closed shop, and some suspect that more closures are on the horizon. In the past two years, the Capital Region's craft beer market has exploded. In 2009, the River City had just five craft breweries, according to the California Craft Brewers Association. By the end of 2014, the region will boast about 40, cementing Sacramento as the country's 10th largest craft beer market.
The city still lags behind craft beer epicenters such as Seattle, Denver and Portland, where 40 percent of beer sales come from craft. Sacramento's craft beer scene (with a market share hovering around 20 percent) reflects the national trends of rapid growth in popularity and brewery startups. But with the region's recent surge of craft breweries, one can't help but wonder whether this trend can last.
"I don't think there's a bubble that's going to burst," says Tom McCormick, executive director of the California Craft Brewers Association. "I think what we will see is a real profusion of craft brewery startups, but I do think that will slow down and a lot of these small breweries will decide to go out of business."
If that cycle sounds like déjà vu, it should. A similar wave took place in the 1990s when rapid brewery growth leveled off, declined and then led to closures. These days are different, enthusiasts say, and the drive to "drink local" may be stronger than ever. That said, few breweries have the skills on tap to produce, market and distribute a winner. And in the crowded craft industry, success boils down to sustainability.
Costello thinks his new plan will provide just that. Last month marked his return to the burgeoning world of craft beer with the grand opening of Yolo Brewing Co. It's not Brew It Up 2.0, but as a product of Costello's past experience, the new enterprise does include the popular brew-it-yourself offerings that once brought customers to his former venture. Now, in the industrial neighborhood near West Sacramento's port, he wants his 7,900-square-foot production facility to be a regional craft beer destination.
"Entrepreneurs are inherent risk-takers, optimistic about the future, looking ahead for what can become real, looking backward to see what we have learned," says Costello, who serves as a general manager supported by local investors and a board of directors. "We are not going to repeat the same mistakes."
Beer Necessities
The business model seems simple enough. If you like beer and cash, a craft brewery sounds like a surefire startup. Find a good brewer, produce a tasty product, open a tasting room, get on social media and boom, you're a hip taphouse. But starting and sustaining a craft brewery takes more than yeast and Twitter. You need a good product, but you also need marketing, bookkeeping, cleaning, planning, location scouting, networking and, definitely not least, money.
Consider the four owners of Bike Dog Brewing Co. After deciding to go the debt-free route, the crew crowdfunded $20,000 as part of a $150,000 total investment to open its West Sacramento brewery last October. This is not just money for picnic tables and foosball in the tasting room. Other costs — sometimes unexpected — factor in, such as a mandatory sewer credit ($7,000) and the installation of a new hood over the brewhouse ($15,000) as mandated by local building code. Plus there's the equipment. They started with plastic tanks, but as demand increased, they upgraded to stainless steel, which each cost about $8,000.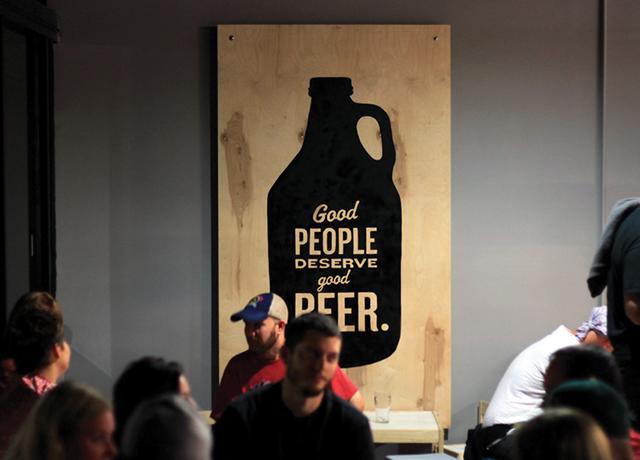 "There's a sense that if you're not expanding, you're dying," says co-owner A.J. Tendick, who also has a full-time job as an associate public information coordinator for the Sacramento Area Council of Governments. "I don't think that's the case if you're putting out a quality product. That said, we're still teeny, one of the smallest breweries in town."
When Glynn Phillips bought Rubicon Brewing Co. nine years ago, he had to choose between low cost and high quality. "In this business, you pinch pennies and you save yourself 10 cents on a glass bottle. That's a lot of money," says Philips, who's been in the brewery business for 20 years. "But if you pinch too deep, you'll start using inferior products."
For instance, Philips could save about 10 to 15 percent by using lesser grain, but he says the quality of the beer suffers when he doesn't buy the best possible ingredients. As for equipment, he opts for stainless steel tanks over the cheaper, plastic variety.
"Can your brewer work with that cheaper equipment on a small level? Probably. It wouldn't be too costly to pour bad batches out," Philips says. "But when you're making 60 barrels of beer at a time, you've got to be dead nuts on."
Hop Around
In April, Jerry Moore, the CEO of Knee Deep Brewing Co., was lounging on a beach in Maui during a business trip to meet with a new distributor in Hawaii. Moore took over Knee Deep in 2010 and has overseen the expansion of the brewery from a 960-square-foot facility in Lincoln to an 18,000-square-foot site in Auburn.
"We've initially quadrupled our capacity and still have room for more tanks in the future," says Moore. "Our Auburn cooler is bigger than the entire facility in Lincoln, and we now have space for a large tasting room. We didn't realize demand would ramp up so quickly."
Keeping up with demand is a critical factor for sustaining a brewery, which typically involves figuring out how to expand an operation over time. This means reaching out (marketing), making room (location) and shipping wide (distribution).
Physical expansion can happen with one big move from a smaller site to a bigger one or in stages, as was the case with Track 7 Brewing Co. Cellarmaster and brewer Geoff Scott and brewmaster Ryan Graham were friends from UC Davis who opened Track 7 in 2011. They started with a fermentation capacity of 42 barrels per month in a 2,200-square-foot unit near the old Western Pacific railroad tracks west of Curtis Park. One year later, they took over an adjacent space, doubling their size. Recently, they added a third unit, tripling their space to 6,600 square feet with 238 barrels of fermentation capacity a month.
"We really are the little guy that managed to gain some amount of market share just by sheer determination," Graham says. "That's what it takes. If you can't produce a quality product, people are going to give you a couple shots and then move on."
It becomes a question of relevance, and with so many of these up-and-coming craft breweries less than five years old, it is too soon to tell which ones will mature in this fledgling market. Craft beer enthusiasts do agree on one thing, though: Many will fall flat.
"A lot of them are working six, seven days a week, long hours, living the dream," McCormick says. "But some that I have talked to say, after a year, it just becomes a lifestyle that's not worth what little return they take home."
Tapped Out
In any explosion, casualities come with the territory. The craft beer market has seen its share. Nationally, there were 413 brewery openings in 2013 and 44 that closed, according to the Brewers Association in Boulder, Colo.
The Capital Region's biggest recent hit came before the current craze, a ripple of closures that included the Elk Grove Brewery, Beermann's Beerwerks and Greenhouse Restaurant and Brewery. In October of 2009, Peter Hoey, former brewmaster of the now-defunct Sacramento Brewing Co., wrote a final message on his company's blog: "PLEASE support your local breweries, the numbers are dwindling in Sacramento as we have lost three breweries in the last year alone, and not for lack of quality."
Hopping across the state line, Carson City's High Sierra Brewery took to Facebook in March to divulge its financial troubles regarding past-due rent and an expiring lease. For the past 18 months, the owners had searched to no avail for partners to invest. They needed about $55,000 to stay open until June 30 and another $300,000 for an off-site production facility.
The post read, "It would be a shame to see all our hard work and successes, your State Capitals [sic] only brewery that you call your own go out of business …when it's just about to explode!"
Craft brewers in the Capital Region may or may not have heard similar stories, but many remain fueled by a spirit of optimism that says, in time, perseverance will pay off.
"No matter what business you're in, it's hard work, and the beer business is no different," Philips says. "But at the end of the day, when I've had a tough one and I'm driving home, I say, 'At least I'm in the beer business.'"