There was a time when Sacramento was one of the world's beer capitals. As the gold rush wound down in the mid-1800s, the region's inhabitants realized they were standing on a different sort of jackpot. The valley's riverbeds could be cultivated to produce some of the world's finest and most flavorful hops. Following this discovery, scores of breweries sprung up across the city.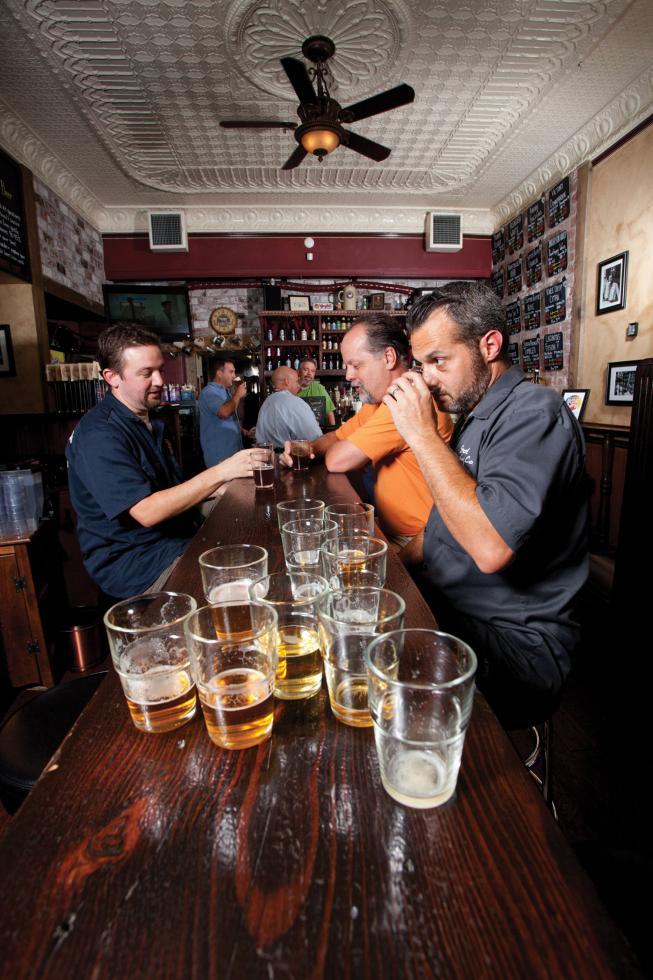 "I arrived in the City of Saloons," wrote Mark Twain upon arriving here in 1866. "You can shut your eyes and march into the first door you come to and call for a drink, and the chances are that you will get it."
Even during prohibition half a century later, Sacramento's reputation as a "wet" town did not go stale. Speakeasies continued to flow throughout the downtown area and even in the surrounding hop farms.
But over time, real estate replaced hops as the area's prized commodity, and decades of development — most notably the Interstate 5 and Capitol Mall projects — tore through many of the downtown breweries, theaters, nightclubs and dance halls. The beer scene moved to the coast.
Nowadays, to understand any local beer culture, one must follow the food, says Sacramento beer buff Rick Sellers.
"The San Diego beer scene is so IPA (India Pale Ale) driven," he says. "They are all about the hops, and that makes sense because there is also some of the best Mexican food and spicy ethnic dishes. If you equate hops as spice, a culture that loves spicy food is going to want spicier beer." Alternatively, he says, San Francisco is the state's great melting pot, thus many bartenders serve craft beers from across the globe.
The Capital Region is still searching for its beer identity, Sellers says, but Sacramento breweries like Rubicon Brewing Co., Hoppy Brewing Co. and the newly resurrected Ruhstaller are helping put Sacramento back on the map. In Davis, locals flock to Sudwerk Restaurant & Brewery, and Rancho Cordova will soon be home to the new American River Brewing Co.
Similar to San Diego, the collective tastes in the Capital Region lean toward aggressively hopped, high-alcohol brews like IPAs, Sellers says.
"It's also the same culture that wants the spiciest foods and the darkest, roastiest coffees," he says. "Some would say it's a lack of sophistication, but it's what we like. We want it bigger, badder, spicier, hotter. That's our way."
Sellers should know. He once held a brew connoisseur's dream job: beer director at Draft Magazine. Sellers toured breweries across the U.S., drank with locals and reviewed their beer. Unfortunately, after a couple years the job started to weigh on him. "That was very taxing on my liver and every other part of my body," he says. "I gained 45 pounds in, like, six months."
But the self-proclaimed beer geek is now looking slim while working behind the bar at Samuel Horne's Tavern, a rustic saloon in Historic Folsom that serves more than 75 craft beers — those produced by small and independent breweries — from across the world.
On this particular October day, Sellers is joined by David Mathis, the gregarious, barrel-chested master brewer behind American River Brewing Co., and Eben Weisberg, a soft-spoken craft brand manager at Saccani Distributing Co., Sacramento's eldest beer and soda distributor.
They are drinking Lagunitas Fusion VII from Petaluma, a limited-edition, toasty dry hop with a malty taste. Mathis, who could double as one of Robin Hood's merry men, swishes the glass under his nose.
"The notes are grassy up front. Citrusy," he says. "A really slight, spicy note to it. But it's that cut grass, that freshly-mowed-lawn smell, that you can sit there and just get lost in."
Weisberg, whose slicked-back hair is reminiscent of classic-era greaser, inhales the top of his glass and eventually takes a swig. "I want sushi with this. That nice little spiciness would go well with, like, tuna," he says. "Some of the hoppier beers go great with fish. I think it's just the interplay of flavors."
"I'd say a braised pork would be great with this," offers Mathis. Weisberg nods in agreement.
The conversation turns to the craft market. Each of the men hope the generation now frequenting the city's bars and restaurants will help Sacramento reclaim its beer crown. The growth in local production is certainly encouraging.
According to the California Small Brewers Association, wine and national brewery sales were either flat or declining last year in California and across the country. But craft brewing sales, which make up 6 percent of the national market and 11 percent of the California market, are growing.
There is some debate over how a craft brewery is defined, but according to the association, it is one that produces fewer than six million barrels annually, with no more than 25 percent of the company owned or controlled by an industry member who is not a craft brewer. California has 238 craft breweries, and statewide sales rose by at least 12 percent from June 2010 to June 2011.
"Brewing is an art form," says Mathis. "We got into our business of brewing beer for the sake of what we're passionate about. But we're also a small business. Our bottom line is our lifeline."
But opening a brewery in the Capital Region is still a risky proposition because bars and brewpubs are prone to the same economic pitfalls as restaurants. In the past three years, Sacramento has lost multiple breweries, including Sacramento Brewing Co., Brew It Up! and Odonata Beer Co., which Sellers co-founded.
"When a quality establishment closes, it's a sad day for all of us," says Weisberg, who monitors the local industry for Saccani. "You like to think of Sacramento as a beer destination, so you want local beer to succeed."
There are plenty of success stories around the Capital Region. Sacramento's oldest brewery, Rubicon, has grown by 20 percent annually for the past four years and expects to produce 2,000 barrels next year. Petaluma's Lagunitas is exploding — 103,000 barrels last year with a projected 60 percent growth in 2012. The valley's biggest brewery, Chico's Sierra Nevada Brewing Co., projects 800,000 barrels next year, led by a flagship Pale Ale that tops the nation in craft brand sales.
Mathis has high hopes for American River Brewing Co., but he doesn't want to fall victim to overproduction, a common industry death knell. The brewery will produce just 700 barrels next year to be distributed around Rancho Cordova, and Mathis hopes to grow by 20 percent in volume annually.
Mathis believes the regional palate is shifting back to lower-alcohol beers, and he wants to set the trend. American River will produce one intensely hopped brew, four seasonal beers and four so-called session beers, those with high taste and low alcohol that can be savored all evening.
Back at the bar, the men are now holding a Ruhstaller Hop Sac, a Sacramento brew that is wet hopped, meaning the hops are placed in vats on the same day they are picked.
"It smells like Gummi Bears," Mathis says, recalling a childhood trip to Germany during which he loaded up on the candies.
"That's the cool thing about drinking beer," he says. "It's like wine in that way. It invokes a memory, a passion or an emotion."
Mathis knew he wanted to become a brewer at age seven. He remembers downing half a bottle of Carlsberg and telling his father, "This is what I want to do for the rest of my life. … Dad looked at me funny and finished off the beer. I said, 'Can I have another one?' Dad grabs the beer and said, 'Absolutely not.' Twenty-some-odd years later … I quit my job with Macy's. I went down to El Toro Brewing Co. in Morgan Hill and said, 'I will work for you for free.'"
Following years as a master brewer at BJ's Restaurant and Brewhouse, Mathis is ready to begin his own project. American River Brewing Co.'s beer is produced by proud patriots, he says, and the liquid is meant to be held, smelled and sipped over spirited discussions.
"I'm thinking right now, with this time of crisis, this time of unrest and uncertainty and fear, I think that people are turning back to beer," he says. "And they're saying, 'I can buy a pint of beer and sit down in a warm and comfortable situation and discuss what's happening around the world, what's happening here in my country, what's happening in my neighborhood, and come up with a plan.'"
Sellers ultimately plans to open his own bar. Like Mathis, he believes the Capital Region has the potential to foster a beer renaissance.
People just need to wake up and smell the hops.
"Even when your most casual wine drinker prepares a meal, they know that fish goes with white wine," he says. "They know that lamb and beef go with red wine. We need to get to a spot where the average beer consumer can say, 'I'm grilling a steak tonight; I want a dark beer.' Right now, it's just beer. We need to learn to drink better."
When downtown Sacramento's Brew It Up poured its last beer in 2011, owner Michael Costello lost more than his business. "I lost everything," he says. "Nobody really knows the whole breadth of it. It's not an easy thing to go through."
Fewer than two miles from a fraternity scene marked by late-night keg stands, chugging contests and beer pong rallies is a quiet UC Davis classroom above Sudwerk Restaurant & Brewery where the next generation of brewers learn the chemistry behind the craft.