Strolling under a starry sky in the foothills, a group of music fans pass through the brick doorway of Sutter Creek Provisions and drift into a cavern of aged stone, timeless wood and the fleecy glitter of scattered fairy lights.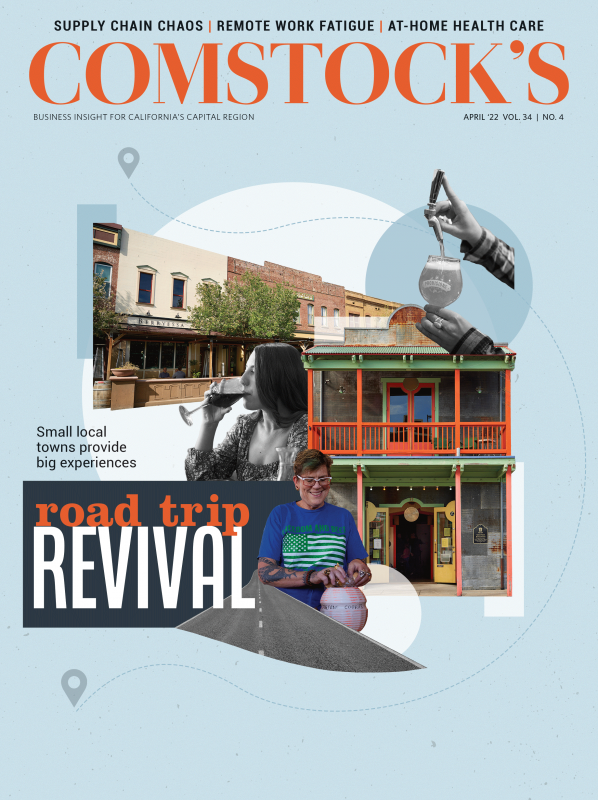 This story is part of our April 2022 print issue. To subscribe, click here.
For seven years, this Civil War-era hall has offered the kind of artisan meat market that generations of Italian Americans in Amador County once prided themselves on operating. But the market isn't the reason that Americana lovers are crowding into Provisions on this evening. Its owners have channeled the antique ambiance into a dynamic tap house that hosts live musical acts, especially bands whose songs complement the rustic renaissance happening along these hillsides. While Sutter Creek has long been a destination for those wanting to shop in a western Victorian setting, Provisions and a handful of other businesses have recently made it a hotspot for beer and wine tasting, foodie indulgence, live entertainment and weddings at historic hotels.
On this luminous sundown in Sutter Creek, members of the band Forever Goldrush — all of whom grew up in Amador County — are tasked with bringing visitors on a sonic ride into this frontier region, the Mother Lode. Looking on as she pours some Galactic Cowboy Nitro stout is Casey Sexton, who dreamed of having turnouts like this when she first took the leap and opened Provisions.
Not only is Sexton happy with the show, she can envision more bustling nights like this in the future. That's partly because, during the lockdowns of 2020 and travel disruptions of 2021, Provisions saw a lot of new faces visiting — people who weren't coming from the usual far-off places. Instead, these visitors were arriving from much closer locales: Sacramento, Stockton, Modesto, Roseville. They came from other cities, too, but often ones that were only a few hours drive to Sutter Creek. Now, Sexton is among a growing number of local business owners who think the pandemic's impact on national and international travel was ultimately a boon for day-trippers discovering her city.
"People like the uniqueness, the ambiance," she says. "It's just so quaint and beautiful, and the merchants are welcoming, which really resonates. (COVID) forced people to pay a little more attention to the businesses they were coming into. I think so much has been taken away, and now people are focused on not taking for granted the interesting places that they visit."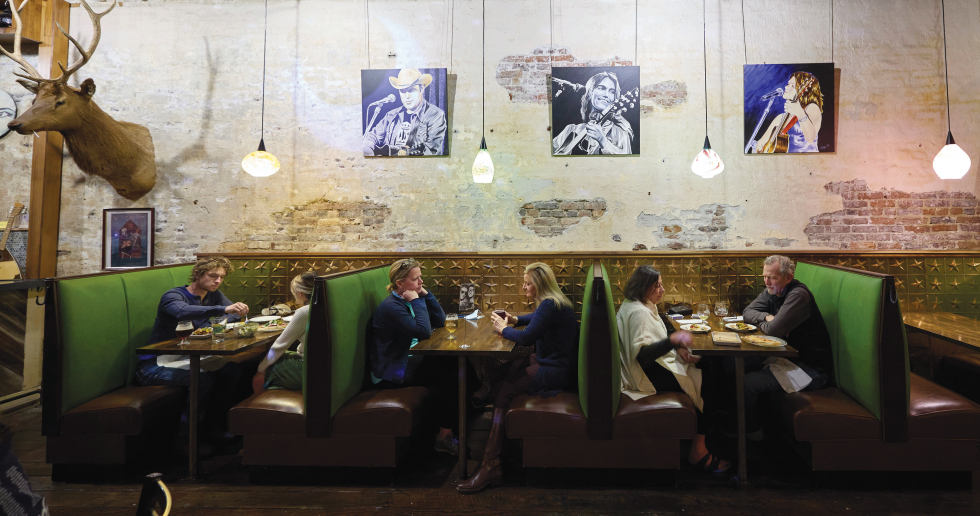 She adds, "I hope it will lead to more people coming back to Sutter Creek — fans of the town for life."
Sexton's not alone in that optimism. Watching Forever Goldrush from the back of Provisions are Jay and MunDen Michel, owners of the oldest Victorian bed-and-breakfast in the city. Working with their sons, Thomas and Christopher, the Michels are safeguarding the legacy of Sutter Creek Inn, a New England-style manor flanked by garden cottages that was built in 1859 and served as the home of state Sen. Edward Voorheis. Today, the inn's an overnight time machine back to a rural Gilded Age California.
Like Sexton, the Michels also saw an influx of tourists from the Bay Area and Southern California during the high-
water mark of the pandemic. Jay thinks that some changes Sutter Creek was forced to make at that time — especially adding large outdoor dining sections along its Main Street that may be made permanent — created a special setting that will remain lodged in visitors' minds.
"The street just completely comes alive," Jay says. "It has that same kind of energy you feel in the streets of Paris. In Sutter Creek, in the past, there was a big debate about doing this. It's not theoretical anymore. We know people love it."
Victoria Spainhower, co-owner of the coffee house Choc-O-Latte, says she definitely met a number of visitors who'd fallen in love with Sutter Creek after discovering it through a pandemic-driven serendipity.
"It's a lot of, 'Oh, we're not going to go to Disney World — we can't — but we've never been to Sutter Creek before,'" Spainhower says. "Coming out of COVID, tourism is only going to go up. People who find this town think it looks like something out of a Hallmark movie."
New discoveries
Dusk lights a bubblegum blush in the clouds drifting over Winters' Main Street, some lamps warming the avenue's ornate masonry and century-old bricks until they match the champagne glow casting on the nearby rise of mountains. Inside one of the stone shop fronts, Dan and Corinne Martinez are meeting with their team at Berryessa Gap Vineyards to celebrate three new wine releases. Dan Jr. and Corinne are the children of the late Dan Martinez Sr., a lifelong farmer in western Yolo County whose work in 1969 around growing special parasite-resistant rootstock was a gamechanger for California's wine industry, according to his family.
On the same night the Martinezes are uncorking their debut syrah-heavy blends, visitors are also huddled around the corner at fire pits gleaming against the salmon brickwork of Turkovich Family Wines. This shabby-chic spot for drinking tempranillo is owned by Tony Turkovich and his family, who have worked the land in Winters for decades. Other well-entrenched personalities from Winters who have opened businesses in recent years include Cole and Sara Ogando, owners of the elegant restaurant Preserve; Joanne Martin, owner of the sultry Spanish tapas bar Ficelle; the Stocking family, owners of Hooby's Brewing; and Melanie and John Pickerel, a former butcher whose original Buckhorn Steakhouse is the old school carnivore's paradise that first started drawing day-trippers to Winters nearly four decades ago.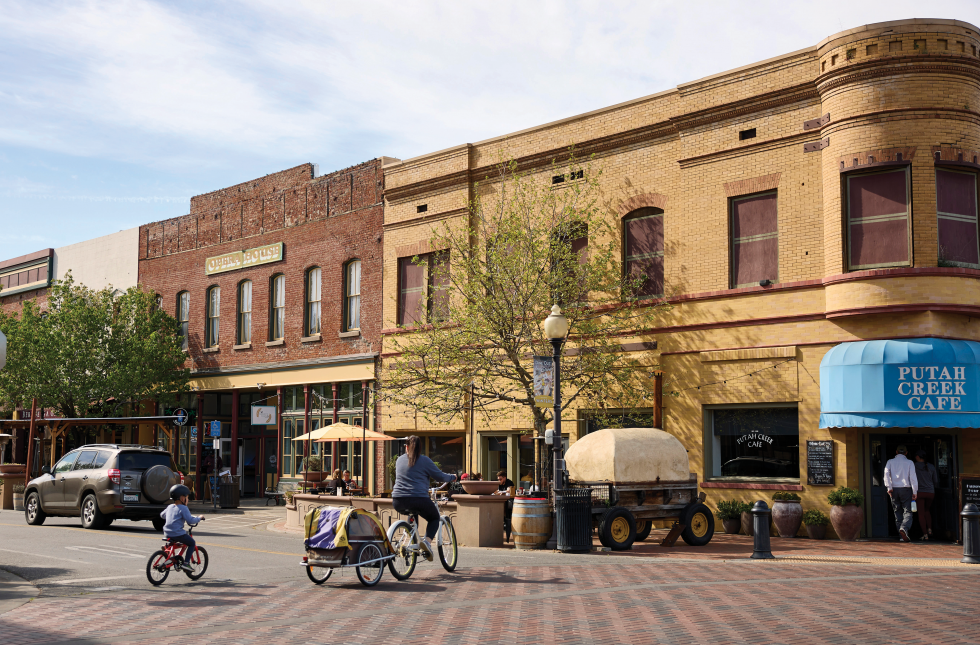 "The people who are investing in and growing this place are almost exclusively local families," Corinne says. "It seems like the next generation has been coming back to say, 'I want to do something in this town.'"
That tie between family histories and dining options seems to have given Winters a genuine appeal for those who were searching for driving-distance discoveries during the pandemic.
"We absolutely saw trends like that during the lockdowns," says Carey Bettencourt, vice president of sales and marketing for Berryessa Gap Vineyards. "From a macro perspective, what I can say is, all of a sudden we're not flying to Europe for a big vacation. We're getting in an RV. We're driving. It's a road trip. And I think for Californians in particular, there's so much to discover — so many places that we haven't been to yet. It just felt like more authentic types of trips were happening."
The COVID-era tourism convoys were also noticed by Guysell Geter, general manager of Hotel Winters, the biggest, latest — and some say most important — addition to hit the town in the last three years.
Prior to Hotel Winters, visitors to this serene growers' hamlet had to be careful about how much fun they had with its historic bars, wineries, breweries or its new distillery, Patio29 Spirits Co., which offers tastings of whiskey, gin, vodka and rum. The reason was simple: There were few places to stay overnight. The hotel that Geter runs brought a boutique establishment to the heart of downtown, complete with a spa, a meditative outdoor courtyard and a Mediterranean-style rooftop terrace gazing out onto the Vaca Mountains over Lake Berryessa. And its highly-rated Italian restaurant Carboni's is connected to all those amenities.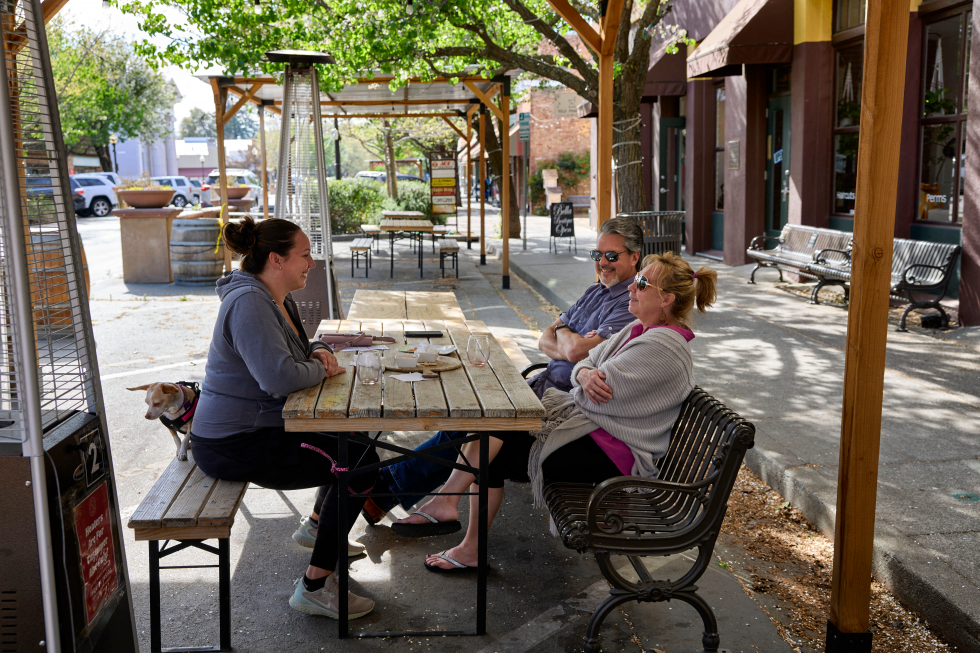 From Geter's perspective, it was the new hotel's many outdoor options that made it enticing to those around the state experiencing a little wanderlust during the worst of COVID.
"People wanted to take staycations away from Sacramento and San Francisco and that really helped us," Geter says. "We did see a lot of tourists who would have been on international trips but for the travel bans and what COVID was doing. We saw families, we saw couples, we saw birthday celebrations, we saw Valentine's Day trips — and we saw that from a lot of the regional community. We greeted folks from Yuba City to Vallejo. I think people really needed that getaway staycation spot, versus going to Hawaii or New York."
"We greeted folks from Yuba City to Vallejo. I think people really needed that getaway staycation spot, versus going to Hawaii or New York."

Guysell Geter, general manager, Hotel Winters
With a smile, he adds, "In Winters, we have that charm; but the next step for us is going from being the hidden gem to just the gem."
Rediscovering the river
The Sacramento River is a midnight-blue mirror as people stroll under battered wood balconies along a stretch of Isleton that was once its Chinatown. The old buildings lining Main Street are dappled in red and beryl lights that make their shadowed fronts glow like some scene from a neo-noir film. Down the way, inside the Mei Wah Beer Room, Delta-dwellers, as they're known locally, gather amid its Cantonese banners, jeweled spinning mirror lantern and authentic, century-old bunk from a Chinese opium den.
Mei Wah Beer Room's owner, Iva Walton, works alone behind her sleek bar. Customers have questions for her about this rare place, especially the 24 tap handles hanging off an iron draft tower that are fixed to a Chinese altar table carved in the 1870s. This feat of improv means the beers flow over wood from the same era as the original gambling hall and brothel that stood at this very spot.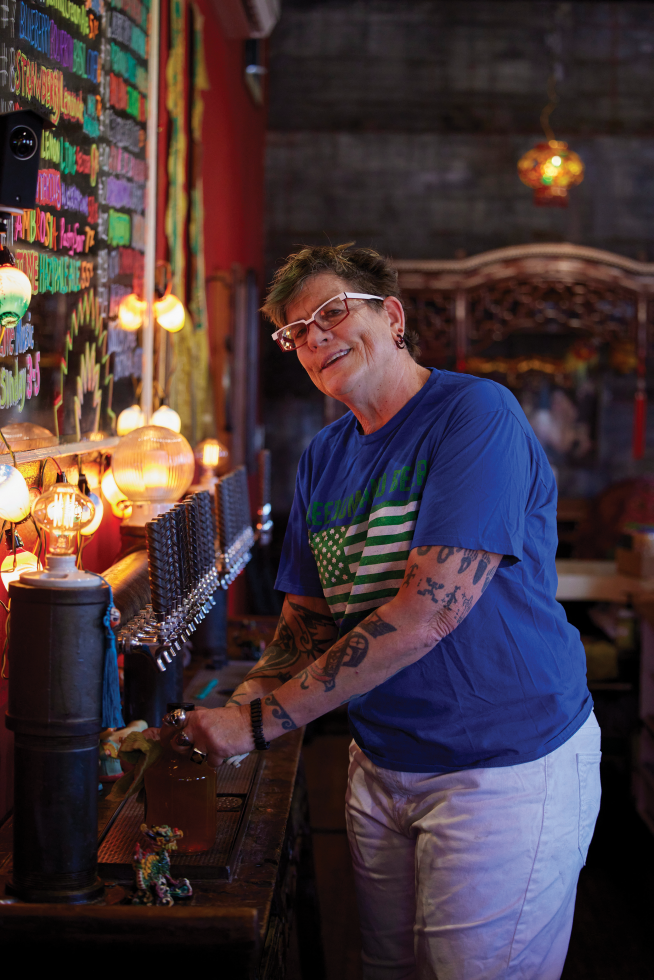 "I decided to create a fantasy of the past, which was drawing on the building's history," explains Walton, a former theater stage designer who opened the business four years ago. "I just love the Chinese-western vibe. … I'm creating a fantasy of the past, and definitely honoring the past, because, to me, that's always what has made this town intriguing."
For many crowding into Mei Wah on this night, Walton's singular vision is part of what's putting Isleton back on the map after years of decline. The event is a mixer for the California Delta Chambers & Visitors Bureau. Walton is passing out brews to business owners from Freeport to Rio Vista. And whether they are restaurateurs, fishing guides or marina owners, most agree interstate tourism to the Delta saw a big bump during the COVID epoch.
"Generally, businesses saw even more people than usual coming in from the Bay Area, but also there were more coming from Southern California, too," says Bill Wells, executive director for the chamber. "We're also seeing a great amount of fall fishing activity with people coming from all over the place."
In addition to nine historic towns along the Sacramento River, the Delta also offers would-be explorers an array of hidden marinas to peek into, most with quirky bars and channel-bound dining oddities. Yet Isleton, a small place but one of the biggest cities in the estuary, is what business owners across the region hope will finally recover. Deemed the Little Paris of the Delta, Isleton was once the unofficial asparagus capital of the world with a canning industry and annual entertainment events that drew thousands.
That was before a long series of economic downturns hit the town, culminating in it losing its famous crawdad festival in 2008. Outside of the beloved Peter's Steakhouse, it was nearly a ghost town for years.
Yet, as members of the Delta chamber gather in the Mei Wah Beer Room, there is a sunny outlook about Isleton finally recovering. And it isn't just Walton's beer taps inspiring that: It also has to do with baked concoctions people are passing around and biting into — a spout of sweet, sour and savory cheese layers exploding with jalapeño pepper heat inside a pillow-soft shell of parmesan-infused brioche. The offering is known as a zombie. It came from a business even newer than the Mei Wah called The McBoodery, a delicatessen saddled in another historic building just down the way.
Both Walton's attraction and The McBoodery were born out of the stars aligning in strange ways. In Walton's case, she had been photographing the Mei Wah building for years while birdwatching in Isleton. Living in the Bay Area at the time, she called the funky relic her little rust bucket. One day, a friend noticed it was for sale. Walton jumped at the chance of opening the Mei Wah Beer Room to indulge her dream of being a craft beer ambassador.
The McBoodery, on the other hand, is the brainchild of Sarah McGee, a home baker and restaurant veteran, and her husband, Mike Abood, a barbecue and meat-curing fanatic who was born and raised in Isleton. The couple had long thought about throwing their culinary passions into a business.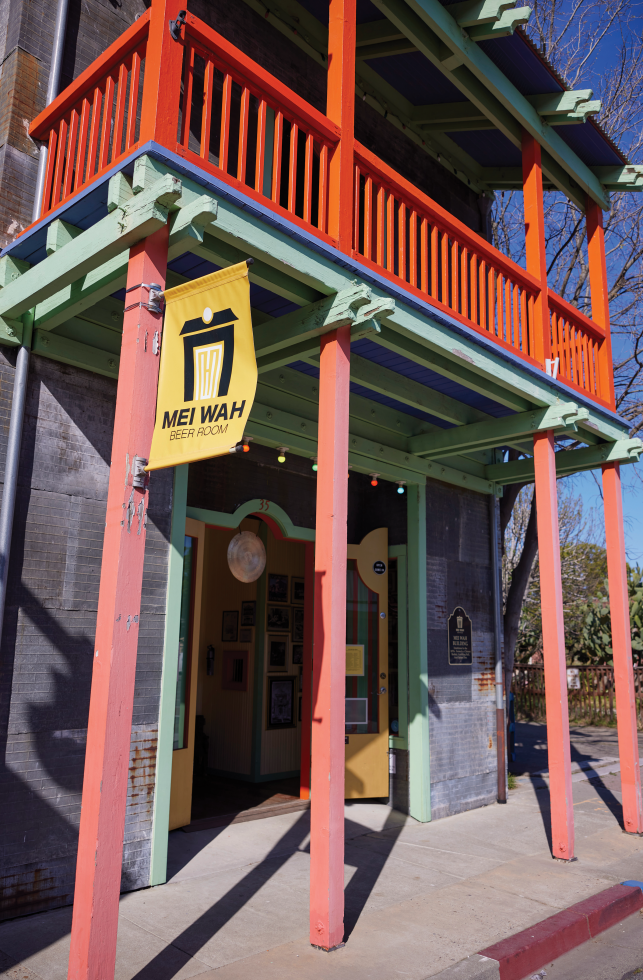 The ribbon was cut on The McBoodery in September 2020, heralding a to-go business that was soon gaining traction through the budding fame of its zombies, along with desserts like pumpkin pie cheesecake parfait and Abood's meat offerings like street taco jerky and spicy habanero jerky. Customers are encouraged to carry their order over to the Mei Wah Beer Room, where Walton welcomes them, pairing the food with her rotating ales and stouts.
Since the onset of the pandemic, Walton has seen an uptick — she can't measure it exactly — in the number of visitors coming to her business from Stockton, Lodi, Sacramento, Roseville and Nevada City. She thinks the increase coincided with her construction of an outdoor beer garden at the height of the pandemic. She says the addition of The McBoodery, along with the new Manny's Barzzeria, has given her newer customers more reason to return as they augment their fishing, boating and bird-watching experiences.
For someone like Abood, who has spent most of his life watching Isleton slip into decline, there's reason to hope for a future in tourism again.
"Isleton, right now, is definitely on an upswing," he says. "Five years ago, even three years ago, I would have said Isleton was heading down; but with all the positive things that have been happening, now I'm just seeing a town that's ramping up."
–
Stay up to date on business in the Capital Region: Subscribe to the Comstock's newsletter today.