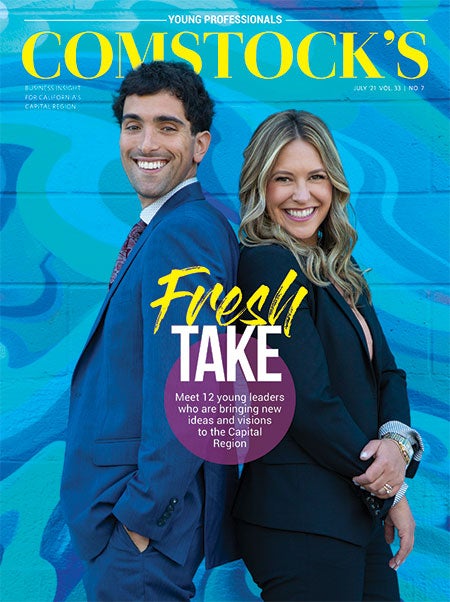 This story is part of our July 2021 Young Professionals issue. To subscribe, click here.
In the months before the May opening of his Italian restaurant Mattone Ristorante in East Sacramento, June Chang fielded a lot of hopeful questions.
Some neighbors approached him while he worked outside to ask if he would be reopening Español, the 97-year-old restaurant founded in a downtown Basque boarding house, which closed in 1952. Español, known for its large neon sign, served Italian food in the building on Folsom Boulevard from 1965 until it closed last August. Others recognized him as the former bartender of Biba, the Midtown Sacramento restaurant that shuttered in May 2020. They asked if he planned to resurrect the legacy of founder Biba Caggiano, who died in 2019 after three decades as a major influence on Sacramento's food scene.
The answer to both is no, says Chang. He's kept a few of Español's design elements, like the glass panel saved from one of its former homes, the Commercial Hotel, but he won't be serving the red-sauce-joint staples that Español was known for: fried ravioli, spaghetti with golf ball-sized meatballs, and minestrone doled out in plastic tureens. He's also given the aging interior a thorough overhaul. Gone are the checkered tablecloths and wood panels, replaced with gleaming white linen and cream-colored paint.
As for Biba, Chang has hired some former employees and put a few of Caggiano's signature dishes on the menu. His chef, Karel Mulac, adheres to the farm-fresh, seasonal philosophy that defined Caggiano's cooking. But "if Biba was a book, then the book's completed and well-written and finished," Chang says. "My restaurant, Mattone, it's not a continuation or chapter two of Biba. It's not the second book of Biba. It's something completely new."
(Caggiano's heirs — her husband and their daughters — disagree. Their corporation Biba Restaurant, Inc. filed a complaint in Sacramento County Superior Court June 7 that accused Mattone Ristorante of false designation of association, trademark infringement, trademark dilution, false advertising, and violation of the Uniform Trade Secrets Act. "There's absolutely zero merit to the claim from top to bottom," says Chang's lawyer, Larry Kazanjian, noting that the complaint hinges on media depictions of Mattone and that claiming classic Italian recipes are trade secrets would "shut down all Italian restaurants in Sacramento.")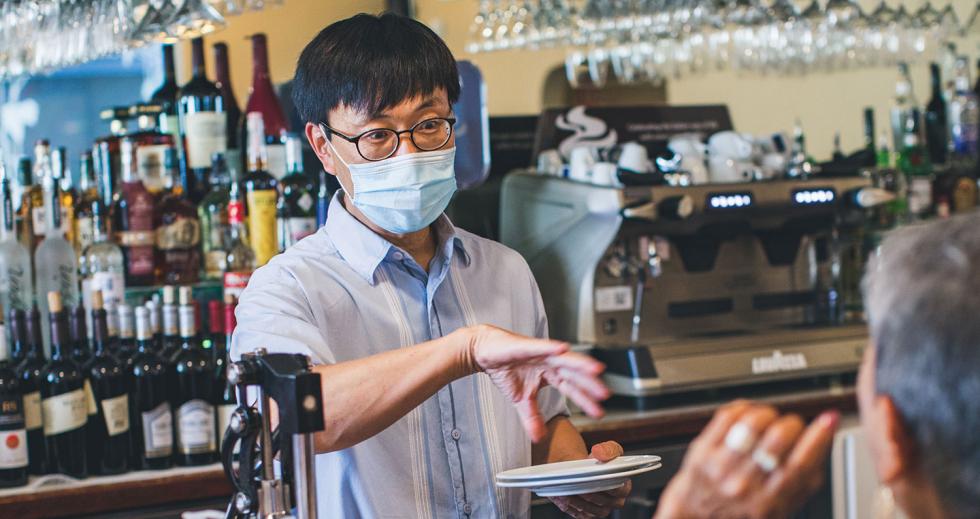 Chang is one of several food entrepreneurs bringing new concepts to Capital Region restaurant and bar spaces that went dark in 2020. Español and Biba are part of a crowd: More than 110,000 restaurants closed temporarily or permanently in the United States last year, and sales plummeted $240 billion below predicted levels, according to the National Restaurant Association. That includes at least 50 permanent closures in the Sacramento area, according to lists maintained by the Sacramento Bee.
Earlier in the pandemic, some market analysts predicted that chain restaurants, long covetous of legacy real estate, would rush in to fill the vacuum left open by independent closures. But if Mattone and other recent and upcoming openings are any indicator, that has yet to take place in the Capital Region. (In fact, the opposite may be happening. At least three local businesses — Scorpio Coffee in Midtown Sacramento, Steve's Pizza in East Sacramento and Pachamama Coffee Cooperative in Davis — opened in former Subway locations in 2020.)
National statistics suggest that restaurant openings elsewhere in the country are buoyed by the same tide. In the last quarter of 2020, 18,207 new food businesses were listed on Yelp, just 4 percent less than were listed in the last quarter of 2019, according to the company's year-end economic average report.
No statistics can cover up the scar that the coronavirus pandemic and other 2020 events left on the Capital Region's hospitality industry. Some of Sacramento's oldest and most beloved restaurants and bars closed last year — special-occasion spots, late-night haunts and lunch-hour standbys alike. Though every shuttered business will be missed, a new generation of entrepreneurs can now add their chapter to the region's food history.
A 'Restaurant Bloodbath' Starts to Heal
The region's restaurant woes began well before the pandemic: 2020 opened with a spate of high-profile restaurant closures that seemed to bode the end of an era for the local food scene. Between Dec. 15, 2019 and Jan. 8, 2020, at least a dozen Capital Region restaurants announced plans to close, including Pluto's, a sandwich shop that served hungry students in downtown Davis for 19 years; Jim-Denny's, a downtown Sacramento diner pushing its 86th birthday; and Mother, a vegetarian spot downtown that got a Bib Gourmand in Michelin's first guide to Sacramento. A Sacramento Bee headline called the closures a "restaurant bloodbath" — an ominous portent for the rest of the year.
These were restaurants that helped develop Sacramento's reputation as America's Farm-to-Fork Capital, drawing restaurant reviewers from Michelin and Eater as well as new residents and investors. But when a city receives positive attention, it's often followed by rent hikes and other pressures on the people and businesses that helped attract that attention. In closure announcements and newspaper interviews, restaurant owners cited rising rent, increasing food costs and a higher minimum wage among their reasons for closing.
The issues that prompted restaurants to close in early 2020 didn't go away when the coronavirus pandemic introduced a new set of pressures. Restaurant sales, especially at Chinese restaurants, were dropping even before the statewide stay-at-home order and bottomed out after it was issued March 19. It was up to the mercy of individual landlords to adjust their rent to match what business owners could pay. The subsequent onslaught of restaurant closures suggests that few got that mercy.
At the height of Sacramento's foodie boom, an empty restaurant space might have a new occupant within months. But restaurant openings fell in pace with restaurant sales in the first months of the pandemic. With a few exceptions — Nash & Proper took the former Mother space in January 2020 through the Downtown Sacramento Partnership's Calling All Dreamers contest, but didn't open until September — most of the restaurant spaces that closed in 2020 stayed vacant through the rest of the year.
That started to change in 2021. In February, T.J. Bruce — who owns the bars Badlands, Sidetraxx and The Depot in Lavender Heights, the Midtown historic hub of Sacramento's LGBTQ community — announced that he would be opening a pizzeria in the J Street space that formerly housed the Hungarian restaurant Cafe Marika. The former owners, Eva and Louie Chruma, served their last schnitzel Jan. 2, 2020 after more than 30 years in business (and as the restaurant's sole employees). Their restaurant served three-course dinners, ending with thick slices of apple strudel, for no more than $13.75.
Cafe Marika was around the corner from the Lavender Heights bars and other nightlife spots and had a fanbase among some budget-minded clubbers, who liked to start their nights with spaetzle and paprikash in the lace-curtained dining room. With any luck, the pizzeria will fill the same niche now that bars and clubs are open again.
Jim-Denny's also has a new occupant. In April, the chef Joe Pearcy, who previously ran a food pop-up called Burning Oak, announced that he'd be taking over the landmark restaurant. (He says he signed the lease on April Fool's Day, lending a note of surrealism to the decision.) The 10-seat lunch counter opened to the public again in June.
"I'm hoping that with the momentum that I have going right now from Burning Oak and everything I've got going, combined with people knowing the name Jim-Denny's and it being a sort of historical landmark, things will really go forward."

Joe PearcyNew owner, Jim-Denny's
Pearcy grew up in Oklahoma but has lived in Sacramento for more than a decade, including a stint at an apartment a few blocks away from Jim-Denny's, so he's familiar with the diner's long history. "I wouldn't change anything about it," he says. The restaurant is still called Jim-Denny's and has most of the menu old regulars will remember, with the addition of some Burning Oak signatures like smoked brisket, wood-fired pizza and tacos. He also plans to reprise some of the retro dishes he found on Depression-era menus from the original Jim-Denny's (think veal cutlets and liver and onions) as specials.
Downtown has been a ghost town through most of the pandemic due to the rise in remote work and the temporary closure of the SAFE Credit Union Convention Center, which was under renovation until June 3. But Pearcy is used to working through crises — he transitioned Burning Oak from a catering service to an Instagram-based, underground food business during the pandemic — and is confident that he'll be able to draw a crowd.
"I'm optimistic because everything that I've done up to this point is growing," he says. "I'm hoping that with the momentum that I have going right now from Burning Oak … combined with people knowing the name Jim-Denny's and it being a sort of historical landmark, things will really go forward."
A Bar Runs Dry
When the coronavirus shutdowns began last year, bars were dealt an especially bad hand. Gov. Gavin Newsom directed all bars, wineries, nightclubs and brewpubs to close March 15, 2020, four days ahead of the statewide stay-at-home order. Two months later, in May, when local health departments began to lift restrictions against on-site dining, these businesses weren't allowed to reopen unless they served food. Some rebranded themselves as takeout restaurants and managed to stay afloat on a lifeboat of nachos and buffalo wings. Others closed their doors March 15 and never opened again.
The Hideaway Bar & Grill in Curtis Park was one of the latter. The bar opened in 2010 with a vague tiki-pinup theme that drew the rockabillies and ska punks who were then in vogue. By 2020 most of the rockabillies had put away their pompadours and petticoats, but cues still clicked at the pool tables every night. That wasn't enough to keep it open after months with no business, and in June 2020 owner Mariah York-Carr quietly closed shop.
In February 2021, a sign of life appeared outside the boarded-up building: a red double-decker bus that looked straight out of 1960s London. The bus is a harbinger for Lucky's Drive-In, a retro burger joint with roots in Tacoma, Washington, that is soon to open in the space.
Co-owners Willow Eskridge and Michael Feagins opened their first Lucky's Drive-In in Parkland, a suburb of Tacoma, in 2015 and considered locations around the country before deciding on Sacramento for their second. "We just kind of looked around, and Sacramento had a lot of things," Eskridge says. "It has a good population, it has a pretty good density right around there, the building was cool, it had a parking lot. … We just really liked it here, and we're like, OK, right on, we're gonna get some sunshine."
The bus, which Eskridge found on Craigslist in Redding, has been parked outside since winter to drum up interest ahead of the projected August opening. It's having the intended effect, though some former regulars are disappointed to hear that the longtime bar space is going dry. "We had a couple of people that came up and weren't too happy that we weren't going to be serving alcohol," Eskridge says. "But all we really need to do is have people try our fries. We have the best fries."
A Struggle to Survive
Not all restaurateurs waited to open until they reached the end of the 2020 tunnel. One of the brave ones was Sandy Borrivong, who is a partner at several local Thai restaurants, including Thai Princess in Natomas and Chandara Thai in Grass Valley. In August 2020, she opened her first restaurant as a sole owner, Grub Thai, in an Alkali Flat space most recently occupied by Culinerdy Kitchen.
The owners of Culinerdy Kitchen, Keith and Amy Breedlove, opened their restaurant in July 2019 after five years running a food truck called the Culinerdy Cruzer. They closed days before the stay-at-home order was issued in March 2020. The looming pandemic was the deciding factor, but the Breedloves were already on the brink of giving up the location. "Rent is high, very high in that spot, so good luck to anybody that's going to be in that spot," Amy told Comstock's in September 2020, soon before the Breedloves moved to a suburb of Oklahoma City to restart the Culinerdy brand.
Borrivong says that rent is reasonable and the landlords are easy to work with. Her restaurant maintains a perfect five-star rating on Yelp after nearly a year in business. (The New York steak, served rare with grilled sticky rice, gets especially high marks.) But the pandemic affected sales more than she expected, and she is plagued by other issues that the Breedloves had with the location, a fraying edge of downtown with a large unhoused population and a reputation for being unsafe. "We just keep moving, even though there's a pandemic," she says, "but actually, it's very hard."
She says she has been physically threatened in her restaurant multiple times by the same handful of people, including one occasion in which a man cornered her in the kitchen. The police have never responded to her requests for help. "Maybe the city has a better plan to handle this, but if they don't, I don't know if we're going to survive," Borrivong says. She is already considering moving.
The end of the pandemic won't solve Borrivong's location issues or any of the other problems that make it difficult to run an independent restaurant. It won't smooth the course for Mattone Ristorante, Lucky's Drive-In or the rest of the crop of businesses that opened this year. If Sacramento wants to back up its title as America's Farm-to-Fork Capital, it will have to take stock of the complaints that led restaurant owners to close, both before and after the shelter-in-place order.
But the latest batch of restaurateurs is as optimistic as new business owners usually are. Mattone has already booked events through Christmas, Chang says, and he looks forward to running the restaurant for at least 10 years. "People I'm working with right now, they can't tell if I'm nervous or excited," he says. "Some people ask me once in a while, 'Are you excited about it?' Yeah, at one point I was, but there's a lot of things to do before opening. … I can't just sit down and say I'm excited."
–
Stay up to date on business in the Capital Region: Subscribe to the Comstock's newsletter today.