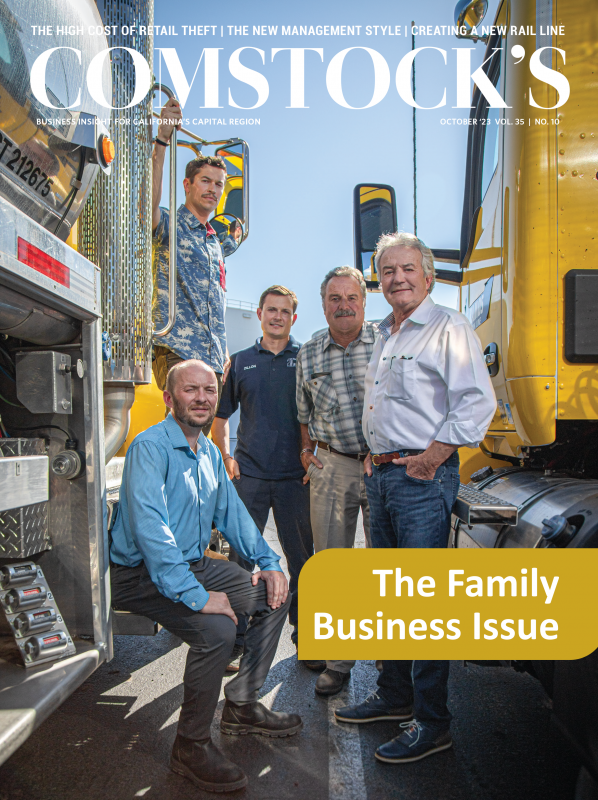 This story is part of our October 2023 print issue. To subscribe, click here.
In June, Modesto held a ribbon cutting for a train station that had its first opening ceremony more than a century ago. The Mission Revival-style station still bears the name Southern Pacific, the defunct railway company that built the station in 1915. At the ribbon cutting, a woman dressed in late 19th century attire, complete with bustle and stovepipe hat, handed out informational packets for what is now called the Modesto Transportation Center. A high school jazz band played in the spruced-up waiting room beside photographs dating from the golden age of rail travel.
But no trains are coming to Modesto Transportation Center — at least, not yet. Its reopening took place in anticipation of the Valley Rail Project, an expansion of the existing Altamont Corridor Express service that proposes to connect Stockton, Sacramento and the Bay Area, with 16 new stations across the region. In the notoriously car dependent Central Valley, the new public transit options could have significant impacts on mobility and quality of life, as well as economic development.
The project was originally funded by $400 million and $500.5 million state grants in 2017 and 2018, respectively, with a proposed timeline that concluded in 2027. After a number of delays and another infusion of $142 million in state funds earlier this year, the project is slated to be completed in 2033. The first trains are set to run in late 2026, reaching stations in Elk Grove, Midtown and Natomas by that time.
The Valley Rail Project is primarily a partnership between the San Joaquin Regional Rail Commission and Amtrak, and its trains will run on existing tracks owned by the freight companies Union Pacific Railroad and Burlington Northern Santa Fe Railroad. But attempts to reach these stakeholders for comment ran into dead ends (or in rail terms, buffer blocks).
Conversations with Marketing Manager David Lipari of the San Joaquin Regional Rail Commission and Altamont Corridor Express revealed a number of challenges that continue to stymie the ambitious project, some of which involve communication among the various invested agencies and companies. These obstacles are reflective of the challenges involved in building intercity passenger rail anywhere in the United States.
Ambition meets reality
"Sixteen new stations in year one was an inefficient way to start the program," Lipari admits. The pandemic slowed down the process significantly, he says; rail agencies fired employees, and supply chain issues drove up costs. "This further encouraged us to phase out the program while we continued to look for other funding for the project."
The project succeeded in finding new funding this year. In addition to the $142 million state grant, it received $40 million from the Trade Corridor Enhancement Program and $57 million from the Transit and Intercity Rail Capital Program, both from the California Transportation Commission. San Joaquin Regional Rail Commission used some of the latter grant to convert existing ACE trains and Amtrak's San Joaquins trains to run on renewable diesel, a vegetable oil-based fuel that is chemically identical to petroleum-based diesel.
The Intercity Rail Capital Program is also funding track improvements around Sacramento, where Valley Rail trains will operate at several existing light rail stations. Jessica Gonzalez, director of marketing, communications and public information for the Sacramento Regional Transit District, says SacRT is working to support the Valley Rail project and ensuring passengers can take advantage of light rail and bus connections in Sacramento.
These funds do not clear away one of the most complicated challenges for Valley Rail: freight congestion. The tracks that it proposes to run on are among the busiest in the country, and freight trains do not run on the set schedules that passenger rail requires, often leading to delays.
Federal law requires railroads to prioritize passenger trains over freight, but in practice, freight is the No. 1 cause of delays for rail passengers in the United States. According to Amtrak, freight caused 1.1 million minutes of delay in 2022 alone. The worst offender was Union Pacific, which owns the majority of the tracks Valley Rail plans to run on.
"The train being on time is very important to our passengers," Lipari says. "We have a partnership between us and the freight railroads. We have to do robust service planning with them."
At the heart of the proposed Valley Rail service is an intersection known as the Stockton Diamond, the most congested at-grade rail junction in California. This intersection, south of downtown Stockton near Aurora Street and East Scotts Avenue, is bottlenecked with trains from Union Pacific and Burlington Northern Santa Fe.
The San Joaquin Regional Rail Commission received $100 million from the California Transportation Commission and $20 million from the U.S. Department of Transportation to clear up congestion at this intersection by separating the two companies' tracks.
In addition to freeing up space for passenger rail, the Stockton Diamond Grade Separation project will shorten wait times for cars and pedestrians stopped at railroad crossings. Construction will begin in 2024 and is expected to cost a total of $237 million.
"I think the biggest challenge we face is time, but for the Central Valley to receive this much sustainable transportation funding is exciting and needed."David Lipari, marketing manager, San Joaquin Regional Rail Commission and Altamont Corridor Express
The intensive project, which involves elevating the north-south UP track above the east-west BNSF track on a new structure east of current lines, is likely to disrupt traffic in central Stockton for several years, but Lipari says Stockton residents will reap the largest share of benefits from the Valley Rail project. "The advantage for Stockton is that it is right in the middle of everything we plan to do for new service. Stockton residents will have more service options in the future as these trains come online," he says, noting that the Stockton Diamond Grade Separation project is a critical Phase 1 for Valley Rail.
But he also admits that ridership is down for the passenger rail services that currently operate out of Stockton: ACE and Amtrak San Joaquins. Though public transportation use was on the rise prior to the pandemic, restrictions to slow the spread kept away all but the most dependent riders. Hybrid and remote work also reduced the number of people who commute using any mode. "We have not recovered," Lipari says. "Business travel has been a slower recovery period for ACE. ACE is sitting around 35 to 40 percent recovered. We have a long way to go."
Meanwhile, "the Amtrak San Joaquins ridership has steadily increased. We are around 80 to 85 percent recovered," Lipari says. Amtrak surveys suggest nearly 100 percent of people who ride San Joaquins are leisure travelers. (This may be in part because of the service's limited schedule, with only one morning departure from Stockton that arrives in Sacramento at 9:50 a.m. and San Francisco at 10:45 a.m. — too late for most workers.) Students use the train to travel between college and home for breaks, and families often ride to visit relatives in neighboring cities.
Building on the growth of Amtrak San Joaquins, ACE is targeting leisure passengers with special train services to live sporting and concert events. "We have a partnership with the San Francisco 49ers and Levi's Stadium to provide transportation for passengers to these events," Lipari says.
Connecting communities
Charles Kaye-Essien, an expert on sustainable urban transit systems and assistant professor of public policy at the University of the Pacific's McGeorge School of Law, says that Valley Rail has more to offer than shuttling commuters to work or football fans to games. He says the proposed service map, which connects low-income cities like Stockton and Fresno to higher-income areas like Sacramento and the Bay Area, can provide economic opportunities and improve quality of life for people across the region.
"I expect people, especially low-income families located as far south as Fresno, to benefit from quick access to services available in Sacramento and San Francisco," Kaye-Essien says, referring to health care providers, businesses, cultural activities and other amenities. "Residents in Fresno, Lodi, Ripon, Modesto, Ceres and others who work in Sacramento can avoid the stress of driving or using public buses. From this perspective, the project will contribute to creating healthier people and communities."
He adds that robust passenger rail service can create jobs across the region, both with the transit agencies and at small businesses near the station that benefit from increased foot traffic. "If a policy is put in place to employ residents, this initiative should create jobs," Kaye-Essien says. "I expect the project to help connect workers to jobs along the I-99 corridor."
Job development and training are built into the Valley Rail project. In partnership with Sacramento City College, San Joaquin Regional Rail Commission is establishing a Rail Academy of Central California that offers students from the Stockton Unified School District the training they need to become ACE employees. The curriculum at the Rail Academy will be based on the Railroad Operations program that Sacramento City currently offers, geared toward preparing young people for jobs in the country's complex rail industry.
"The railroad industry is in need of more employees," Lipari says, noting that the existing railroad workforce is highly skilled and nearing retirement age. "We partnered with Sacramento City College and are committed to provide the job training necessary to assist them in the hiring process."
With luck, high school students recruited into the Rail Academy will have jobs waiting for them when they complete the program — as long as the project continues to run on its amended timeline. "I think the biggest challenge we face is time, but for the Central Valley to receive this much sustainable transportation funding is exciting and needed," Lipari says.
Stay up to date on business in the Capital Region: Subscribe to the Comstock's newsletter today.