See more In the Making videos at our Youtube channel!
Tonja Wilcox has created a lot of watercolor paintings of trees, mainly birch and aspen, but the exact number is unknown. "I stopped counting after 600," says the Sacramento-based artist, who sells her original paintings, prints and a greeting card line at local markets, a few retail outlets and her website.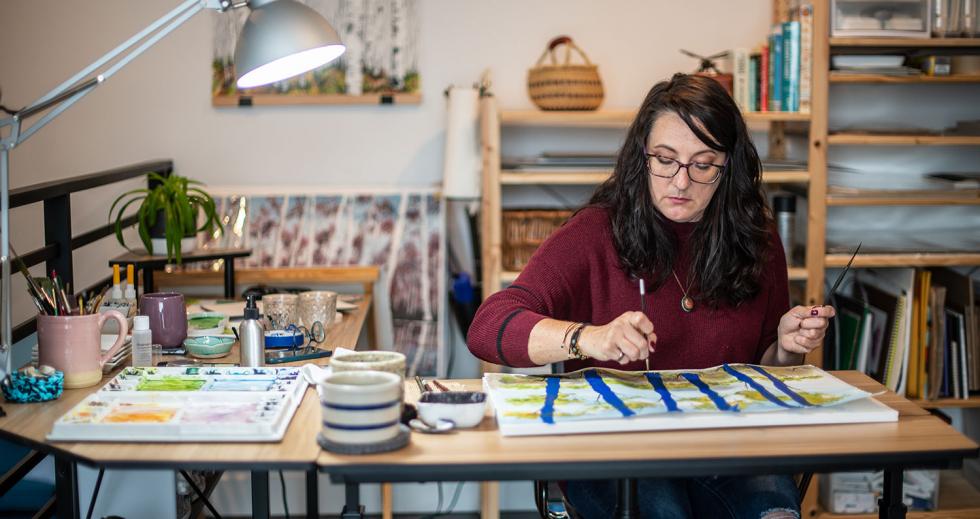 Wilcox started painting 10 years ago and is self-taught. "Just a lot of practice and a lot of YouTube. … I think anyone can learn anything they want to," she says. "Some people are a little more naturally inclined. The rest of us have to work really hard at it."
For this painting, Wilcox first applies blue painter's tape to the white paper to block off the parts that will become trees trunks. She then applies wet paint onto wet paint for a soft look for the background, and when it dries, she paints on top of it to create the details.
Next, she removes the tape: "I like pulling it all off and seeing the big reveal." She uses cut-up credit cards to make detailed marks on the trees.
For this unframed birch tree painting, Wilcox will ask $260. But she will ask for $400 for a painting that has much more detail and time invested.
"One of the things I really like the most is how different everything is," she says of her profession. "There's the hands-on painting part, and I even like — now that I'm working with greeting cards and selling prints — the editing process. … It's nice for me to be able to jump around to things."
–
Get our In the Making series and other great stories delivered to your inbox: Subscribe to the Comstock's newsletter today!