Eight Sunrise Movement marchers crossed the Tower Bridge June 4 and joined a rally in front of the State Capitol as part of a 2 1/2-week, 266-mile trek from Paradise to San Francisco, urging federal lawmakers to approve a job-creating Civilian Climate Corps. The CCC proposal is part of President Joe Biden's pending jobs and infrastructure plan, the "America the Beautiful" initiative.
The eight marchers, who range in age from 16 to 29 years old, left Sacramento the next day and were scheduled to reach San Francisco on foot June 14, with plans to cross the Golden Gate Bridge on their way to House Speaker Nancy Pelosi's office. The California march is in coordination with a concurrent 400-mile march across the Gulf states, from New Orleans to Houston.
"We're so proud of what you're doing," Sacramento City Councilmember Katie Valenzuela told rallygoers in front of the State Capitol after the marchers crossed the Tower Bridge. "They need to see people willing to walk when it is really hot and the distance is long. We're here to tell you we are fighting with you even though we're not all walking with you."
The Sacramento event was organized by the local hub of Sunrise Movement, which has about 50 members, says hub lead Moiz Mir. At the end of the rally, a 90-by-15-foot banner was stretched out in front of the Capitol along 10th Street. "It involved a lot of sewing over the past month," Mir says.
Patterned after the Depression-era Civilian Conservation Corps, the new CCC would be a federal jobs program aimed at creating more than 1.5 million jobs in areas such as clean energy, climate resilience and environmental remediation, according to Sunrise Movement officials. The group is calling on California lawmakers Rep. Pelosi and Sen. Diane Feinstein to offer their support for the jobs bill, which they hope will pass by the end of the summer.
Marcher Lola Guthrie, 17, says she grew up in Richmond, but after her family moved to Sonoma County and she experienced the deadly fires that reached the area in past years, the reality of the climate crisis started to hit her. "We are suffering and we are hurting, but I've never been more hopeful in my life," she told rallygoers. "As I talk to people, I see our power, uniting under our shared vision. The only thing in our way is our leaders who are failing us."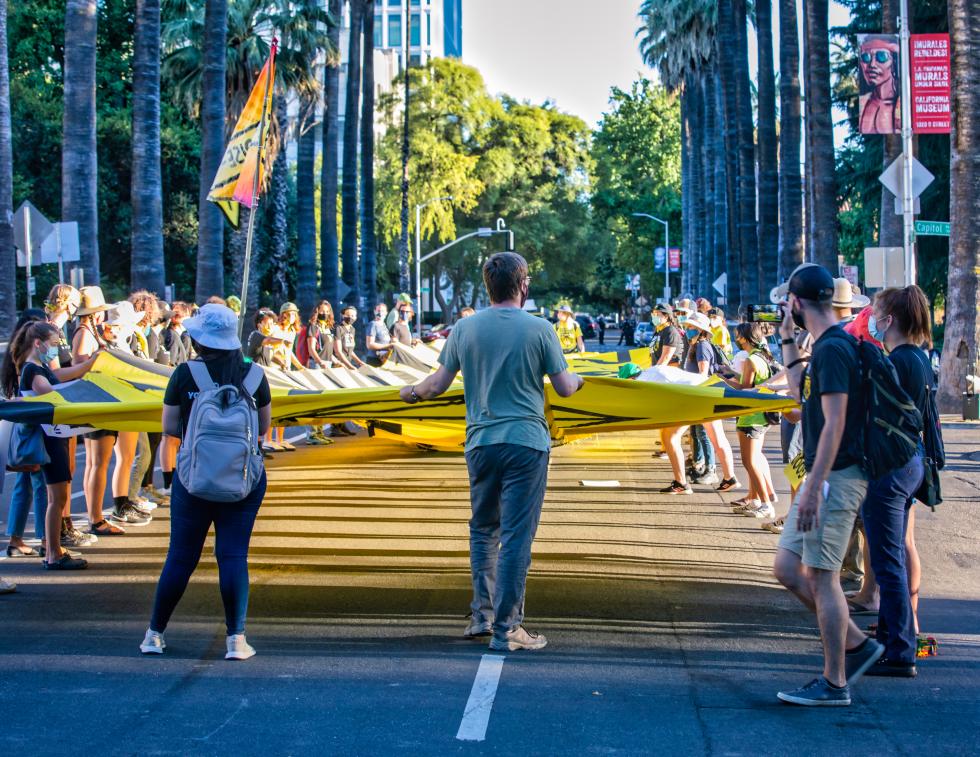 Another marcher, Vianni Ledesma, 27, of San Diego, emphasized the need for the union jobs the CCC would hopefully create. "This is why I march and why we must pass the civilian climate accord now so that we can work and be paid fairly to build the world we all deserve to live in," she said at the rally.
Margit Birge came from Oakland with other activists to applaud the efforts of the marchers. "I'm excited about what these young people are doing," says Birge, while waiting at the Tower Bridge for the marchers to cross. "They're bringing attention to a crisis in our country, where we need a lot more federal investment in jobs and renewable energy and transitioning out of fossil fuels. Young people realize it won't be much longer where we won't be able to make a difference."
–
Stay up to date on business in the Capital Region: Subscribe to the Comstock's newsletter today.