A shiny black Friesian gallops through a gray desert landscape with a translucent pink figure clinging on as its passenger, and two moons hang in the sky; one white, one red. "It's eerily familiar," Adam Wever-Glen, the painter of the piece says, "but it's not the world that I know."
The Sacramento-based artist wants to stoke a sense of wonder in his viewers, often with surreal results. "Kind of like a dreamscape," he says.
He has been showing and selling his fine art for about 10 years, and the decision to pursue art as a career was driven by Wever-Glen becoming a father in his early 20s. "I had to make some critical decisions about what I was going to do with my life and how I was going to support (my son, who is now 12) while also like feeling happy and fulfilled," he says. "It came down just to a point of necessity where I had to make art as a living, because I knew I would not be happy doing anything else."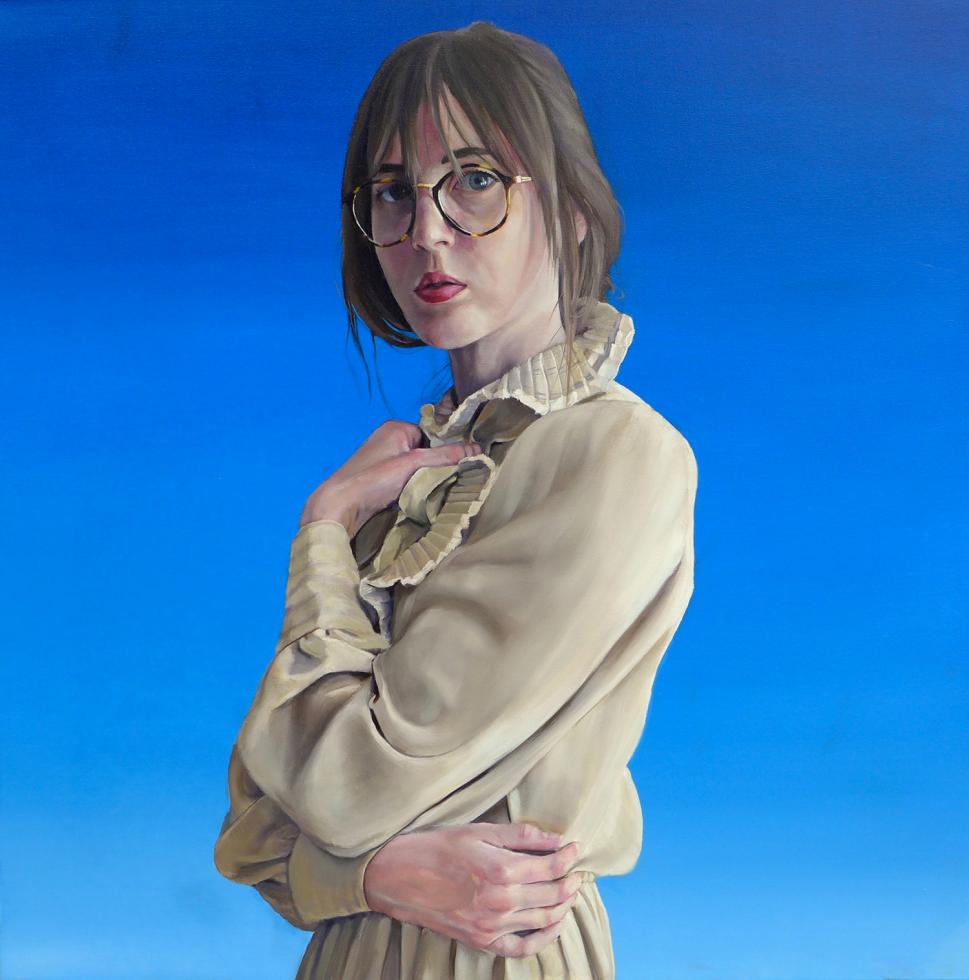 His choices led him to UC Davis, where he transferred in as a junior last year to earn a degree in studio art. "My art practice was kind of stalling, and I realized I need help. … I need to go to school," he says. Plus, "I always felt a little insecure about not going to college." He's considering pursuing a master's degree in studio art too — his first choice is Stanford University — but for now, his enrollment made him eligible to apply and be awarded the AXA Art Prize, a national show of 40 works by undergrad and graduate students curated by jurors from major museums, including the Museum of Modern Art and the Whitney Museum of American Art. The 40 winners' art is being exhibited in San Francisco, Chicago and New York — and Wever-Glen in the running for the $10,000 first prize.
Wever-Glen says he's had fewer than a dozen shows so far, including a solo one in WAL Public Market in November 2018, but feels that Sacramento isn't the right market for his work. "It's a shame, but eventually I'm going to have to go away," the self-described recluse says, although he has been finding success selling his pieces on social media.
He recently spoke with Comstock's about making a living as a fine artist and offered ideas on how the city could position itself to be more welcoming to artists.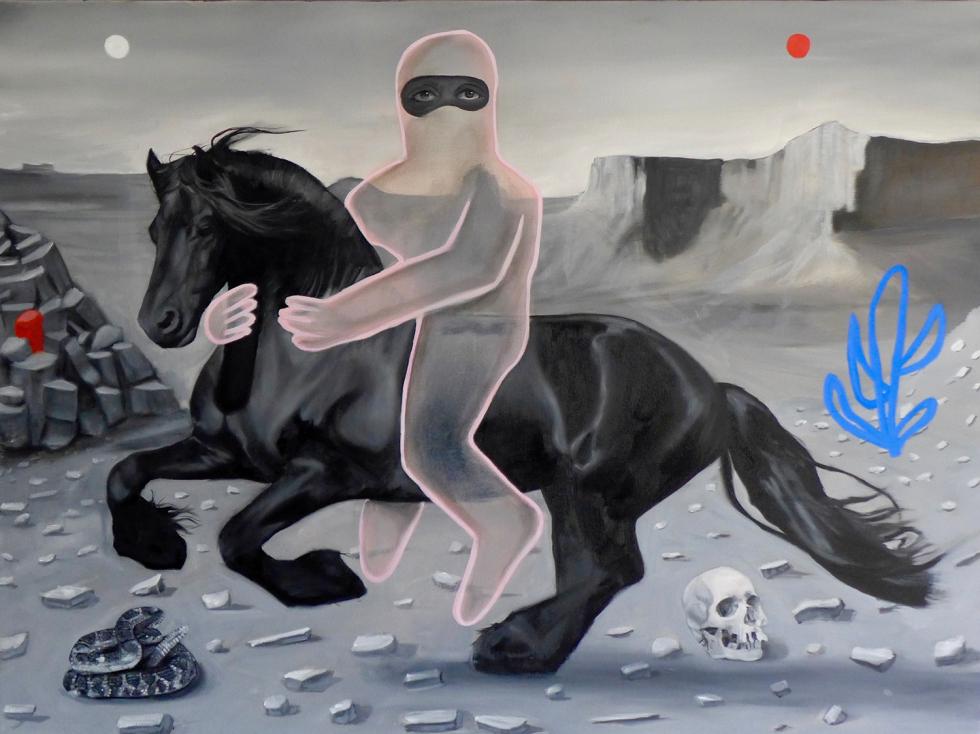 How long have you been living in the Warehouse Artist Lofts?
Probably about four years or so. I was lucky. I was one of the last like three people to get in here (when it first opened). It was a really big deal for me. Before this, I was living in like a 400-square-foot place with my son sleeping at the foot of my bed. We were happy, but as you could imagine, we were cramped. When we got in here, I cried. It was like a dream, because this is like three times the size of that.
(WAL has) definitely helped in so many ways to have a beautiful environment with other artists supporting me to live around. I think it's good for the community for Sacramento as a whole to have these kind of places.
What does your career path look like?
I've always wanted to be in museums. I don't know if I'll get there, but I'm going to try. … I want to make paintings that are going to last, so if I do show at places, if I do make sales … they're just kind of a result of being on the path I'm already on. … I don't want to just churn out a product. …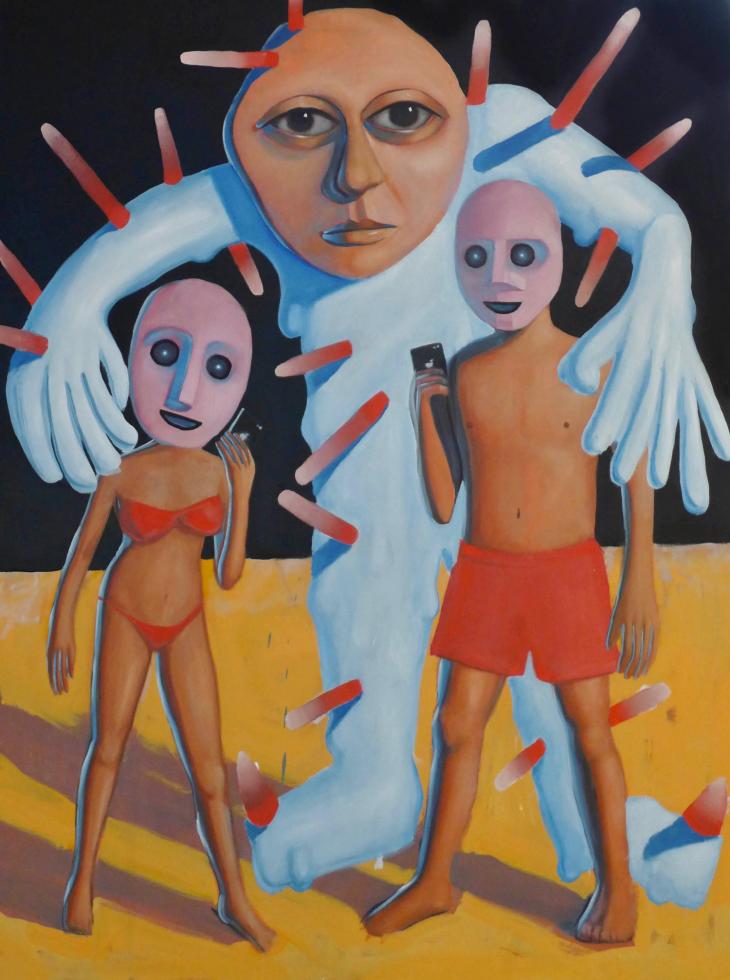 You kind of have to choose a model and run with it. Like a lot of people have the model of like, "All right, I'm going to sell a lot of work at a lower price, and I'm going to have a general look to my art. … I'm going to run it like any kind of branding." … (What I'm doing is) a longer-term business model, where you do all this investing in yourself in creating different kinds of work, and then eventually you get the payoff of, hopefully, creating paintings that you can sell for a lot more money and you just sell less paintings.
How do you market your art?
I'm not business-forward — I mean, I am, but it's like long term. … Ninety percent of my sales are through Instagram (and Facebook) and just word of mouth. I'll do open studios here sometimes — open my apartment to the public — and I've made sales that way, but I let it be a natural thing. I feel like the right people will find me, and I think they have.
How do you engage with the art community here professionally?
Another reason why I went to Davis and why I want to go to Stanford is because Sacramento does not support my work in general. I've had my work up on Saatchi (Art) online gallery, and I've sold like everywhere, but … my work does not work in Sacramento. It's too weird. And that's a bummer. It's too weird for this community. I just don't get buyers here, at least not consistently. I have a few collectors who support me, but … it's funny thinking about the AXA prize, and the people who pick the top 40 paintings in the AXA exhibition — there's somebody from the (Metropolitan Museum of Art), somebody from the MOMA … from the New (Museum) — but they picked my painting from like, I don't know … at least 700 or 800 (applicants).
Do you feel like there are good opportunities for artists here in the region?
For some artists. For others, no. If you're making art that's more contemporary, I feel like it might be a little harder, unless you tend toward a street-art aesthetic, then there's plenty of opportunities with Wide Open Walls — this town is quickly becoming a mural hub. So I think there are opportunities for people doing that. And then (there are the standard) landscape paintings, that does well here. I think we're slowly getting better. I know Verge (Center for the Arts) is offering a residency there right now, and that's exciting. … And WAL itself is offering a residency too where you live here for free for like three or four months.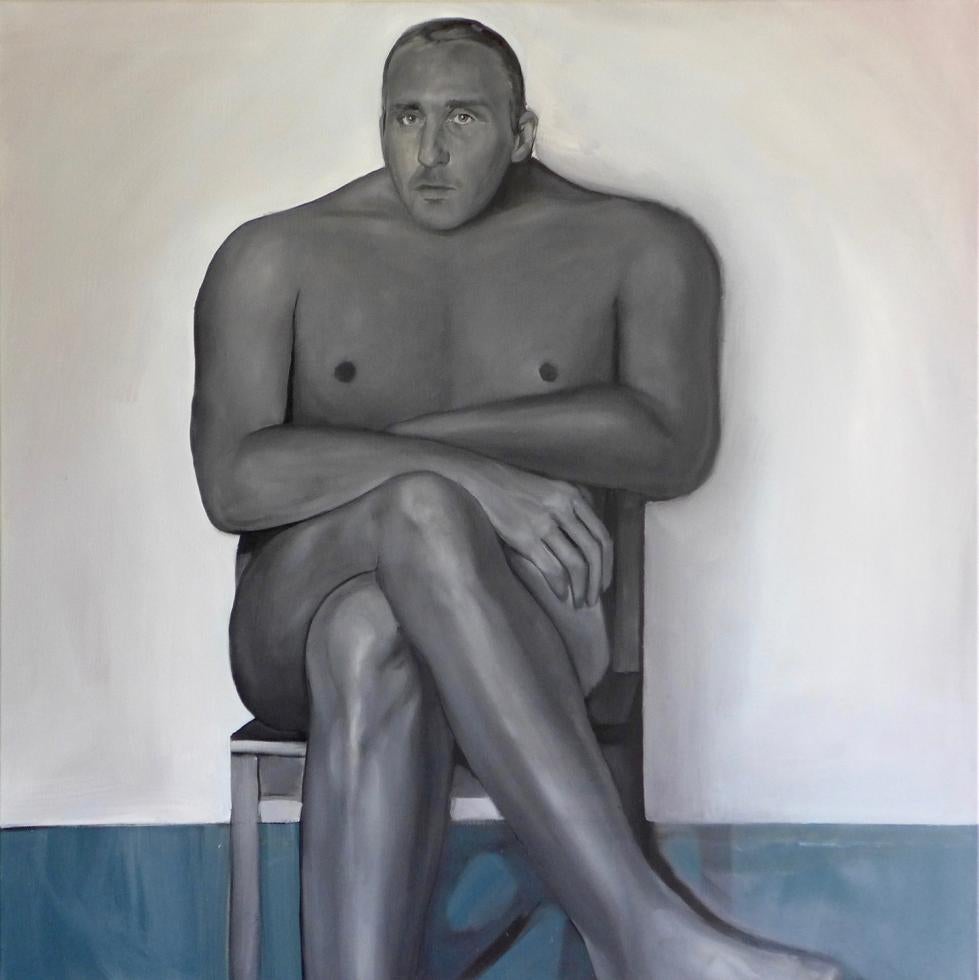 I think it could be better, though. A lot of the opportunities are creative-economy stuff, where it has to be tied in to another business or something else for profit. It's rarely, from what I've seen, a direct gesture of just, "Here's an artist who needs help, let's help them." … It's usually, "What are we going to get out of this?" which, I get that, but I think that takes away a little bit.
What do you think could be offered that would be helpful?
I think about the Jeff Koons sculpture (at the Golden 1 Center), how that cost, what $8 million, … and I think that was a weak move. From (the city's) perspective, it was like they wanted to be a cool kid, so they bought a Supreme shirt, so everybody would say, "Hey, look at me." But what if they had given out 150 $50,000 scholarships, or whatever you want to call it, to 150 artists and say, "You have one year: Give us an outline, create this work"? Overnight, we would have become an art hub of the whole country, and that money would have gone straight back into the economy, rather than just having some sculpture that's a trophy for Kevin Johnson. … Having that many artists being able to create freely and feel supported (hasn't happened) since … (that program that) John Steinbeck got, (the Works Progress Administration).
So invest in the creative people who are already here?
Yeah, invest in yourself. Don't try to be San Francisco or New York. … We're Sacramento. Build us up. Build the city up from the base. From what they want to do — not speaking just as an artist wanting 50 grand being thrown my way — that would have been a stronger move. It would have made the city look a whole lot stronger and more capable.
Do you think it would have attracted growth in the city?
Oh, my God, can you imagine? I think people would move here from all over if they knew that we were supporting the arts in that real kind of way. … I think that was a huge missed opportunity, but, I mean, they still have the opportunity to do something like that.
Would you consider doing something like Wide Open Walls?
I like it when I see a great mural, but it's just not something I'm interested in. … Because it's like two grand for a massive wall that's maybe … 15 by 30 feet? I want to get two grand for that 3 by 4 (painting). … That's not worth my time.
Does it feel like the past couple of years Wide Open Walls murals were one of the only opportunities for publicity or being seen as an artist in Sac?
I felt like I was missing out big time. … I've learned to a certain extent just to not be concerned about what other people are doing, 'cause people don't have the same goals that I do at all, so I just have to kind of stay in my lane.