The Sacramento artist who has embraced her nickname as the "Godmother of Contemporary Art" likes to roll around town on her skateboard.
Many Sacramentans may know Gale Hart for skateboarding around town, and for her "Missing the Mark" public art installation outside the Golden 1 Center, which scatters an aimless oversized game of darts throughout Downtown Commons. In 2016, she was one of four artists, including internationally-known sculptor Jeff Koons, commissioned to create a piece for the new arena. But Hart has been a staple in the local arts community for a lot longer than that, ever since throwing down her roots here in the late 1970s after spending her early years living in a van while traveling West Coast art festival circuits.
Hart believes her whimsical nickname came from her tendency to "always nurture younger artists." Currently, Hart is collaborating with Franceska Gamez for her next show. She also taught her friend, the late Ali Youssefi, how to skateboard. Youssefi was a prominent developer who passed away in March.
Hart has always been drawn to drawing and woodworking, though she's expressed her vision through a gamut of artistic mediums (with the exception of glass and papier-mâché). In fact, Hart recently swapped her paintbrush for a chainsaw, to create wood sculptures for her upcoming exhibition, Splintered, at The Urban Hive, which runs from May 18 to June 30. The body of work will be Hart's first show in nearly four years. Moving forward, Hart says her singular focus will be working on public art.
Comstock's caught up with Hart in her Midtown studio for a conversation about her upcoming show and the future of the creative community in Sacramento.
You traveled a lot in your early years. What kept you coming back to the Capital Region?
I was here in the late '70s, and downtown was vacant. Nobody cared about downtown that much, until the last 15 years. So I lived in this amazing janky place that nobody really cared about, and it was fun living in downtown Sacramento. It was kind of like living in the city, but not quite, because we were still pretty hick back then. It wasn't like it is now at all.
There was something appealing about being here, and being able to afford it. I never cared to live in San Francisco. I love New York, but that would take so much energy so I never really wanted to do that. I felt like this was the best place: I couldn't live in a small town, but then I couldn't live in San Francisco either.
How has your art evolved over time?
The sophistication of my art has evolved, but I would hope that for all artists that is happening. I don't know. You stumped me! I'm sure it's matured — I've been working with the same style of content ever since I've been making art, the same narratives about either communication, social issues or political issues. That's remained a common theme.
I don't know if you'd call this evolving, or just side-stepping, but I'm not as interested in the heavy stuff as much anymore. The way politics are, there's so much of it, I just want to have fun. That's kind of what this show is — even though it has political work in it — it's focused on fun. Going back to what I used to do when it comes to these crazy paintings, but doing them on a smaller scale. Maybe I haven't evolved. Maybe I've regressed! [laughs]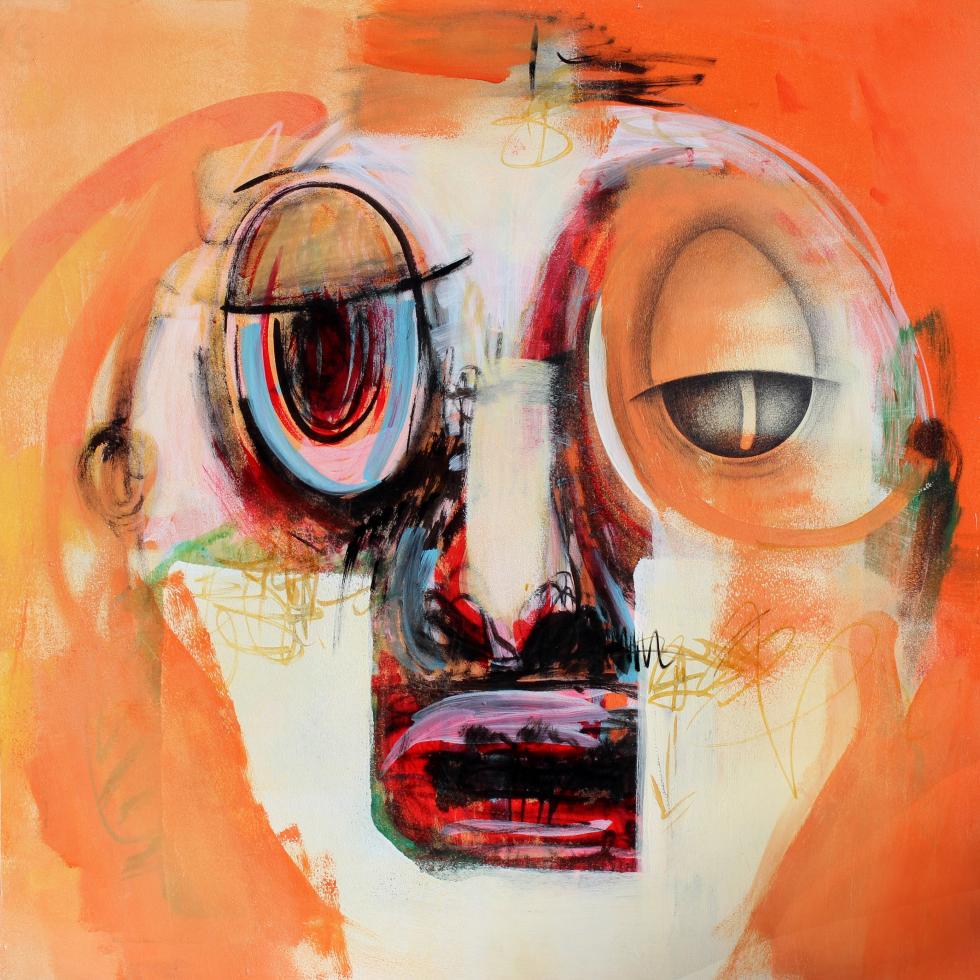 Perhaps it depends on your perspective. Maybe you've transcended!
That's why doing the arena was interesting. Actually, [my art] has evolved: into public art, on a bigger scale. Even though my paintings were always really large, my sculptures weren't that large. I've definitely evolved into public art. That's the direction I want to go, with more wacky characters instead of political stuff.
In terms of the local creative community, what do you feel the city is doing right?
This is sad, but what I liked the best about what was happening in the community was what Ali Youssefi was bringing. It's been sad for me. His vision and his commitment and his tenacity, and what he was bringing to the artists, was probably the most inspiring thing I've seen in any city. It's unfortunate that he's gone. I hope that someone will take the reins, perhaps his family or some other developer. I saw nothing like that trajectory ever, since I've been here.
If that trajectory continued, what would it look like?
Affordable housing … The artists have had a strong foothold downtown forever, when a lot of people wouldn't come down here and didn't want to be a part of downtown Sacramento. I feel like artists need to be considered in all of the decisions that the city is making because we are what makes it vibrant. Not me, personally, but the community. So I think that always has to be taken into consideration. Musicians, all the creatives, they have to have a place here, and be able to afford to be here.
How can Sacramento best nurture this creative community?
Keep it easy for events to happen, like the [Wide Open Walls] mural festival. I think we're on a good path, as long as the housing stays the top priority with the city, for all people that don't have much money, not just creatives … I think we're on a good course.
What was the inspiration behind this next show?
Wood … That's kind of how I started, making furniture, little wooden boxes and carvings. I got myself into woodwork … when I was young. It was partly just wanting to go back to wood and play with it, doing bigger things with wood and the splintered aspect of it. Everything seems splintered right now, and there is a need to come together. It's kind of like wood is cracked and splintered, and so is society. I'm mirroring that.
You salvaged the wood from the Twin Rivers housing project. What inspired that?
Someone told me they were clearing out wood for the projects, so I went over there and [the trees] were almost all down when I got there. It was like a war zone … I saw the wood laying there and thought: 'I'm going to get a chainsaw and go crazy.'
Have you refined your chainsaw technique?
Chainsawing is interesting. It's definitely a dangerous tool — I've never been intimidated by any tool, and after the first 15 minutes I thought, 'OK, this is scary!' [laughs] But after that I was really comfortable with it. In fact, too comfortable, too fast. I got some of those chaps, so if [the chainsaw] hits your leg it just stops the blade. I felt a little more confident.
What are some of your favorite spots to skateboard around town?
I don't go out to skate spots downtown. I just go out and roll around. My skateboard is my happy place … I say that's why it's shaped like a pill. It's a mood-altering drug.
Have an artist you want us to feature in our monthly Q&A? Tweet us @comstocksmag with the hashtag #ArtExposed.