Belonging to two places and not quite fitting into either is a familiar feeling for many first-generation Americans.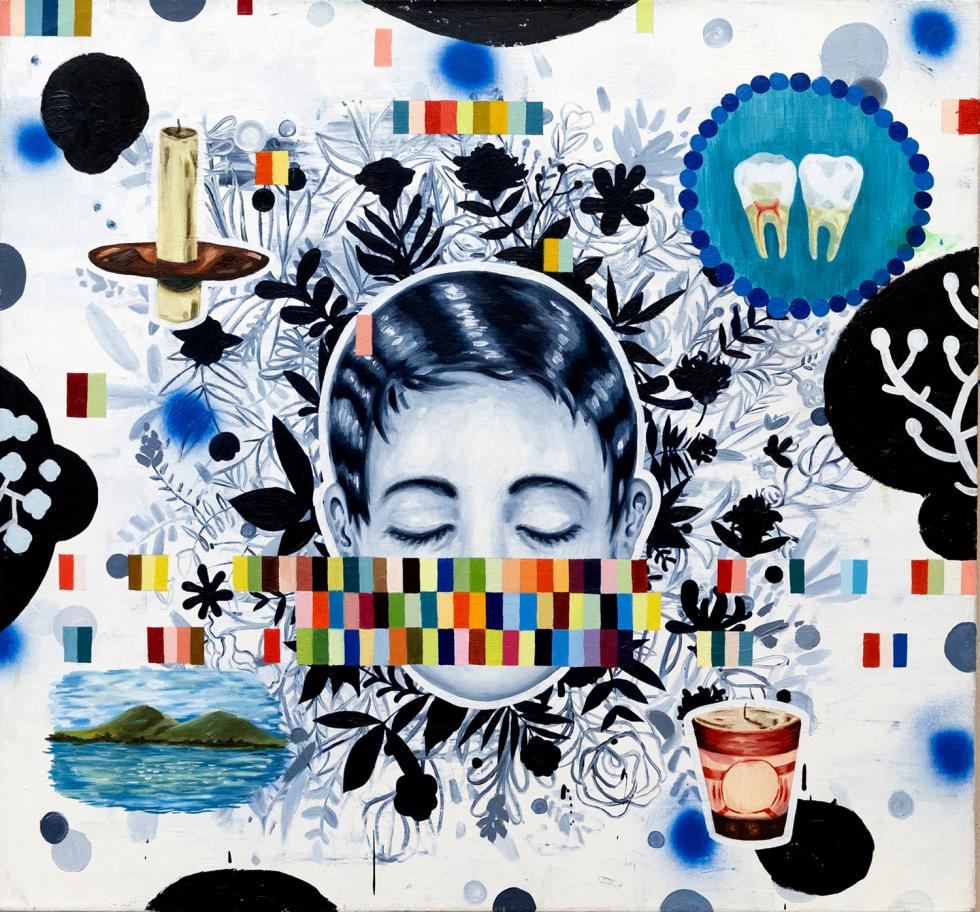 Artist Jose Arenas experienced this dichotomy in his formative years. He was born in San Jose, and grew up in both in San Jose and Central Mexico. His parents, who were from Mexico, were farmworkers who traveled back and forth between Guadalajara and Northern California seasonally with him and his six siblings.
"I grew up bilingual and had two sets of friends," Arenas says. As a boy, he thought all that traveling — the "epic bus rides to the border" and subsequent additional two-and-half days on a train to Guadalajara — was exciting, but describes it may have been more "discombobulating" for his older siblings.
Around the time Arenas was in high school, his family settled in Lodi, but for all those years of having two home bases and code-switching between two cultures plays a large part in the art he makes now, especially, he says his current body of work in his solo show at Pence Gallery in Davis.
"As you see, from the title (of the show), 'A Place in Mind,' a lot of that comes back to that idea of place that you've left behind and, in some ways, maybe long for, and also what it means to form a sense of place — a sense of belonging," he says.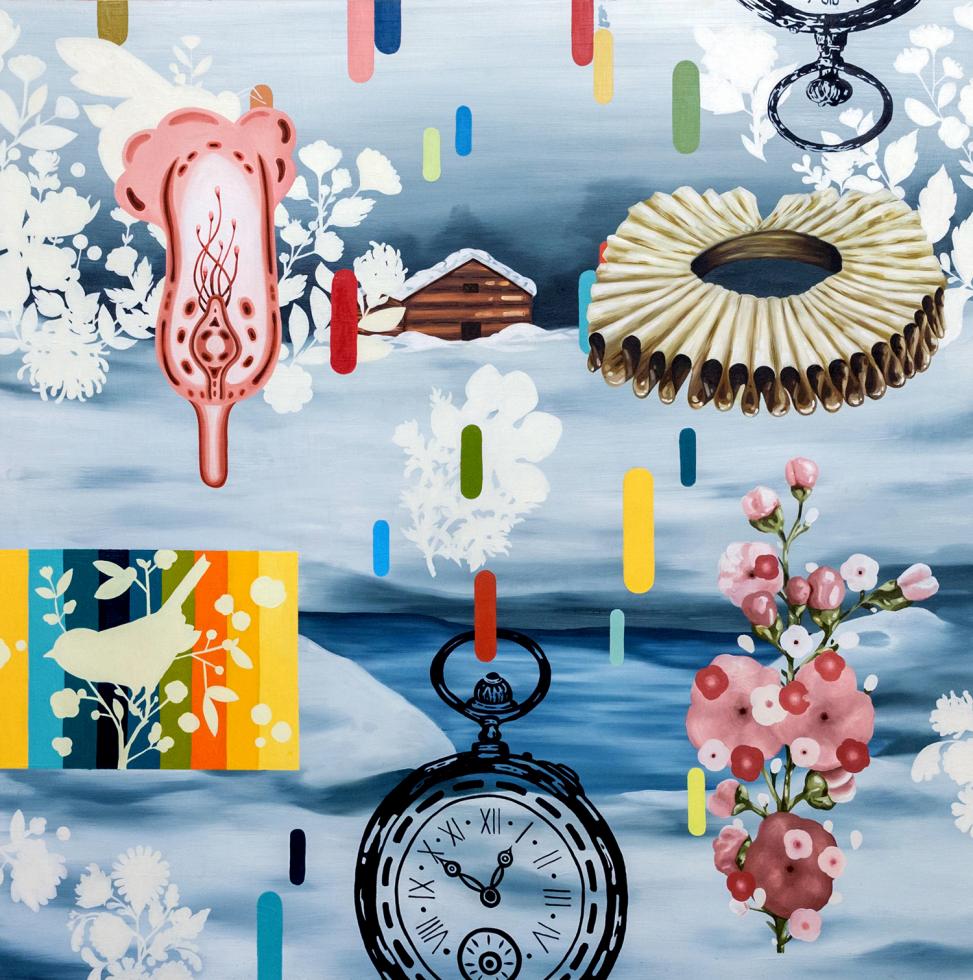 Arenas' work in the show, which opened Oct.1, and continues through Dec. 6, is heavy on symbolism — antique white ruffs, triple-masted ships, flowers, teeth, urns and baby birds — that are a visual manifestation of a stream of consciousness, a memory dump of not only his personal experience but of a history of migration and European invasion into the Americas. His symbols, "decorative elements" and abstraction are used in a "kind of collage strategy that I use where images can coexist and create larger narratives and create associations."
Arenas says he appreciates that his mother, who worked out of the family's garage as a seamstress when she wasn't employed doing seasonal farm and cannery work, encouraged his creative endeavors in high school. Arenas earned a bachelor's in fine arts from San Francisco Art Institute and a master's degree from UC Davis, followed by a 10-year stint teaching at Foothill College in Los Altos, California, before relocating to New York with his wife, where he taught at Parsons School of Design and she taught at The New School. "A lot of times now as a professor, I see that a lot of parents try to move kids into something else outside of the arts," he says.
Arenas and his wife moved back to California two years ago and now live in Davis, where he has a home studio and is the associate director at Taller Arte Del Nuevo Amanecer in Woodland, a program of the Chicana/o Studies Department at UC Davis, where he teaches workshops.
What is your practice like? Do you say, "I want to paint X hours a day?"
When I was at the Art Institute (and) when I was at Davis, I was pretty nocturnal. I would work late, late hours into the morning. And now I find my best hours to really get the work done is early morning before I have to shift gears an get into teaching or be at … the workshop in Woodland. … One of the things that we do at (Taller Arte Del Nuevo Amanecer) is we work with artists to do edition collaborations. We also work with community youth to do special projects and have them really develop a voice, and I find that's always feeding my creative side. …
When I was in New York, (my studio was in a) building with many artists, and now I actually work from home. … I love it because I can shift into that space easily for working, but I also find that I really love exchanging ideas with others and being around other artists, so I have to go search that out.
Who are your buyers?
In New York, I was working with two gallery owners, and they would show my work and sell it. They started moving into interesting model of doing popup shows and art fairs, and I guess I would say people coming to art fairs have something in mind they're looking for. … The gallery dealers were very much about going to more cutting-edge contemporary (fairs). …
Before moving to New York, I was working with a gallery called Hang (Art) in San Francisco, and worked with them for a number of years, and they sold quite a bit of my work. And now, in Davis, I guess I'm trying to see what that is.
How do buyers find you?
I guess the exposure is a number of ways. … Parlor Gallery in New Jersey, … they will also list available works on different (online) platforms. This particular one was Artsy, … so it was kind of an additional layer of exposure this gallery was doing. …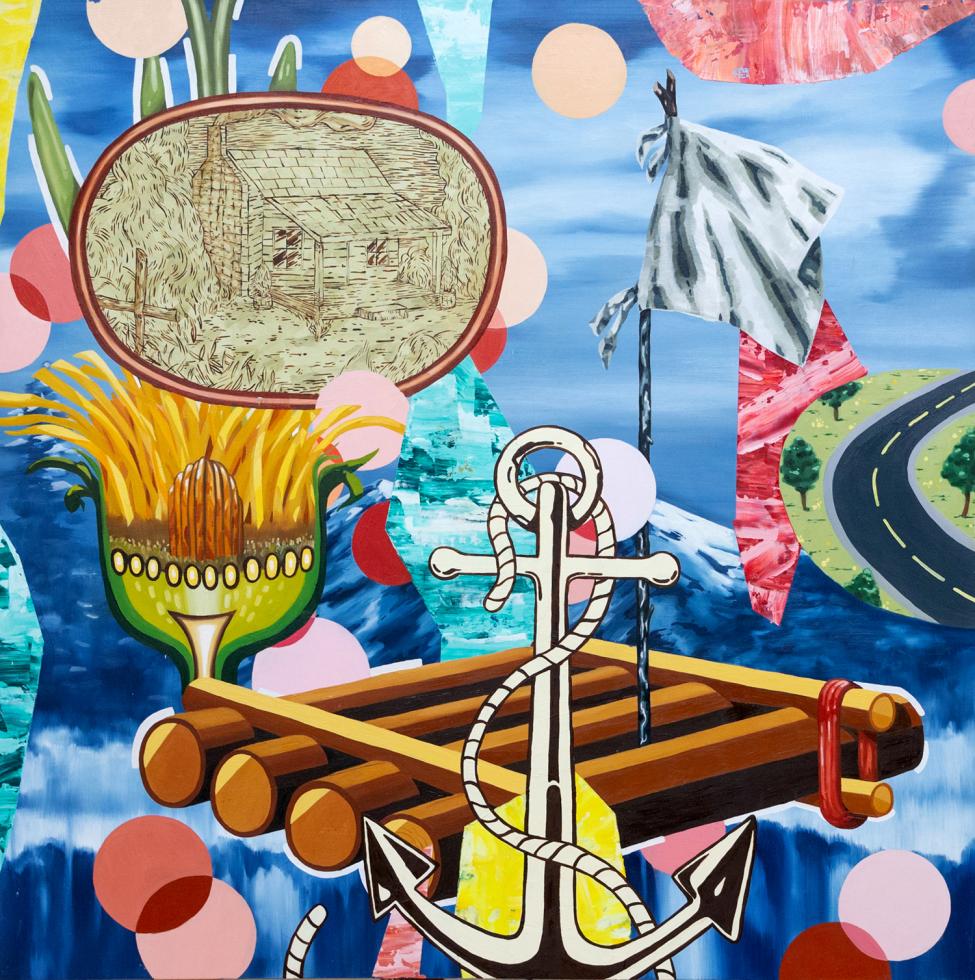 I show existing work, an archive of older work on my website, and I've had people email me directly interested in a painting. … There's platforms like Instagram where artists really garner and create that exposure and then create connections to sell their work that way directly. I think it's interesting that galleries that I've heard will forgo the brick-and-mortar to do art fairs and popup shows as I guess an alternative to, I would imagine, rising rents and probably prohibitive neighborhoods.
You use a lot of teeth, anatomical animal and flower imagery. Do the teeth refer to fortune, like in a dream dictionary?
Yes, … the meaning I attach to it is multilayered. I have a 13-year-old, and one of the things I started doing is collecting her (baby) teeth. … It was this kind of preciousness to having them. Around that was rituals and traditions, like the Tooth Fairy, coming-of-age traditions, but also layered with that is larger association you just mentioned, as they're related to dreams, there's anxiety, there's stress dreams. …
Lately, I've been fascinated with the physical manifestation of a physical part of you that you lose. People tell me stories about losing teeth — as an adult, there's trauma around it, a different experience than losing teeth as a kid.
Why is it important to talk about immigration in your work?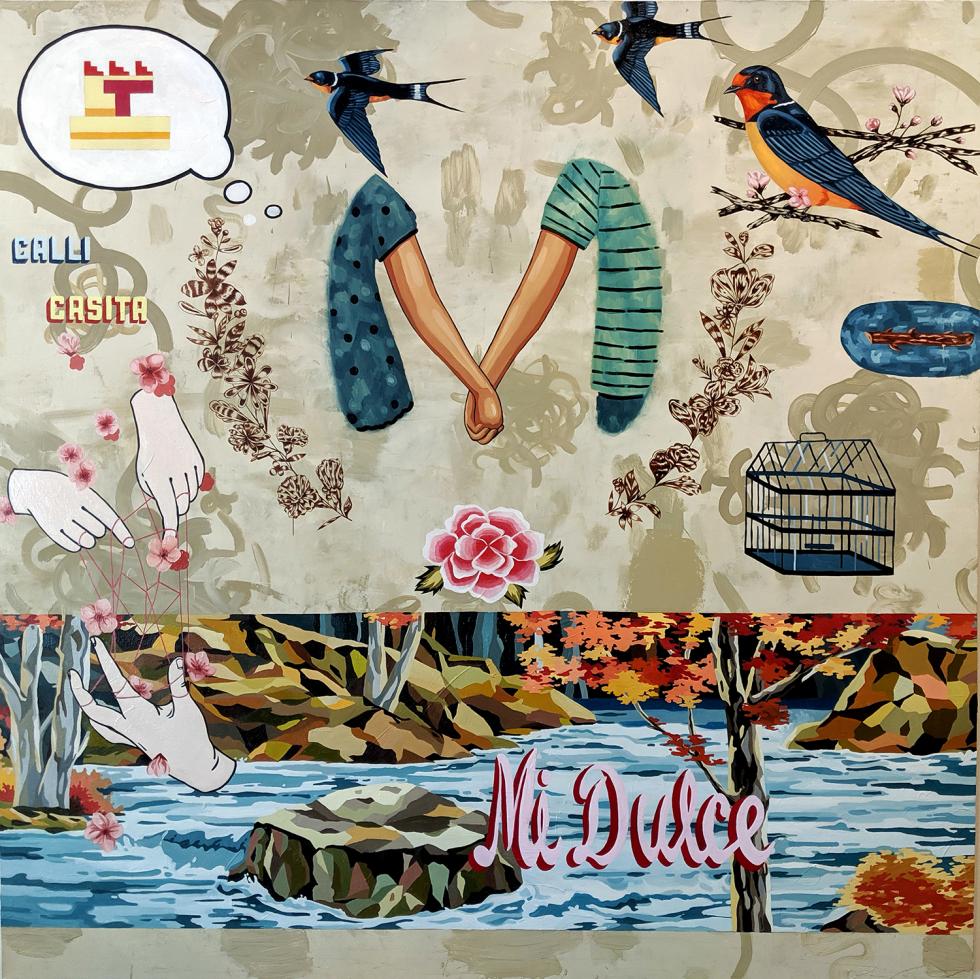 In my family, when we talk about that experience, some of us have a wildly different take on our experiences. … For some, it's something that's not fun — like I said, being a kid and traveling and having that (exciting) experience — but it gives me insight into how we experience the world individually but also collectively. …
When I work with kids at the shop in Woodland, these are kids who are losing their language. … They begin to respond to their parents in English, even though the home is Spanish speaking, … (it's a way of losing) culture, but also gaining certain things, because it becomes a new experience that you're forming, as people would say "neither" American or Mexican, but I would say "either"; it's actually both.
What is the biggest challenge for you as a professional artist?
It's maintaining that specific time to produce the work. The other challenge is … when you speak to artists, (you learn) there's no one way to put your work out to have exposure. Because some artists will put their work in an art-fair setting and sell work that way, and when you talk about (how to) show in a gallery, you'll get 10 different answers.
What do you tell your students who want to go out into the marketplace with their work?
First and foremost, it's, "Make the work. Stay consistent with the production of the work." And I think that speaks to the work ethic of making the work happen.
What I've been trying to practice (showing up more). … Going to the venues you're interested in showing (at), so I try to once a month do gallery shows in the Bay Area and really connect with people and to also maintain that line of communication with fellow artists and professionals in the field. I don't think it necessarily comes to you until you reach a certain level, you know? You got to go after it.
So networking is crucial?
Yes, I think it's key. If I had to tier it up, (it'd be) making the work and connecting with people. …
This artist, I just met him briefly, he was talking about targeting people in geographic areas (on social media) and making those connections, like friending or following, and following the friends of a particular artist's group or dealers and attracting the attention that way. I think I've done it more organically, like I'll post something, and I'll put in the time to find a gallery that I find interesting, but his is very surgically targeted, which I find very interesting to do. It's something I want to put into practice more.
—
Do you know an artist that you would like to see featured in our monthly Q&A? Tweet us @comstocksmag with the hashtag #ArtExposed.
Because of some bold moves on his part and the exposure and connectivity that social media provides, Brandon Gastinell has transitioned from doing street art to work for major film studios and musicians.
Wever-Glen says he wants to stoke a sense of wonder in his viewers, often with surreal results — "kind of like a dreamscape."
In case you haven't heard, Sacramento cuisine and art have come together under the open sky in Midtown at the new Cantina Alley. Inspired by the art, food and atmosphere of Oaxaca, the Cantina Alley restaurant transports patrons to the streets of Mexico with not only delicious food, but authentic art and moments captured by photographer/visual artist Ruben Reveles. We caught up with the international man behind the lens over some mezcal at Cantina Alley to talk about the climate of the arts in Sacramento.