Just three years after Sarah Golden shared the first block-printed fabric she ever made on Instagram, she has amassed nearly 35,000 followers and established a successful creative career in surface design. Today, Golden works full-time producing her signature simple, muted designs in both fabric prints and original paintings from her Oak Park studio. "I love a real simple two-color print and I will work a polka dot into every project, unabashedly," she jokes.
Before 2015, Golden hadn't considered a career in visual arts. She grew up in East Nicolaus in Sutter County. "It was just, like, a red flashing light on the road," she says of the tiny town, which has a population of a few hundred. Golden says she took an art class in high school, but wasn't otherwise exposed to the art world.
It wasn't until 1998, when Golden moved to Los Angeles at 20 years old, that she first seriously tapped into her creativity. "When I worked in a record store in my 20s I was really introduced to alternative, not-so-mainstream music," she says. "That really changed me."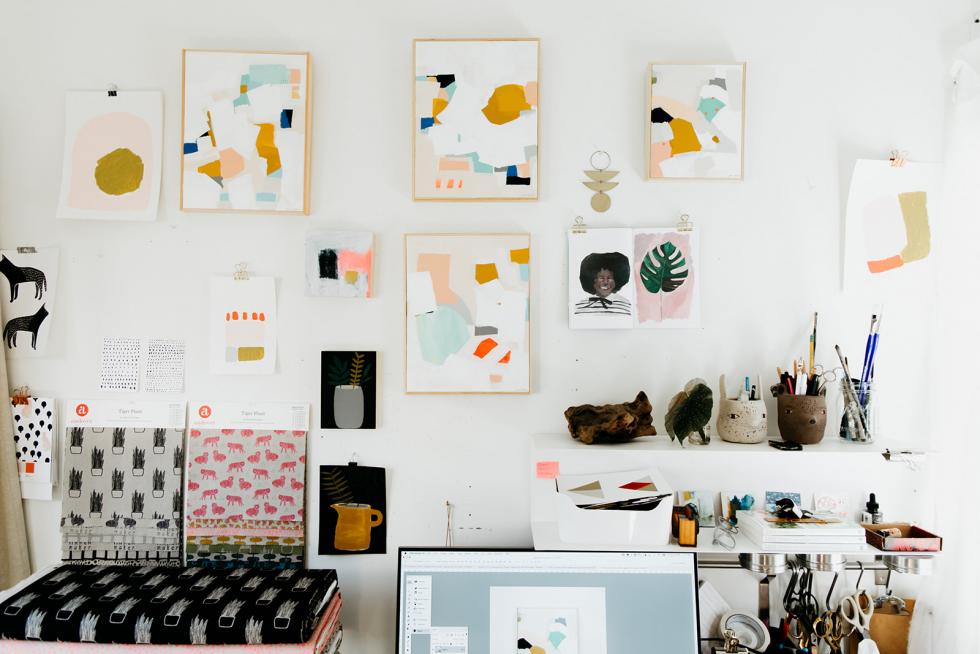 Golden started releasing indie songs through her solo project, The Battle of Land and Sea, and through her musical endeavors met her musician husband, Jacob Golden, a native of Sacramento. However, while Golden enjoyed creating music, she did not like performing. She eventually stopped and instead helped manage her husband's tour while the couple lived off of royalties and advances.
Eventually, the duo returned to Sacramento to start a family. Golden decided to stay home to take care for the couple's twin daughters, now 5 years old. But dread crept in as she realized she would have to find work once the girls started school. "I thought, 'I can't survive a regular day job.' I was always a good employee but I always hated working for other people and I hadn't really found my thing yet," she says.
Designing fabric had been a long-time goal ruminating in the back of Golden's mind. She took an online course in block printing, a type of printmaking that involves carving designs into blocks and using them to stamp ink or paint onto a surface. Golden began sharing her block-printed fabrics on Instagram and her following began to grow.
In less than a year, the New York-based fabric manufacturer Andover Fabrics took note of Golden's Instagram and approached her about licensing her designs for bolt fabrics. "It's royalty-based — they deal with the manufacturing and everything, and I can just keep making art, and working with other companies to license that work," Golden says. She can also license the same designs to noncompeting manufacturers, such as ceramics and pillows, for example.
Golden now releases two fabric collections — she says a collection usually consists of eight designs in three different colors — each year with Andover. She is currently planning to expand further into home collections and new formats, such as ceramics and throw pillows. Comstock's caught up with Golden to discuss her business strategy and her thoughts on the local arts scene.
You said that designing fabric had always been a goal in the back of your mind. Can you tell me more about that?
I just love fabric. I liked sewing. When I realized that people design fabric, I was just like, 'I'm going to do that.' Then a long time passed, I wasn't really working every day on my creativity. When my girls were about 18 months old, I started getting really hungry to start creating something for myself. I didn't want to wait until they got into school and be forced to get a job that I didn't want to have. I didn't want my time to pass. I was thinking, 'What if something happens to my husband? How am I going to support these kids? I haven't had a typical job.'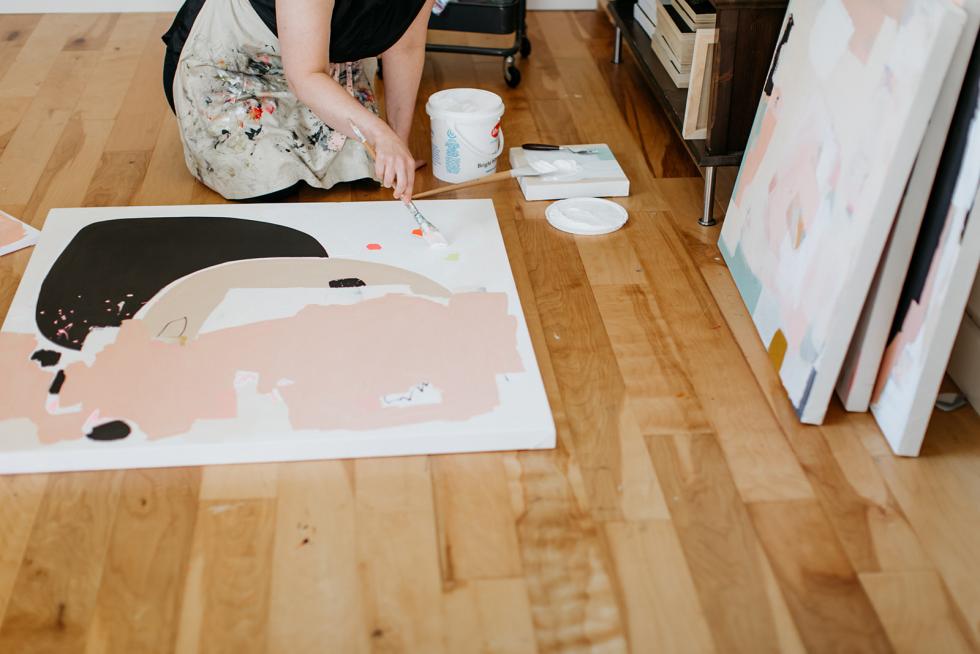 I was starting to make zipper pouches [from my fabric] and selling them, I was going into that handmade kind of thing. But at a certain point, I realized I'm never going to make a decent amount of money off of this. It became much more about production, which wasn't as creative to me. I wanted to be doing more designing. But it was a way to get my work out there, my aesthetic and style, with a low-cost entry point. I could experiment and have something tangible to share. That year, [Andover Fabric] got in touch with me and asked me if I wanted to do a fabric collection. They'd been following my Instagram; I was consistently sharing my work. So now I do paintings and I do art licensing.
Can you tell me about some of the big milestones in your creative journey?
Having my first solo show at [Warehouse Artist Lofts in Sacramento] last summer in 2017. That was awesome! I hadn't even been painting for that long when they reached out. I was like, 'Are you serious?' I didn't say that, but it's how I felt. So that solo show, that was my first art show ever. I hadn't been in a group show or anything.
You didn't submit, they reached out to you?
Yeah. Are you seeing a pattern here? [laughs]
Do you have an online community that you are engaging with? If so, how?
Oh yeah, that's probably where most of my community is. I choose to spend most of my time in my studio — so that can feel pretty solo — but online, Instagram is a huge community for me. That's how people discover my work and that's where I sell most of my work; like I'd say 95 percent of people discover me through Instagram. So it's nice that I can have that anywhere.
I am part of a mastermind group locally where we get together once a month and we talk about creative small businesses. Then I'm also part of a mastermind group that's just fine artists; we meet once a month and we're also part of an online network. So it's private and you get to talk about running the business of art.
Tell me about how you market and brand your work.
I try to photograph a lot while I'm working. Even if I'm just shipping some prints, I take a photo. I use Instagram stories a lot, so even if I'm not posting in my grid — which I try to do every day or twice a day — I'm just a sharing a lot. It's so quick, it reminds people, 'Oh, she sells prints!' Then I'll sell a few. So that's really helpful. It's just about the process. I've had a few photographers come in and photograph me, so having those great photos to share really helps. I'm doing video when I can.
Sometimes when I'm working, it's hard because the phone can also be a huge distraction. I use it as my camera, but then it's like, you don't want to get sucked into it. I do use it for work, it makes me money, but also if I could just be working, that is also making me more money. It's a struggle.
I also have a newsletter. I give a preview to my email list when I have a new collection. A day before they'll get an email with all the specifications and the prices, and they can claim one if they want. They know the time it's going to go live, I won't announce that on social media until after so that I can drive people to my newsletter.
What do you think about the current state of arts in Sacramento?
I think it's getting better. One of my pet peeves is the whole 'exposure' thing, and artists not getting paid what they deserve. People sometimes think you will do what you love for free for exposure. But that's getting better.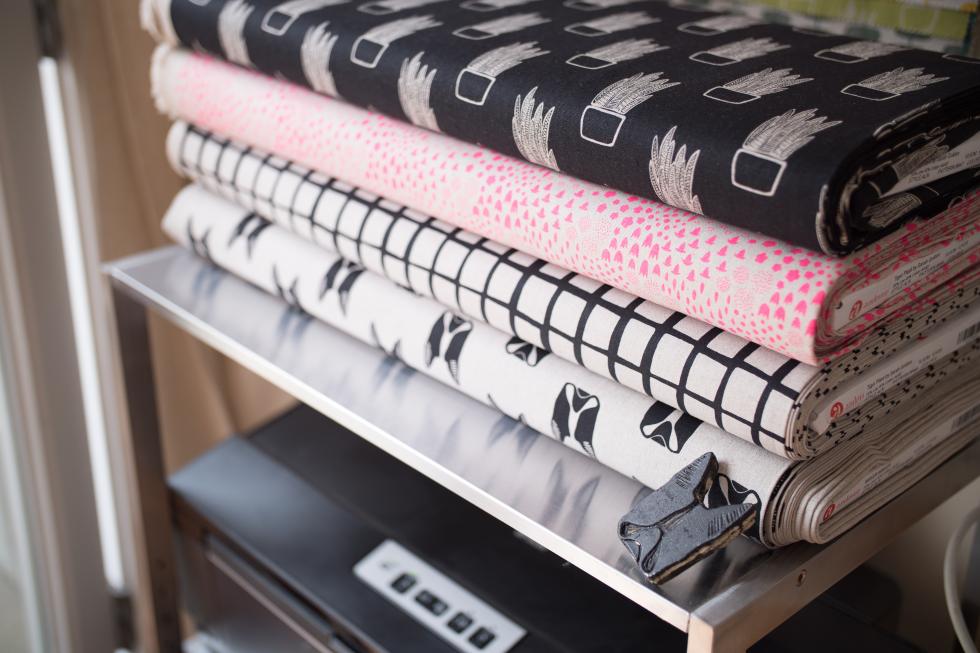 I really like the murals that are going up here in the city, and having that become a visual part of artists representation. I think that's great, the value that can add to a city. The fact that I can create work and sell it from my studio here in Sacramento — which isn't known as an art-centric city — is pretty fantastic.
What opportunities exist for local artists trying to make a living here?
I don't really think of it as local or not. I feel like I'm just now becoming a local artist because I've been holed up in my studio, making. I was more about building my online presence and not working my way through a local circuit to get to this point. So I just kind of did it all at once. You can do it if you have a website and an online presence — not that followers matter as much as it is about being intentional in sharing your work — and actually share it consistently. So people can get to know you by that. That's a huge opportunity, and that can happen anywhere.
Do you think there's anything better the business community here could be doing to support local artists?
Urban Hive does a lot of shows and shows artists' work — the space works as a gallery. For them, they get to have their walls dressed. It's not a traditional gallery situation, where it's all split 50-50. It's much more in favor of the artists. Most of the time they are not taking any fees. That's great. If businesses could do that more, give artists a place to hang their work and make sales it can be a symbiotic relationship. That's fantastic.
Can you tell me about a piece of work that you are the most proud to have created?
This is a little silly. This fabric is my dog, Captain. [Golden points to a fabric swatch with a Boston terrier face on it.] That was the first block that I ever carved to start block printing. So it became part of my first fabric collection. This past month, we reprinted it as part of a new collection that we printed in eight different colors. So it just thrills me to no end that my dog is on a ton of fabric and people are making stuff all over the world for their homes with my dog's face on it! I just love that.