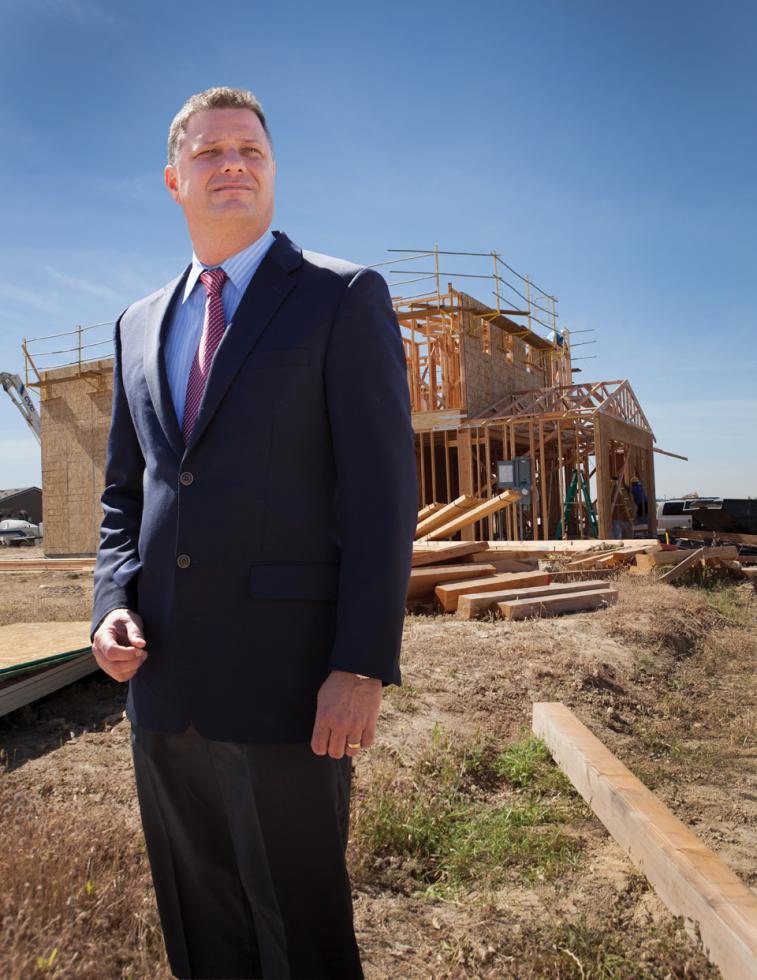 In October 2012, Michael Strech, 49, was named president and CEO of the North State Building Industry Association. The group is a community-based organization representing more than 400 homebuilder and associate members. From 2003 to 2009, Strech served as the vice president of member services for the California BIA.
The one thing that we know about residential construction is that it's very cyclical. As deep and as dark as the recession may be, we will get out of it. And when you do get out of it, you want to have at least a core group of employees. Companies that kept that core group together will rebound much quicker."
"So between 2010 and 2012, it was just hunker down and keep that staff together. To keep that group busy, companies had to diversify. Homebuilders started doing some remodeling. Custom homebuilders took on some contract work. They did whatever they could to maintain their basic corporate infrastructure so they would be prepared for the turnaround."
"By the middle of 2012, we started to see some light at the end of the tunnel. But because we were all so battle-worn and had seen false starts before, nobody was willing to declare that we were out of it. With the federal and state tax credits in 2010, we saw a momentary bump. However, as soon as those credits went away, so did the recovery. It wasn't until the beginning of this year that the industry began to feel this recovery was sustainable."
"People say there is pent-up demand for housing. They ask, 'Why can't you just hit the lever and start building thousands of production homes?' There are a couple of reasons: One is that we remember 2009 through 2010. So no big company is going to go out there and throw up 500 homes. We want to see a sustained demand for a number of quarters, not months."
"With interest rates as low as they are, buying a new home is the most viable option for first-time buyers. Otherwise, these buyers are competing with 'robo banks' and national property management firms that are flipping them into rentals. Now, we're happy this is happening because it is reducing existing stock, but it's a tough element for an individual buyer to compete with."
"A vast majority of the homes currently being built are in south Placer County. The mechanisms in place and the responsiveness in south Placer are very positive. The process is a little easier to work through there; you have the availability of land, you have the willingness of land use policy that enables that process and cuts to the chase. Elk Grove is coming along as well, and to some extent so is Sacramento County. Obviously, the city of Sacramento is a little ways off from showing much new activity."
"Natomas is the biggest challenge we all talk about because those lots are just sitting there — literally holes in the ground. There is not a mechanism to do anything until federal funding for mandated levee upgrades comes through. Until then, the moratorium stays in place. This is a real tough situation for the city and its budget. Infrastructure costs have already been expended, but there is no revenue stream coming in from that expense."
"While the moratorium is a public safety issue for most, it's also a public sustainability issue for the city to meet the needs of builders. Besides Natomas, are there opportunities for infill to happen again in the city? It's really a question of supply and demand. Is there really anybody knocking on the door asking for more lofts to be built right now? I'm not sure. I think the only short term answer for Sacramento is Natomas."
"Because there are limited options for housing close to downtown, West Sacramento is doing very well. Southport is a very progressive community. When a home is built there, it is sold. We'll also see increased activity in Rancho Cordova over the next couple of years. Everyone seems to be motivated there to make things happen correctly."
"There's a heightened awareness that industry staffing levels are not where they need to be. There is a real effort going on to respond to that as quickly as possible without overstaffing. Some areas got hit harder than others in terms of labor constraints. I'm not sure I would call it a crisis. It's just something that we're going to have to deal with as the industry recovers. There are a lot of talented people out there; we have to contact them and bring them back to housing."
"The BIA wants people to know that working in construction is cool. Building homes is a very noble profession. We're building shelter for people whether they're just getting started or moving into their fourth move-up residence in Granite Bay. People deserve to have a safe, clean shelter. An individual should feel good about being part of that process."
"We are certainly encouraging city and county building departments to ramp up their operations. There are a lot of folks in local government who, like us, are looking at ways to do that without replicating the overstaffing problems we all suffered before. They don't want to get a bunch of people only to have to displace them at the next downturn. So they're looking at new options, such as contract workers and outside specialty consultants. They want to have the flexibility to appropriately respond to a changing industry; we all have to be more nimble this time around."
"Throughout the recession the association has been able to maintain all of its builder members that are still in business. Of course, there are a few builders that have simply gone out of business. Fortunately, those were very few. All of our builder members are doing better today than they were a year ago. What we lost during the recession was an awful lot of trade contractors, mortgage and title companies and banks that may have come in from outside our market. "
"Right now the industry is responding to an evolving demand for housing. We have folks that are buying their last house and folks that are buying their first home. There are experts out there that said, because of the long recession, the whole American dream of owning a home was shelved. Our sales numbers don't reflect that. We have first-time homebuyers that simply waited out the downturn. We also have people who perhaps lost a home four or five years ago but have since shored up their credit."
"There has been a lot of land being bought and sold. That usually is a leading indicator that dirt will start moving and sticks will start going up. There are a lot of different dynamics going on with the home-buying public in Sacramento. And we're once again starting to see interest from the Bay Area buyer looking here for a little more home for a lot less money."
"The challenge we have though is that we're not even close to meeting demand right now. When we were at the height of the market, it was not unusual for people to use numbers like 10,000 units a year to be able to hit that break-even or tipping in supply and demand for our region. The number for this year will be around 3,500 units built. The media likes to make a big deal about that number, reporting housing units are up as much as 50 percent. You must remember, today's numbers are being compared to historic terrible lows."
---
Steve Ayers makes no bones about his vocal hope that several local contractors will be involved in the highly anticipated design and construction of a sports and entertainment facility in downtown Sacramento. And while he's known as a humble person whose industry acumen, political clout and philanthropic activities stay largely under the radar, Ayers wants to be a prominent part of the project he believes will launch a downtown renaissance.
The final stages of construction at a trend-setting apartment project in San Francisco's SoMa neighborhood, known by its address at 38 Harriett St., largely resembled a life-sized game of Tetris.