Daniel Stephan may blend in with his fellow millennials. He's an avid podcast listener, has a few tattoos and has nurtured a passion project into a dream job. But the baker and owner of Niche Bread & Company in Midtown Sacramento also has an old-school approach to the basics of healthy living — nutrition, discipline, balance — that affects the way he runs his business.
Stephan, 32, has had all sorts of back- and front-of-house positions within the restaurant industry: He's managed Kru; nurtured his own side-hustle bread company, Niche (which is now his main business); pioneered a pop-up dining experience called Hale; served at Canon; led the bread program at Osteria Moto; and most recently honed his craft at Tartine, the celebrated San Francisco bakery. Through all of these stages, he applies steady, simple principles to daily life, kneading self-care into success.
Slated to open in September in the former Skool Restaurant space on K Street, Niche is the brainchild of Stephan and business partner Marques Ochoa, who Stephan credits as "the most undiscovered chef in Sacramento." The duo will focus the menu on breakfast, lunch and happy hour, all based around the naturally leavened bread for which Niche has become known. Read on to discover what helps Stephan rise to each occasion (excuse the bread pun).
My morning routine: Post something positive to my social media account, whether that's something coming from my heart and my mind, or something that I've read and jotted down. I've got a collection of inspirational quotes that inspire me; I'll either post one of those or I'll create my own. Then I'll brush my teeth, wash my face, and come back and make my bed. Then the most important part is I'll make coffee; it gets me going in the morning. I have to have the coffee. I have a Chemex, and I try to use coffee companies that I'm fans of and I believe in and are friends of mine. Right now I'm buying a lot of Camellia; I love what Ryan (Harden) is doing over there. I like supporting local businesses.
To get the creative juices flowing: I like to put either music or a podcast in and go for a bike ride and reflect. Or I'll meet up with my business partner, Marques, at his house, and we'll open up a bottle of wine, and we'll pick out a bunch of things we want to cook or test, and we'll R&D all day long.
My trick to staying focused while I work: I have to have music playing while I work. It puts me in a good mood and allows me to focus on the task at hand. I think working as a baker by yourself, your thoughts can start to wander. Music helps me stay present and focused for the most part.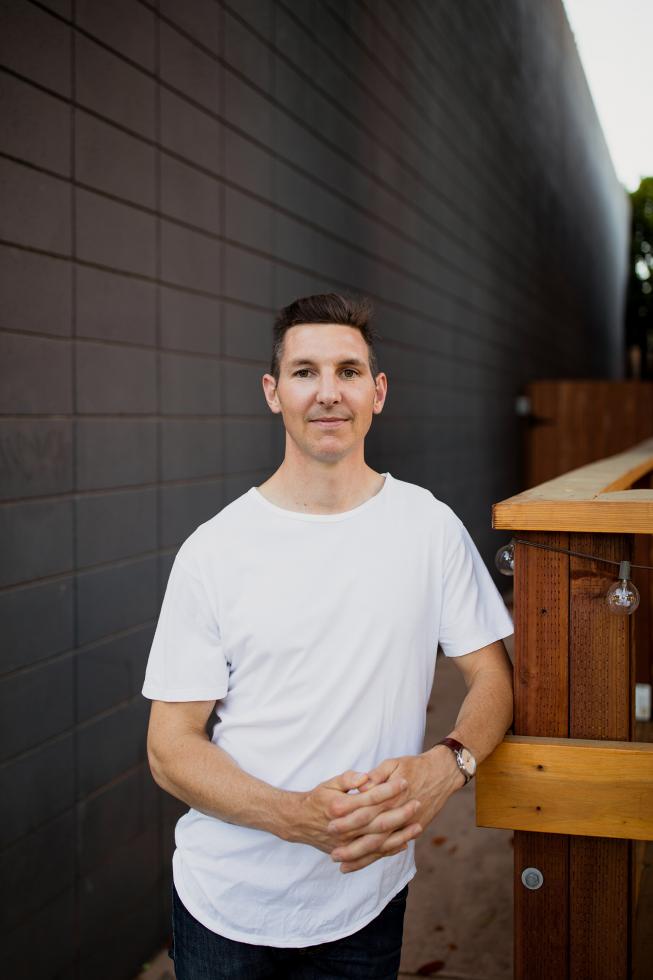 My favorite type of music to work to: You can find me listening to Anderson Paak, FKJ, Queen, Hippie Sabotage, and I love old soul music like Otis Redding and (newer music with that sound like) Leon Bridges.
My thoughts on meetings: They need to be quick and efficient. I don't mind them, but they need to be structured with a goal we're trying to accomplish. I don't like spending more than an hour.
The organizational item I can't live without: A planner. I'll write down everything that I need to do for the day and tackle one thing at a time. It helps me keep my business organized.
My favorite wellness tip: Finding balance in everything you do. I'm a big believer in taking care of yourself: eating healthy the majority of the time, working out about five days a week and, spiritually, finding that Zen moment — whether it's yoga or reading a book or listening to a podcast — taking those 30 minutes a day to clear your mind and reset and refocus. … I think it's valuable, especially in the restaurant industry, which gets a bad (rap) for (workers) abusing drugs and alcohol, not getting adequate sleep and falling into bad habits. I've always been someone who's fought that and wanted to bring a different way of thinking and balance in my life.
How I prioritize my health during or after working: Eat a balanced breakfast, something good for your soul and body. I like to make a green smoothie and bring it with me to work, and have some oatmeal or bread that I've made.
Things I'd never get rid of in a Marie Kondo-like purge: Back when I was managing restaurants, I built up a pretty good collection of neckties. They hold a lot of memories. I also have a collection of cookbooks that would be hard to get rid of.
Currently binge watching/reading/listening: I'm a big podcast person. I love listening to other motivating podcasts, things that are going to influence me and continue to steer my life in a good direction. I love Lewis Howes' podcast, "The School of Greatness"; he does a great job of being diverse in his guests, but always staying on the topic of making your life better. I'm also obsessed with (the television show) "Big Little Lies." Meryl Streep in this second season is amazing.
My drink of choice and where I get it: Whatever Nick Amano at The Snug (in Sacramento) makes me. I just sit in front of him and he's really good about asking the right questions, whether I want something refreshing or spirit forward. … Generally, I try to avoid going out — the 2 a.m. party days are behind me — but sometimes I'll go there for a quick drink after work.
My favorite current project: A little place called Niche Bread & Company. That has my full attention at the moment. For a long time, my career path was going toward managing or opening a restaurant. But once I got into baking bread, that kind of changed. I was just going with the flow, and I found something I was passionate about on a day-to-day basis. I got really lucky that people were attracted to that. When (Marques and I) started hosting our pop-up, the initial plan was to evolve this to a brick and mortar, and we were presented with a unique opportunity for this space that we have now. But we decided to do Niche Bread & Company and continue the passion I have for bread. We saw a market that hadn't really been tapped into yet, so we want to be able to provide Sacramento with that.
My secret skill: (Laughs) It wouldn't be a secret if I told you, so I'll keep that a secret.