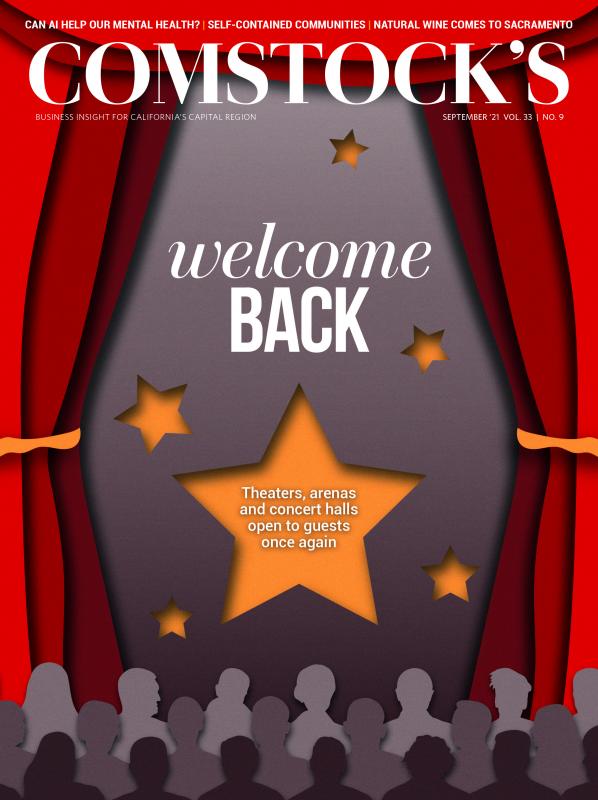 This story is part of our September 2021 issue. To subscribe, click here.
Angelique Ashby has served on the Sacramento City Council for 11 years. During her tenure as a councilwoman and mayor pro tem, she has played a role in some major developments for the city, such as the building of the Golden 1 Center downtown and securing California Northstate University to build a new teaching hospital, trauma center and medical center at the shuttered Sleep Train Arena in District 1, which covers her district of Natomas. In August, she announced plans for a family homeless housing project in Natomas that will serve 200 people.
Ashby has also experienced challenges, including helping to guide the city during the coronavirus pandemic, civil unrest in 2020 following the murder of George Floyd and trying to solve Sacramento's homelessness problem. Ashby is a graduate of UC Davis and earned her law degree from University of Pacific McGeorge School of Law while she was a single mother. She is now a candidate for state Senate in 2022. (Other candidates include her fellow councilman Eric Guerra and former California Insurance Commissioner Dave Jones.)
It was a tough 15 months for a lot of people. What was your pandemic experience?
I was mayor pro tem of the city both this year and last. It was a busy time because my dad got sick and ultimately passed away — not from COVID, but the pandemic certainly made the situation worse because my dad had dementia, and he had a rapid decline, and the decline was initiated by isolation and the isolation was initiated by COVID.
I had two school-age children at home. They were doing Zoom classes each day. I took a lot of things on my plate, like child care for essential workers and opening one of the city's largest vaccination clinics, trying to keep our restaurants afloat and working with families on the digital divide and making sure they had access to the internet … making sure people had some measure of support, focusing on kids and mental health, working with the school district to make sure we got books out to kids and everyone had a laptop. We vaccinated 30,000 people in my corner (district) of the world here.
You personally experienced the pandemic because of your husband, Zachary Rucker-Christopher.
One thing people may not know about me is that my husband is an emergency room nurse, and he is the clinical manager for the emergency room at Sutter (Medical Center) downtown. So in the year I'm running around being mayor pro tem of Sacramento, being mom to our kids and trying to help my dad, my husband is literally on the front line of this pandemic. … I think having him at home the past year and a half gave me a real sense of urgency to the problem, because just seeing the exhaustion on him, and his care and concern for the nurses who worked for him.
You brought a new hospital to the former Sleep Train Arena site during a pandemic. What other businesses came in?
The (California Northstate University) hospital (will bring) 3,000 jobs and medical services for people critically in need. It also has a medical campus that will have a medical school. … (In 2019), we recruited Centene, the first Fortune 100 company to choose Sacramento as a headquarter in decades, bringing 5,000 high-wage jobs. I worked hard. It took me seven years on the deal with (developer) Dave Bugatto to recruit Centene (the largest Medicaid managed care organization in the U.S.) to bring their headquarters here. We added small and midsize businesses to this region. We built grocery stores.
Natomas is also getting a $40 million aquatic complex. How did you get that?
The North Natomas Community Center and Aquatic Complex was a five-year effort. It started with a feasibility study and community outreach. Students engaged in the process, as well as the swim community and the general population in Sacramento. We decided to build an Olympic pool because there isn't one currently anywhere in the city of Sacramento. The aquatics facility will open in September of this year. It is a joint-use project funded in large part by development proceeds for north Natomas specifically. It also includes funding from the Natomas Unified School District, who will also use the facility. The facility includes an Olympic-size pool, a community center, locker rooms, waterslides, a warmup pool, and a children's splash zone. It is located in the North Natomas Regional Park.
Downtown Sacramento has also seen changes during your tenure, such as the Golden 1 Center.
I started the Downtown Sacramento Revitalization Corporation in 2010. Through that, we built out K Street, we're building out the hotel adjacent to the Golden 1 Center, we built out the Greyhound station. I anticipate we'll get to build a Major League Soccer stadium. I also had a hand in the (Sacramento County) courthouse that's in the works in the River District. … I built seven parks, a fire station and lots of businesses during the pandemic in this particular area (of my district). We did really well. We were able to stay afloat — opened (more) new businesses than we closed. We worked hard to help each other. We put out a lot of notices to go order online and support local businesses.
Sacramento was hit with civil unrest and vandalism during the pandemic.
The civic unrest was challenging but not new. We dealt with unrest in this country lots of times but coupling it with the pandemic really was hard. Protesters had a righteous point they wanted to make. They really wanted to be heard. And there's a pandemic too. For the most part, they're trying to be safe. When you talk about the protesters, there was also looting. But when you talk about the people who were really trying to ask for a change for social justice, they were trying really hard to be heard in a time when it was dangerous to gather. So I felt sorry for them. I was proud of the community and how they came together and how united they were. I was proud to do my part to help from the dais and pass reforms to the police department's use-of-force policy.
Sacramento Police Chief Daniel Hahn, who grew up in Sacramento, announced his retirement in August. He has come under fire since the police shooting of Stephon Clark in 2018. You've voted in favor of more police accountability. What is your relationship like?
I am a big supporter of Chief Hahn. He's been widely criticized the last few years. We've done a lot of policy changes. … (Former) Councilman Larry Carr and I co-authored (a police reform package) and brought it to City Hall, and it passed unanimously. I'm also the person who wrote the body camera language. …
To me, it was very important to have a chief who came from a different place than chiefs before him. Daniel Hahn was raised in Oak Park, he went to (Sacramento High School). He's the first Black police chief for Sacramento. His leadership style is very community driven. He promoted people from within who looked different than people who had been promoted previously. He brought stability to a department where people weren't feeling particularly valued. He diversified recruitment.
"We just need people to see each other; really accept the people who aren't the same as you. We need room. We need grace. We need to give each other grace and tolerance."
What are your biggest accomplishments, and lowest moments?
My biggest victory, when I came on, my entire district, 110,000 people, were in a flood plain with a building moratorium in place. … I spent the first 5-6 years of my career fighting to get us out of the building moratorium, going back to (Washington, D.C.) many times a year, fighting and fighting until we did get (an) act of Congress. It's called (Water Resources Reform and Development Act of 2014, which requires new development to be raised above flood levels), and once that bill happened, we were allowed to start building again. So all this housing, Centene, the hospital, none of it would have been possible. We built three schools, made improvements to every campus in Natomas.
The lowest moment was this pandemic. People dying all around you, and you're trying to figure out how to help them.
Why do you think there's so much discord and incivility in politics and life right now?
When 9/11 happened, we had a common enemy, and everyone was threatened by that enemy who was ready to kill any and all of us for their positioning. Now everything is very internal and divided. We're not in agreement. We don't have a commonality. The discourse is completely uncivil. It's hard to operate when that happens.
We just need people to see each other; really accept the people who aren't the same as you. We need room. We need grace. We need to give each other grace and tolerance. Just because you don't agree with someone on one issue doesn't mean you won't agree with them on another. When you disagree, it can't be for life. It's got to be civil and kind. We've lost the kindness.
What gives you hope?
I've been working with teens. I have a very large youth committee — it has 1,000 (members that volunteer at community events and get job training). Right now, there's something sort of special about them. I don't know if it's the pandemic, (but) they don't care about social media. This group is not about Twitter or Facebook — maybe TikTok or Snapchat. They're not so much about judging each other. … They're seeing the divide in our country and don't want any part of it. So it gives me a tremendous amount of hope when I'm around young people.
You're the mother of three children, two of whom are school-age. Many women have traditionally waited until their children were grown or older before running for office.
I ran a city council meeting on a Tuesday in 2013, and on Thursday, I gave birth to (my daughter) Alia. If there's anything my life does, I hope at least to prove that women need not choose between being moms and working professionals. You can do both. Yes, it's a lot of work, but you can do it. I know so many women who come up to me and say, "I really want to have a family, but I also want to do this." I ask them, "What's stopping you?" I never heard a man say, "I want that promotion, but I also want to have a baby." They just do it, and women should do it too and not be so hard on themselves.
Edited for length and clarity.
–
Stay up to date on business in the Capital Region: Subscribe to the Comstock's newsletter today.