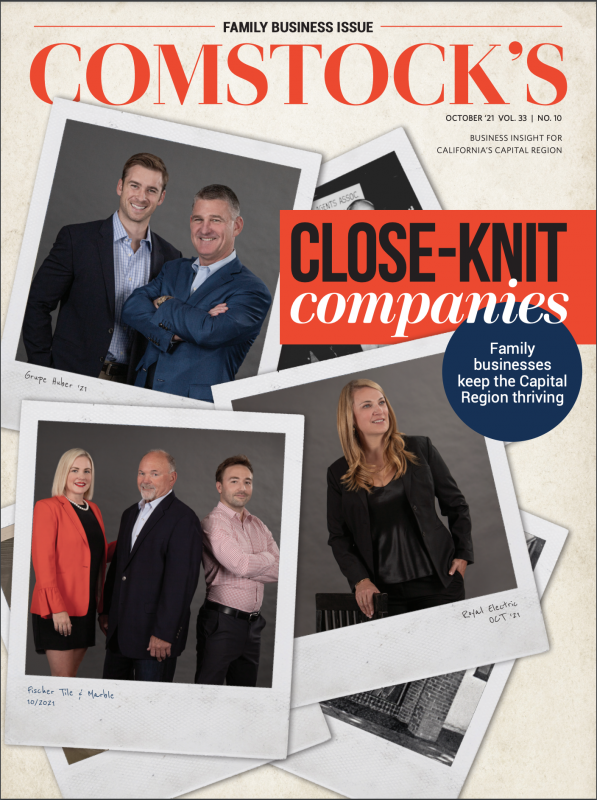 This story is part of our October 2021 Family Business issue. To subscribe, click here.
Kirk DeJesus, the new director of the Port of Stockton, is aware that most people, even neighbors in the Bay Area and the Capital Region, don't know anything about his deepwater port. "They think of Stockton as a farm town," he says, "and don't realize we have one of the largest inland ports and the fourth-busiest port in the state of California." Ships from more than 55 countries visit the port, and the value of that cargo is about $1 billion annually. It also exports nearly $1.5 million tons of American products each year.
DeJesus enters his position as the port embarks on a significant expansion. Having recently made a number of infrastructure improvements, the port now has 400 acres of land approved for new development. And just a few months before he arrived in May 2021, the port signed what could wind up being the biggest single deal it's ever done. DeJesus says he's sensitive to the fact that the port's location, on an island in the Sacramento-San Joaquin Delta, presents unique challenges, and points to the port's environmental mitigation efforts as a major focus.
How did you come from nine years in the Air Force, where you served as a pilot and a captain, to be the director of an inland deepwater port?
I can give you the fairly short version. When I got out of the Air Force I went to United Airlines and was flying international — flying to China maybe once a month. I was home a lot, and I was driving my wife absolutely crazy because I was home so much. So she said "you need to find something else to do." So I started appraising real estate, just randomly, back in 2000.
After 9/11 I got laid off by United, and basically built an appraisal company. … I appraised until about 2008 when the market crashed. I had a friend — our kids went to school together — who had a fertilizer packaging facility, and he needed help. So I started working for him (shortly before) a company called Kinder Morgan purchased his facility, and I went with that sale.
Kinder Morgan is a midstream energy company. They do pipelines, and they also are terminal operators. I was director of operations for them for four or five years, and then went to the commercial business development side for nine or 10 years.
So I have operated at ports, dealt with customers and commodities, up and down the West Coast. I've always lived in Stockton and I had some dealings with the port. Stockton is a very tight-knit and unique community and I have a lot of ties here. … I know the maritime industry and I know real estate. So it was just, in my mind, a natural fit. But it was something different than what the port was used to. I came in as an outsider. The previous port director had been here 21 years and the director before him also 20 or 21 years. So I'm definitely an anomaly for the Port of Stockton.
I think one of the things that was appealing is that I've sat on the other side of ports as a customer. And I understand what it's like to deal with ports, some of the good things and bad things … and some of the frustrations.
Can you say whether there were some things you found frustrating about dealing with the Port of Stockton that you want to change now that you're in charge?
To be honest with you, and I'm not just saying this because I'm here, I've said this since the beginning and I hear this from a lot of customers: Of all the ports I've dealt with, Stockton is by far the easiest to deal with from a business-minded perspective. And I find that true now that I'm sitting here.
"Of all the ports I've dealt with, Stockton is by far the easiest to deal with from a business-minded perspective."
As far as changing things, obviously there's always going to be a little bit of change. I view things slightly differently than the previous director. … So there will be some organizational things that I look at, but nothing really dramatic. I mean, the port's been working very well long before I got here.
What are the main commodities moving in and out of Stockton?
It fluctuates depending on what's going on in the commodities markets. Fertilizer has always been a big commodity here. The Port of Stockton provides about 95 percent of the fertilizer that's used to grow food in the Central Valley. We've seen, this year, cement imports have really picked up. Obviously, construction has picked up and there's not enough cement production in the U.S. to fulfill the domestic need.
One interesting thing that I didn't realize before I got here is how much rice we export. California is one of the only places in the country that grows the type of rice … that's used for sushi.
How has this changed over the years? Are there trends?
What I think we will start seeing quite a bit of is renewable-energy commodities, whether it's renewable diesel or the feedstock required to make renewable diesel.
Just before I got here, the port signed a deal with a company to export soda ash. And that will be a significant change for us. There's potential for effectively doubling our volume at the port with just one commodity. That could be a big change.
Soda ash is a commodity that is mined in Wyoming. It's natural soda ash and it's used for making a number of products … flat glass is probably the biggest one. The United States has the highest quality soda ash in the world, so it's exported primarily. It had been exported from the Pacific Northwest, but a large company expanded their mining operations and wanted to have a new outlet. So they chose Stockton. … We will be exporting soda ash from Green River, Wyoming.
How did the Port of Stockton get the new business?
They had been one of three members of a supply chain logistics group, and they left so they could control their own destiny. … They looked up and down the West Coast for a couple of years, talked with every port, and decided that Stockton was best suited, had the best rail connectivity, and the best will to do the deal. As I said, Stockton is a business-minded port.
How many people are employed at the port, and what's your annual budget?
Staff right now is 112 people; it varies by a couple of people now and then. The budget is right around $54 million, and our capital-expenditures projects are between $20 million to $25 million a year. The total number of jobs the port provides in the area, it's just over 10,000.
And who are those 10,000 workers?
Warehouse staff, stevedores, truck drivers, anyone who is dealing with logistics or cargo movements.
How would you describe the port's economic impact on the region?
I mentioned the fertilizer that grows the food — that's a significant impact. The annual personal income we estimate to be right around $630 million. The annual economic value of our activity is in excess of $1.5 billion per year. We generate state and local taxes of $78 million per year. … A lot of port authorities take taxes; we don't take any revenue from the county or the city or the state. We generate state and local taxes.
Can you say where the port is headed in the next decade?
We need to improve our infrastructure so we can grow. I would like to become a net export facility. I think that's important. I think we need to continue on the environmental path that we're on. Coming in as an outsider, it's amazing all the (environmental) efforts that we're making. People don't know about this. They think the port's a polluter. Unfortunately, that's a misconception. … I think continuing to get as green as we can is critical. Doing that while we grow can be tricky, obviously, but it's something we are really focused on.
"We go above and beyond what's required. That's why we were the second port in the state to get the Green Marine certificate."
Obviously, anytime you're operating near water, there's a concern. Especially where we are … which is a delicate environment. It's a habitat with fish and wildlife, and it's drinking water, and with everything we have here, there's concern.
We've set zero emissions as a goal that we're trying to get towards. At this time, we have 36 zero-emission forklifts and a zero-emission locomotive. We have an entire department dedicated to environmental (concerns). … We have a lot of agencies looking at us — as would any big company situated where we are. But we go above and beyond what's required. That's why we were the second port in the state to get the Green Marine certificate.
Do you have a favorite historic fact about the Port of Stockton?
Not exactly, but … when you walk through the hallways here, there are pictures of all the port commissioners going back to the 1930s. I was walking down the hall one day and I saw a name and I looked up and it was a picture of my wife's great-grandfather. He was a commissioner in 1940. He wasn't on the first board of commissioners but it was right when things started getting moving, right before World War II. My wife didn't know that and neither did anyone else. So I thought that was pretty interesting.
Edited for length and clarity.
–
Stay up to date on business in the Capital Region: Subscribe to the Comstock's newsletter today.