When it comes to finding business success in the Sacramento area, the proof, as they say, is in the proverbial pudding. The city's proximity to the Bay Area, its lower cost of living and its people have long been lauded as assets to economic development. While that might seem like a tired line of thinking, Sacramento remains on the radar of both potential businesses and employees for exactly those reasons.
According to the Greater Sacramento Economic Council, the region's growth in skilled employees has seen a 43 percent increase over California's growth between 2010 and 2015. Additionally, a 2015 study from the Urban Land Institute states that 74 percent of millennials in the Bay Area are considering leaving within five years due to cost constraints, and early 2017 data from Redfin shows that Sacramento is the top destination in California for Bay Area residents seeking more affordability. While some may tire of talking of such assets in Sacramento, it doesn't mean they are any less important for companies in the area.
Take Fantag — makers of the live-event video app of the same name — which opened its Sacramento office in 2017 after starting in Palo Alto in 2013. According to CEO and Founder Brian Dombrowski, the reason was simple: "Truly, it all started with the people," he says.
Organizations like the Greater Sacramento Economic council and shared workspaces like the urban hive provided us with a soft landing and many networking opportunities.Brian Dombrowski, founder & CEO, Fantag
"The more and more time I spent up here, the more and more people I met, the more I realized … there are a lot of great opportunities here to build the company, specifically with just people I've been meeting and their experience level," Dombrowski says.
Most of Fantag's team works in the new Sacramento headquarters, which currently houses eight employees. Dombrowski also moved to the area in February to stay close to the company's day-to-day interactions. "The region's commitment to fostering entrepreneurship was also compelling," he says. "Organizations like the Greater Sacramento Economic Council and shared workspaces like The Urban Hive provided us with a soft landing and many networking opportunities."
Dombrowski adds that floods of people are leaving Silicon Valley for Sacramento, which benefits Fantag. But with offices in both regions, Dombrowski notes that Fantag gets the best of both worlds. "We still have full access to everything that is in the Bay Area, I can still be, you know, in Sacramento and [have] access to everything in this region as well, and there's plenty to offer," he says.
Sacramento is also home to Fantag's first partners, including MaxPreps and Sacramento Republic FC. Dombrowski also mentions more affordable housing, less traffic and Sacramento's growth as reasons why Fantag is here. Looking ahead, he hopes to at least double his staff size company-wide by the end of 2018.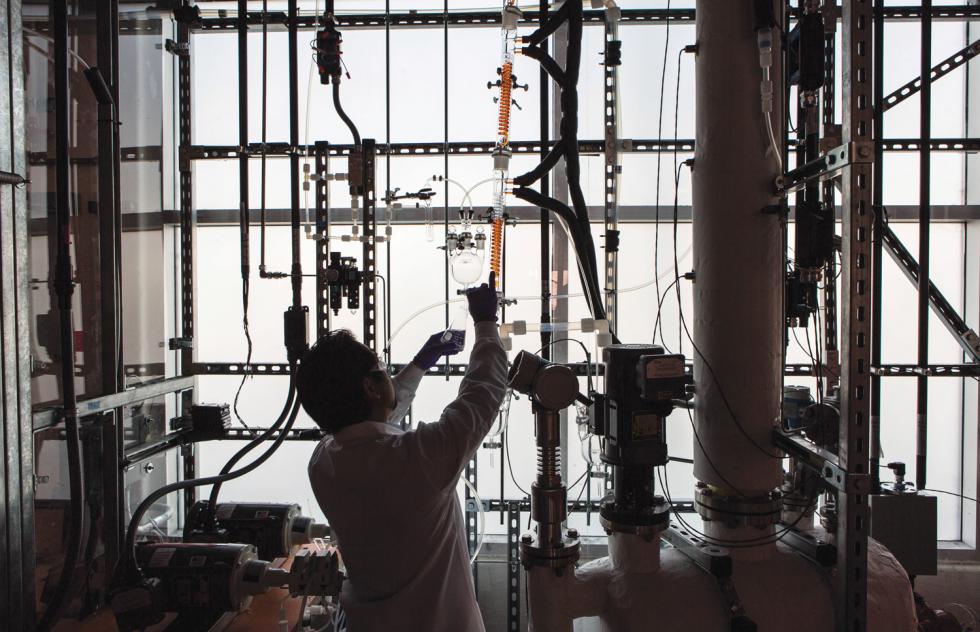 "I think the biggest thing is just growing a great company that brings jobs to the Sacramento region as we expand," he says. "I think that's one of the big prospects I have … mainly it's to build a great company that gives, especially people in tech and, you know, graduating students in tech, an opportunity to work on a cool technology platform."
And Dombrowski has found a lot to love about his new home, including its sense of community. "I had no concept of Sacramento at all until I got here," he says. "And then when I was finally here I was like, 'This has been here the whole time?'
Origin Materials (formerly Micromidas) CEO John Bissell and his cofounders graduated from UC Davis and it made sense to stay close by to launch their company, which creates chemicals out of lignocellulosic materials — they chose West Sacramento.
Origin Materials, which currently has about 30 employees, has stayed in the same West Sacramento office since its founding in 2008. And there are many reasons for them sticking around, including how Sacramento's development appeals to the employees that Bissell tries to attract. Chemists and engineers, he added, are often foodies, and they also often want a family-friendly place to live.
"What we find is that Sacramento tends to be sticky for people … There are exceptions to this, but most of the time if somebody in our industry gets out here and can get settled a little bit, they want to stay, which is not the case for a lot of the other cities where chemicals are a major industry," he says. Bissell also thinks that being located in a generally well-educated area is also a benefit for his business.
Origin also benefits from a dearth of local companies working in its space. "That means that we don't have to fight that hard for local talent," he says. "And we also don't have to worry about competitors sniffing around in what we're doing, right? That's kind of nice. Those are all good things."
While Origin Materials has enjoyed perks from the lack of local competition, Apeiron Data Systems, which offers storage-network solutions, has found benefits in being closely located to other giants in its industry, including Intel and Toshiba, also in Folsom.
"This area has actually become a little bit of a hub for non-volatile memory flash storage," chief revenue officer of Apeiron Data Systems Jeffrey Barber says. "So, there's a deep base to pull from, from an employee perspective, and a cost of living and a cost of doing business [at] a fraction of the Bay Area."
Proximity to the Bay Area also allows travel back and forth when needed all in the same day. Apeiron, which also has a small office in Santa Clara, is a global company in terms of its customer base, but "from a partnership and a manufacturing perspective, it's all here in Folsom, California," Barber says. Aperion currently has 25 employees in its Folsom office, and plans to grow to 50-100 employees companywide over the next year.
"We don't believe that we're going to have any problem attracting recruits to this area, because many of them are already here," he says.