Michael Muñoz is a junior in the Automotive Academy at the Weber Institute of Applied Sciences and Technology in Stockton, a public high school offering specialty career pathway programs, where he's learning the skills of an automotive technician in an industry-grade auto shop with more than a dozen donated cars.
In the Automotive Academy, Muñoz has the opportunity to earn up to 14 Automotive Service Excellence industry certifications by the time he graduates next year, which qualifies him to immediately work as an automotive tech. He plans to apply to Sacramento State or Universal Technical Institute, which offers training for students seeking careers as technicians in the transportation industry.
Muñoz is one of 420 high school students at Weber, all who select one of three career technical education pathways — automotive, health or computer sciences — at the end of their freshman year. Health students can earn a certified nursing assistant license and computer science students gain real-world experience, like proficiency in computer programming and repair, which they can immediately apply after high school.
Stockton Unified School District opened Weber in 2000 to acknowledge that not all students will go to a four-year university — some may choose a technical or trade school instead, says Katrina Johnson Leon, who oversees the district's career technical education. SUSD offers CTE pathways in 10 industry sectors, including agriculture, media, engineering, information technology and manufacturing.
CTE programs don't limit students to vocational careers. Instead, they're designed to give all students what they need to succeed regardless of their paths after high school. They combine strong academics with internships and hands-on experience in smaller educational settings. Students learn vocational skills that have disappeared from many high schools, along with today's technology and soft skills, such as punctuality, being prepared to work, as well as appropriate language and communication skills. The goal is to create a pipeline of tradespeople qualified for the jobs of tomorrow.
That pipeline is critical. As we face the silver tsunami — the mass retirement of baby boomers — nearly one million jobs will become available in the trades workforce by 2020, explains Robert Fong, a former Sacramento City Councilman and former president of the Sacramento City Unified School District board of education. Fong, who owns RKF Consulting and consults with trade and contractor associations, says for every six retirements in the trades, there is one interested person to fill those positions.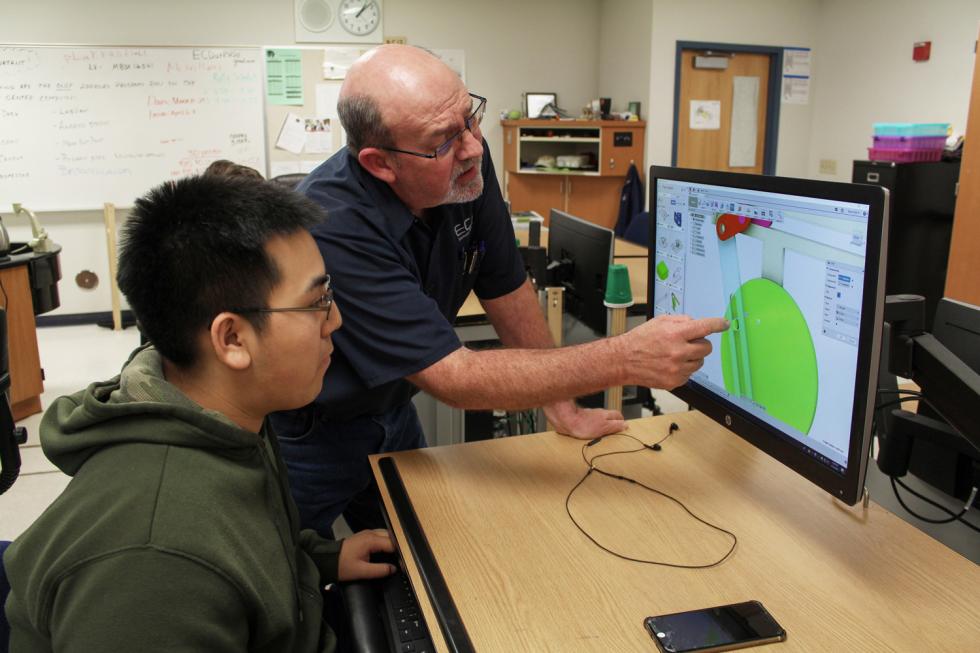 "What education has done wrong was to send the message that everyone should go to college or you won't have a successful life," Fong says. He thinks CTE should be an option in all schools. "The folks we represent have really great middle-class careers."
In 2016, Fong approached Sacramento City Unified School District and Rosemont High School on behalf of local plumbers and pipefitters, metal sheet workers and electrician trades to build out Rosemont's engineering and robotics program into a formal CTE academy, in response to the nationwide shortage of skilled workers in the construction trades.
Together, several local labor unions founded the nonprofit MEP Career Pathway Academies to fund Rosemont's program: the Engineering, Construction and Design Academy. They donated their time to renovate and retrofit its constructional and mechanical shops, and created a design center with 32 new computers, computer-aided and hand drafting programs, and 3D printers, says Dave Stafford, co-lead and founder of the academy.
"The industry uses everything from drones to CAD programs, Autodesk and 3D printers to generate and look at how all the trades are going to work together in a building," says Claire Donnenwirth, executive vice president of Associated Plumbing and Mechanical Contractors.
Rosemont's ECD Academy launched in the 2017-2018 school year with 144 students (10 percent of its student body), almost doubling its goal of 80 students; the program accepts every
interested student.
"We think there are a lot of ways people can express their capabilities and intelligence, and we think the trades is a great option … for boys and girls," Fong says. To date, Rosemont's program has fewer than 10 female students, but aims to increase those numbers through participation in events such as Sac State's Society of Women Engineers' Women's Shadow Day and the Sacramento Regional Builders Exchange CREATE Mentoring Program, which introduces and engages students — male and female — in construction trade career pathways.
Fong says they plan to incorporate internships into Rosemont's academy, and provide the best graduating students with a faster route to one of several apprenticeship programs in the area. This past March, the board of directors of the Sacramento/Shasta Butte Area Electrical Training Center in Sacramento approved the top five students in Rosemont's academy to bypass the 20-month wait — moving ahead of 400 people on the waitlist — to interview for its electrician's apprenticeship, says Dennis Morin, director of NECA/IBEW Electrical Training Center and Joint Apprenticeship Training Committee.
Apprentices work full-time, earning a $250,000 salary over the course of their five-year apprenticeship, a conservative estimate says Morin, while receiving a free education two nights a week (and college credit) — funded by local contractors and union members — plus full medical benefits and a retirement plan. When apprentices graduate to journeymen, they earn about $87,000 annually.
While a program like Rosemont gives students the technical skills others don't have, the big deal is the soft employability skills, says Morin.
"Our industry partners are telling us they can teach the skills through an apprenticeship program, but what they [can't teach] is that work ethic and learning how to work collaboratively and how to be on time," says Rosemont's principal Elizabeth Vigil. "That's the biggest missing piece."