Dangling over a 60-foot-deep granite pit, children and adults zoom across a zip line cable and scale and rappel down sheer stone walls. The historical quarry, known as the Big Gun Quarry, is 160 years old, and has been repurposed to be Quarry Park Adventures, a family-friendly, privately owned adventure park in Rocklin. Next to it is the similarly named Quarry Park, which includes an amphitheater, as the city's public gathering spot. Called the Quarry District, the parks are at the center of Rocklin's development plan, with commercial and residential building projects around it coming soon.
Like in Rocklin, the other Placer Valley cities — Lincoln and Roseville — prize and prioritize their park spaces and facilities in their city planning efforts not just as places to recreate, but as places for economic development, attracting residents and businesses who want a quality of life that comes with the benefits and advantages of having these public spaces.
The Placer County cities of Lincoln, Rocklin and Roseville were collectively branded as Placer Valley in 2004 to highlight the area's collective amenities, says Kim Summers, director of marketing for Placer Valley Tourism. Over time, the area grew and the combined population of the three cities became 250,000.
"One of the great overall attractions to the Placer Valley is its abundant access to amazing outdoor activities," says Rob Haswell, CEO of the Placer County Visitors Bureau. "We have so much to do within Placer Valley and surrounding foothills — it's phenomenal and a great place for families."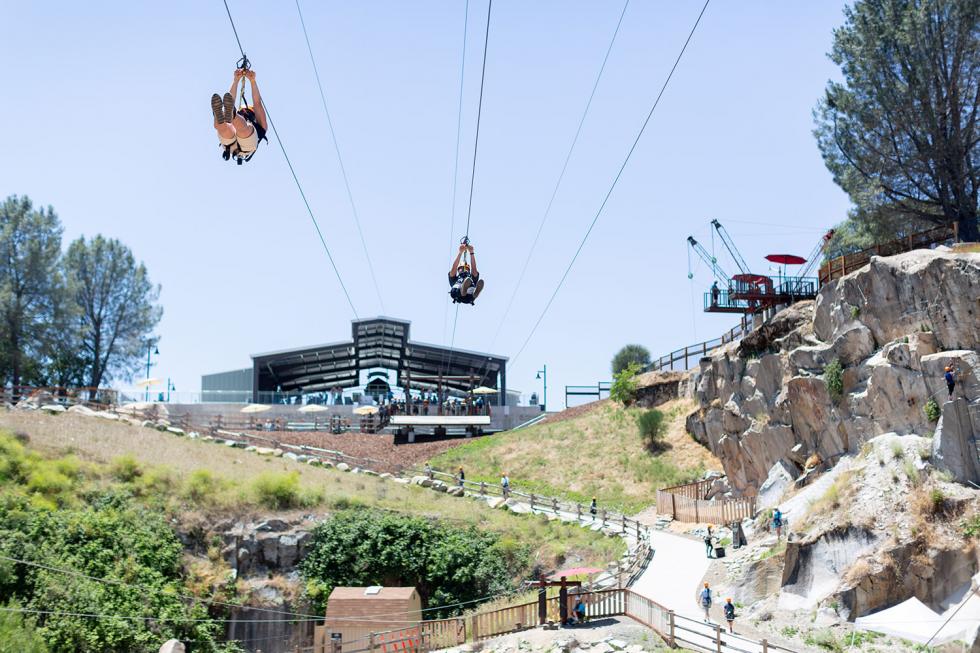 Partnerships helped drive the construction of a 160,000-square-foot Placer Valley Events Center at the 60-acre Placer County Fairgrounds site in Roseville. Taken over by Placer Valley Tourism in July 2017 and renamed @the Grounds, it opened in mid-February with site and building renovations that cost around $13 million, as well as the addition of a new $34 million special promotional section building. The building was funded through a business improvement district special assessment room tax of $6.50 per night from Placer Valley hotels. Summers says the building "will operate at break even, at least operationally, by year three." The refreshed facility has a lobby and meeting spaces for trade shows, concerts and other events that can accommodate 5,000-10,000. The center, with 12 basketball courts; 24 volleyball courts; and the facilities to host wrestling, gymnastic and cheerleading competitions with the capacity for 8,000 spectators, also hopes to draw tournaments to capitalize on sports tourism.
"We have 26 events already booked," says Summers, adding that the center enticed the popular cheerleading competition Spirit Cheer to Roseville for the first time, with the NorCal finals scheduled in April.
Lincoln, which has about 20 parks, also is looking at youth travel teams as a way to bring in visitors for an economic boost. Lincoln's 42-acre Foskett Regional Park, with four softball and four soccer fields, is the biggest tournament draw, but the city is looking to add more, says Ray Leftwich, Lincoln's public services director. "Sports tourism is a huge driver that helps market the entire region," Leftwich says.
Go outside
Quarry Park was designed to host a variety of community events, including Woof- stock, a dog festival that raises funds for dog-rescue groups and the city's dog park, with an estimated turnout of 10,000. Its outdoor amphitheater, managed by ST Productions, run by Sacramento music veterans Skip Maggiora of Skip's Music and Todd Speelman, seats approximately 2,000. It opened in 2016 and has already hosted about 100 events and concerts.
"Quarry Park and (Quarry Park) Adventures are part of a vision for the historic Quarry District in downtown Rocklin, which has been underdeveloped and underutilized for the last 100 years," says Michael Young, Rocklin's head of communications and special projects.
And, as hoped by the city, development around the park is taking place, such as an adjacent 5-acre parcel that was purchased by Brentwood Developments. Mixed-use residential, retail and restaurants are planned for the site.
About a mile and a half north of Quarry Park is the Sunset Whitney Recreation Area, site of the former 184-acre Rocklin Golf Club, purchased by the City of Rocklin in December 2017 for $5.8 million. The city transformed it into a recreation area with 2.7 miles of trails along ponds, trees and homes. Another 2.63 miles are planned for the park's east side. "We see Sunset Whitney as not only a great opportunity now, but moving into the future as a green island in the city, on a scale of Central Park in New York or other urban areas," Young says.
As the city looks at funding sources for future SWRA projects, local advocacy groups are weighing in with ideas, says Phil Lewis, Rocklin parks director, who calls the park's future "a blank canvas."
SWRA has already been bringing the community together, hosting fundraiser 5K runs and free movie screenings. Assisting city officials at SWRA and the city's other 36 parks is the Trail Keepers, led by former Rocklin Mayor Jerry Mitchell, a resident of the city for almost 40 years.
The volunteer group cleans up trash along trails and sidewalks, identifying hazards and maintenance issues, such as broken sprinklers, trail washouts, fallen trees and illegal campers.
The group formed in April 2019 and through December covered almost 120 miles of trails, using an elaborate self-re- porting system that enables volunteers to log distance and time spent maintaining the parks, which is closely monitored by the city.
"We really, really love our parks in Rocklin," Mitchell says.