In the midst of the COVID-19 pandemic, nonprofit organizations are hit hard by economic uncertainty. In their quest to help our most vulnerable populations, nonprofits themselves need our help. With so many individuals and businesses affected, it's critical to prioritize nonprofit support.
"In California, nonprofits are the fourth largest employer and we pay more than $37 billion annually in taxes," says nonprofit industry expert Kim Tucker, Executive Director of Impact Foundry. "Nonprofits do what business and government can't or won't do to provide first-responder health and social services, and educational and cultural programs to improve our quality of life. The work isn't 'fluff' to be supported only when times are good. It is critical work that helps employees and families, spurs innovation, and contributes to the economy in a significant way."
For those who already give to nonprofits, support can be stepped up in several ways, including giving more cash than in the past. Consider helping in this order of priority:
Donate cash
Donate equipment and supplies
Volunteer your business expertise
Align your brand with causes that matter to you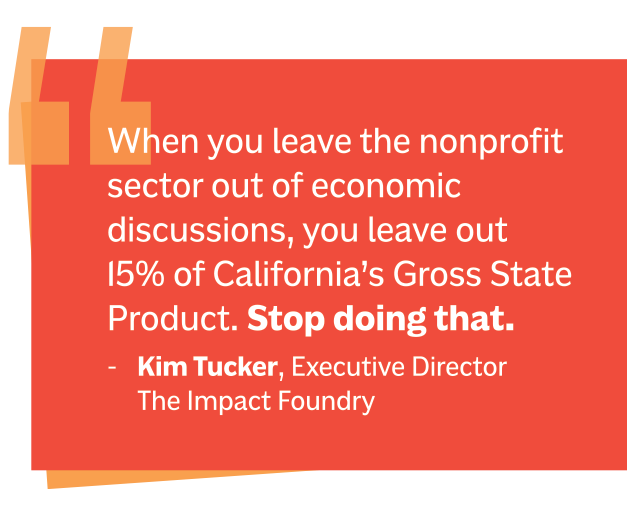 The COVID-19 pandemic has disrupted the nonprofit sector – one that is heavily reliant on in-person interactions – and requires them to quickly pivot to continue their missions. For nonprofits that rely on public gatherings, such as visual and performing arts, no ticket sales means no operating budget. For nonprofits working in public schools, programming must become virtual and every day it doesn't, the literacy gap widens and families are further stressed.
"For Impact Foundry, we'll lose 20 percent of our program revenue because our Resource Center is closed," says Tucker. "Since government and foundation funding seldom covers the whole cost of delivering services, many nonprofits rely on fundraising events. All those cancellations mean the gap won't get filled. People will lose their jobs, and programs that may have been the only safety net for many people, will disappear."
Tucker and her team at Impact Foundry believe it takes all four sectors – business, government, philanthropy, and nonprofits – to create sustainable community change. Their advice to philanthropists is to first support organizations you care about. To invest in long-term sector impact, Impact Foundry invites the business community to partner with them in these ways:
Join: $500 small business, $1,500 corporation. Business membership supports ALL nonprofits by providing access to education, connections, programming, and more.
Hire Them: Looking for training in cultural responsiveness, strategic planning, and board readiness? Hire Impact Foundry (a nonprofit) to help enhance your workplace culture, engagement, and effectiveness.
Volunteer: Want to join Impact Foundry's faculty and teach? Consider an employee engagement program.
Sponsor or Award a Grant: Sponsor a nonprofit's membership (based on budget; $110-$510) or underwrite curriculum like the Certified Sustainable program, critical to the sector's long-term success. The goal is 100 certified organizations at an average cost of $5,000 each.
Whether you care about air and water quality, youth programs, the arts, transportation, health and wellness, animals, preventing domestic violence, eliminating human trafficking, curing cancer, civic engagement, making education equitable, or building resilient neighborhoods, you can help make nonprofits stronger. Please join Impact Foundry in making a difference today.